On Saturday, October 29th, I attended the 33rd annual reunion dinner for the Association of Oldetime Barbell & Strongman (AOBS) at the Marriott Hotel on the grounds of the Newark/Liberty Airport. This was my third year in a row attending the event, however I was joined by first time attendees Nick English (a BarBend writer) and David Tao (BarBend's co-founder), strength sports enthusiasts who I had convinced to check this event off their bucket list.

The AOBS is a group of people, very similar to Nick, David, and myself. They have an appreciation for strength, fitness, and training. Whether their favorite sport is Olympic Weightlifting, Powerlifting, Bodybuilding, or Strongman, everyone has an appreciation and mutual respect for the hard work that goes into that sport. More recently, functional fitness has become a craze the world over; if that is your sport, you also would be welcome, because that takes a lot of hard work and training to have success as well.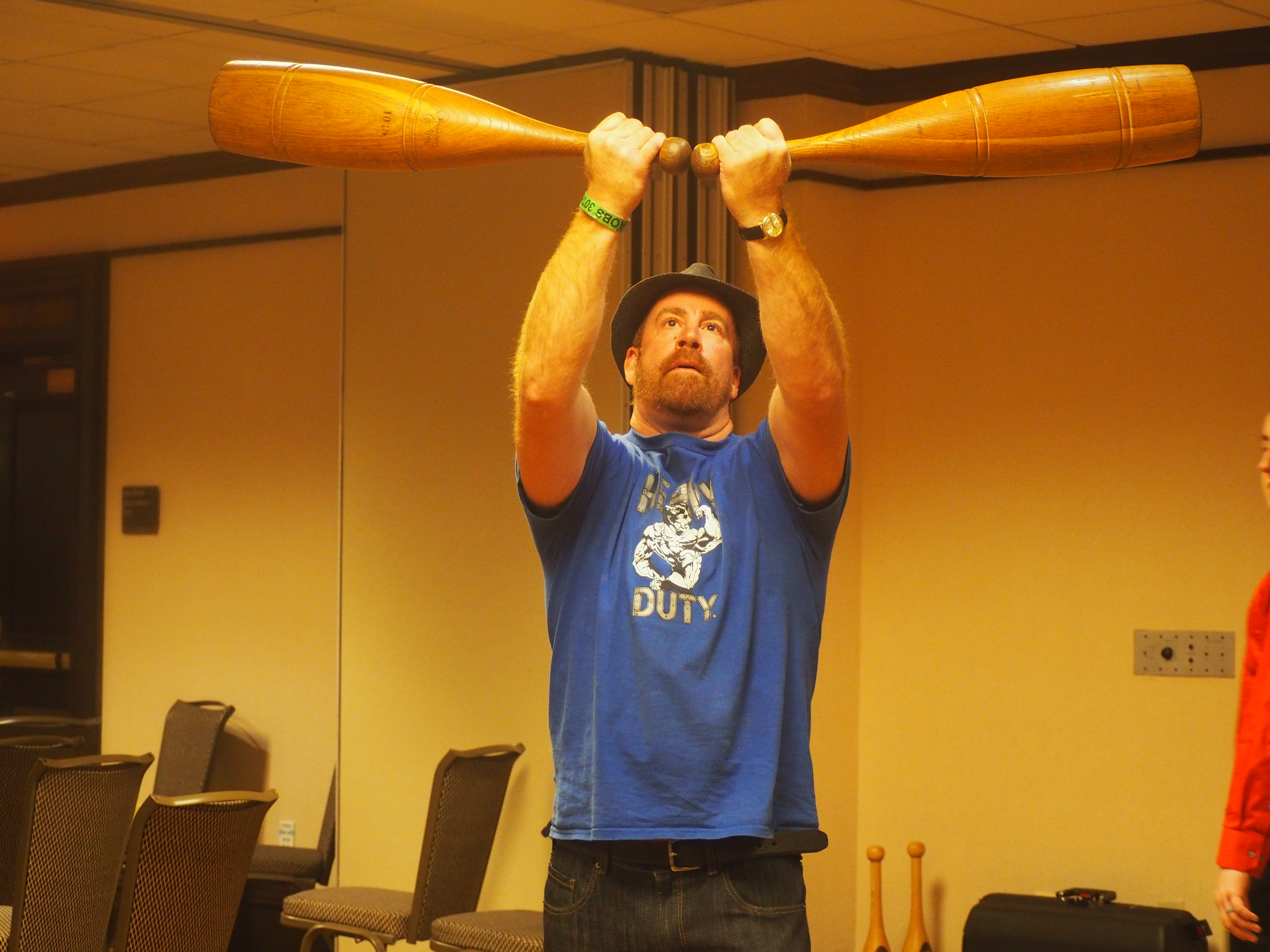 Shane Herzog performing with strongman clubs at pre-dinner demonstrations
The main portion of the event was a dinner and awards ceremony that honored two men for their lifetime achievements in strength sports. This year the honorees were legendary Strength Coach and 2004 USA Olympic Weightlifting Coach Gayle Hatch and boxing legend Evander Holyfield, the Cruiserweight and Five-time Heavyweight Champion of the world.
Prior to the reception, there were demonstrations performed by stars of oldetime strength. The master of ceremonies for this spectacle of strength was Chris Rider of Coney Island Strongman; he is an internationally-known performing strongman who holds world records in license plate, phonebook, & tennis ball tearing. Other performers came from Pennsylvania, New Jersey, and New York.
Oldetime strength consists of many exhibits that originated in tourist resort areas, such as Coney Island or the Jersey shore. These events included:
Tearing a deck of playing cards in half

Tearing a phone book in half

Bending a horseshoe

Bending an American penny (which is thicker than a Canadian penny)

Bending a 10 inch wrench into a bracelet

Twirling clubs and sledgehammers with their wrists
I was fortunate to talk with Professional Strongman Sonny Barry, who at 71 years old bent a 10 inch wrench into a bracelet in less than two minutes. He informed me that a lot of the work is performed with your hands, wrists, and forearms; if you do not practice the exercises regularly, you are going to lose the ability. At his age, he is still bending iron several times a week.
The main portion of the evening consisted of the awards ceremony. Artie Dreshler, AOBS President and former World Record holder in the press, presented Coach Gayle Hatch. Coach Hatch is a pioneer in the world of Collegiate and Professional Strength Coaching. His weightlifters have represented the USA on three Olympic Teams and 12 World Championship teams.
In collegiate football, his protégés have helped produce 8 BCS National Championships football teams. He is a member of multiple Halls of Fame, including the USA Weightlifting Hall of Fame, USA Strength and Conditioning Coaches Hall of Fame, and the American Indian Athletic Hall of Fame. Over his career, he has been a leading advocate for the abolition of drug use in the sport of Weightlifting in the US – and he got results.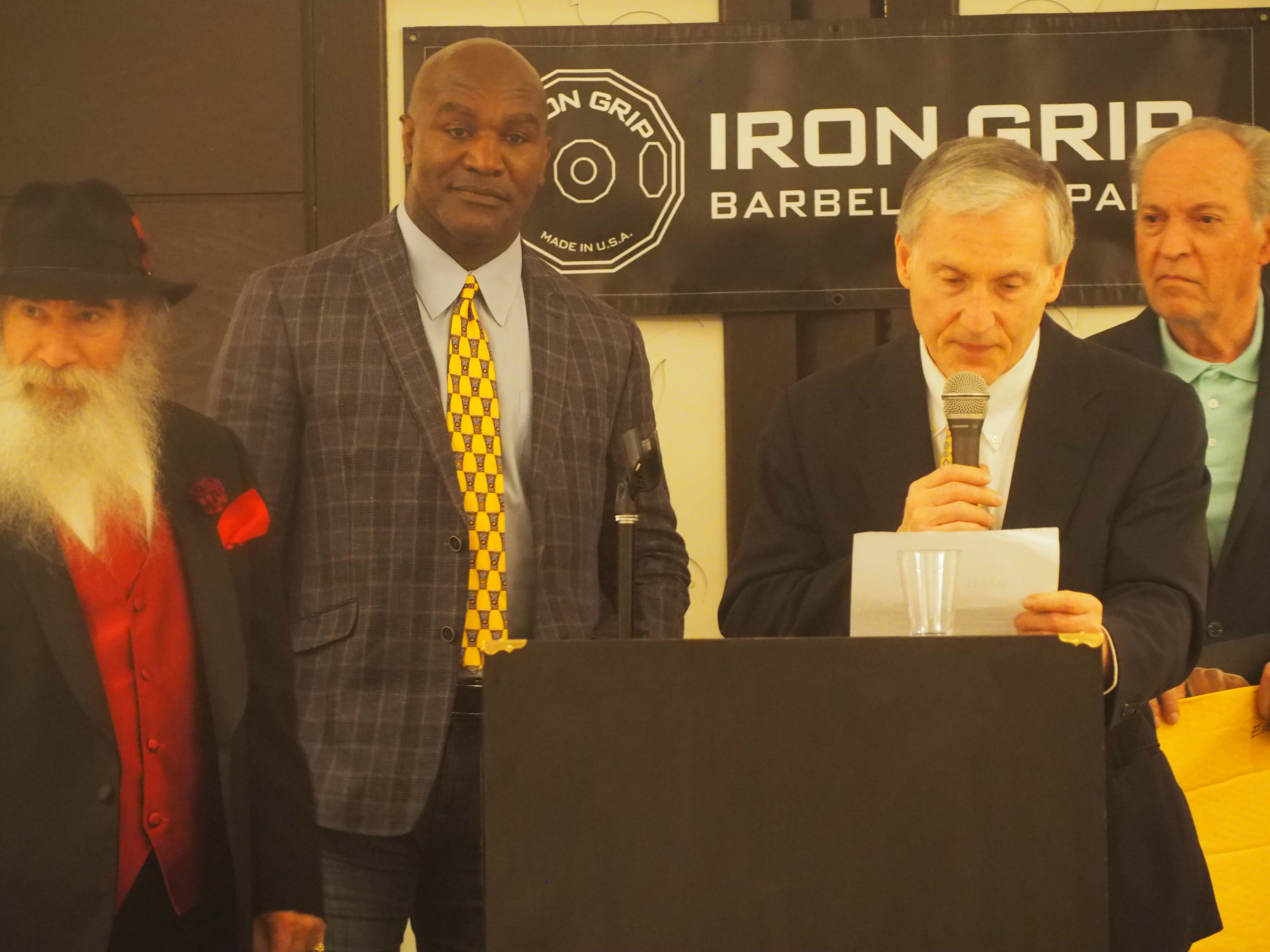 Evander Holyfield introduced by AOBS President Artie Drechsler
The second honoree of the evening was Five Time Boxing Heavyweight Champion of the World, Evander "The Real Deal" Holyfield. His presenter was Tim Hallmark, Holyfield's long time strength and conditioning trainer. During Holyfield's prestigious career in the ring, he won a bronze medal in the 1984 Olympic Games in Los Angeles, California. In 1986 he became the World Boxing Association (WBA) Cruiserweight World Champion, then moved up to heavyweight in 1988.
Most people do not know that he credits much of his outstanding success in boxing, and his amazing longevity in the sport, to weight training. He was an active competing professional up until a few years ago, and well into his 40s. Weight training was a frowned upon activity by many uninformed boxing trainers. However, the evidence Evander amassed may well help to turn the tide in boxing.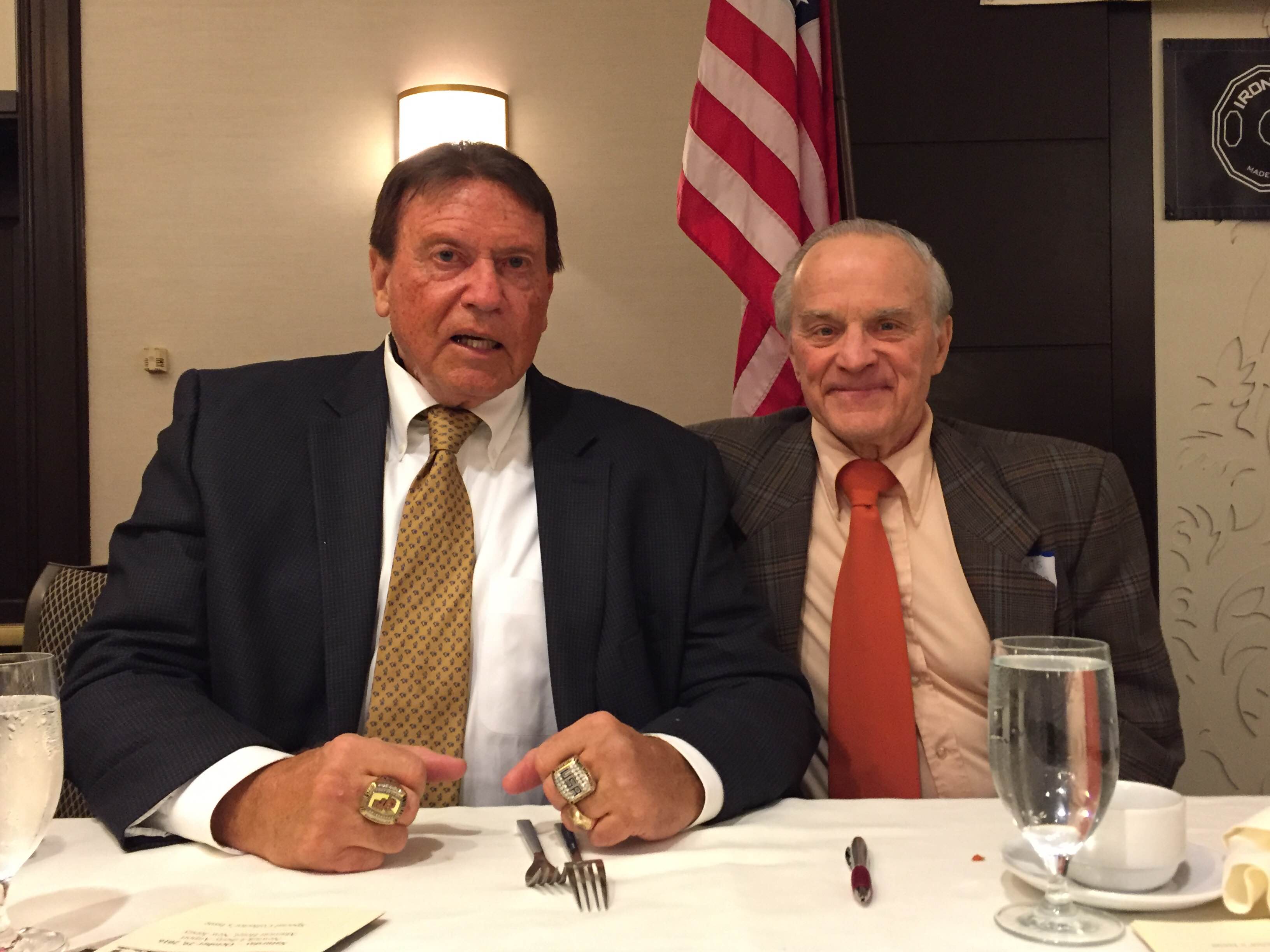 Honoree Gayle Hatch with renowned weightlifting coach, administrator, photographer, and announcer Denis Reno
The evening was finished off with another exhibit of strongman displays. A platform was set up in the rear of the ball room, and athletes took turns with feats of strength, different than what had been performed earlier in the day.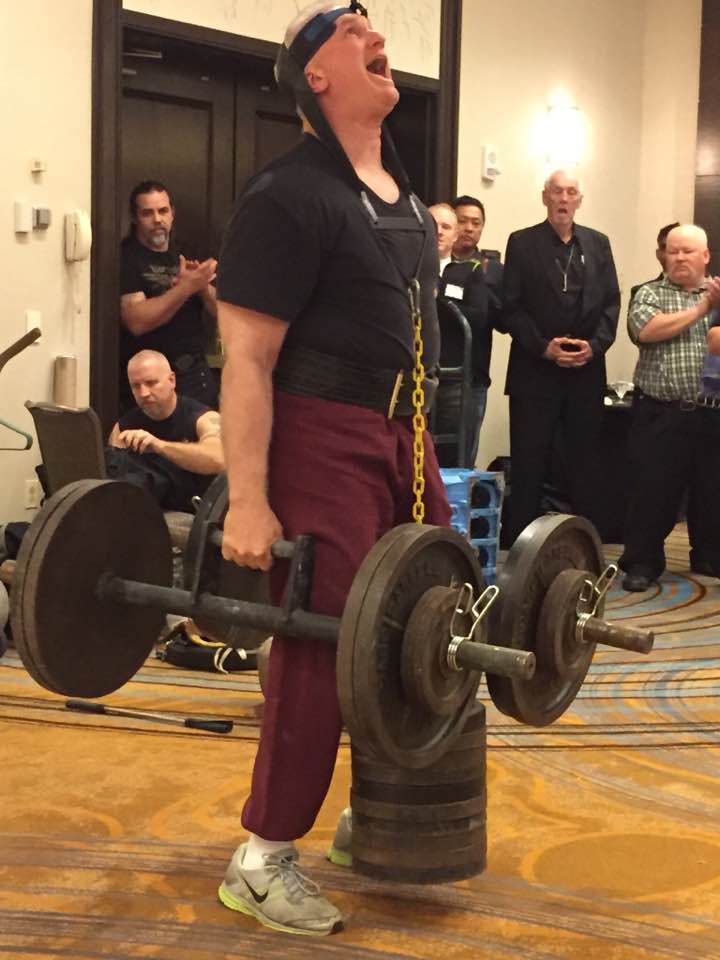 Strongman Steven Weiner performs a "Frankenstein Lift" with over 700 pounds
Coach Hatch had brought some of the athletes he coaches in strongman and they performed log presses, farmer's carries, and deadlifts. A group of longtime strongmen from Eastern Pennsylvania proceeded to take the festivities to another level. They wheeled out car engines, large stones and even fire hydrants and proceeded to lift them up and show off their strength.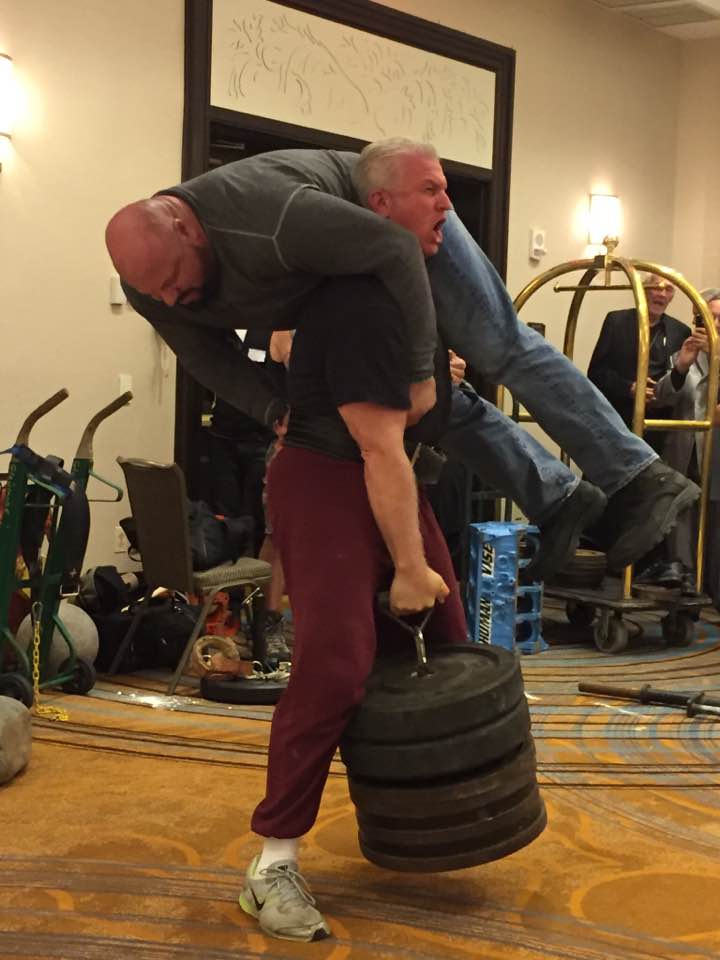 Weiner performs a one-handed lift with a fellow strength enthusiast across his back
Needless to say, if you are a strength enthusiast, this is an event you need to attend next year.