We receive free products and receive commissions through our links. See
disclosures page
.
5-HTP might not be as common a supplement as multivitamins or protein powder, but it has been seen in some research to potentially boost serotonin levels, a hormone related to mood and appetite. Made from the seeds of the African plant Griffonia simplicifolia, it's become popular as part of regimens to help with fat loss and sleep quality, among other uses. Here are the best supplements you can buy.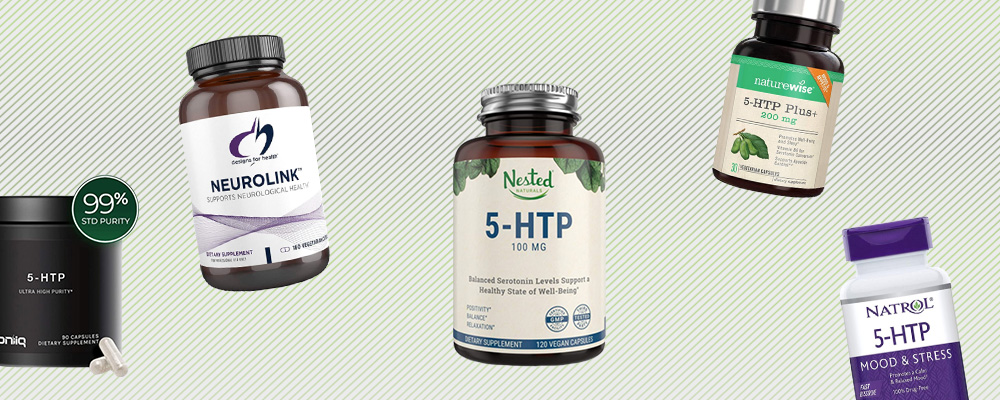 Best Overall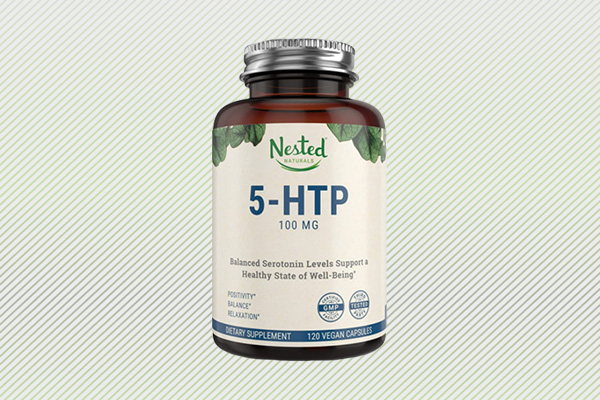 Nested Naturals 5-HTP
Nested Naturals ticks all the right boxes. The most important of which is that it's third party tested to ensure purity and potency. There are just three ingredients — the 5-HTP, some rice flour, and a cellulose capsule — plus a portion of the company's profits go toward Vitamin Angels®, a non-profit that helps combat malnutrition.
Pros
Most 5-HTP products have 200 milligrams per capsule; this one has 100 milligrams, so it's easier to try smaller amounts.
A portion of your purchase is donated to charity.
Nested Naturals' 5-HTP is third party tested for purity.
Cons
There's no GABA in the product, so some feel it's not the best 5-HTP product for sleep.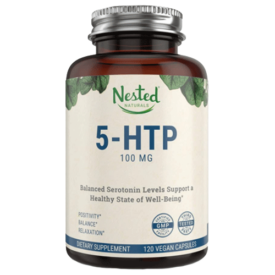 This 5-HTP is simply made, third party tested, plus a portion of profits are donated to charity.
Runner Up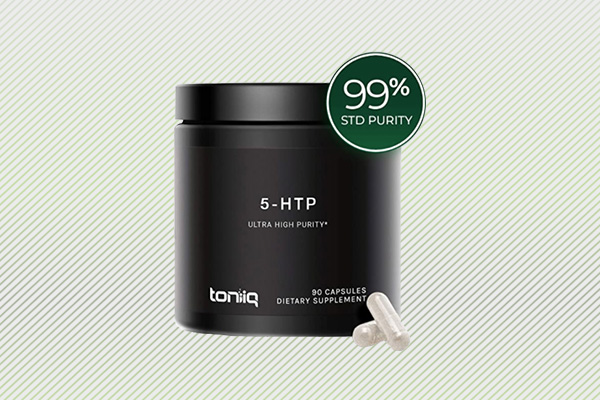 Toniiq 5-HTP
Toniq's no-frills, high-quality line of supplements reliably puts out products that have been tested both in house and by third parties for purity and potency. What's cool about their 5-HTP is that it not only meets these benchmarks, they provide certificates of analysis on request, plus it's sourced from family-owned farms in Ghana.
Pros
The capsules are remarkably small, so they're easy to swallow.
The product is non-GMO, vegan-friendly, and free of wheat, gluten, soy, and corn.
Toniiq has the product third party tested for purity.
Cons
It's an unusually potent supplement with no fillers, which might cause digestive issues among those with sensitive stomachs.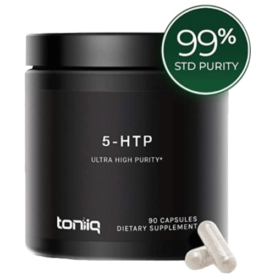 Toniiq's no frills capsules are easy to swallow, non-GMO, and third party tested.
Best With GABA
Designs for Health Neurolink
Some studies have found that combining 5-HTP with Gamma aminobutyric acid (GABA) helps it to create melatonin, which improves sleep quality. Designs for Health has also included Vitamin B6, which could help with absorption, and some taurine and tyrosine to potentially help with focus — or calming the mind.
Pros
The combination of 5-HTP, GABA, and to a lesser extent Vitamin B6 and taurine may be a useful cocktail for sleep.
It's guaranteed non-GMO, soy free, dairy free, gluten free, and vegetarian.
The capsules come in a recyclable glass bottle.
Cons
The product hasn't been third party tested for purity and potency.
This is on the pricier side for supplements — you may have better value for money by separately buying 5-HTP and GABA.
Shop Amazon
Designs for Health Neurolink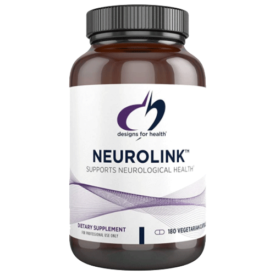 Designs for Health Neurolink
A well made 5-HTP product specifically engineered to facilitate better sleep.
Best With Vitamin B6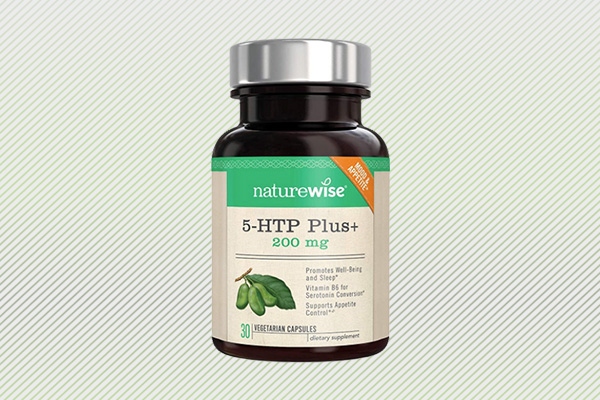 NatureWise 5-HTP Plus+ 200mg
There aren't many studies directly examining B6 and 5-HTP, but it's possible that this vitamin helps to convert 5-HTP to serotonin. If you're looking for a 5-HTP supplement with Vitamin B6, NatureWise is a great pick because it's third party tested, they have a QR code that lets you see the results of that test, and they donate some of their profits to environmental sustainability organizations.
Pros
The slow release nature of the capsules may make it easier on sensitive stomachs.
The inclusion of Vitamin B6 may help the product's efficacy, though evidence is very limited at this time.
A portion of your purchase is donated to charity.
Cons
The slow release capsules mean, well, the 5-HTP releases more slowly, so if you're after a faster hit of the 200 milligrams of 5-HTP, this won't be for you.
The product contains gellan gum, which some prefer to avoid.
NatureWise 5-HTP Plus+ 200mg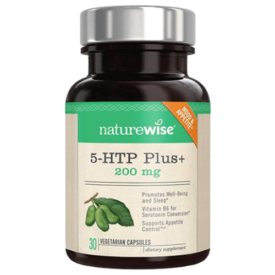 NatureWise 5-HTP Plus+ 200mg
NatureWise's 5-HTP includes B6 and is radically transparent with its manufacturing and testing practices.
Best Chewable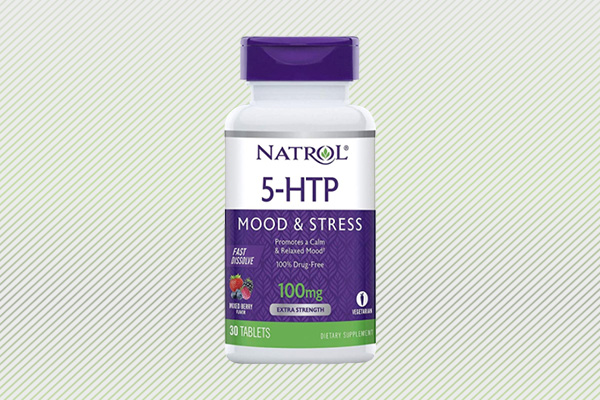 Natrol 5-HTP Fast Dissolve Tablets
Sometimes, it's nice to not be able to just take a supplement without needing a glass of water and Natrol's dissolvable pills can be taken simply by popping one of these berry-flavored tabs in your mouth. Or into water, if that's your jam.
Pros
Each tablet contains 100 milligrams of 5-HTP and they can be broken up into smaller doses, so they're easier to parcel out than capsules.
There are no artificial flavors or sweeteners in the product.
Cons
The product contains wheat, gluten, and soy, so it's not ideal for folks with sensitivities to those ingredients.
Natrol 5-HTP Fast Dissolve Tablets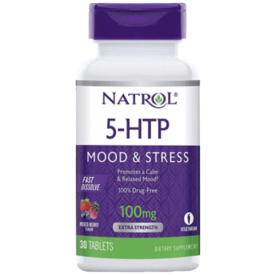 Natrol 5-HTP Fast Dissolve Tablets
A tasty, berry-flavored 5-HTP that dissolves right on your tongue.
What Are the Benefits of 5-HTP?
Often sourced from the plant Griffonia simplicifolia, 5-HTP is considered a serotonin precursor.
Appetite
Serotonin has a few purposes but a sort of relaxed contentment is the best known. This has a few implication we'll explore here, but a notable one is that it can help with satiety: some evidence has found 5-HTP to decrease hunger, which after all is a strong, mildly upsetting desire that's at odds with relaxed contentment.(1)
Be more content, and you want for less, at least according to some research: a placebo-controlled, randomized study of 20 overweight women that those who ingested 5-HTP every day through an oral spray significantly reduced their BMI and the circumferences of their arms and hips in 4 weeks.(2)(3)
Sleep
Being a little more relaxed, at least in the very particular way 5-HTP produces, might help to facilitate sleep. This is because serotonin can be converted to melatonin, a hormone that plays an important role in regulating sleep cycles — and its production can easily be reduced by being around too much light at night time. (Which, of course, we all are.)
Studies that have found this affect usually combine it with gamma-aminobutyric acid (GABA), a chemical messenger that also helps with relaxation.(4)(5)
Wellbeing
Some research has found that 5-HTP can improve signs of depression, stress, panic attacks, again because of the serotonin link.(6)(7)(8) These are serious medical problems, however, and more research is needed before firm recommendations can be made.
BarBend Tips
The recommended dose for 5-HTP varies based on your needs. For sleep, 100 to 300 milligrams is the norm (and it's combined with GABA), for appetite a dose of 250 to 300 milligrams, and for mood the dose is 50 to 100 milligrams but three times a day.
Some people experience nausea, diarrhea, and stomach pain from this product. This depends on sensitivities as well as dosage, so start with small doses if you're experimenting.
There's such a thing as too much serotonin, so it's important to avoid taking 5-HTP if you're also taking other supplements that increase serotonin like antidepressants, cough medicines, pain relievers, and sedatives. Make absolutely certain you speak with a doctor before trying 5-HTP.
Wrapping Up
5-HTP, relative to a lot of other "natural" supplements on the market, has produced remarkably consistent results in studies on sleep, mood, and appetite. But for all the reasons described above, it's essential you speak with a doctor before making any changes to your dietary or supplement regimen.
References
1. Voigt JP, et al. Serotonin controlling feeding and satiety. Behav Brain Res. 2015 Jan 15;277:14-31.
2. Rondanelli M, et al. Relationship between the absorption of 5-hydroxytryptophan from an integrated diet, by means of Griffonia simplicifolia extract, and the effect on satiety in overweight females after oral spray administration. Eat Weight Disord. 2012 Mar;17(1):e22-8.
3. Hinz M, et al. 5-HTP efficacy and contraindications. Neuropsychiatr Dis Treat. 2012;8:323-8.
4. Shell W, et al. A randomized, placebo-controlled trial of an amino acid preparation on timing and quality of sleep. Am J Ther. 2010 Mar-Apr;17(2):133-9.
5. Hong KB, et al. Sleep-promoting effects of the GABA/5-HTP mixture in vertebrate models. Behav Brain Res. 2016 Sep 1;310:36-41.
6. Shaw K, et al. Tryptophan and 5-hydroxytryptophan for depression. Cochrane Database Syst Rev. 2002;(1):CD003198.
7. Emanuele E, et al. An open-label trial of L-5-hydroxytryptophan in subjects with romantic stress. Neuro Endocrinol Lett. 2010;31(5):663-6.
8. Schruers K, et al. Effects of tryptophan depletion on carbon dioxide provoked panic in panic disorder patients. Psychiatry Res. 2000 Apr 10;93(3):179-87.