We receive free products and receive commissions through our links. See
disclosures page
.
Avocados have long been touted for their nutritional benefits, so it should come as no surprise that avocado oil is also an excellent source of healthy fats and antioxidants. Avocado oil is a rich source of oleic acid, a fatty acid that may have some unique health benefits (1).
Avocado oil generally has a pretty high smoke point, making it suitable for cooking things at high heat. Additionally, it serves as an effective ingredient in salad dressings and marinades, and even as a topping for some dry snacks, like popcorn. There are a ton of avocado oils available on the market. We rounded up a few of the top options, taste tested them, and gave our picks for the best avocado oil.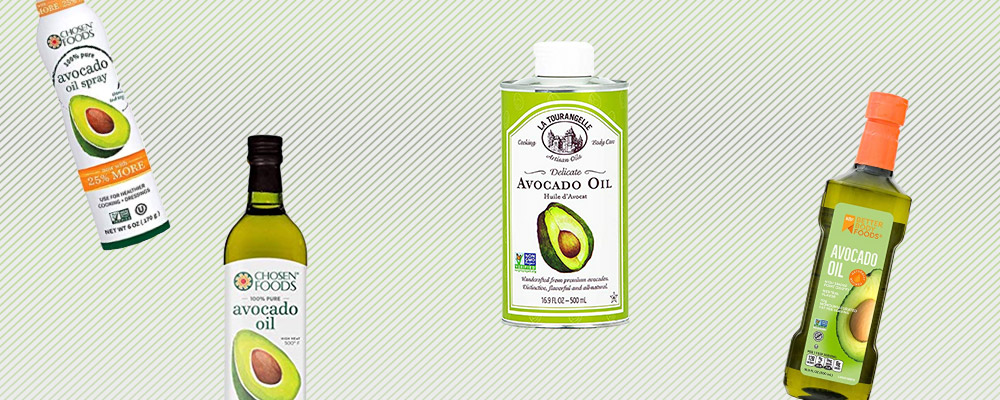 Editors' Choice: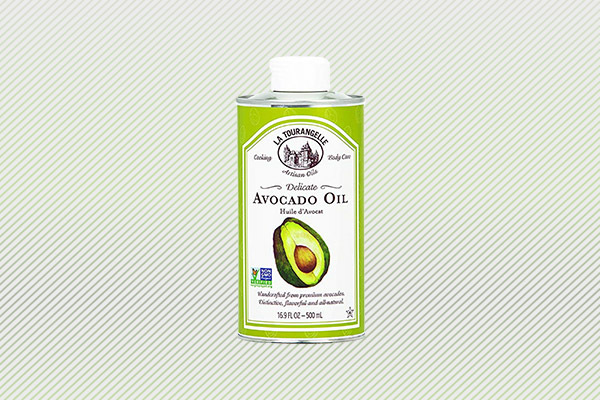 La Tourangelle Avocado Oil
Pros:
Taste-wise, this was our top pick in terms of flavor. It added a notably savory, delightful note when added to salad and popcorn. 

Expeller pressed using a centrifuge, and then lightly filtered and "polished" in another centrifuge. 

Marketed as being great for fresh fruit, salad, and even useful on skin. 

The artfully decorated tin could make a great addition to a kitchen counter. 
Cons:
Non-organic. 

This avocado oil is a bit pricier than some of the other competitors we looked at. 
La Tourangelle Avocado Oil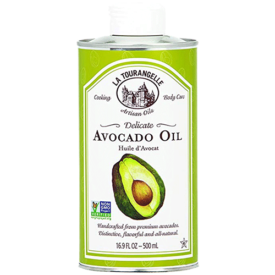 La Tourangelle Avocado Oil
Packaged in an artfully decorated tin, La Tourangelle offers a great tasting, vibrantly green avocado oil. The manufacturer asserts that this oil is made using a 150 year old French artisan tradition.
Contender: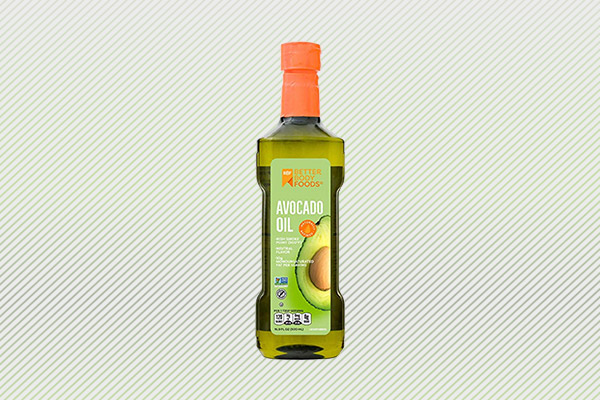 Better Body Foods 100% Pure Avocado Oil
Pros:
With a 500° smoke point, this pure avocado oil is great for cooking at high heat. 

This naturally refined avocado oil comes in a plastic bottle and has a top designed for easy pouring. 

Taste-wise, this oil provides a bit of a savory note to it, while not overpowering whatever food it's been added to. 

Very competitively priced. 
Cons:
Though the taste is solid, this oil does carry a bit of an oily smell.
Better Body Foods 100% Pure Avocado Oil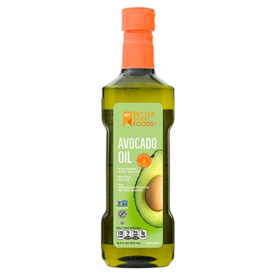 Better Body Foods 100% Pure Avocado Oil
Better Body Foods offers a very solid avocado oil available at a reasonable price point. With a slightly greenish yellow tint, this oil has a savory but delightful taste. 
Best Spray: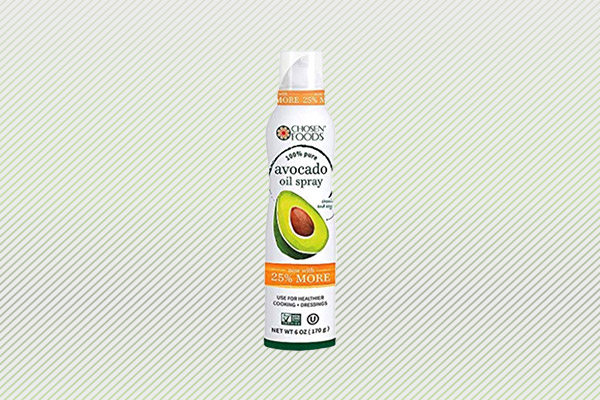 Chosen Foods 100% Pure Avocado Oil Spray
Pros:
This very convenient spray can works seamlessly, effortlessly adding a mist of avocado oil at the press of a button. 

With a smoke point of 500° this spray can be used in high heat cooking in addition to baking, or for misting salads. 

Expeller pressed and naturally refined oil. 

The texture of the oily mist is great for adding to salads or popcorn. 
Cons:
The taste of the oil spray is pretty nondescript and bland.

A spray oil works well for misting a salad, but is not ideal for creating a salad dressing.
Chosen Foods 100% Pure Avocado Oil Spray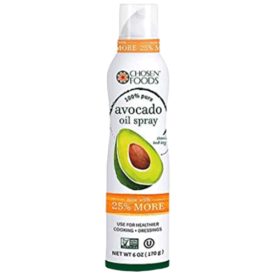 Chosen Foods 100% Pure Avocado Oil Spray
For folks who prefer a spray to liquid oil, Chosen Foods 100% Pure Avocado Oil Spray may be a great option. This chemical and additive free spray is intended to be used for baking, cooking, or even finishing salads and other foods.
Also Consider: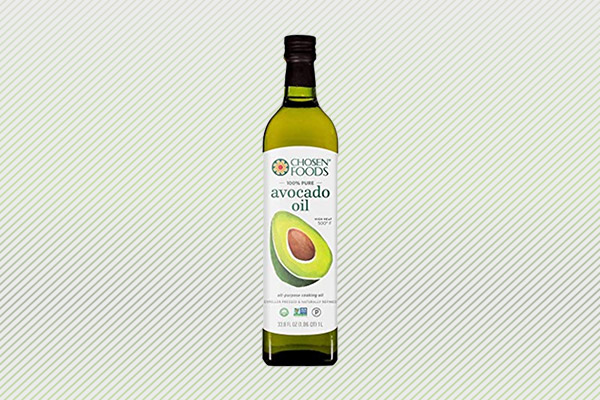 Chosen Foods 100% Pure Avocado Oil
Pros:
With a 500° smoke point, this avocado oil is great for cooking at high heat, be it sauteing, grilling, or roasting. 

Chosen Foods avocados are harvested in co-op groves in central Mexico. 

This clear oil pours out of the bottle very nicely and adds a nice bit of moisture to whatever it's poured on. 

Expeller pressed and naturally refined 
Cons:
Taste-wise, this is a pretty plain avocado oil, making it ideal for cooking, but not much more than a vehicle for other flavors in salad dressings or marinades. 

From a cost perspective, this is a bit higher on the spectrum than some of the other oils on the market. 
Chosen Foods 100% Pure Avocado Oil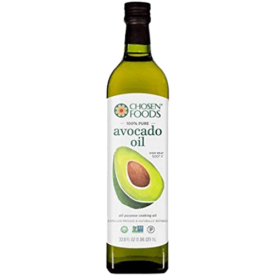 Chosen Foods 100% Pure Avocado Oil
Chosen Foods offers a large supply of 100% pure avocado oil available in a tinted glass bottle. This non-GMO oil has 500° smoke point, making it very useful as a cooking oil.
Methodology
Avocado oil is an ingredient that can be used in a number of ways, including in cooking and in dressings or marinades. Some evidence even supports the theory that avocado oil may help cut down on bad cholesterol while boosting good cholesterol (2) (3). With so many options available, it's important to know what you're looking for. Here are a few key features to look for when evaluating avocado oils.
Expeller vs. Cold Pressed
The main difference here is temperature control. With expeller pressing, the avocado is pressed to release its oils. While this does not necessitate a warm environment, the friction between the stone and the fruit may result in a bit of warmth, which can dilute some of the oil's taste. Cold pressed avocado oil is performed in a temperature controlled environment.
Refined or Not?
Many avocado oils are refined. Manufacturers remove certain impurities and create a more homogenous product. These refined oils often have higher smoke points as a result, making them suitable for cooking at higher temperatures. Unrefined avocado oil is simply filtered and left alone, resulting in a product that tastes a bit stronger and may be better suited to salad dressings or using directly on food.
Organic
Some avocado oils will make a point to advertise themselves as being sourced from organic avocados. If it's not noted on the packaging, the avocados in question are likely not grown organically.
Smoke Point
The smoke point refers to the temperature to which a particularly oil can be heated before it starts smoking. This is important, as the nutritional profile of an oil can change when it's heated to an extreme level.
BarBend Tips
Avocado oil makes an excellent base for salad dressings. If you're not a kitchen wiz, consider using the juice from a quarter of a lemon, salt, petter and avocado oil to make a simple dressing.
Avocado oil can be added to a smoothie to get a boost of fatty acids.
Avocados are a delightfully versatile fruit, and the oil they produce is just as versatile. Whether you're cooking over high heat, baking, or misting a salad, consider utilizing avocado oil.
References
Sales-Campos H, Souza PR de, Peghini BC, da Silva JS, Cardoso CR. An overview of the modulatory effects of oleic acid in health and disease. Mini reviews in medicinal chemistry. 2013;13(2):201-210.

Kritchevsky D, Tepper SA, Wright S, Czarnecki SK, Wilson TA, Nicolosi RJ. Cholesterol vehicle in experimental atherosclerosis 24: avocado oil. Journal of the American College of Nutrition. 2003;22(1):52-55.

Salazar MJ, El Hafidi M, Pastelin G, Ramírez-Ortega MC, Sánchez-Mendoza MA. Effect of an avocado oil-rich diet over an angiotensin II-induced blood pressure response. Journal of ethnopharmacology. 2005;98(3):335-338.