Baseball is a sport that can be enjoyed by people of all ages and skill levels. However, starting at an early age, there is some equipment required that all players will need. Hauling bats, mitts, balls, cleats, and a helmet can be rather cumbersome; that's where baseball equipment bags come in.
Baseball and softball bags come in a few different styles. One of the more popular kinds resembles a backpack, while others are more of duffel bags. Each type of bag and even each brand will have different characteristics that can satisfy different needs. We've found our favorites across a few categories; read below to see our picks: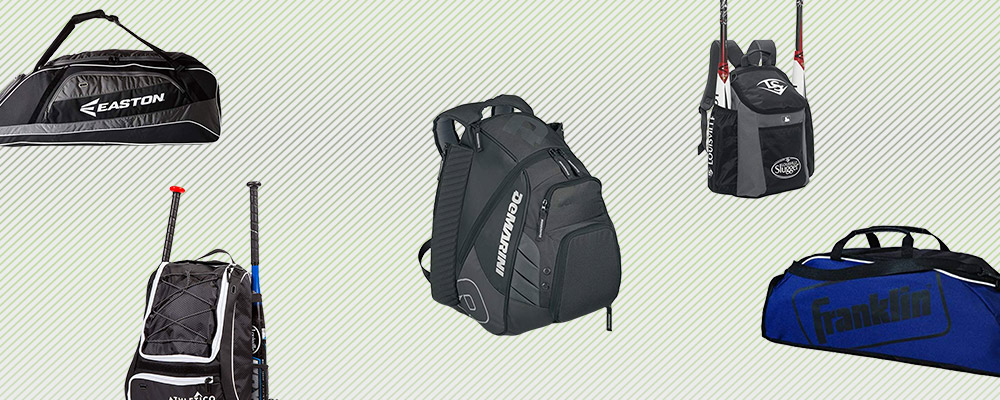 Editor's Choice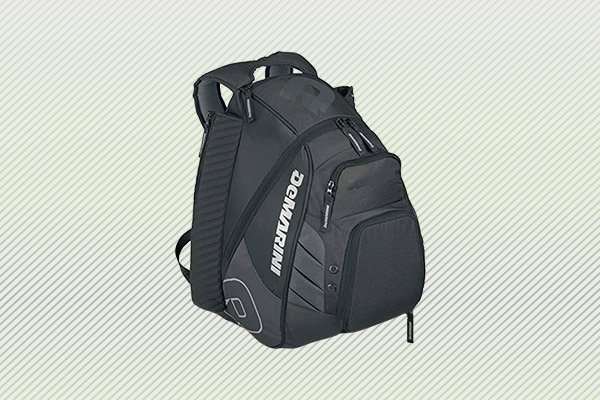 DeMarini Voodoo Rebirth Backpack
Pros: 
Sleeve zippers. Not only is the neoprene sleeve taught and molded in a way that secures the barrel of the bat, but there is a zipper that opens to help place the bat before zipping it in. 

Water resistant. This backpack features a waterproof base material. This is helpful for when it starts to sprinkle during a game or if there are any left over puddles or spills in the dugout.

Protects valuables. There is a fleece-lined pocket that provides a safe place to put cell phones and sunglasses. The softness of the fabric is easier on delicate items than the pockets featured in other bags.
Cons:
Shallow pockets. This bag has several pockets but they are rather shallow. Not much can be stored in each one.

One zipper on the front pocket. There is only one zipper on the front pocket of this bag. If it gets stuck, the front pocket may become unusable.
DeMarini Voodoo Rebirth Backpack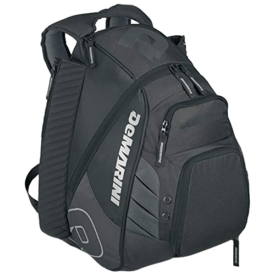 DeMarini Voodoo Rebirth Backpack
The DeMarini Voodoo Rebirth Backpack is a sturdy bat backpack that features ample storage, a waterproof base material, and is available in several strong colors. It has fleece-lined pockets and two well-designed bat sleeves.
The Contender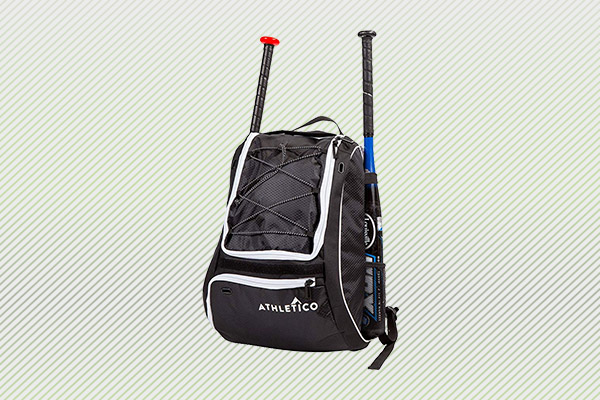 Athletico Baseball Bat Bag
Pros: 
Colors. This backpack is available in several colors, ranging from fun to serious. Not only is there a pink bag, but there is even a stylish pink camo option.

Fence hook. A great aspect of this bag is that it can be easily hung on fencing with an integrated hook. This makes accessing equipment possible without having the bag in the way or sitting in dust.

Front bungee cords. This backpack has a criss-cross of bungee cords on its front panel that allow players to store water bottles, clothes, and other baseball gear. This is a great way to carry extra stuff without overstuffing the bag.
Cons:
Zipper orientation. The main cavity of this backpack is opened from bottom to top, meaning if the bag is overstuffed, equipment may tumble out unless it is opened carefully.

Thin material. The main material used for the backpack's walls is rather thin; though this is helpful for keeping the bag lightweight, it does make it more apt to tear.
Athletico Baseball Bat Bag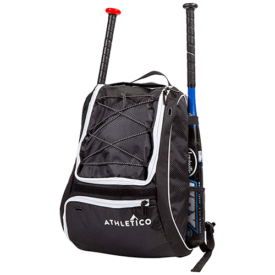 Athletico Baseball Bat Bag
This baseball bat bag from Athletico is a great lightweight backpack that is able to store two bats, gloves, and balls. It has front bungee cords and divided compartments to keep things organized.
Best Compact Bag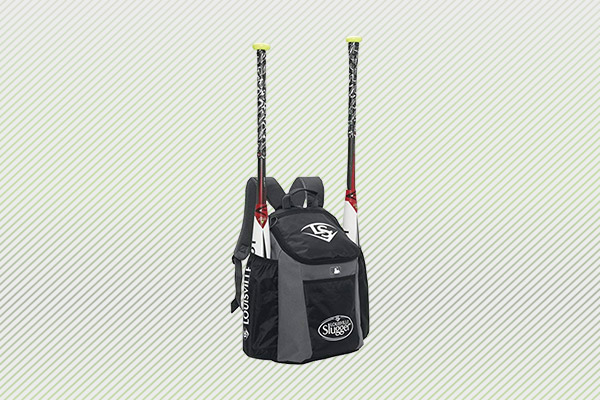 Louisville Slugger EB Series Baseball Equipment Bags
Pros: 
Full sleeves. This backpack has two sleeves on either side of the bag that can store bats. These sleeves have a fully enclosed design that can help protect the bats from damage.

Comfortable. The straps on this backpack have a nice padding that relieves some pressure on the shoulders. The back of the bag has this padding as well.

Lid pocket. There is a pocket directly above the main compartment that is a great place to put more delicate items, like sunglasses and phones. Finding a place to store sunglasses can be tough with other styles of baseball bag.
Cons:
Small. This bag might be more appropriate for younger kids as it runs on the smaller side.

Sleeves are short. Though it is nice that the sleeves are made of a solid fabric, they may not be great for longer bats. The sleeves only go up about ¾ up the length of the backpack.
Louisville Slugger EB Series Baseball Equipment Bags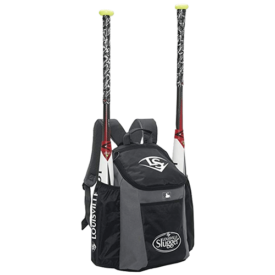 Louisville Slugger EB Series Baseball Equipment Bags
The Louisville Slugger EB Series equipment bag is compact but has a surprising amount of storage. It has comfortable padding and is available in black and a fun neon yellow.
Most Storage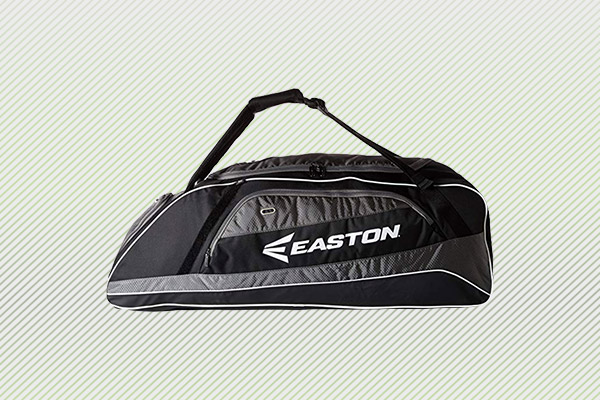 Easton E500T Bat & Equipment Tote Bag
Pros: 
Large compartment. This bag has one of the largest capacities one can find for a baseball bag. It has room for most of the equipment a player could bring, including even some catcher's gear.

Side pocket. The side pocket runs the length of a large portion of the bag. It is large enough to fit a few people's valuables.

Bat storage. Though this bag is advertised as being able to hold up to three bats, some may find that they can even store four in this bag. Regardless, this bag has a lot of room for baseball or softball equipment.
Cons: 
Price. This bag is a bit more expensive than some of the more basic backpack-style bags one can find. Those shopping on a budget or for a beginner may want to look elsewhere.

No wheels. Bags of this style commonly have wheels that help while transporting to the field, especially when the bag is loaded with stuff. This bag was not designed with wheels.
Easton E500T Bat & Equipment Tote Bag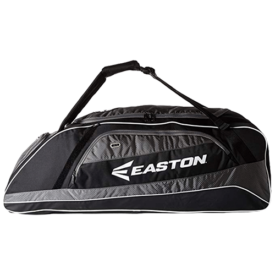 Easton E500T Bat & Equipment Tote Bag
The Easton E500T baseball bag is one of the biggest offered by Easton, making it a great option for someone with lots of gear. The main compartment can easily fit more than a helmet, with the several side pockets allowing organization for valuables and other small effects.
Best Duffel for Kids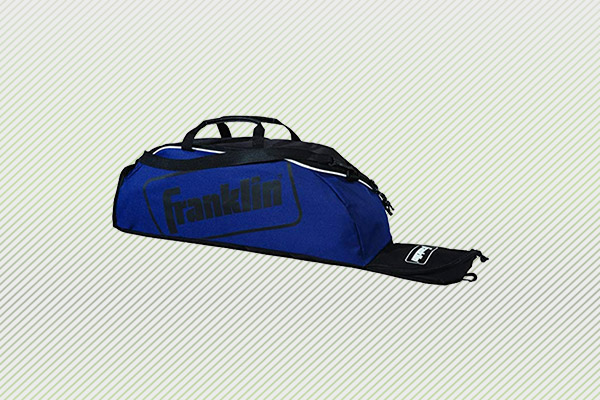 Franklin Sports Youth Baseball Bat Bag
Pros:
Duffel-bag style. This bag for kids is designed to be carried rather like a duffel bag. This can reduce pressure on the back and allow for more carrying options.

Cleat department. A nice aspect of this bag's design is that there is a ventilated compartment in the bag designed for cleats. This helps reduce the accumulation of sweaty smells and gives field dirt a place stuck on the shoes a place to exit the bag.

Holds 3 bats. This bag not only has extra storage space for balls, mitts, and other gear, but it has space for three bats. The backpack-style bag can typically only hold two.
Cons:
Fence hook shouldn't be overloaded. The hook that clips the bag to fences can snap if the bag is overloaded. It may be wise to unload some of the heavier items before hanging.

Could be bigger. Some kids who have larger batting helmets may find it difficult to fit much else in the bag. If it were wider or taller it may be more effective.
Franklin Sports Youth Baseball Bat Bag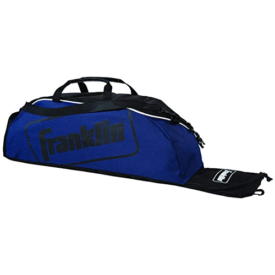 Franklin Sports Youth Baseball Bat Bag
This baseball bag from Franklin Sports is a great bag for kids who have a lot of gear or several bats. It is designed with shoulder straps and a handle for carrying convenience.
How We Picked
Baseball equipment bags can make the logistics of baseball and softball much easier. That being said, some bags have certain features that may fit the bill more than others. As they are shaped and designed differently but with the same goal in mind, we were able to find some areas where we could properly evaluate them against each other. Here is a breakdown of our methodology:
Shape
The first thing to decide when getting a baseball equipment bag is which style to get. The bags that have two straps that go over the shoulders like a backpack are a great fit for players of any age or skill level. They let the player be hands-free when transporting gear and is easy to store and maneuver due to its compact size.
There is a limit to how much these bags can store, however. These bags may have fewer pockets and less overall storage space than longer baseball bags that are shaped more like duffel bags. These bags can be designed to have more space, especially for bats. Keep in mind though that these bags may need to be carried with a handle or over a shoulder, potentially putting more stress on the body and allowing less freedom to carry other gear.
Compartments
Baseball and softball are sports that have several different kinds of equipment. At a basic level, every player will at least need a mitt, and most will have a bat, some balls, batting gloves, and cleats as well. Some players and coaches will even need to bring bases, a clipboard, a tee-ball, and helmets.
Since, everyone will have different needs when it comes to their personal gear, it is important to understand the type of storage inside a bag. Some bags have special compartments for cleats that have a ventilated mesh fabric that allows for odors and dirt to escape. The other will have specialized compartments for delicates like phones and sunglasses, or large enough for gloves and clipboards.
Durability
Baseball equipment bags can go through some rough and tumble experiences. By carrying around heavy and sometimes even sharp equipment (like metal cleats), these bags can get worn down over time. Depending on how much gear and how often you play, some bags may not be sufficiently sized or shaped.
Smaller bags, when not overloaded, can still be quite durable. Some brands are using waterproof materials that help keep the equipment inside protected in case of bad weather or water bottle spills. For added security and for longer-lasting bags, look for bat sleeves that are reinforced and sturdy.
Tips
Not sure which baseball equipment bag is right for you? Here are some suggestions that can help you lead off:
What level of competition is this for?

Younger kids won't need a large bag, unless they will be bringing their own helmet to games.

Adults might want to look for a more durable bag with special compartments that can safely hold their cleats and valuables.

How much gear do you have?

Coaches and catchers will probably need a larger duffel-style bag. Catchers have specialty gear and coaches will have extra balls, bats, and a clipboard for lineups.

Those who just have a mitt and a bat might find the backpack-style more efficient and comfortable.