You don't need to be a sports superstar to revel in the swoosh of a perfect jumpshot ripping through the net. What you do need, however, is a basketball hoop. Fortunately, there are a lot of options for hoop heads, beginners, and everyone in between to work on their game at home.
Basketball is a great way to mix up a cardio routine, work on hand eye coordination, or enjoy some friendly competition. It's fun for kids and adults alike, and only requires a hoop, some sneakers, and a ball. If nearby courts are always packed or the local gym's games are a little too intense, it might be worth getting a basketball hoop to use at your own convenience. There's a lot of options on the market – if you're considering purchasing a basketball hoop, take a look at our top picks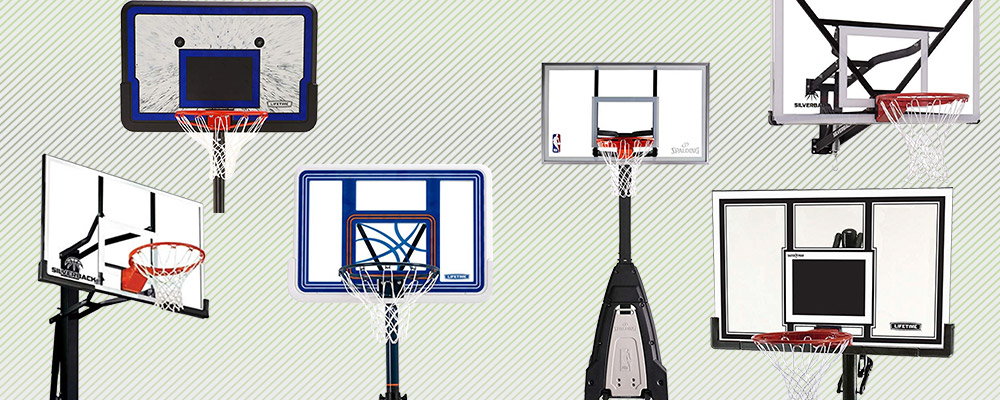 Editors' Choice: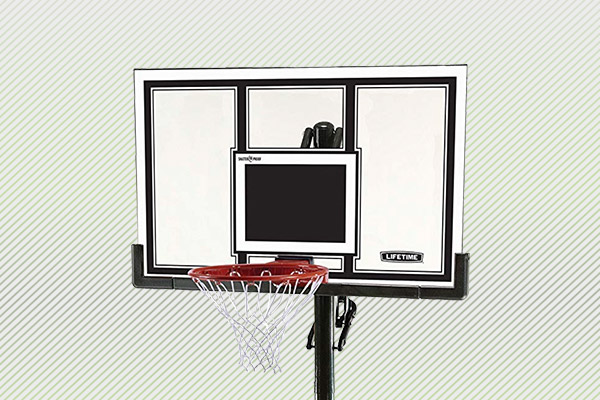 Lifetime XL Portable
Pros:
The shatter-proof backboard on Lifetime's XL model measures 54 inches across, giving you ample room to work on reverse layups.

Adjustable from regulation height of 10 feet down to 7.5 feet.

Features a "Slam-It Pro" rim which is built to withstand dunks.

Base is equipped to be hold 35 gallons of water or sand, making this a bit sturdier than some of the other options on the market.
Cons:
The polycarbonate backboard does not offer as true of a bounce as glass or acrylic models, so you may have to practice your bank shots somewhere else. 

Some folks mentioned that the assembly was a bit trickier than advertised.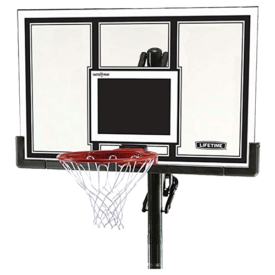 Lifetime's XL portable basketball system offers a sturdy, but reasonably priced option for folks looking to work on their game in the driveway. Equipped with a 54" wide backboard, this unit is a great option for teenagers and adults alike. 
Best Value: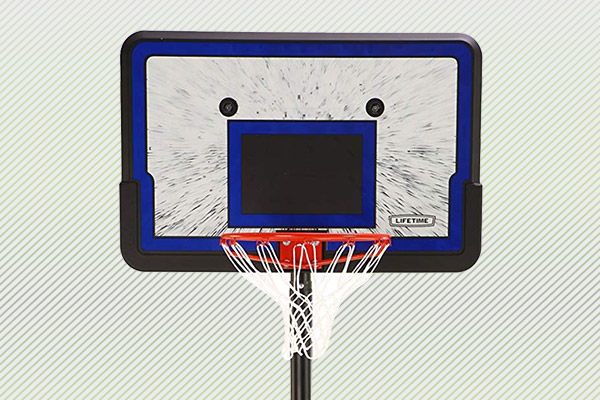 Lifetime Adjustable Portable Basketball System
Pros:
As far as regulation height basketball hoops go, this is one of the most affordable models on the market. 

This basketball system is adjustable in six inch increments between 7.5 feet tall and 10 feet tall, making it suitable for players of varying size and ability. 

Assembly on this basketball system requires at least 2 adults and is designed to take between 1 and 2 hours. Lifetime provides detailed instructions and even video assistance. 

Comes with two wheels in the front, making it relatively easy to tilt the unit forward and roll it to another place. 
Cons:
With a backboard measuring only 44" across, this is on the small end as far as basketball hoops go. For reference, a standard basketball hoop measures 72" across. This could make it tricky to utilize the backboard on a variety of different shot types. 

The 27 gallon base is a bit smaller than other models, giving this unit a less sturdy base, which may be an issue with more aggressive players.
Lifetime Adjustable Portable Basketball System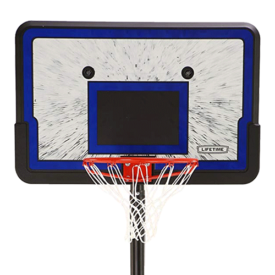 Lifetime Adjustable Portable Basketball System
For folks looking for an affordable, very simple basketball hoop, this model from Lifetime may do the trick. While this hoop may not satisfy the needs of more advanced players, it should suffice for kids and adults looking to get up some shots. 
Best In Ground Option: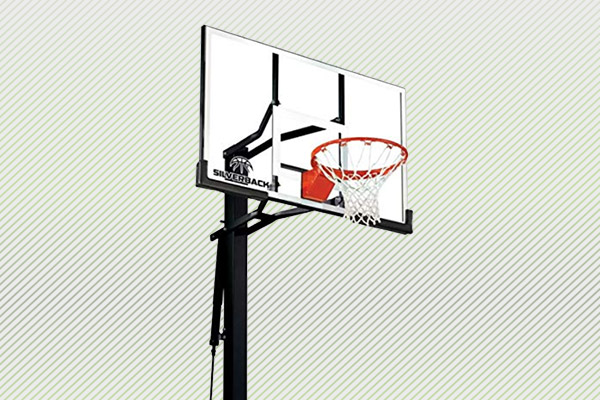 Silverback In Ground
Pros:
The Silverback In Ground basketball hoop is bolted into the ground, making it very stable. Conveniently, it's designed in a manner where you can take it out of the ground and reinstall it if you need to decide to move it.

Equipped with a crank that easily adjusts the height of the rim anywhere between 7.5 feet and 10 feet. 

Comes with a break away rim and padding on the side of the backboard – key implements for anyone who plays above the rim.

This hoop is suspended 2.5 feet away from its supporting pols, allowing you to practice hard charging layups without fear of bashing into a pole. 

Tempered glass backboard is designed to give a true bounce.
Cons:
While the pricing on this is competitive, it still rates as a pretty sizable investment for most folks. 

Obviously if you're investing in an in-ground basketball hoop, you won't be able to easily pick up and move the unit if you happen to need extra space for parking or want to take the hoop down for any reason.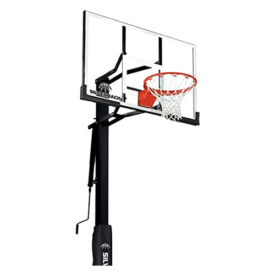 If portability is not an issue, you might want to consider a basketball hoop that you root to the ground. Silverback's offering is not the cheapest available, but offers a sturdy base with an added benefit of being able to transfer it to a new location in case you move. 
Best Wall-Mounted Hoop: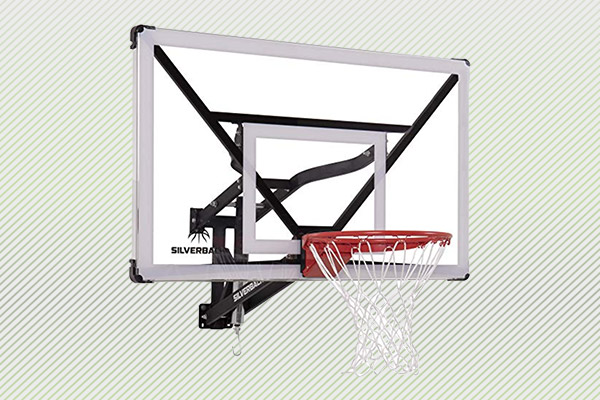 Silverback Wall Mount
Pros:
The benefit of mounting a hoop to an existing structure is that you don't need to worry about a pole getting in the way of any vehicles (or tractors, for that matter).

A hand crank allows you to adjust the height of this backboard anywhere from 7.5 feet to 10 feet tall. 

Designed to take less than 2 hours to assemble this basketball hoop. 

Compared to some of the higher end free-standing or in ground models, this is a bit more competitively priced. 
Cons:
The polycarbonate backboard may not offer the truest of bounces compared to glass.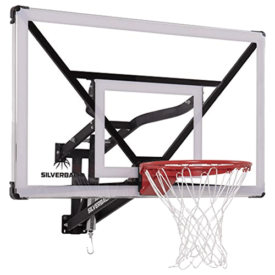 A wall-mounted backboard and hoop may be ideal for a garage, an indoor gym, or even a barn. Silverback's model comes with a polycarbonate backboard and is designed to be assembled in just two hours. 
Best Portable Background: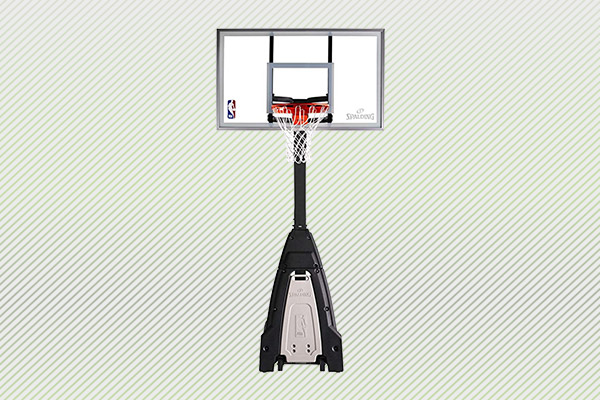 Spalding "The Beast" Portable Backboard
Pros:
60" wide backboard is one of the largest options on the market for at-home use. And since it's made out of glass, you'll get similar bounces off this backboard as you will when you play in an indoor gym. 

A 55 gallon base makes this unit incredibly sturdy, while its 4 wheels make for true portability. 

You can easily crank the rim to go from anywhere between 7.5 feet and 10 feet tall, making this a basketball hoop that suits folks of various skill and height.

Since the supporting pole comes down at an angle away from the hoop, there's space beneath the rim in case you hit top speed on your layups. 
Cons:
As this is a more premium option, it comes with a more premium price tag. 

The base of this unit measure about 3 feet by just more than 5 feet, making it among the larger bases compared to some of the portable hoops we looked at.
Spalding "The Beast" Portable Backboard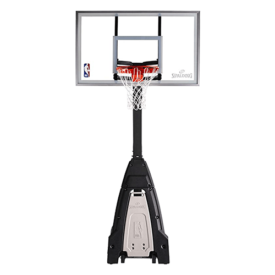 Spalding "The Beast" Portable Backboard
For the ultimate in portability and durability, Spalding offers The Beast. This 60" glass backboard is about as close as you're going to get to a professional set up in your driveway. 
Best For Pool Games: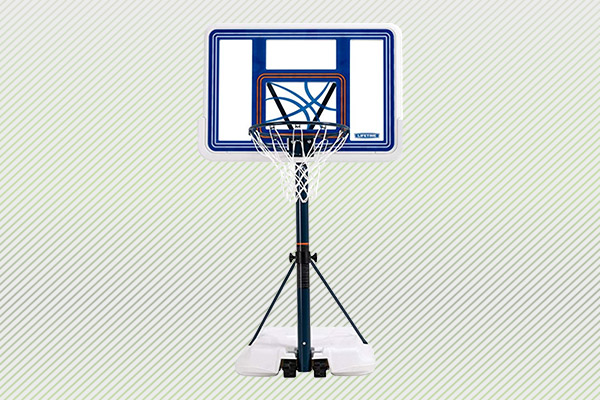 Lifetime Poolside Basketball System
Pros:
Lifetime's poolside basketball hoop is built to sit right by the edge of the pool, making it a perfect game for a hot summer day.

The backboard is 44 inches wide. While that's a bit small for a regulation hoop, it should do the trick just fine for a pool game.

Its size and wheels make it very easy to roll and portable.

The hoop can adjust from between 4 and 6.5 feet.
Cons:
Price-wise, this is cheaper than many of the other more conventional basketball hoops on our list, but still a bit pricey for a seasonal toy.
Lifetime Poolside Basketball System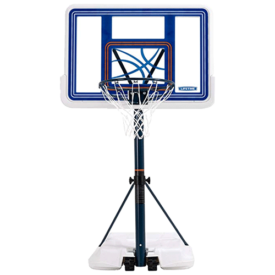 Lifetime Poolside Basketball System
Sometimes, it's too hot to hit the hardcourt, and you need to hit the pool. But what if ball if life, and you still wanna practice your jumpshot? Lifetime's Poolside Basketball System was made for this exact situation. 
Methodology
Basketball is more popular than ever and there are a ton of options out there for folks looking to get a hoop for their home. When looking at potential basketball systems, there's a few key features to consider.
Portability
Depending on where you live, having a basketball hoop that's easy to roll away or store when you're not playing may be hugely important. While in-ground basketball systems are generally more stable, they may not be an option for folks who need to get utilize their driveway for more than hooping.
Adjustability
While a regulation basketball hoop stands at 10 feet tall, that may be a little high for some of the younger or shorter hoopers out there. Most hoops are adjustable down to 7.5 feet, but you'll want to take into account how easy it is to make that adjustment. While some systems include a very easy to use crank, others include a more labor-intensive process.
Backboard Type
Chances are, the basketball court at your local gym has tempered glass backboards. These give the truest bounce, and are the most durable. However, glass is heavy, and can present a bit of a safety hazard if not anchored appropriately. Because of this, and because of cost issues, most home basketball systems use either polycarbonate or acrylic (aka plexiglass) for their backboards. These plastic alternatives are lighter and easier to transport, but do not give as honest of a bounce.
Backboard Size
Regulation basketball backboards are 72" across. You won't find too many home basketball systems that support that size, and frankly, unless you're training for an NBA tryout, you probably don't need it.
On the smaller end, you'll find basketball hoops that offer 44" wide backboards. While that width is fine for casual users, it may make it difficult to practice certain types of shots that rely on using the backboard. If someone in the house is serious about getting better at basketball, you may want to opt for a 54" wide backboard.
Also, steer of non-rectangular basketball backboards. They don't make sense and they are the bane of many hooper's existence.
Rim
Depending on the brand or model, some hoops will be equipped with what are known as breakaway rims. These are rims that are built to withstand someone dunking, and perhaps even lightly hanging on the rim. Cheaper rims may not have that springiness, and will snap off if someone tries to jam it down like Shaq.
Cost
Generally speaking, the bigger and sturdier the basketball system, the more it will set you back. Your level of investment here really depends on how much you plan on using the hoop. For folks who are just looking to mix up their cardio routine and get some exercise in, a cheaper model will suffice.
BarBend Tips
Pay special attention to the instructions. Installing a basketball system is not a super simple task. Carve out a few hours and enlist someone's help before cracking open the box.

Weigh your portable hoop down properly. While it may be tempting to throw some old 45 lb plates or a couple of heavy rocks on the base of your new hoop, that is not going to keep it secure enough, and may also present a safety hazard. There's nothing worse than having to readjust the hoop every few shots; take the necessary time and fill in the base with sand or water.

Keep a push broom nearby your basketball hoop. While true court divas may be tempted to resurface their driveway to make an optimal court, your existing concrete should suffice. But leaves, twigs, dust, pollen, and other debris can present safety hazards. Give the court a quick sweep before you lace up your Jordans.
Playing basketball is one of the most joyful ways to spend a Saturday morning. You don't have to be a professional to work on your jumpshot.