You're done with school, just finished playing basketball, or just picked up some groceries for dinner. You put on your helmet and walk over to your bike – but where has it gone. Having a bike stolen is a gut wrenching and costly experience.
That's why bike locks are such an important product to get to accompany any bike. Depending on how heavily-trafficked the area is and the bike stand options, certain locks may be better fits based on their shape and locking mechanism. Because many will look the same but offer different benefits, we have scoured the market and identified our favorites; here are our choices: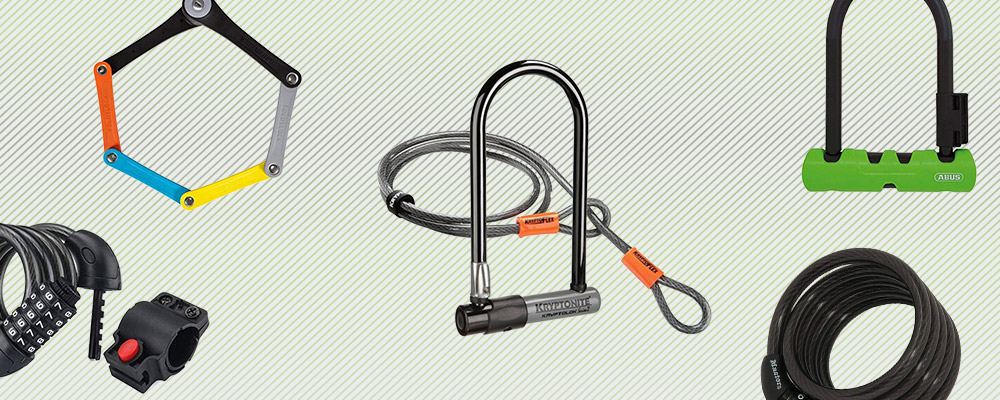 Editor's Choice
Thick, Dustproof, and Nigh Un-Pickable
Pros: 
Thick steel. The main structure of this lock is fashioned out of steel that is about 13mm thick. This is thicker than other similar "u" style locks and thus a bit more secure.

Keyway. The location where the keyway has been placed is centered in the middle of the crossbar. This helps limit the use of leverage to pick the lock.

Dust cover. The keyhole has a cover that slides over it to keep dirt, dust, and debris from gumming up the interior. This is great for those who go mountain-biking or off-roading.
Cons:
Short. This lock stands about 11 inches long, with 9 inches of vertical lock space. This may not be long enough for some situations, like when there aren't a lot of solid things to lock a bike to.

Not rustproof. If this lock is left out in the rain too much, it may develop rust. This will probably only be a cosmetic problem, but could affect the machinery eventually.
Kryptonite KryptoLok Series 2 Standard Heavy Duty Bicycle U Lock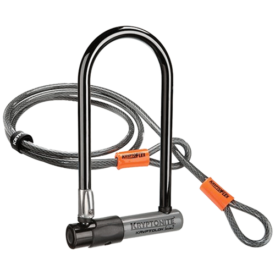 Kryptonite KryptoLok Series 2 Standard Heavy Duty Bicycle U Lock
This offering from Kryptonite is a sturdy steel "U" lock style bicycle lock that employs a dedicated key, a 4' cable, and the steel "U". It is designed with a pass-through crossbar that protects against twist and single-cut type thefts.
The Contender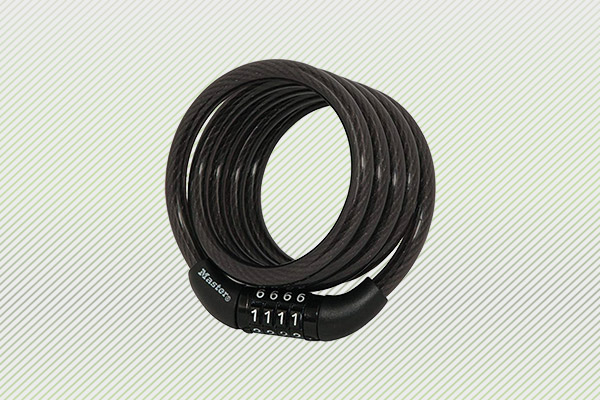 A Timeless Brand
Pros: 
Lightweight. This lock barely weighs 4 ounces. This makes it more convenient to travel with and to operate.

Preset combination. This offering from Master Lock comes with a preset combination that cannot be changed. For security reasons, it is nice to know that the combination can't be fiddled with.

Vinyl coating. The steel cable is encased in a thick but flexible vinyl coating. This will cause less scratches than the exposed steel wire that some locks are made of.
Cons:
Don't forget the combination. It is advised to write down the combination somewhere safe as soon as you get the lock. Once forgotten, it is impossible to get the combination back.

Digits only go up to 6. These locks only go up to six digits (7, 8, 9, and 0 are not included). This increases the odds a dedicated thief could figure out the combination.
Master Lock Combination Bike Lock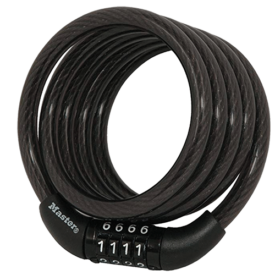 Master Lock Combination Bike Lock
This classic bike lock from Master Lock is a flexible and durable first defense against bike thieves. It is extremely lightweight and comes with a random factory-set combination.
Most Compact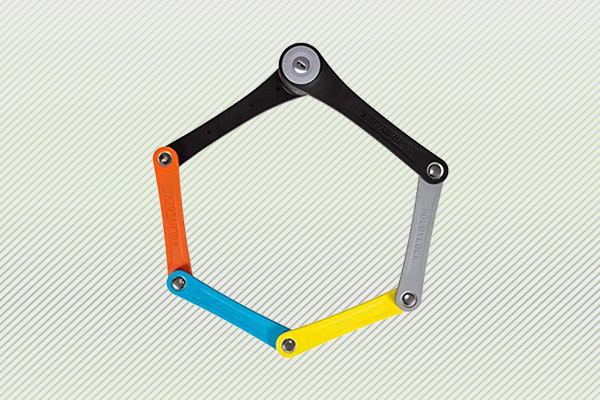 Innovative Design
Pros:
Folds. This lock can go from having a 33.5" diameter to being folded into a 2.35" x 7.45" pocket-sized bar. Great for longer trips on bikes with little storage capacity.

Quiet. The lock has an anti-rattle mechanism that ensures the bike lock doesn't move around in its case while cycling. Other bike locks can be a hassle when not being used to secure a bike.

Flexible. For a bike lock that is made out of steel, this product is quite flexible. By using steel links that can pivot, it is easier to secure a bike to an awkwardly positioned post or bike stand.
Cons:
Heavy. This is one of the heavier bike locks one may come across. It is made of solid steel, so that isn't surprising.

Could be longer. This bike lock may not be long enough for certain bike stands. It could be used in combination with another lock to solve this problem.
FOLDYLOCK Compact Bike Lock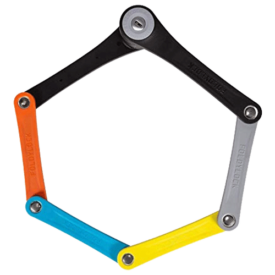 FOLDYLOCK Compact Bike Lock
This is a neat style of bike lock that uses a series of steel links with riveted hinges, allowing flexibility when securing the bike. It can also fold up into a very compact size for easy transport.
Best for Kids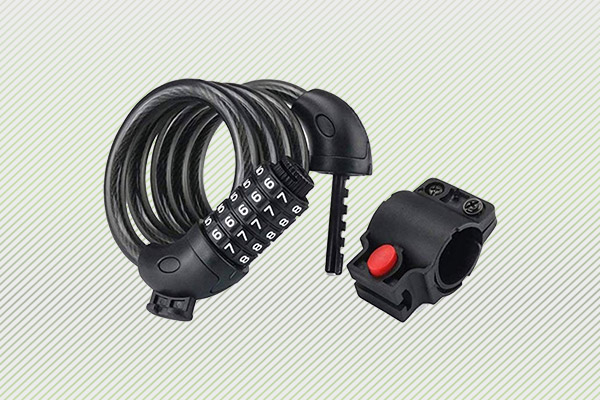 Easy to Learn, Easy to Use
Pros: 
5 digit lock. The combination on this cable bike lock consists of five digits. This adds another degree of difficulty for those trying to hack the lock, as there are nearly a hundred thousand different combinations with five digits.

Color options. While most bike locks are black, this line makes the locks in a variety of colors. Cyclers can choose between white, yellow, blue, pink, and purple.

Easy-to-operate bracket. The bracket included with this lock has a quick release button that is bright red, so it is hard to miss it. This is great for kids who are just learning about how equipment operates.
Cons:
Bracket is flimsy. The bracket provided with this lock is nice in that it has a "one-touch" release mechanism. However, it doesn't do a great job of staying on the bike itself.

Hard to reset the lock. Those who want to change their combination periodically for security reasons may need to dedicate some time to figuring out how to reset the combination; the process is rather complicated.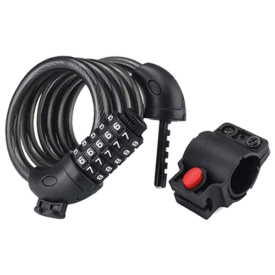 This cable lock features a five-digit combination to help secure the cable, which is made of braided steel wire. It is available in several different colors and is relatively lightweight, making it great for younger kids.
Best Size Variety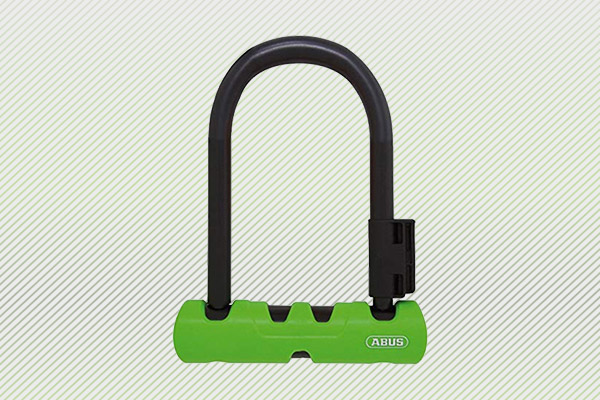 Available in Multiple Lengths
Pros: 
Size options. There are four different sizes available of this "U" lock. The sizes range from 5.5" to 11", which is great for accommodating certain bikes and locking situations.

Cable optional. The U lock can come with a double-ended-lasso cable included to help lock up multiple bikes. The U lock can be purchased separately as well, as some may already have a sturdy bike cable.

Decoy cuts. This lock has decoy cuttings on the crossbar to make it harder to pick the lock. This is a subtle detail that can deter thieves.
Cons: 
Hard to carry. The bracket and velcro mechanisms included to help store the U lock and cable on the bike don't achieve a secure fit. Sometimes they won't fit or they rattle around while riding.

Short cable. The cable provided is about 3 feet long. That is about a foot shorter than most bike lock manufacturers make.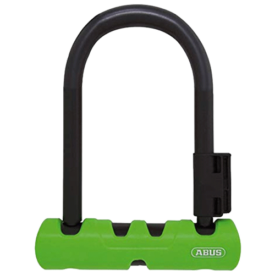 ABUS makes a line of bicycle locks that are efficient, sturdy, and easy to use. They are available with lengths of 5.5", 7", 9", and 11", making it easy to find the perfect size for any situation.
Best Lock Chain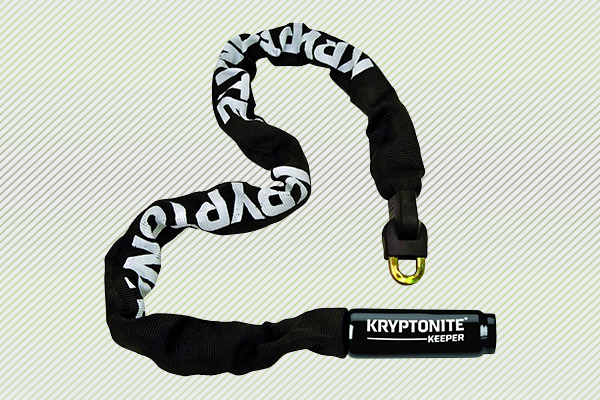 Won't Scratch Your Paint
Pros
The cylinder is both pick and drill resistant.
The chain is secured to a hardened deadbolt, eliminating a crucial vulnerability in chain locks.
The lock is available in three colors.
A nylon sleeve helps to prevent the chain from scratching your paint.
Cons
This is on the pricier end for a chain lock.
It's not long enough to wrap around both tires, if you're concerned about tires being stolen.
Due to its design, it's tough to store while riding.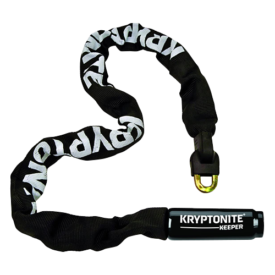 A nylon coated chain lock that won't scratch your paint and it's pick and drill resistant.
Also Consider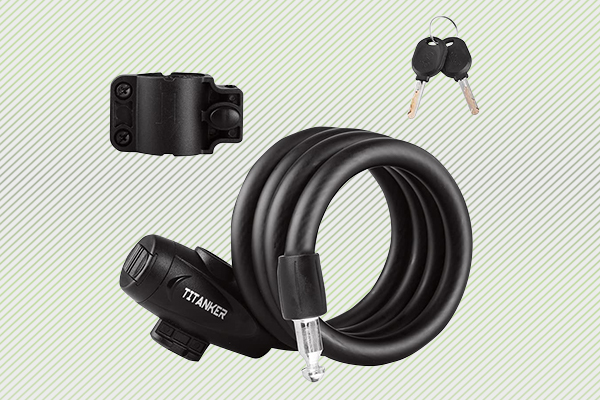 Surprisingly Flexible
Pros
The cable is unusually flexible, making it very portable.
The key hole is protected by a waterproof and dustproof cover.
The lock is 4 feet long and half an inch in diameter.
Cons
The keys are intricate and may be hard to make doubles of.
Some prefer longer locks that can wrap around both bike wheels.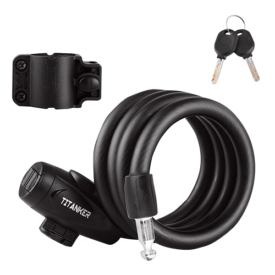 A four-foot long cable lock that's unusually flexible.
How We Picked
Picking out the right bike lock can mean saving a bike from unpredictable instances of theft. It goes without saying that the strength and durability of the lock will be a big factor in this decision. However, there are other aspects to weigh that can tilt the scales from one lock to another. Here is what we looked at:
Design
The first thing one will notice when looking at bike locks is that there are a few different styles that these can be fashioned in. One of the most popular styles is the U lock. This uses a sturdy "u"-shaped shackle that is secured with a key-locked crossbar.
This is one of the most dependable lock styles, but it has its limitations as it can only secure a small amount of space inside the shackle. Cable and link locks are more flexible and can contain more space, whether that means locking up multiple bikes or fashioning a lock to an awkward anchor. Often people use different styles of locks in combination for added security.
Size
Different styles of locks can have a big variance in how much space they can actually secure. While U locks are limited in space compared to cable locks, there can even be differences within each style. Depending on where the bike will be locked up, a bigger or smaller lock may be in order.
Cable-style locks can be anywhere from 3 to 6 feet long. A longer cable may not be necessary if the bike is to be secured straight to a bike rack, but could be helpful in securing different parts of the bike; the front and back wheels and the frame can all be separately looped with a long cable. U locks come in different sizes as well; a small one has a lighter weight and can be easily slipped into a pocket or small bag.
Durability
This is probably the most important factor when considering which bike lock to get. Those who park their bikes in heavily-trafficked areas or who ride an inexpensive bike may opt for a cable lock. These tend to be less expensive and won't necessitate carrying around an extra key.
U locks and other solid steel products are definitely harder for thieves to break, however. Cables can be cut with heavy-duty wire cutters and a little bit of time. The best technique for bicycle security is probably a blend of a few different types of locks; this way a frame can be secured to a bike rack while the wheels are safely secured to the frame.
Tips
Not sure which bike lock is right for you? Here are some suggestions that may help you make your decision:
How expensive is your bike?

If this is a new bike or an expensive one, it is worth it to get a top-of-the-line lock.

Older bikes may be less of a target for thieves and a standard lock might suffice.

How do you use your bike?

Those who go for quick rides into town or school may not need to use a U lock and cable to secure their bikes, as the people traffic will probably discourage thieves.

People will often leave a bike locked outside overnight or over long periods of time. These bikes will need extra security. It is also advised to keep bikes indoors during rain or snow as this can rust and damage most locks.