Whether you ride on urban streets or mountain roads, a bike mirror is an important accessory for a bike. A bike mirror can allow a cyclist to be more aware of their surroundings to better ensure their safety and the safety of those around them. Being able to properly navigate in traffic efficiently is a nice benefit for a rider as well.
The styles and types of bike mirrors available on the market is fairly wide and can adjust for the environments they will be used in. So let's look both ways, signal properly, and find the best bike mirror for your next ride.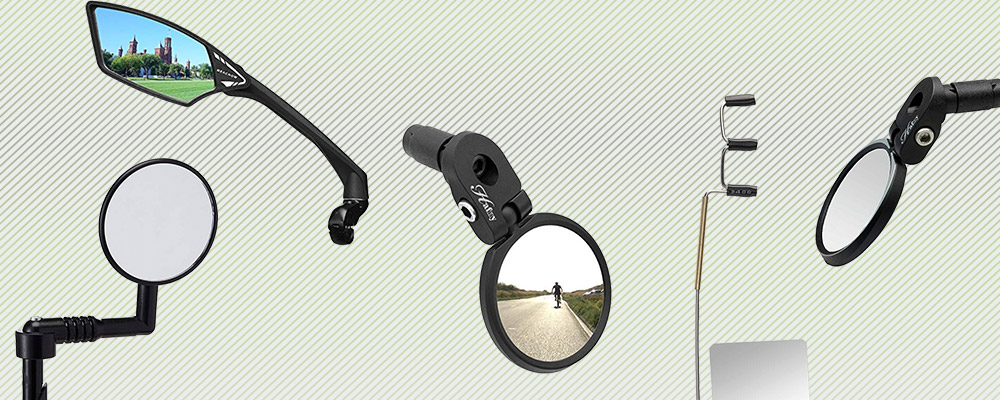 Editor's Pick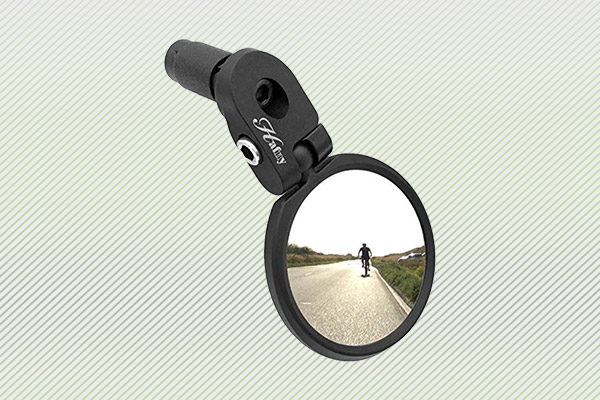 Sustainable and high impact.
Pros:
Designed to fit both flat and drop handlebars.

Foldable frame for easier storage.

360 degree adjustable joint can allow for better rearview.
Cons:
May need consistent tightening before rides.

The ball socket where the lens pivots may pop off on impacts and need to be reattached.

Lens may require frequent cleaning to prevent image distortion.
Hafny Bar End Bike Mirror, Stainless Steel Lens, Safe Rearview Mirror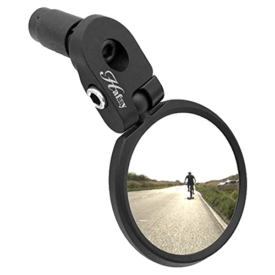 Hafny Bar End Bike Mirror, Stainless Steel Lens, Safe Rearview Mirror
This mirror is a sphere shaped mirror with a recyclable stainless steel lens that is 62mm wide in diameter. It has a 360 degree adjustable pivot joint that can fit on either the left or right handlebar. The attachable frame is made of high-impact nylon.
Contender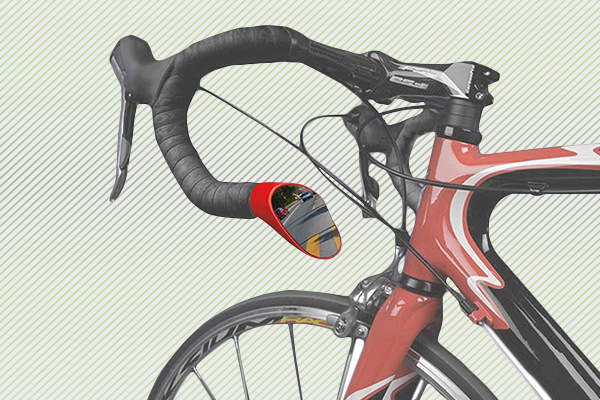 For the avid cyclist.
Pros:
Lighter than many competitive options at just 30 grams.
Cap receptor installation can provide better stability.
Installation positioning on handlebars may be favorable for racing bikes.
Cons:
May not be compatible with bar tape on drop handlebars.
Frame is narrower than several competitive options.
Might not provide proper view on bikes equipped with straight handlebars.
Sprintech Road Drop Bar Rearview Bike Mirror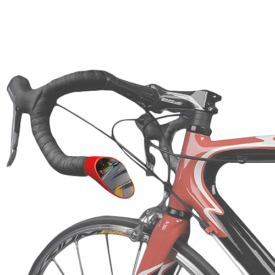 Sprintech Road Drop Bar Rearview Bike Mirror
This mirror aims to make installation easier with a cap receptor design. It weighs just 30 grams and is engineered to resist shaking so visibility remains clear during rides. These mirrors are available in six different colors and can be fitted to either end of the handlebars.
Best Field of View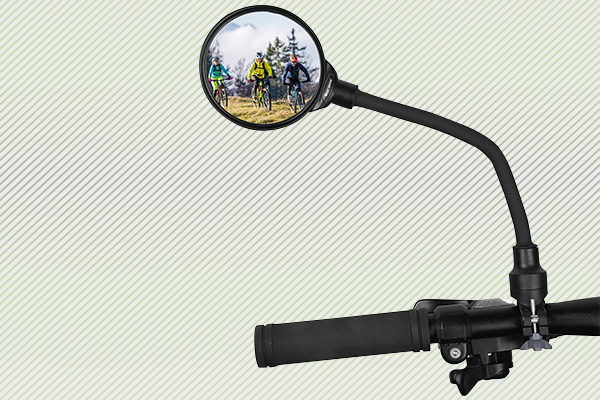 High, flexible eye-line.
Pros:
Suitable for 22mm-32mm handlebars.
Tool free installation can help speed up the mounting process.
Flexible neck can change the view without having to reinstall the mirror.
Cons:
May be prone to moving when riding over more uneven terrains.
Mirror may fog up after prolonged use.
Less suitable for narrow handlebars.
West Biking Bike Mirror Handlebar Mount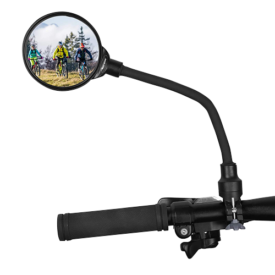 West Biking Bike Mirror Handlebar Mount
This mirror utilized a tool free installation through the use of two anti-slip rubber gaskets. The frame is attached to a flexible neck that can be adjusted to the preferred viewing angle. It is made from strong polymer & aluminum and weighs 115 grams.
Also Consider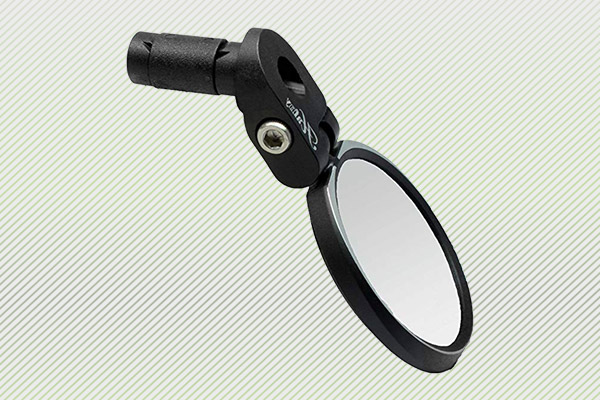 High definition and durable.
Pros:
High definition automotive grade glass.

Adjustable on both flat and drop handlebars.

Anti-glare mirror may offer better view.
Cons:
Only compatible with handlebars that have unpluggable grips.

The glass might rattle slightly in its frame.

Pricier than most comparable competitors.
Hafny Bar End Bike Mirror, HD, Blast-Resistant, Glass Mirror, HF- MR090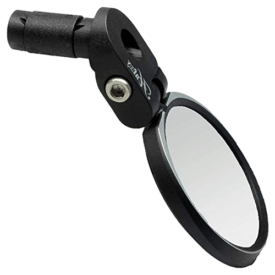 Hafny Bar End Bike Mirror, HD, Blast-Resistant, Glass Mirror, HF- MR090
This mirror is a blast-resistant, two and a half inch, rearview glass mirror. It has an adjustable 360 degree swivel that mounts inside the left or right handlebar. It is made of eco-friendly nylon and fiber.
Great For Hollow Handlebars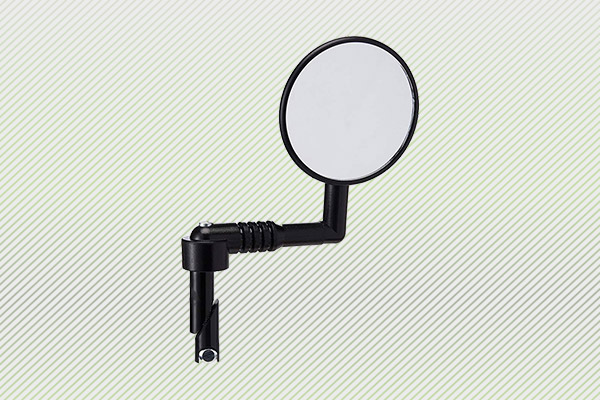 Quick mount and easy installation.
Pros:
Installation wrench included.

Adjustable to fit handlebars that range from 13.75 to 22.5mm inside diameters.

On the more affordable end of the market.
Cons:
Only compatible with hollow handlebars.

The glass may be prone to cracks when enduring impacts.
Mirrycle MTB Bar End Mountain Bicycle Mirror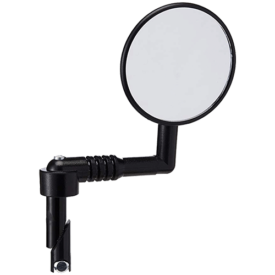 Mirrycle MTB Bar End Mountain Bicycle Mirror
This mirror is a quick-mount rearview mirror. Its circular frame holds a convex mirror that is three inches in diameter and mounts to either end of  a right or left handlebar.
Methodology
Mount
There are primarily two kinds of mounts when it comes to bike mirrors: helmet mount and handlebar mount. Helmet mount is fairly straightforward. They are lightweight bike mirrors that attach to the rider's helmet and can be adjusted similarly how a car driver would adjust their rearview mirror. Most helmet mount bike mirrors are usually good for bright or sunny days. Since they sit closer to the rider's eyeline, they catch less glare from the sun.
When it comes to handlebar mount bike mirrors, there are two major styles: inner mount and clamp. Inner mount mirrors are essentially designed to be extensions of the bike's handlebar. The grip of the handlebar is cut or removed and the mirror is slid in and screwed so that it moves with the handlebar without taking up any grip space. These kinds of mirrors are only compatible with bikes that have hollow handlebars.
The clamp mount mirrors have attach over the handle bar similar to a vice grip. These are great for riders who would prefer not to remove or cut their handlebar grips. Just be sure when shopping for a clamp mount mirror that your handlebars are within the size range the clamp can fit.
Mirror Material
The material for the mirror will usually boil down to either glass or acrylic options. Unless tinted or treated with an anti-glare coating or something similar, glass mirrors can suffer more issues with glare than acrylic counterparts. However, glass is usually more durable and less likely to acquire scuffs or scratches.
Shape
Bike mirrors are primarily designed circular, retangular, and square. Which is best will be subjective to the rider, but there are certain designs to be aware of when shopping around. Some bike mirrors will be convex, which means they are slightly rounded to increase the available view.
Not all bike mirrors use the same level of magnification. Just like on a car's side mirrors that say "objects in mirror may be closer than they appear", that may also be true for certain bike mirrors. Depending on what you are most comfortable riding with, be sure to check if the bike mirror you are considering lines up with your preference.
Wrapping Up
If you have ever ridden your bike and had to fully turn your head to look behind you before changing lanes, you are almost certainly in need of a bike mirror. They can keep everyone on the road safer and are a great accessory for an avid outdoor cyclist.