Whether you are training for a triathlon or merely trying to set up a home exercise room, one of the best ways to get better at cycling is by attaching your bicycle to a bike trainer. Bike trainers attach to your regular bicycle and allow you to pedal at your own pace in the comfort of your own home. Some of the leading bike trainers are being manufactured with technological advancements, like Bluetooth compatibility and sensors that connect with customizable apps. Bike trainers, since they can be used by professionals and amateurs alike, can vary widely in price. To help you figure out which brand of bike trainer may fit your needs, we've looked at the top products on the market to see what they are all about. Continue reading to find out more.
Editor's Choice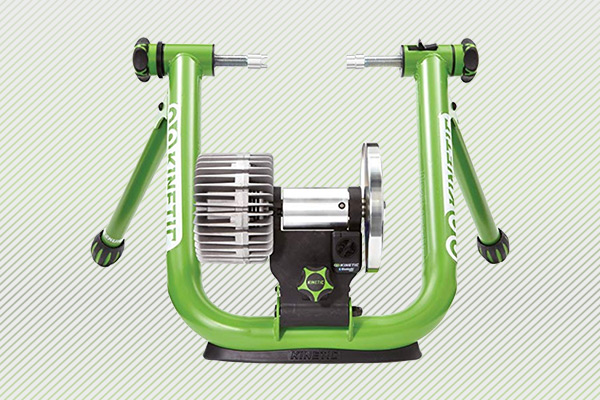 Kinetic by Kurt Road Machine Smart Bike Trainer
Pros: 
Zwift compatible. Ever wish you were biking along the Pyrenees in an epic bike race? Kinetic by Kurt makes their smart bikes compatible with Zwift, a cutting edge app that provides 3D immersion into real-world bike races, combining personal training goals with high definition visuals.

inRide sensor technology. This bike trainer has a built-in sensor that monitors your cadence, power, speed, distance, and time, communicating all of that data through bluetooth to your smartphone, tablet, or laptop. This is perfect for those who are data-driven and don't want to purchase an additional sensor to install and set-up.

Free app subscription. Kinetic by Kurt offers customers one month of its signature app, Kinetic Fit, free of charge. Kinetic Fit lets you customize one of hundreds of workouts and displays, so you can find the perfect groove to fit your workout needs.
Cons: 
Calibration. Though the smart bike is easy to install because users won't have to take off the back wheel like with other trainers, sometimes the roll bar that provides resistance against the back wheel needs to be recalibrated each time you go for a spin. This extra hassle doesn't take long, but some users may not bother to calibrate their bikes (and thus not get accurate data on their exercise routines).

Loud. This is a great machine with many valuable features, but it does make more noise than some competitors. Headphones or a home-speaker system might be beneficial to compete against the machine noise.
Kinetic by Kurt Road Machine Smart Bike Trainer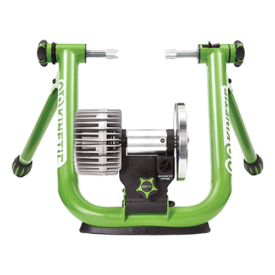 Kinetic by Kurt Road Machine Smart Bike Trainer
Kinetic by Kurt produces a fluid-based bike trainer that is equipped to utilize an array of apps and functions to help you train to the maximum of your abilities. Aside from the training regimens that users can access, this smart bike uses Bluetooth to track your speed, power, and distance as you train, giving you valuable information that can aid in increasing performance.
The Contender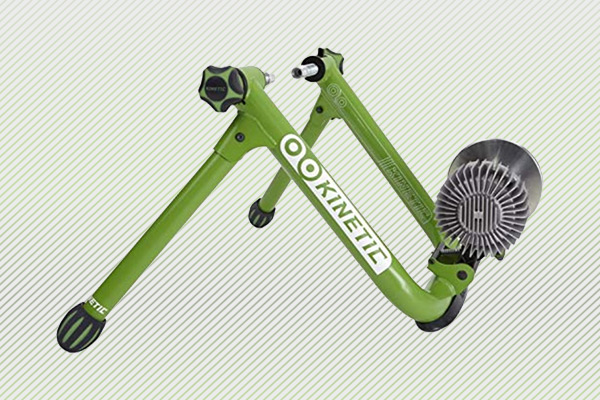 Kinetic by Kurt Kinetic Road Machine 2.0 Fluid Trainer
Pros:
Fully assembled. This bad boy is ready to use right out of the gate. While some bike trainers have steps upon steps necessary to build the trainer and install key components, the Kinetic Road Machine 2.0 comes fully assembled in the box.

Fluid resistance. Kinetic by Kurt uses a unique fluid-based technology, wherein the resistance used to increase the difficulty of pedaling is provided by a blade turning through a container of fluid. The resistance is progressive, meaning as you pedal harder and the wheel spins faster, the fluid will provide more resistance. This is meant to replicate riding outdoors.

Compatible with inRide watt meter. Though this bike trainer doesn't come with the inRide watt meter included, it is indeed compatible with both that and the Kinetic Fit app, unlocking loads of functions. Perfect for those hoping to track their workouts and improve their performance.
Cons:
More expensive than smart bike trainer. Though both bike trainers are excellent, this product has less frills than its "smart" cousin and costs about the same, if not more. If you aren't concerned about virtual training programs and want something simple and ready to use, you may opt for this bike. You can always buy the sensor as an additional purchase.

Directions could be more clear. Most users will be able to jump right in fairly soon after getting this bike trainer, but others may have a hard time understanding the instruction manual. Plenty of material online will help fill the gaps if you have trouble getting this bike trainer functioning.
Kinetic by Kurt Kinetic Road Machine 2.0 Fluid Trainer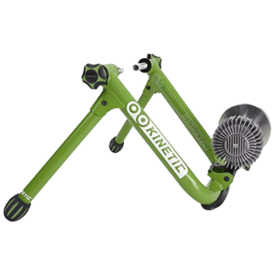 Kinetic by Kurt Kinetic Road Machine 2.0 Fluid Trainer
Kinetic by Kurt's Road Machine 2.0 Fluid Trainer is a no-nonsense machine built to help you train at your own pace to achieve your personal goals. Using fluid-based resistance, this bike trainer is compatible with both sensors and the Kinetic Fit app, allowing you to track your progress and set goals.
Best Bargain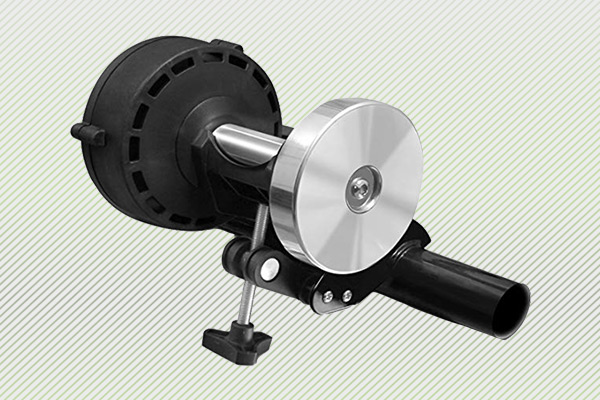 Sportneer Bike Trainer Magnetic Stand
Pros: 
Easy to release. Many bike trainers require cumbersome steps not only to install the bike to the trainer, but also to release it when you are done or ready to get your bike on the road. Sportneer's bike trainer has an easy-release lever clamp that takes only one action to get your bike disconnected from the trainer.

Noise reduction wheel. One of the great aspects of this bike trainer is that it is manufactured with a noise reduction wheel. This component minimizes friction, thus reducing much of the noise that would emanate from a typical bike trainer. This also prolongs the life of your bicycle's wheels. Perfect for those hoping to train in a house with roommates or family members.

Value. This is a bike trainer that can fit in most people's budgets. Whether as a gift, as an additional bike trainer to have in the office, or perhaps a customer's first bike trainer, this product is affordable enough to purchase without feeling like you are committing yourself to a racing tour.
Cons: 
Rear wheel skewer. One assembly step that may frustrate users is that you will need to replace the rear skewer of your bike with the one included in the package. This applies to every bike you have, so you may need to constantly be switching rear skewers if you are using different bikes on the trainer.

Not great for mountain bikes. This bike trainer is definitely quieter when using road bikes as opposed to mountain bikes. The treads on the mountain bike wheels can create quite a ruckus.
Sportneer Bike Trainer Magnetic Stand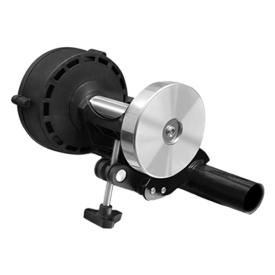 Sportneer Bike Trainer Magnetic Stand
Sportneer's Bike Trainer uses five adjustable anti-slip rubber feet to help you train your bike on any surface in any room. With six different resistance levels all controlled from a remote on the handle bar, this affordable bike trainer is versatile enough for pros and easy enough to use for beginners.
Best for an Apartment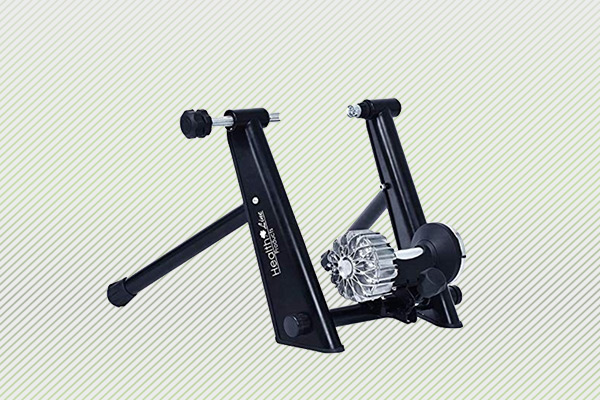 Health Line Product Fluid Bike Trainer Stand
Pros: 
Wide base. This bike trainer has a rear base that is a few inches wider than many competitors. This provides stability and allows the user to push themselves further.

Less noise. This machine averages about 60 db when used inside, which is noticeably less than most bike trainers. Perfect for those who are in an apartment building or share walls with family or neighbors.

Sweat guard. Health Line includes a specialty sweat guard with your bike trainer. This traps your sweat as it leaks to the bike and your floor, preventing it from ruining your bike frame or hardwood floor with erosion.
Cons: 
Hard to assemble. The instructions were somewhat lacking, given the number of component parts. It is recommended to look up an instruction video online.

Adjustments. While most bikes, whether on the road or on a trainer, will need tune-ups once in a while, this device needed some bolts to be tightened not long after the first use. Just pay attention and make sure everything is secured before riding.
Health Line Product Fluid Bike Trainer Stand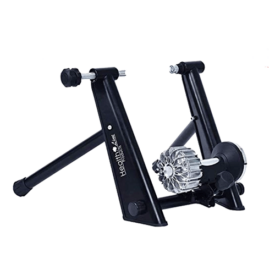 Health Line Product Fluid Bike Trainer Stand
Health Line's Fluid Bike Trainer is a great product for those looking to enhance their training regimen or simply looking to stay in shape during winter or after surgery. It is designed for a stable experience while making less noise than many competitors due to the use of fluid resistance.
Best Design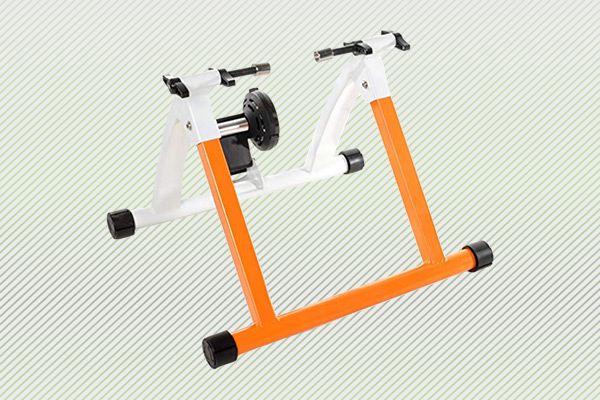 Conquer Portable Indoor Bike Trainer Exercise Machine
Pros: 
Foldable. One of the great benefits of using this bike trainer is that it can go with you – and your bike – wherever you go. It can fold to a compact shape making it easy to pack in a bag or just simply carry on its own. Great for storage as well.

Magnetic resistance. This bike trainer uses the power of rotating magnets to create the friction and thus resistance that user's will need in order to train. This type of resistance will never leak as there is no fluid involved.

Adapter for if no quick-release wheel. Some bike trainers are only compatible with bicycles that have quick release tire on the back wheel. Thankfully, this offering from Conquer comes supplied with an adapter, so many more bikes can be used on this bike trainer that otherwise wouldn't be compatible.
Cons: 
Needs more resistance. Though the different levels of resistance should be enough for most cyclists, some enthusiasts or those going through rigorous training may wish for a greater level of friction as they train.

Not compatible with bikes with fenders. This bike trainer is compatible with most standard 26", 27", and 700c bikes, but unfortunately if you have a bike with a fender, you are out of luck. The fenders will need to be removed as they interfere with the shape of the bike trainer.
Conquer Portable Indoor Bike Trainer Exercise Machine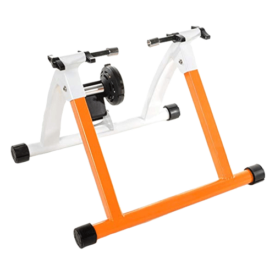 Conquer Portable Indoor Bike Trainer Exercise Machine
Conquer's Indoor Bike Trainer is compatible with most bikes and has an extra-wide base for stability. The white and orange coloring on the steel frame makes this one of the more handsome and unique bike trainers available on the market.
How We Picked
Bike trainers can be a very useful addition to any cycling enthusiast's collection. They can allow professionals, amateurs, families, and people recovering from injury to safely pedal without leaving the home. This is especially great for people in congested cities or with seasonal weather changes. When deciding which bike trainer to purchase, there are several different factors that may fulfill your needs differently. Below are the aspects of bike trainers we evaluated when comparing the top products on the market.
Assembly
As anyone who has ever assembled their own bicycle before knows, these machines have complex features and many components that need to be fit together properly in order for the bike to operate smoothly and safely. Bike trainers are no different. Several of the top brands have bike trainers that come fully assembled, making a tuneup to make sure all the screws and bolts are tight the only necessary prep needed. Some brands require more assembly than that and often times have somewhat cumbersome or confusing instruction manuals. Often times when assembling a bike trainer it is recommended to go online and find instructional videos on how to best get your bike trainer going, saving yourself a potential headache.
Stability
Bike trainers should be designed to keep you, your family members, and even your floors and furniture safe and protected while cycling. Bike trainers with rubber anti-slip feet can offer a great assurance that the bike you are training on won't tumble sideways. Look out for bike trainers that have a wide base as this provides even more stability while training. The heavier the bike trainer, the more weight that is stabilizing you and your bike as you train.
Technological compatibility
Many of the top brands have sensors that you can either purchase separately or are even included with the bike trainer that will monitor your speed, distance, power, and cadence. This data can then be transferred to an app on your phone or laptop. Aside from tracking your performance and setting goals for you to achieve, these apps also have virtual environments and trainers that will immerse you in your routine. There are many different apps that a user can utilize to enhance their training, so browse for compatible apps when purchasing a smart or smart-compatible bike trainer.
Cost
Most bike trainers can be purchased at a wide range of different costs. Some are designed to be professional-grade and have the look and feel of something that a pro cycler would use. Some of the other products that cost the most money have technological advances search as Bluetooth compatibility and sensors built into the bike trainer that track your movements and energy spent. This is not to say that there aren't quality bike trainers available for half or even a third of the cost of some of the top brands. Even some of the lower cost bike trainers are perfect for people who take their cycling seriously.
Tips
Not sure which bike trainer is right for you? Read below to see some tips that might help making a decision a bit easier.
How often do you plan on cycling? These bike trainers can be enjoyed by anyone. However, they may be used with a wide array of frequencies, as various goals and training regimens utilize the bike trainer differently. For those training for a race or that plan on using the bike trainer everyday, it may behoove them to opt for one of the heavy-duty, technologically advanced bike trainers. Others, who may only plan on using the bike trainer when weather makes cycling outside impossible or dangerous, or perhaps only when traveling, will probably opt for a lower-cost, though still dependable option.

How much are you planning to spend? Bike trainers can cost more than some bicycles. The top products on the market may set customers back a little bit, but the investment is usually worth it. The ability to track all sorts of different metrics and have personalized training sessions and pre-programmed goals makes training efficient and quite honestly more fun. Some of the more affordable bike trainers are more simplified, catering to amateurs or those hoping to pack up the trainer for travel or even just to store between long periods of dormancy.

Where will you train? Though most trainers are designed to minimize noise, not all bike trainers achieve that goal with the same amount of success. Users who live in tight quarters, such as an apartment or in a house with thin walls shared with several family members, may need to look for the quietest bike trainer possible. Cyclists trying to use a mountain bike beware – it may be hard to keep the treads from making a noticeable noise and vibration across the house.