A great blender should be a staple in every kitchen. Outside of making smoothies, a blender can be a dynamic and useful tool for multiple types of recipes. Each blender comes with its own list of pros and cons, and understanding this is essential when making an educated buying decision. We've built out a strict protocol when assessing the market's top blenders, so even the blender novice can learn from the principles below.
When reviewing blenders we analyze four main construction features. First, we assess the overall power of the blender and look at watts and horsepower. Second, we assess settings and how versatile the blender is in the kitchen. Third, we analyze all of the attachments that come with the blender. And lastly, we look at the blender's overall construction and warranty features.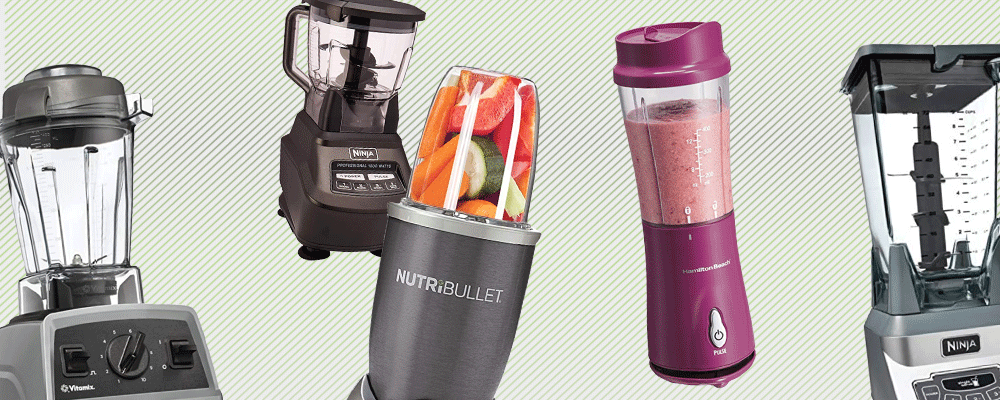 Best All-Around: Vitamix E310 Explorian Blender 
The Vitamix E310 Explorian Blender is designed to tackle any blending task thrown its way. Whether you're blending a daily protein shake or turning cauliflower into rice, the Vitamix E310 Explorian Blender can handle the task with ease.
Power: 2.5 Horsepower
Pros
The pulse feature in this blender is great because it opens up the availability to make heartier recipes like salsa.
I like the 10 variable speeds because they make it easy to blend recipes to a smooth puree or slightly thicker texture.
The 48 ounce container is more than enough for individual and small family recipe usage.
I love the strong stainless steel blades and five year FULL warranty.
Cons
At a price of $349.99, this blender is more expensive than many other options.
This blender is slightly larger, so it may not be the best for extremely tight kitchens.
Most Versatile: Ninja Professional Countertop Blender
The Ninja Professional Countertop Blender is a versatile blending option. This dynamic and sleek blender is the perfect match for tackling both daily individual-use blending and family recipes.
Power: 1,100 Watts
Pros
I love that this blender comes with a larger 72 ounce container and two smaller 16 ounce cups, which can also be used for blending individual servings.
This blender offers three different speeds, a pulse function for heartier recipes, and a single-serve setting.
All of the Ninja attachments and parts are dishwasher safe and BPA free, so clean up is a breeze.
This blender is a pretty cost efficient option.
Cons
Only a one year limited warranty.
This blender only has three speed options, so if you have particular blending thickness goals, then you may feel a tad limited.
Best Value: Nutribullet NBR-1201 
The Nutribullet NBR-1201 is easy to transport and cost efficient. It's lightweight, takes up minimal space, and can tackle nearly every smoothie and blending task thrown its way.
Power: 600 Watts
Pros
This blender is great for daily individual smoothie creations.
I love the multiple containers and blades this blender comes with because they make achieving the perfect smoothie texture and amount a breeze.
The stainless steel blades are strong, and this blender is especially useful for the space-conscious individual.
For the smoothie-loving individual, this is one the most cost efficient blending options out there.
Cons
This blender only has a one year warranty.
If you need a blender for larger recipes or for families, then you'll be limited with Nutribullet's capacity.
Also Consider: Ninja Mega Kitchen System (BL 770) Blender 
The Ninja Mega Kitchen System (BL770) Blender is a great option for tackling smoothies and food chopping and processing. This blender is also a suitable option for families that need a blender for larger recipes.
Power: 1,500 Watts
Pros
This blender comes with a 72 ounce pitcher, an 8-cup food processor bowl, and two individual cups, so you can blend virtually any recipe you desire from larger to individual servings.
I like this blender's stainless steel blades and dishwasher-safe attachments, as they make cleaning a breeze.
I like the easy-to-use settings for blending dough, crushing, and more general blending.
Cons
This is not the best blender for working with recipes that require low-speed blends.
Only a one-year limited warranty.
For Personal Use: Hamilton Beach Personal Smoothie Blender
The Hamilton Beach Personal Smoothie Blender is a great option for the daily smoothie consumer who's constantly on-the-go. This blender is compact, cost efficient, and offers plenty of power for blending every type of smoothie.
Power: 175 Watts
Pros
This is one of the most cost-efficient options for the casual smoothie drinking individual.
Stainless steel blades power through ice and other smoothie ingredients.
I like this blender's space efficiency. It takes up very little space and can fit in even the tightest kitchen settings.
Cons
This blender is limited to 175 watts, which is okay for most smoothies, but not nearly the most powerful on the market.
If you want a blender for larger recipes, then this option could leave you limited in availability.
How We Picked
When ranking the market's top blenders there are multiple categories and construction features we consider. Every blender is designed differently, which means each will perform differently in the kitchen. Below is how we rank and assess blenders.
Watts and Horsepower
Watts and horsepower can be great indicators for overall power output and can suggest how a blender performs for certain foods and recipes. One horsepower is equivalent to 746 watts. A blender with more watts/horsepower will be better for blending ice, hard vegetables, and doughs.
Most generic household blenders will have between 450-750 watts, and this is generally plenty to crush ice, hard vegetables, and fruits. Higher-end blenders will have over 1,000 watts, while lower-end individual blenders will have around 175-300 watts.
Variety of Settings
Once we assess the blender's overall power output, we begin to look at the settings it offers. Often times, higher quality blenders will offer the most settings for versatility in the kitchen. A blender that can adjust to multiple speeds and settings will be the best for tackling any recipe and task.
Higher-end blenders will offer speed settings in addition to personalized blending options like puree, crushing, and so forth. Lower-end blenders will possess fewer settings and sometimes only come with an on/off button.
Attachments
Another major factor we look at is what you're getting with the blender. Additional containers, cups, and blades are huge for ensuring a blender can match every need. Blenders that contain larger containers and individual smoothie attachments will rank better for their versatility and dynamic nature. Some common attachments include:
Different Sizes Pitchers/Containers
Multiple Blades
Individual Blending Cups
Blender Size
The size of the blender is important to consider when kitchen countertop and cabinet reality is limited; that includes its footprint as well as its height. For apartment dwellers, sometimes larger blenders are not ideal best options due to space limitations. Space consideration, while not always a huge buying deterrent, is important to consider.
Warranty 
Warranties are huge for blenders that are more costly. At the end of the day, you don't want an expensive blender breaking down after only one year of use, so a great warranty ranks highly in our review process. We rank warranties as follows:
Excellent Warranty: 3+ years FULL warranty
Good Warranty: 2+ years limited warranty
Okay Warranty: 1 year limited warranty
BarBend Tips
Daily Use: Avoid falling victim to marketing and flashy claims. Remember why exactly you want the blender in the first place and scale choices for that need.
Warranty Matters: Always consider the warranty that is attached to the blender. Full warranties suggest better quality.
Dishwasher Safe: Busy individuals should consider dishwasher safe options to support easy clean up.
BPA Free: Always opt for BPA free options. Bisphenol A is a byproduct of certain plastics and can interfere with natural hormone regulation.
Wrapping Up
The best way to make an educated buying decision is to first create a list of wants and needs. Once that list is created, then you can rank the blenders that match your asks accordingly. There's a perfect blender out there for everyone with a little research.
Feature images courtesy Amazon.com.