While strength and conditioning training makes boxers physically fit for their matches, one aspect of training that is just as important for boxing is footwork. Footwork drills improve agility and explosiveness and can even help strikes land stronger and more powerful.
Since footwork is crucial to elevating a fighter's game, it's also important to wear the right boxing shoes. Boxing shoes can offer ease of movement and stability when a boxer cuts an angle to deter their opponent or when a boxer aggressively moves forward. While some cross-training shoes can work for boxers as they train, most don't provide the specialty features some boxers need such as ankle support, traction, or flexibility. In this list, we identified the best boxing shoes to help any fighter step up their game, no matter their level of expertise.
The Best Boxing Shoes
Best Overall Boxing Shoes
A lightweight shoe with an ankle strap for extra security are just some of the features this boxing shoe offers for easy movement.
Everlast New Elite High Top Boxing Shoes
A collaboration between Everlast and Soles by Michelin (that's right, the tire company), these shoes offer more breathable mesh and cushioning than most other boxing shoes. Like the treads on a tire, the outsoles' tracks maximize traction to prevent slipping and is lightweight enough to help any boxer float like a butterfly and sting like a bee. Your feet are securely stable due to not only the heel cup feature, which you can feel up to your ankle, but also by the extra velcro ankle strap that wraps across the front collar.
Best Overall
Everlast New Elite High Top Boxing Shoes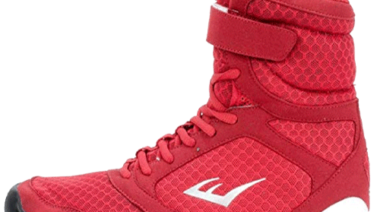 Everlast New Elite High Top Boxing Shoes
These boxing shoes from Everlast feature a mostly mesh upper and an extra ankle strap to help stabilize the foot and ankle. It has nice traction and is available in blue, black, and red.
Who Should Buy Everlast New Elite High Top Boxing Shoe
Avid boxers looking for an all-around classically styled boxing shoe.

Cross Trainers as the cushioned sole suit long training sessions and high impact workouts like box jumps.
If you own orthotics for arch support as the insole is removable.
Who Shouldn't Buy Everlast New Elite High Top Boxing Shoes
If you have wide feet. These shoes run a bit narrow and might feel too tight on the sides.
This boxing shoe hits all the points. It provides lightweight comfort, tire influenced traction, and security for quick and effective footwork.
Best Boxing Shoes for Optimal Movement
Thin layered insoles and outsoles with circular treads allow for smooth pivots and turns with these boxing shoes.
Adidas Box Hog 2 Men's Boxing Boots
Boxers like to feel as if their feet are as close to the canvas as possible. The thin-layered and cushioned midsole of the Adidas Box Hog 2 Boxing Boots does just that as it keeps boxers grounded and comfortable. Also, the fluid treads on the outsoles mimic the pivoting motion boxers use to throw powerful and clean punches. These boots have a nice combination of mesh and suede overlays on the upper part of the shoe, making them sturdy without sacrificing flexibility.
Optimal Movement
Adidas Box Hog 2 Men's Boxing Boots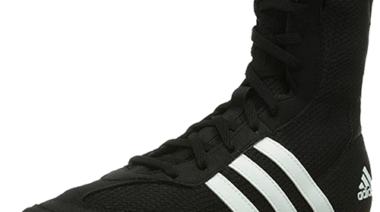 Adidas Box Hog 2 Men's Boxing Boots
The Box Hog 2 Boxing Boots are lightweight and feature a classic design. They are made of a mix of mesh and suede and available in half-sizes (many brands aren't).
Who Should Buy Adidas Box Hog 2 Men's Boxing Boots
Boxers of all levels as this pick provides the typical attributes in boxing shoes and the classic Adidas stripes that have been around for a long time.

If you need half sizes as many boxing shoes do not offer this option.
Who Shouldn't Buy Adidas Box Hog 2 Men's Boxing Boots
These shoes are very flat but this may not be the best option if you need more arch support.

If you're looking for color variety, these shoes might not be for you as it only comes in Black.
The Adidas Box Hog 2 Boxing Boots are a fan favorite amongst beginners and professional boxers as they are classic in style and support learning how to pivot and cut angles.
Best Boxing Shoes for Variety
With a long catalog of colors and sizes, these boxing shoes allow you to stand out in style as they have more options than most other boxing shoes.
Ringside Diablo Wrestling & Boxing Shoes
These boxing shoes provide the ideal traits of a boxing shoe. They're lightweight for speed and provide pivot support through a designated pivot ring on the soles' bottom. But whereas many boxing shoes lack variety in color, this one does not. These shoes from Ringside are available in black, white, blue, red, pink, green, orange, and yellow. They also come in smaller sizes which are not typically found in adult collections.
Best Variety
Ringside Diablo Wrestling & Boxing Shoes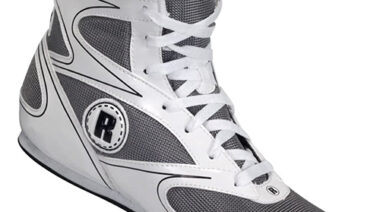 Ringside Diablo Wrestling & Boxing Shoes
These wrestling and boxing shoes from Ringside are available in a variety of bright colors and sizes. These shoes are available in a wide range from size 2 all the way up to 13.
Who Should Buy Ringside Diablo Wrestling and Boxing Shoes
Adults with smaller sized feet and kids of all ages.

Wrestlers since these shoes are incredibly lightweight and won't slow down their speed and agility while transitioning through positions.
If you like to stand out from the crowd, these provide colorful variety and a patent-leather finish which adds a noticeable sheen.
Who Shouldn't Buy Ringside Diablo Wrestling and Boxing Shoes
If you're prone to twisting your ankle, these might not be the best pick for you as they lack ankle support.
The Ringside Diablo Wrestling and Boxing Shoes might not be the most sturdy of the bunch, but they do have the most color and size options.
Best Boxing Shoes for Versatility
Sturdy enough for any type of training, the quality in this shoe serves many athletes.
Otomix Men's Warrior Bodybuilding Boxing Shoes
While boxing shoes are mostly made for combat sports, this pick is practical for weightlifters as well. Its memory foam insole provides comfort and cushion for high impact workouts. Integrated with the insole is a thin rubber sole that'll grip your feet close to the ground and help you drive your heels during leg day workouts such as squats, deadlifts, and swings. The thick outer padding on top of the suede material secures your foot in the shoe for extra balance and protection. A bonus feature for combat training is that you can tuck and hide your shoelaces behind the tongue to prevent them from untying and tripping you up during practice or competition.
Most Versatile
Otomix Men's Warrior Bodybuilding Boxing Shoes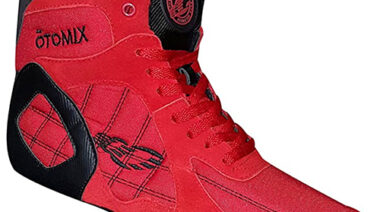 Otomix Men's Warrior Bodybuilding Boxing Shoes
These well-constructed shoes are ideal for training, practicing, lifting, and competing. The shoes are made of durable polyester and have a wide berth at the toe for wide feet.
Who Should Buy Otomix Men's Warrior Bodybuilding Boxing Shoes
Lifters and combat fighters of all kinds. From footwork drills to Crossfit exercises, these shoes are ideal for a variety of training sessions.
If you have wider feet as these shoes have an expanded toe box that allows more room.
Who Shouldn't Buy Otomix Men's Warrior Bodybuilding Boxing Shoes
Don't buy if you're looking for a breathable shoe. These shoes are mostly polyester and won't circulate air as well as others.
Whether your training consists of high-intensity conditioning drills or overhead squats, Otomix Men's Warrior Bodybuilding Boxing Shoes will support many lifters and fighters.
Best Boxing Shoes for Style and Comfort
A well-engineered boxing shoe with a contemporary look, this pick delivers a modern approach to training apparel.
Venum Elite Boxing Shoes
Known for their flashy designs, Venum brings their style over to their original boxing shoe. Its patent leather overlay gives the boxing shoes a sleek shine and looks even more luxurious in the gold option. That overlay is double stitched into a honeycomb mesh which allows the shoe to be breathable yet sturdy. Inside the shoe, you'll feel an anatomically produced insole that is soft and allows for much arch support.
Best for Style
Venum Elite Boxing Shoes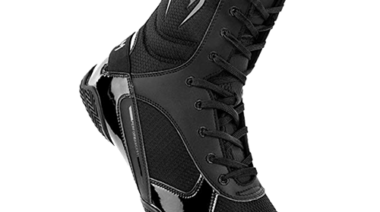 Venum Elite Boxing Shoes
A comfortable and very attractive design, these Venum Elite Boxing Shoes are perfect for those looking to upgrade their boxing gear.
Who Should Buy Venum Elite Boxing Shoes
If you're looking for an option that is comfortable but doesn't lack style.

If you prefer your gear to be constructed with the latest technology.
Who Shouldn't Buy Venum Elite Boxing Shoes
These are some of the more expensive boxing shoes one may run across so they might not be the right choice if you're not looking to break the bank.
Coming from Venum, these boxing shoes are bold by design but innovatively constructed for comfort.
How We Chose the Best Boxing Shoes
Boxing is a sport where it is vital to have dedicated shoes. Not only will the shoes be specially manufactured to help with training and competing, but there is a distinct style to boxing shoes as well. Here are some of the factors we considered when choosing the best on this list.
Material
There are several different materials that can make up the construction of boxing shoes, including polyester, leather, suede, or even nylon. Some shoes will even feature some sort of mix of these materials.
The picks on this list mostly feature mesh fabric. Mesh is usually a combination of polyester and nylon weaved together to produce a material that is lightweight and breathable. It often serves as the base of the upper shoe with overlays made of a more structurally secure material such as leather.
Another material considered was the rubber outsole. Boxers can't have a bulky shoe slowing them down or gripping the canvas too much, so while almost all soles in boxing shoes are rubber, the thickness and the treading's pattern will vary between shoes.
Structure
While most boxing shoes have a relatively narrow profile, a thin sole, and are made of lightweight materials, this isn't an ironclad rule. Some boxers may be looking for more stability and durability.
Some brands of boxing shoes are made with more support either through thicker materials, wide toe boxes, or ankles straps. Boxing shoes can even be built as boots to provide additional ankle support. Your feet consistently endure impact and weight while you train. Some more prone to injuries like knee and back problems or even plantar fasciitis will benefit from a more structured and cushioned shoe.
Style
Boxing is a sport where you're literally fighting to win. Your ego is tested and your body is your armor. To look good is to feel good is a mentality often used in combat fighting to boost one's confidence and ensure that they feel prepared. Fighters show up to work when they enter a ring and just like any other job, most boxers want to look like they're the ones most fit for the job and don't want to look like they just rolled out of bed.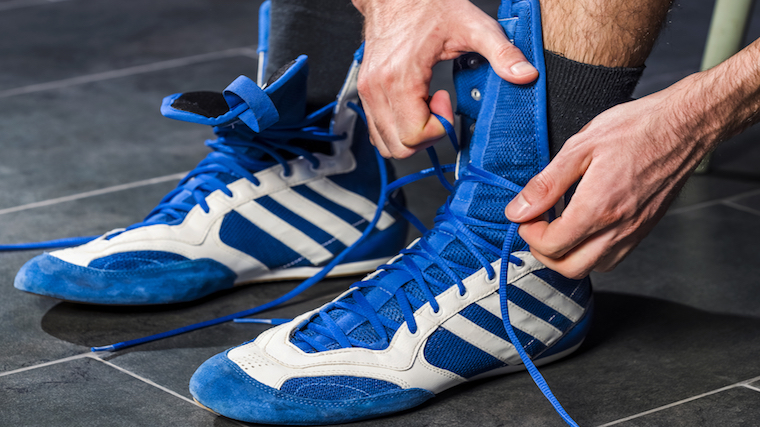 Boxing apparel can express a fighter's personality and is sometimes used to intimidate their opponents. The great thing is that while the construction of most boxing shoes is specially designed to aid in training, these attributes (high profile, supportive overlays, mesh uppers) lend themselves to making attractive-looking shoes. For example, high tops have a very distinct look and allow for more creative use of overlays. Overlays are a natural place for shocks of color to add contrast to the base color of the mesh upper.
Those looking for a neutral look can find classic boxing shoes throughout many brands. However, there are many colorful options for those looking to sport some flare in the ring.
Before Buying Boxing Shoes
Many people, not just boxers, wear boxing shoes. Some people even wear them as their everyday shoes. But if you're not sure which shoe is right for you, consider how and when you'll be using them.
Price
Boxing shoes can range from the most affordable to some of the more expensive in price. The more expensive shoes will sometimes be bolder in style and can include modern features like memory foam insoles or being able to secure and hide your shoelaces. The more affordable shoes will have that classic boxing shoe look price (which is still very stylish) and their features will offer the basic functionality needed for training without any added pazazz. Before buying boxing shoes consider if you really need those bonus features and if the option fits your budget.
Training Boxing Shoes vs. Competing Boxing Shoes
Boxing is an effective cardiovascular workout. Some casual boxers may only use boxing as a cross-training aspect of their routine to improve their endurance and stamina. Because of that, they may prefer a shoe more versatile that can be used for lifting and high-intensity exercises. They wouldn't want shoes more suitable for competition as they tend to be very lightweight and flat.
Beginners hoping to jump into the ring someday might look for a basic pair of boxing shoes. You don't want to buy anything too specific as you're not exactly sure what you'll need until after you've trained for some time. A basic boxing shoe will serve the functionality required to improve and support your footwork.
Final Word
Boxing shoes are essential for effective footwork, increased speed, and agility. As they say in boxing, power comes from the bottom up, meaning from the grip of your feet to the power of your legs to the twist of your hips. The wrong shoes can alter these crucial elements necessary in boxing. It can be the difference between having ok ability versus unlocking your full power potential. Overall, the best boxing shoes should be lightweight and should properly grip the canvas so you train your mobility, your precision, and stand your ground even during tough back and forth exchanges.