When a child starts playing a sport, the first thing they'll need is the proper equipment. Basketball is no different. Basketball shorts are an essential part of playing the game; the cut and material are designed to make playing easier and more comfortable.
In deciding which shorts to go with, it is important to look at factors such as the choice of material and the way it is shaped. There are a number of variations that may suit some people's preferences better. Here are the shorts we found to have the best combination of traits: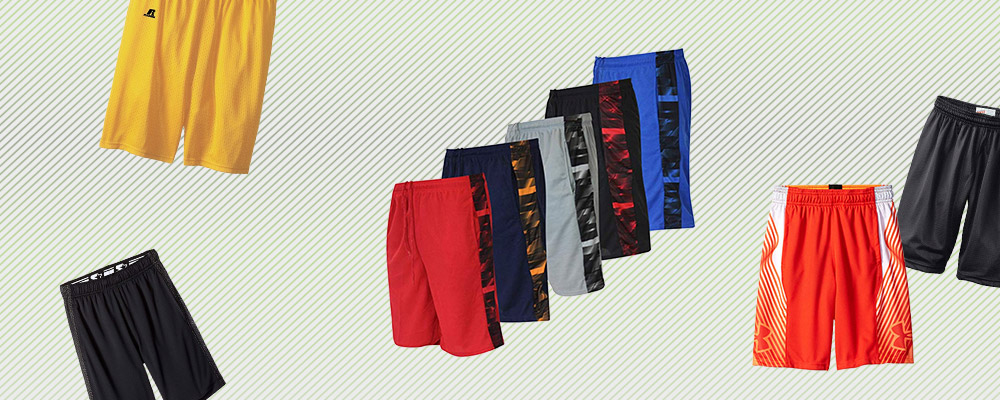 Editor's Choice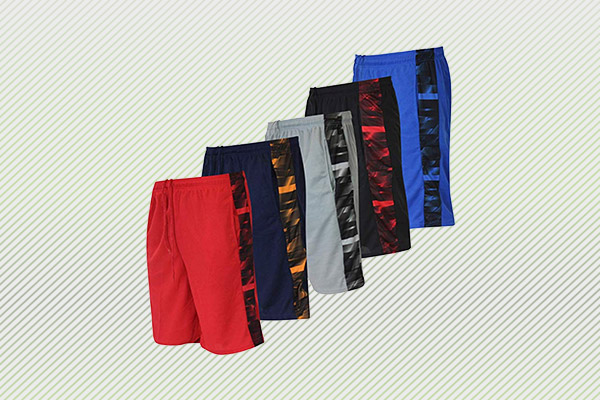 Real Essentials Boys' 5-Pack Mesh Basketball Shorts
Pros: 
5-pack. This line of shorts from Real Essentials is a great starter pack for any kid who is starting out at basketball. Each set comes with five differently-colored shorts.

9 inch inseam. These shorts have a longer inseam length than many other similar products. That may be more comfortable for some kids as it may give them more room to maneuver during drills and games.

Design options. Not only does each five-pack have unique colors on each pair of shorts, but there are five different styles to choose from. On option are plain-colored shorts and shorts with decorative piping.
Cons:
No inner lining. While many mesh shorts will feature an inner lining for increased comfort, these only feature one layer.

Run a bit small. These shorts may be a bit smaller than expected. It may be prudent to buy one size larger than normal, especially for a growing kid.
Real Essentials Boys' 5-Pack Mesh Basketball Shorts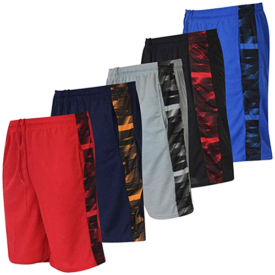 Real Essentials Boys' 5-Pack Mesh Basketball Shorts
This series of five-pack basketball shorts from Real Essentials offers a lot of variety in color and design. These shorts have a long 9" inseam, which may be preferable for those playing hoops.
The Contender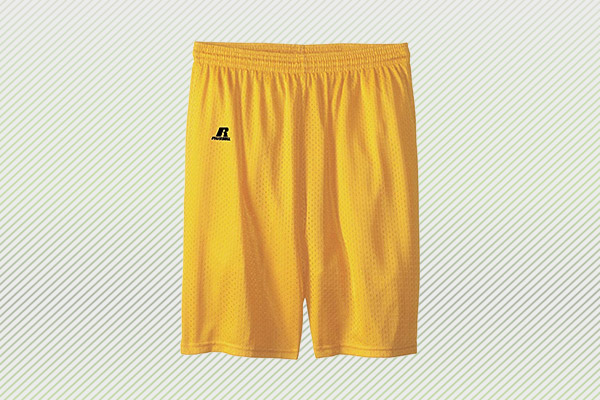 Russell Athletic Big Boys' Youth Mesh Short
Pros:
14 unique colors. This collection of boys basketball shorts has one of the largest numbers of colors available. Aside from standard colors like black and navy, there are colors from across the spectrum that give great variety to a kid's wardrobe.

Nylon. The fabric used with these shorts is nylon, which can have a softer feel than polyester. Nylon may have a bit more durability as well as it is a thinner fabric than polyester and may have a finer thread count.

Logo placement. Russell Athletics has placed their logo closer to the waistband rather than at the bottom of the shorts. This may appeal to those who are trying to pick shorts to match a uniform and want the logo to be more discrete.
Cons:
Lighter colors can be see-through. As this product only has one layer of fabric, the lighter colors (silver, white, etc) may be a bit see-through.

No pockets. While this won't be a problem during games, it is a bit disappointing that these shorts don't have pockets.
Russell Athletic Big Boys' Youth Mesh Short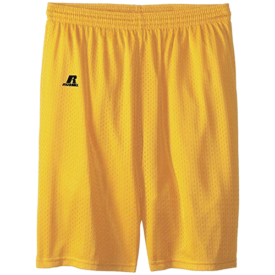 Russell Athletic Big Boys' Youth Mesh Short
The Russell Athletic Big Boy's mesh short collection for kids features a wide variety of colors to choose from, which is great for matching a team uniform. The pants are made of nylon and feature a 7" inseam.
Best Style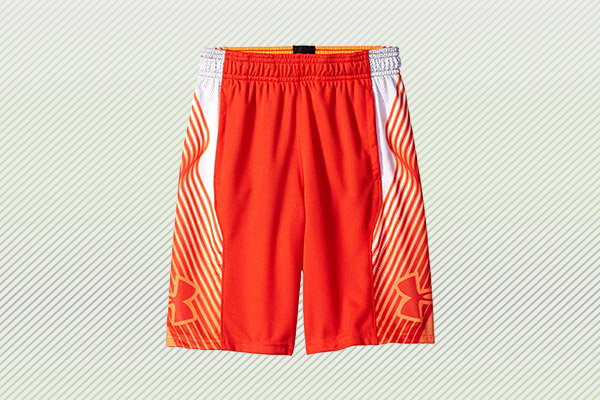 Under Armour Boys' Space The Floor Shorts
Pros: 
Pockets. One of the biggest differences between lines of basketball shorts is whether they have pockets or not. These feature a pocket on both sides.

Encased waistband. The drawstring and elastic waistband are encased in fabric on both outside and inside the shorts. Some brands have exposed elastic, which may be more likely to fray and uncomfortable on the skin.

Design. The design of these shorts clearly had a lot of thought put into them. Each pair features artwork in a set of complementary colors, with details like a colored inner-waistband providing nice touches.
Cons:
Waist may not be tight enough. Some may find that the sizing for the waist is a bit larger than other pants. It may need to be tightened with the drawstring.

Long style. The style of these shorts are definitely meant to be longer than most competitors. This may prove to be too long for some kids.
Under Armour Boys' Space The Floor Shorts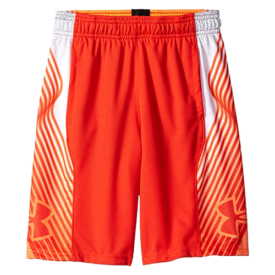 Under Armour Boys' Space The Floor Shorts
This unique set of basketball shorts from Under Armour features some very detailed designs that will certainly stand out on a court. They have pockets and an encased waistband for improved comfort and durability.
Best Short Inseam Shorts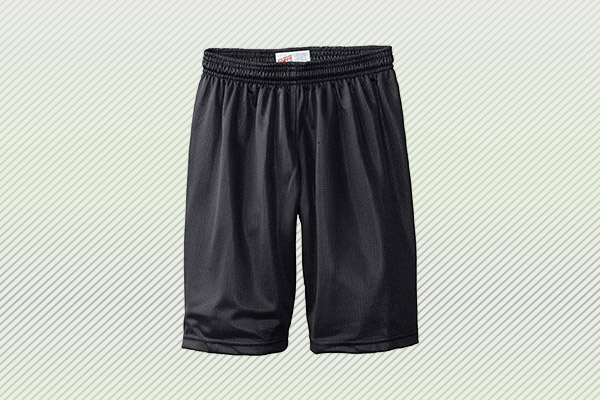 Soffe Big Boys' 6 Inch Mesh Shorts
Pros: 
Short inseam. The inseam on these shorts is only 6", one of the shortest lengths one can find for boy's basketball shorts. This tighter fit may be appropriate for younger kids or those with a shorter waist.

Double-layered. These shorts are double-layered, which can be better for absorbing sweat and for durability. Many similarly-styled shorts are only single-layered.

Tricot lining. The lining on these shorts is woven in a knit called tricot. Tricot is a weave that produces different textures on the front and the back and in doing so increases the durability.
Cons: 
Wide fit. These shorts don't taper much in the legs, so depending on the frame of the wearer, it may seem too wide.

Not very soft. Those looking for super soft shorts may need to look elsewhere. This mesh is only an average softness.
Soffe Big Boys' 6 Inch Mesh Shorts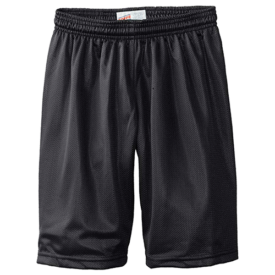 Soffe Big Boys' 6 Inch Mesh Shorts
Soffe's Big Boy's 6" Mesh Shorts feature a good length combined with a short inseam. The shorts feature tricot lining and two layers of fabric for increased durability.
Best Shape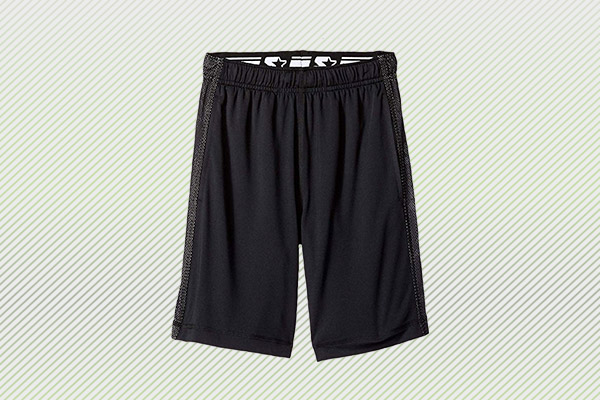 Starter Boys' 8
Pros: 
Mesh piping. The side piping of these shorts is made of a porous mesh. This aids in circulation and in keeping legs cooler.

Stretchy. These shorts are made of 10 percent spandex, which allows them to be stretchier than other shorts. This can make moving around on the court a bit easier.

Great logo placement. The logo is uniquely placed underneath the side mesh panels, which gives a cool effect when in action. 
Cons: 
Clingy. These shorts have a tendency to cling to the legs, especially after sweating a bunch. Shouldn't be too much of an issue if the sizing is right.

Shallow pockets. Though it's nice that these shorts have pockets, they are rather shallow and can't fit too much at once.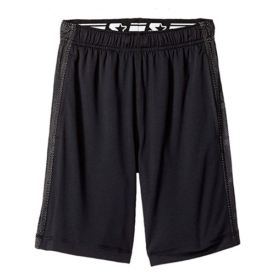 These shorts from Starter are of a good length and fall on the legs well. They feature mesh panels on the sides for increased breathability and are a bit stretchier than other shorts.
How We Picked
Basketball shorts are not only well-suited for the type of motion that is inherent to playing hoops, but they often have a longer length that kids might prefer. Sometimes the fabric is stretchier or softer than other types of shorts, so there are a number of reasons why one pair of shorts might be the best fit. Here are the aspects we weighed most heavily:
Style
Most evident about a pair of basketball shorts is the color. To the degree that basketball jersey colors vary, so do the shorts. Those preferring a neutral color can find plenty of black, navy, and white options, while many brands feature unique colors that can stand out or complement other colors.
Basketball shorts can also have more decorative elements to them. Sometimes different parts of the shorts feature different colored thread, while other shorts will employ artwork and interesting patterns. Even the small accents like a colored waistband or colored piping can give a pair of shorts a distinct look.
Fit
Shorts can fit in a variety of ways. Some may prefer a tighter profile in the legs of the shorts, while others may prefer a longer length. Each pair of shorts will have a unique set of dimensions that need to be paid attention too.
While long shorts are usually a common sight on the basketball court, they are in no way the only type of shorts that are prevalent in basketball. Some shorts have a shorter inseam and shorter length; some kids might find this more fashionable and comfortable.
Material
Most basketball shorts are made out of polyester, but not all. Though polyester or polyester blends are the most common material used, some brands use nylon or spandex. Each of these fabrics is similar in profile, but a few differences remain.
Nylon and polyester have a lot in common, but nylon tends to be a bit more durable, while polyester is less prone to pill. Spandex can be used as a blend, providing the shorts with a little more flexibility. Whichever material is used, basketball shorts are usually woven as a mesh with either one or two layers of fabric.
Tips
Not sure which basketball shorts are right for your kid? Here are some things to consider:
Is the child new to basketball?

If this is the first time the child will be playing basketball, it is probably wise to get a pair of shorts that is average in fit.

Once a player has learned what kind of movement basketball requires, shorts of different lengths may seem more fitting.

Is this for a team uniform?

If these shorts are for a team uniform, then it may be prudent to get black or another neutral color. Black shorts tend to be less visibly dirty.

There may be a pair of shorts out there that closely matches a team color, so it is worth checking out different brands!