Civilizations in Central and South America used the pineapple for its supposed medicinal properties for centuries. Today, we still harness the power of the pineapple in the form of bromelain, a mixture of enzymes derived from the same fruit that gave us the piña colada. Evidence suggests that bromelain may be useful in alleviating some symptoms of nasal and sinus inflammation, particularly when used in conjunction with more common treatments, as well as reducing heartburn (1) (2). It also has some purported anti-inflammatory and antioxidative properties, though more research is needed to substantiate these claims (3).
It's wise to consult with a medical professional before introducing any supplement to your diet, as your individual health may dictate unique instructions. Since bromelain is derived from the pineapple plant, you'll want to avoid it if you're allergic to pineapples. There are a host of bromelain supplements available on the market. Before selecting one, it's important to know how to distinguish between them.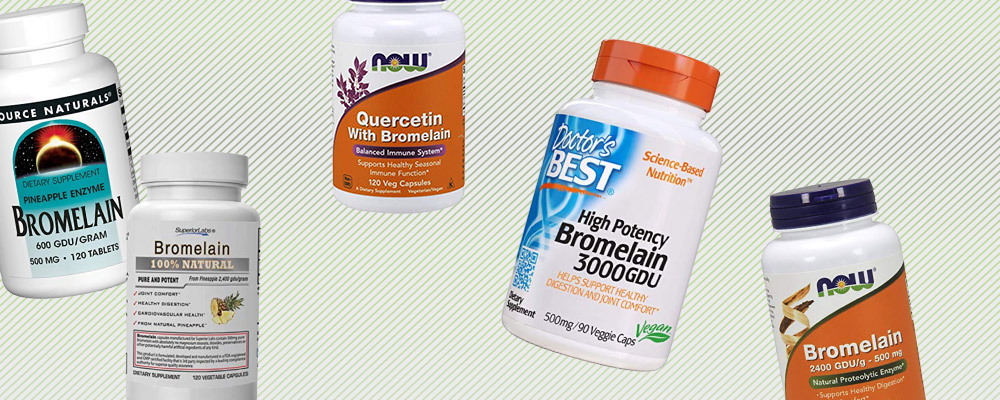 Editors' Choice: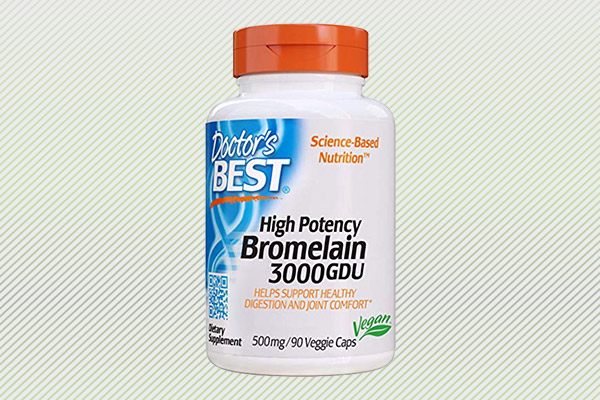 Doctor's Best Bromelain
Pros:
At 3,000 GDU per gram, this is one of the more potent bromelains on the market by that measure. 

Each capsule contains 500mg of bromelain, and a bottle contains 90 servings. 

Vegan friendly and gluten-free.

Doctor's Best touts their bromelain as being particularly well-suited to aid in digestion. 
Cons:
While the higher strength 3,000 GDU bromelain may be a benefit for many, some with more particular stomachs may want to opt for a less potent option. 
Also Consider: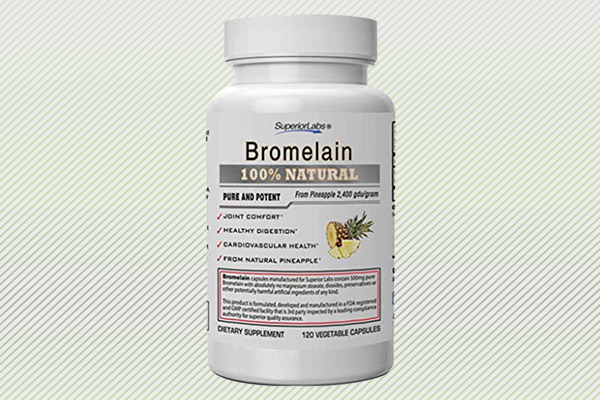 Superior Labs Best Bromelain
Pros:
Each serving of Super Labs Best Bromelain contains 500mg of bromelain. 

Super Labs bromelain contains 2,400 GDU (gelatin digesting units) per gram, a measurement used to measure how much protein each serving of bromelain is able to aid in digestion. 

No preservatives or artificial ingredients of any kind are used in the making of these vegetable capsules.

These capsules are marketed as helping with joint comfort, digestion, and cardiovascular health. 
Cons:
These caps use rice in their formulation, which may be an issue for anyone with a rice allergy.
Best Value: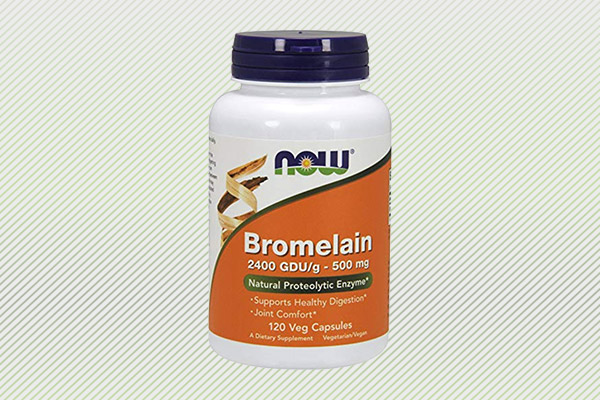 NOW Supplements Bromelain
Pros:
Each capsule contains 500mg of bromelain with 2,400 GDU per gram. 

These capsules are vegan, gluten free, and keto-friendly.

NOW Supplements recommends these capsules should be taken with food to support digestion or between meals to relieve soreness and/or muscle pain. 

Compared to some of the other bromelain supplements on the market, this one is available at a very affordable price point. 
Cons:
Though these capsules are vegan-friendly, they do contain a few additional ingredients – such as magnesium stearate and silica – in comparison to some of the other supplements we looked at. 
Tablet: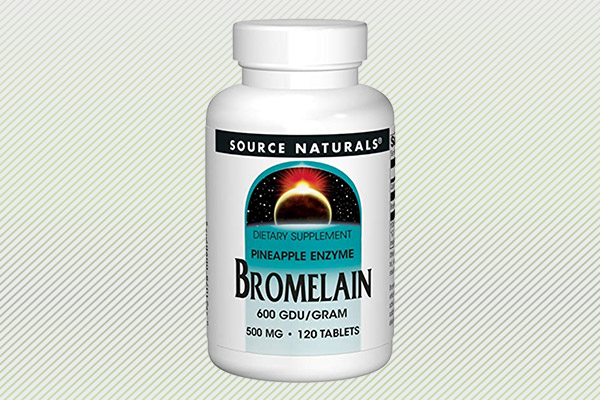 Source Naturals Bromelain
Pros:
On a cost per serving basis, these are among the most affordable bromelain supplements available on the market. 

Each tablet contains 500mg of bromelain and 68mg of calcium.

Source Naturals suggests to take their bromelain with food to help with digestion and between meals to aid with physical stress.
Cons:
By GDU measure, this is one of the weaker sources of bromelain on the market, checking in at only 600 GDU per gram.

A look at the ingredients label reveals a number of additional ingredients to help formulate the tablet.
Unique Formula: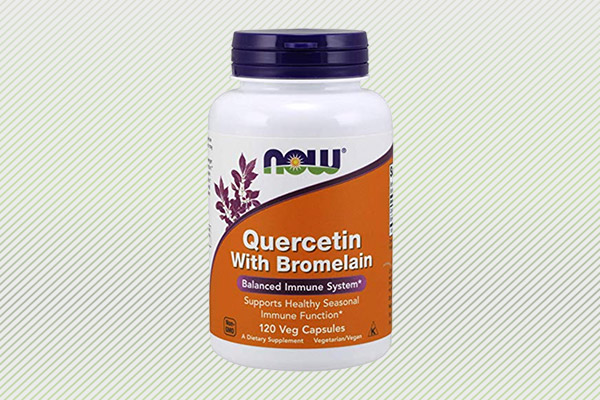 NOW Supplements Quercetin with Bromelain
Pros:
Each serving contains 800mg of quercetin, a flavonoid commonly found in fruits and vegetables that's believed to be a strong antioxidant. 

In addition to quercetin, each serving contains 165mg of bromelain, checking in at 2,400 GDU per gram. 

This supplement is marketed as an immune system booster, with instructions to take two servings daily before meals.

Kosher, non-GMO, vegan.
Cons:
If you're just looking for bromelain support, you may want to look elsewhere. 

On a cost per serving basis, this is among the more expensive supplements we checked out.
Methodology
Bromelain is a mixture of enzymes found in the pineapple plant. It's a very widely available supplement used for its supposed anti-inflammatory properties. Before adding bromelain to your daily regimen, you should consult with a medical professional to make sure it jives with your nutritional needs. If you are looking for bromelain, there's a few things you should look for before making your purchase.
What's Inside?
Unfortunately, there aren't any widely available third party tests for purity on bromelain supplements. However, it's still important to check out the ingredients label to ensure you know what's inside each capsule. Some brands will stuff their supplements with artificial flavors or additives.
Dosage
The two numbers to look for in bromelain are the amount of bromelain per serving and the GDU (Gelatin Digesting Units) per gram. This GDU value is meant to measure how much each protein each gram of bromelain can help digest. Though much more research is needed to verify these claims, it may be a helpful measure if you're thinking of adding bromelain for digestive help.
Cost
To ensure you're getting a good deal, divide the total cost by the amount of servings listed on the bottle. Not all brands have single tablet or capsule servings, so it's important to count the servings – not just the number of tablets in each bottle.
BarBend Tips
Consult a medical professional before adding bromelain to your diet.

Take a look at the label to ensure you know what you're putting in your body.
Bromelain is a very common supplement that's been used for its anti-inflammatory properties for centuries. Though some claims of its efficacy have been a bit exaggerated, it may provide relief from folks suffering from chronic nasal inflammation.
References
Büttner L, Achilles N, Böhm M, Shah-Hosseini K, Mösges R. Efficacy and tolerability of bromelain in patients with chronic rhinosinusitis–a pilot study. B-ENT. 2013;9(3):217-225.‌

Bromelain. NCCIH. https://nccih.nih.gov/health/bromelain. Published September 24, 2017.‌

Brien S, Lewith G, Walker A, Hicks SM, Middleton D. Bromelain as a Treatment for Osteoarthritis: a Review of Clinical Studies. Evidence-Based Complementary and Alternative Medicine. 2004;1(3):251-257.