We receive free products and receive commissions through our links. See
disclosures page
.
Chia seeds are small black seeds from the Salvia Hispanica plant, a mint-like green native to Central America. They're hailed for their robust nutritional profile and versatility in terms of preparation. Although more research is needed before making any broad claims about chia seeds' health benefits, they possess high amounts of fiber, protein, and omega-3 fatty acids.
Chia seeds are also a potentially rich source of antioxidants. The small, almost flavorless seeds can be used in various ways, including mixed in smoothies, added to granola or oatmeal, or suspended in milk to create a pudding. We rounded up some of the best chia seeds on the market, compared them, and gave our picks on this gluten-free, vegan-friendly, nut-free ingredient.
Best Chia Seeds
Editor's note: The content on BarBend is meant to be informative in nature, but it should not be taken as medical advice. The opinions and articles on this site are not intended to diagnose, prevent, and/or treat health problems. It's always a good idea to talk to your doctor before beginning a new fitness, nutritional, and/or supplement routine.
Best Chia Seeds
Viva Naturals sources their chia seeds from farmers. Their adherence to fair trade standards boosted them highly up our rankings. They are raw and organic and can be used in various manners, including sprinkled over salads, mixed into smoothies, or as a topping for yogurt. We appreciated how it punched up a post-deadlift session protein shake nicely.
These seeds are certified organic and non-GMO. Though reasonably priced, these chia seeds do check-in at a slightly higher price point than some competitors.
Viva Naturals Chia Seeds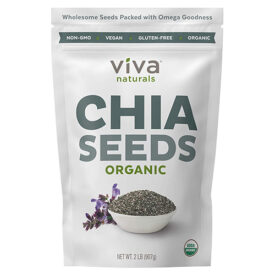 Viva Naturals uses raw and organic chia seeds obtained from farmers in keeping with fair trade practices. Available at a reasonable price point, this two pound, resealable bag may make a great addition to any kitchen.
Who Should Buy Viva Naturals Chia Seeds
Those who like a versatile seed that can be used as a topping or mixed into food.
People who want organic, non-GMO seeds.
Folks who appreciate fair trade standards for their goods.
Who Shouldn't Buy Viva Naturals Chia Seeds
Anyone looking to pinch some pennies.
If you are really tight on budget, you may want to look to the next pick, but beyond that, Viva Naturals did it right.
[Related: Could Baking Soda Be The Best Workout Supplement You've Never Tried?]
Best Bulk Chia Seeds
Healthworks Chia Seeds are delivered in a two-pound resealable bag. From a cost perspective, this is one of the more affordable chia seeds on the market. In addition, the company touts that these seeds are sustainably grown and harvested by small farmers.
In contrast to some of the other chia seed options on the market, these are not certified organic. However, the company does note that the seeds are grown without pesticides.
Healthworks Chia Seeds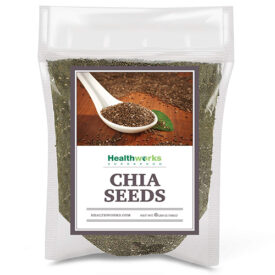 Utilizing chia seeds grow and harvested by small farmers in Mexico and South America, Healthworks offers a solid product at a very competitive price point.
Who Should Buy Healthworks Chia Seeds
Anyone looking to buy a lot of chia seeds at once.
Those who want to support small farmers who grow crops sustainably.
People who do not want pesticides used in their chia seeds.
Who Shouldn't Buy Healthworks Chia Seeds
Anyone who needs their seeds to be certified organic.
The big knock here: it's not certified organic. Many of the other top chia seeds on the market are. However, these are an excellent pick on multiple axes, not just price, and was enough to secure a spot in our top picks. If you're a lifter who needs to eat in a surplus post squat session or prep for a competition, buying in bulk will likely do you well.
[Related: The Best Types Of Supplements For Performance, Weight Loss, And Health]
Best Chia Seeds In Jar
These chia seeds come in a big plastic container with a wide mouth and a screw-top lid, which may be more convenient to handle than some competing resealable bags, depending on kitchen space. In addition, they are USDA Organic and non-GMO certified, two major points of consideration that rocketed these up our rankings.
The manufacturer's website includes various recipes and tips on using these chia seeds, which may be useful for folks unfamiliar with how to take advantage of this ingredient. Additionally, these are very competitively priced compared to the rest of the market, and they even include a scooper.
Better Body Foods Organic Chia Seeds
Better Body Foods Organic Chia Seeds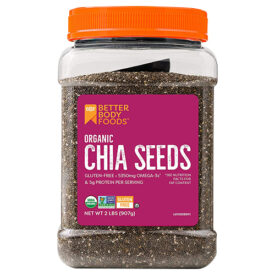 Better Body Foods Organic Chia Seeds
If resealable bags are not your jam, check out this offering from Better Body Foods. Delivered in a two pound plastic jar with a wide mouth, screw-top lid, these organic chia seeds may be a bit easier to dole out and measure than some competing brands.
Who Should Buy Better Body Foods Organic Chia Seeds
Anyone who wants a scooper for easier portion measuring.
Those who value USDA Organic and non-GMO certified goods.
People who need additional help with recipes.
Folks who prefer jars to resealable bags.
Who Shouldn't Buy Better Body Foods Organic Chia Seeds
Folks who have less storage space.
Anyone who would rather use a resealable bag.
Though the wide-mouthed plastic container may make for easier access to the seeds, folks with small kitchens will surely note that it takes up more space than a resealable bag. Taking it all into consideration, that extra space seemed like a reasonable trade-off for all the other pros offered by these chia seeds. We particularly appreciate the scooper to help portion out sizes, which can help manage calorie intake.
[Related: Intermittent Fasting 101: A Guide To Benefits, Muscle Gain, and More]
Best Chia Seeds for Smaller Servings
Navitas Organics Chia Seeds are certified USDA Organic and sourced from Mexico, Argentina, and Paraguay. They are available in various-sized bags, offering the opportunity to test out a small bag before committing to a bulk-sized amount.
Navitas is a Certified B-Corporation, meaning they've been recognized for committing to sustainability and environmentally friendly practices. We weigh that pretty heavily because it can make a difference in the quality of the seeds the consumer eventually buys. Being kind to the environment is the correct thing to do.
Navitas Organics Chia Seeds
Navitas Organics Chia Seeds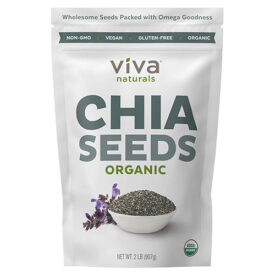 Navitas Organics Chia Seeds
Navitas Organics Chia Seeds may be best for folks who are new to the world of chia seeds and are not ready to make a two pound commitment.
Who Should Buy Navitas Organics Chia Seeds
Anyone who doesn't want to commit to a large number of chia seeds in one purchase.
Folks who want to support the environment.
People who value their ingredients being USDA Organic.
Who Shouldn't Buy Navitas Organics Chia Seeds
Anyone looking to buy in bulk.
Those on a tighter budget.
These are available in an eight-ounce bag. These USDA Organic raw chia seeds are great for folks looking to dip their toe into the world of chia. Navitas ranks a bit higher on a cost-per-ounce basis than some competing chia seed purveyors on the market, but not substantially enough to knock them out of our top picks.
[Related: I'm A Professional Powerlifter. Here's What I Think About Bodybuilding]
Best Ground Chia Seeds
Each two-tablespoon serving of these ground chia seeds provides four grams of fiber and sixty calories. There is a decent amount of calcium and magnesium per serving (75 milligrams and 40 milligrams, respectively), as well as 50 milligrams of potassium. What really sets apart ground chia seeds versus the non-ground alternatives is how much better this blends into smoothies or puddings.
This product is gluten-free and contains no added preservatives. It is Fair Trade-certified and non-GMO.
Spectrum Essentials Organic Ground Chia Seed
Spectrum Essentials Organic Ground Chia Seed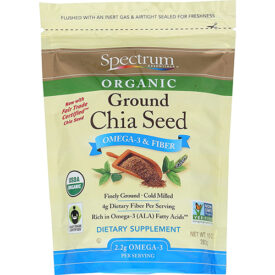 Spectrum Essentials Organic Ground Chia Seed
Each two-tablespoon serving of these chia seeds packs 60 calories with 75 milligrams of calcium, 40 milligrams of magnesium, and 50 milligrams of potassium. It is gluten-free and the single ingredient is organic ground chia seed.
Who Should Buy

Spectrum Essentials Organic Ground Chia Seed
Folks who want ground chia seeds to mix into smoothies.
Anyone who wants their chia seeds to be organic.
People who want to avoid preservatives.
Who Shouldn't Buy

Spectrum Essentials Organic Ground Chia Seed
Anyone who prefers grinding their own chia seeds.
Those who want non-ground chia seeds for toppings on yogurt and the like.
When it comes to the best ground chia seeds on the market, it is pretty tough to bet against the organic option certified by Fair Trade and provides a large amount of fiber per serving. So if you are looking to add some pizzazz to smoothies, this is the pick.
[Related: Best Macros Calculator For Tracking Muscle Gain and Fat Loss]
How We Decided Our Picks
As chia seeds have grown in popularity in recent years, more and more brands have started selling their own. While the nutritional value of chia seeds is pretty consistent from brand to brand, there are a few features worth considering.
Sourcing
Check out where these chia seeds are sourced from. For some, knowing that a company sustainably works with small farmers can make a difference in selecting whom to patronize. Additionally, are the seeds sustainably sourced with the health of the environment in mind? The quality of the seeds is often going to be determined by these factors.
Tangentially related to sourcing, the ingredient list on a package should just be chia seeds. Anything in addition to that might indicate that somewhere in the production process, other ingredients were needed to either make up for flavor, shelf life, etc. Ideally, the ingredients you're using are the cleanest possible and sourced from reliable farmers that operate properly.
USDA Organic
The USDA Organic label certifies that a product was grown on land with no prohibited substances — synthetic pesticides and fertilizers — in three prior years. While this may not have a nutritive difference, it may be worth considering, particularly with how pesticides and fertilizers might affect flavor. This may be less relevant if you only plan to use these in smoothies, but those looking to use chia seeds like sprinkles will likely notice the difference.
The last thing anyone wants after hitting the bench press hard is chia seeds that taste funky in their yogurt. So if you have the opportunity to get USDA Organic chia seeds, it is probably best to do so.
[Related: Nutrition For Bulking: 10 Tips For Intelligent Muscle Gain]
Type of Container
Most chia seeds on the market come in resealable bags. While these may make for quick and easy storage, some folks find it to be a bit of a struggle to measure seeds from the relatively small opening that these bags provide. In contrast, some chia seeds are packaged in wide-mouth plastic jars, which could be more convenient depending on your use and the amount of storage space you have on your counters or in your cabinets.
At the end of the day, the type of container will be a subjective decision that won't have much impact on the quality of the chia seeds assuming the manufacturer checks off all the other boxes. This means we didn't weigh this factor as heavily as the rest, but still worth considering since it can impact your experience.
Nutrients
A typical one-ounce serving of chia seeds contains about four grams of protein, 11 grams of fiber, and five grams omega-3 fatty acids, at less than 140 calories. That may seem pretty good, but it is on the more caloric side if you were to actually see an ounce of seeds. That is roughly where the caloric value should be, though. So if, for whatever reason, you come across a chia seed with numbers drastically different than these, run away.
If the caloric value is lower, they are likely not chia seeds or mixed with something else. If the caloric value is much higher, then check out the ingredient list. The odds are that there are many added ingredients (likely involving sugar) to push the chia seeds more into the realm of granola in terms of calories — not where someone training to make weight wants to be.
For those who need a particular macro balance, it is likely best to use chia seeds with something else that is higher in protein and lower in fat, as an ounce of chia seeds packs approximately nine grams of fat.
Cost
To get a sense of the relative cost of different chia seed offerings, divide the total cost by the number of ounces in a package. This is a pretty straightforward factor that doesn't have much outside opinion influencing it in our rankings. If all products being considered were created equal, but one is less expensive than another, we ranked the less expensive one more highly.
[Related: 3 Ways To Find Your 1-Rep Max (Beginner, Intermediate, and Advanced)]
What To Consider Before Buying
For many folks, chia seeds are a part of a well-balanced diet. If weight management or counting your macros is a goal, please consult a medical professional or a dietician. Try out a bunch of recipes! Chia seeds are very versatile, and while they're rarely the centerpiece of anyone's snack, they can be deployed in several creative ways.
Many folks consider chia seeds to be an important part of a healthy and balanced diet and exercise routine. These gluten-free, vegan-friendly, lower-carb seeds can certainly have a variety of uses.
FAQs
How much chia seeds should you eat in a day?
There's not necessarily a hard and fast rule for how much chia seed is appropriate for a day, though a typical serving size is between 1 and 2 tbsp. If this is a real concern, consult a dietician. 
What's the best way to eat chia seeds?
There are a variety of ways to eat chia seeds. Chia seed pudding is very common and easy, as it simply involves combining chia seeds with milk and refrigerating. Chia seeds can also easily be sprinkled over salads or granolas, or added to smoothies or yogurts. They do not carry much of a taste, but do add a bit of crunch. 
How long should you soak chia seeds?
To create a tapioca pudding-like textured treat, soak chia seeds in liquid for about 20 minutes. This will result in a chewy, easy to much on snack.