We receive free products and receive commissions through our links. See
disclosures page
.
The clean eating lifestyle is one that emphasizes eating whole, "real" foods. It is meant to excise processed foods from diets, focusing on more natural foods like vegetables, fruit, and meat – all whole foods. The foods that are generally accepted as being "clean" are protein, fruits, vegetables, whole grains, some fats. A focus on these foods might bring about a big change in one's diet; eating patterns will need to change, and along with them, cooking habits.
Clean-eating cookbooks mean different things to different people; authors can take different approaches in how they disseminate information and cooking styles to their readers. Some are geared towards beginners while others plump for convenience. Not every clean-eating cookbook will be useful in the same way. Because the titles don't tell the whole story, we've compared some of the more popular clean-eating cookbooks to see how they stack up:
Editor's Choice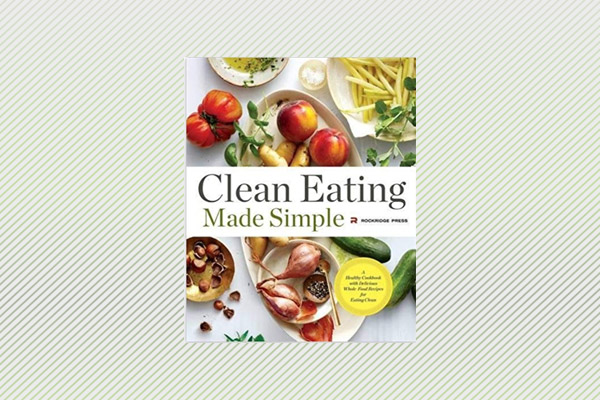 Clean Eating Made Simple
Pros:
Intro. This cookbook provides a thorough introduction to the benefits, theories, and general methodology of a clean-eating lifestyle. It stresses the ways in which eating natural and unrefined foods can potentially help someone achieve their dietary goals.

Diet accommodation. This author does a fantastic job of considering potential dietary restrictions. This cookbook has recipes and alternatives for diet such as vegan, vegetarian, nightshade-free, and gluten-free, among others.

Customizable meal plans. This cookbook enables and empowers readers to make their own meal plan strategy that incorporates their dietary needs, tastes, and relative cooking experience. This book is meant to help readers fit this food philosophy into their lives, not vice versa.
Cons: 
Ingredients are in gray type-face. For some reason, the publisher has included the list of ingredients in gray tape-face. This print lacks the necessary contrast to make referencing it easy while cooking.

Recipes are simple. As the title states, this cookbook offers simple recipes that most chefs should be able to cook with ingredients they can find at home or at an average grocery store. Those looking for more complex or novel recipes may have to look elsewhere.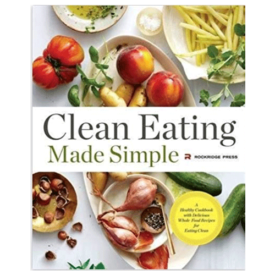 Clean Eating Made Simple is a great introduction to the theories and benefits of whole food eating habits. It combines a thorough explanation of the lifestyle with a flurry of easy and accessible recipes that most chefs should be able to enjoy.
The Contender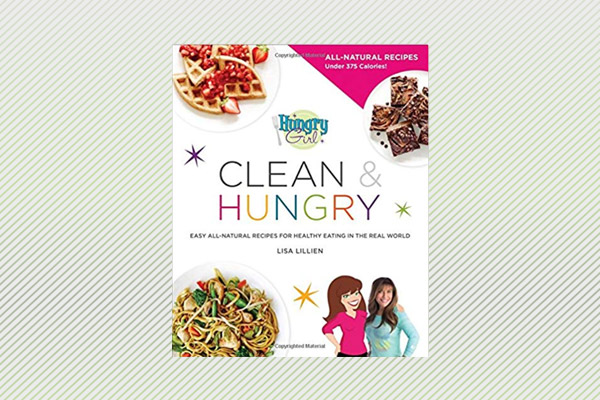 Hungry Girl Clean & Hungry: Easy All-Natural Recipes for Healthy Eating in the Real World
Pros: 
Sympathetic. The tone of this book is very inviting for people who are brand new to the approach, may have struggled with other diets, or simply have trouble adjusting to a new lifestyle. The author has included no-cook and quick under-15-minute meals for those wanting to ease in slowly. 

375 calories or less. Each recipe in this book promises to contain less than 375 calories. When looking at the line-up of fun dishes (waffles, smoothies, and burgers), this is a pleasant surprise

Pictures. This cookbook includes a plethora of pictures, which is vital for those with little experience cooking solo. The ability to reference a finished dish can help chefs along each stage of the recipe.
Cons: 
Weak binding. In a matter not relating to the text itself, the binding of the book doesn't do a great job of securing the individual pages. Users may need to be careful not to have the pages fall out and get out of order.

Sugar substitutes.

While the recipes are designed to be low-calorie fares, often this is achieved by using sugar substitutes like Stevia. Many users may look for another alternative or just add some calories and use honey.
Hungry Girl Clean & Hungry: Easy All-Natural Recipes for Healthy Eating in the Real World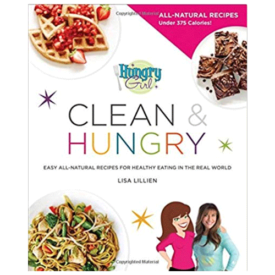 Hungry Girl Clean & Hungry: Easy All-Natural Recipes for Healthy Eating in the Real World
Hungry Girl Clean & Hungry by Lisa Lillien is part of a series of books that emphasize healthy eating for the modern age, focusing on recipes that help make the lifestyle a fun choice. Each meal is designed to have less than 375 calories.
Best Bargain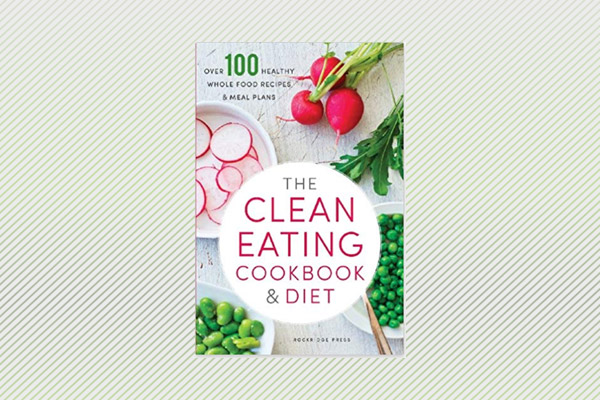 The Clean Eating Cookbook & Diet: Over 100 Healthy Whole Food Recipes & Meal Plans
Pros: 
History. A unique aspect of this cookbook is that it includes a section dedicated to explaining the history of clean eating. Understanding the context and longevity of the lifestyle can help newcomers feel more at ease with what could be a drastic change in diet.

Glossary. Another way this cookbook strives to make the switch to clean eating more accessible is by including a glossary of relevant terms. This can help with understanding the text itself as well as any outside research.

Cost. This book provides over a 100 recipes for a relatively low price. Thought of in per-recipe terms, this book offers each recipe for a few pennies and nickels each.
Cons: 
No nutritional info. Though not every chef will be literally counting calories or other nutritional info, it would be helpful if there was data about the contents of each meal. 

Avoids strong flavors. This book, while perhaps being designed for families who have kids that might have sensitive palates, seems to be lacking recipes with strong spices and flavors. The recipes are rather simple and inoffensive.
The Clean Eating Cookbook & Diet: Over 100 Healthy Whole Food Recipes & Meal Plans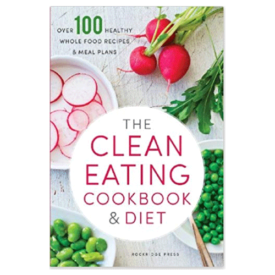 The Clean Eating Cookbook & Diet: Over 100 Healthy Whole Food Recipes & Meal Plans
The Clean Eating Cookbook & Diet has loads of background information, a glossary, and references to research to help explain the clean-eating diet. Affordable as a paperback or on tablet (Kindle), this cookbook has over 100 recipes to help start or continue a clean-eating path.
Best for Beginners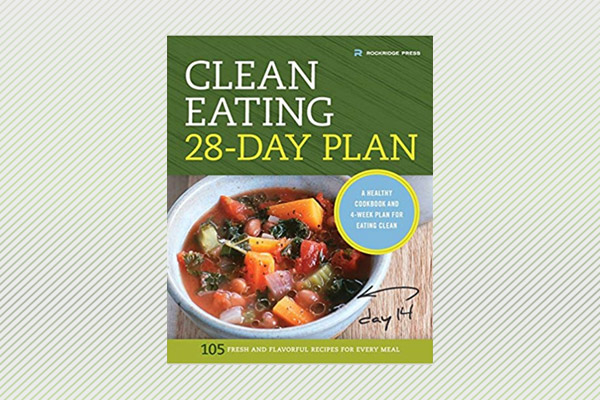 Clean Eating 28-Day Plan: A Healthy Cookbook and 4-Week Plan for Eating Clean
Pros:
28 day plan. This book provides a great template for those just beginning a clean-eating diet. With a 28 day plan, readers have four weeks of meals (breakfast, lunch, and dinner) laid out in front of them with no repeats.

Pantry tips. A frustrating aspect of some cookbooks is the seeming disparity of ingredients from recipe to recipe. This book outlines which ingredients should be kept stocked in every kitchen.

Recipe and ingredient index. This book provides not only an index of recipes for quick reference, but an index for ingredients as well. This makes utilizing all the fresh ingredients at hand a lot easier as to avoid food waste.
Cons:
Only some photos. A common complaint of many cookbooks is a lack of photos. This one has a few spread throughout, but falls short of having one photo per meal.

Lots of ingredients. The recipes in this book are not always simple, which can make everyday cooking a bit arduous. Some readers might gamble that the recipes can suffice without some of the ingredients.
Clean Eating 28-Day Plan: A Healthy Cookbook and 4-Week Plan for Eating Clean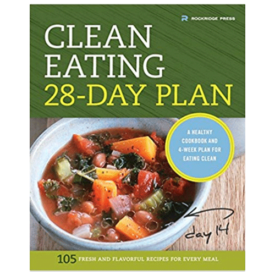 Clean Eating 28-Day Plan: A Healthy Cookbook and 4-Week Plan for Eating Clean
Clean Eating 28-Day Plan provides a comprehensive guide to starting a clean-eating diet complete with pantry tips, suggested cooking tools, and a handy index. This is great for those venturing into the lifestyle and planning on committing full bore.
Most Convenient Meals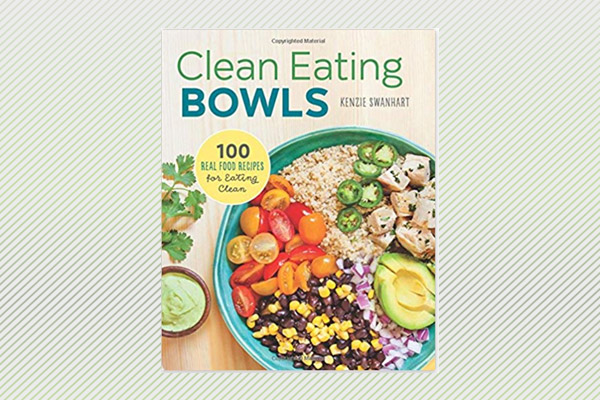 Clean Eating Bowls: 100 Real Food Recipes for Eating Clean
Pros: 
Quick preparation. This book prides itself on the brevity of its approach. Each recipe promises simple preparation that is meant to be inviting to those with a busy schedule. Meals in bowls lend themselves naturally to this approach.

Themes. A fun aspect of this text are the themes. Those hoping to replicate favorite meals from their youth (like soups) or for a certain season (smoothies in the summer) will have a surplus of innovation from this book.

Appendix. The appendix at the end of this book provides a lot of useful info. There is a list of foods that tend to have the most pesticides used to grow them, there is a conversion chart for different measurements, and there is an alphabetical index.
Cons:
Doesn't cater to vegetarians or vegans. This book doesn't contain many recipes that exclude meat. Tofu, seitan, tempeh and other plant proteins do not feature.

Not many pictures and no nutritional info. A similar negative attribute shared with several other cookbooks, this one does not have many pictures of finished dishes nor does it have nutritional information.
Clean Eating Bowls: 100 Real Food Recipes for Eating Clean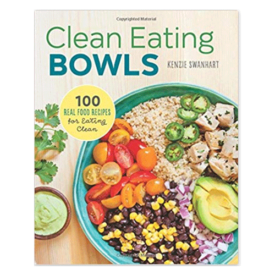 Clean Eating Bowls: 100 Real Food Recipes for Eating Clean
Clean Eating Bowls by Kenzie Swanhart is meant to help readers make quick, easy, and tasty foods that satisfy both the taste buds and the dietary requirements of clean eating. The author has organized the book into categorical themes and has handy information throughout.
How We Picked
Clean eating is a type of lifestyle that has some simple tenets. While it may be easier for some to understand the rules of the diet, demonstrating these rules consistently on a daily basis can prove difficult for anyone. Cookbooks are a great way to make sure readers have a grasp on what the diet entails as well as giving a template for how to fully integrate it into a daily routine. The authors we looked at had different techniques and approaches to how to compel readers to do so. Here are the aspects we looked at that distinguished the books from one another:
Tone
People buy cookbooks for a multitude of reasons. Some are trying to stave off certain cravings by forcing themselves to cook, others are simply trying to save money and prohibit themselves from eating out so much. Many clean-eating cookbooks are designed for people who want to eat healthy but may not have the culinary creativity to make dishes that taste good but still check the boxes of clean-eating. These books have fun recipes and spare a lot of the exposition.
Some texts have lengthy sections at the front of the book that go through the science, history, methodology, and societal context of clean eating. These books seem to be trying to convince a skeptical audience of the benefits of this diet. For users who are skeptical, or simply have no experience or knowledge of the lifestyle, this may be the best way to get started. For those who just want new recipes, there are books that can satisfy them as well.
Ingredients
One of the roadblocks in clean-eating recipes is how to create a lot of flavor when removing certain foods from the diet. While processed foods certainly have to go, some more natural foods, like sugars, will need to be eliminated from the pantry if the reader is to go totally in on clean eating. The substitutes, however, are sometimes not as tasty; sugar substitutes like Stevia can leave a bad aftertaste to some palates.
Additionally, spices can be used in novel ways to increase the variety and complexity of different dishes. Not everyone has dozens of spices in their kitchen already, unfortunately. Some recipes call for exotic spices from around the world that may not be in every grocery store; adobo, saffron, and Tahitian vanilla can be hard to find and expensive once found. For those without the means of acquiring these spices, there are always online guides offering substitutes.
Meal plans
This can be of great help to beginners – or could scare them off. Some authors will lay out a plan for weeks, usually between 2-4, of meals for the reader to cook. These typically cover breakfast, lunch, dinner, snacks, and even desserts. This can be extremely helpful for those hoping to dive into the clean-eating lifestyle without giving it much thought; the prevaricating when deciding what to cook can be a moment of surrender.
However, these meal plans tend to have small portions. While small portions are part of the diet, not everyone has time to cook several times a day. Some people prefer cooking a big batch of food to last them several days. Having a meal plan schedule can be intense and scare off those who aren't used to dedicating that much time to cooking and shopping. Either way, there are cookbooks to satisfy the habits of different home chefs.
Tips
Not sure which clean-eating cookbook is right for you? We've gathered some tips that might help you make your decision:
Do you eat a lot of processed foods?

This diet can be a big change for those who typically eat a lot of processed foods. Many people eat processed foods not because they enjoy the taste more than whole foods, but because of convenience, price, and lack of awareness.
For those who think this diet may necessitate a drastic change for them, consider doing it gradually. Some cookbooks are sympathetic to that and create recipes that are either easy to make or replicate the foods that readers may end up craving.

Do you shop often?

Many of the recipes in clean-eating cookbooks call for different types of meals from day to day. These will require different ingredients that may not have long shelf-lives or may not be commonly found in pantries.
Those who enjoy shopping or have a store nearby can take advantage of the variety of recipes some cookbooks employ. Those with stores far away or lack of time to go shopping may opt for cookbooks with simple recipes or those that have bigger portions so that home chefs can make more than one day's worth of food at once.