Coffee fans have more choices than ever, and that's especially true when it comes to cold brew coffee. Perfect for warm weather — but enjoyable no matter the temperature — cold brewed and iced coffees come in a range of flavor types and profiles. Many of the world's most popular coffee brands have started rolling out cold brewed (or chilled) versions of their hallmark drink, including ready-to-drink options get shipped right to your door.
Here's where these top picks come in: We reviewed many of the top options on the market for flavor, strength, convenience, price, and overall experience (and yes, that included personally trying dozens of brands big and small). Though a few on this list aren't technically cold-brewed, they're virtually all designed for convenient enjoyment, chilled and then (mostly) ready-to-drink. While many cold brews are known for their smooth, milder flavors, they come in a surprisingly diverse range of tastes. Personal tastes will differ a bit, though we tended to look at black, unsweetened varieties, and we indicate which pair best with your favorite mix-ins.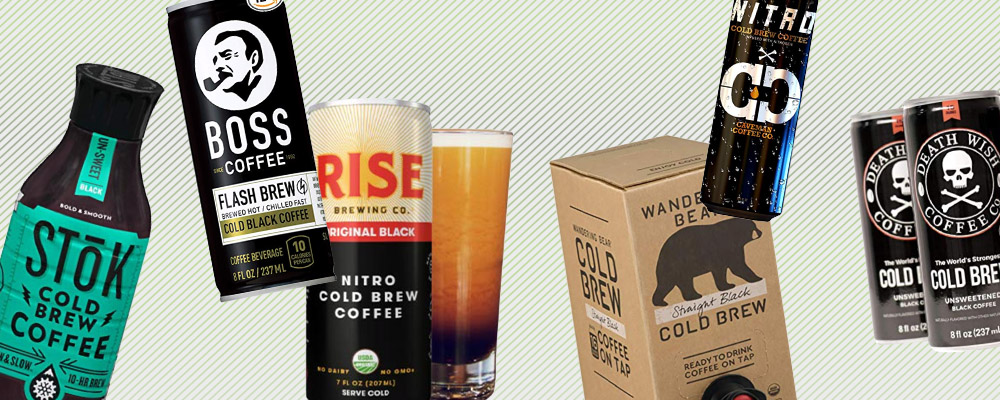 Editor's Pick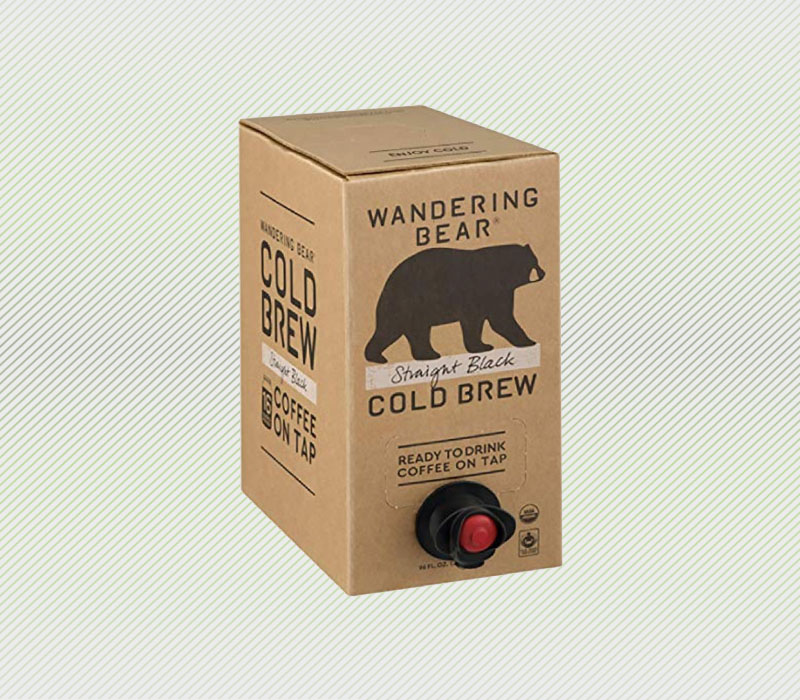 Wandering Bear Organic Cold Brew
Pros:
Has a smooth, refreshing taste that doesn't overpower, perfect for drinking on its own or pairing with a meal.

A clever and easy-to-use tap makes boxes of Wandering Bear easy to use and store. It's like having a personal keg of cold brew on top in your fridge. Also comes in a single serving container useful if you're on the go.

Coffee in the box stays fresh for 30 days after opening, plenty of time to enjoy the contents. 

Contains no additives or additional ingredients.

Made using organic and Fair Trade-certified beans.

This brew provides about 150mg of caffeine per cup, which is on the stronger side for cold brews.

Tastes great neat or with a touch of milk.
Cons:
Flavor may be underwhelming for those who prefer a more bitter, slightly acidic taste.

Though not bulky, the boxes version may not fit in some smaller refrigerators. 
Best Value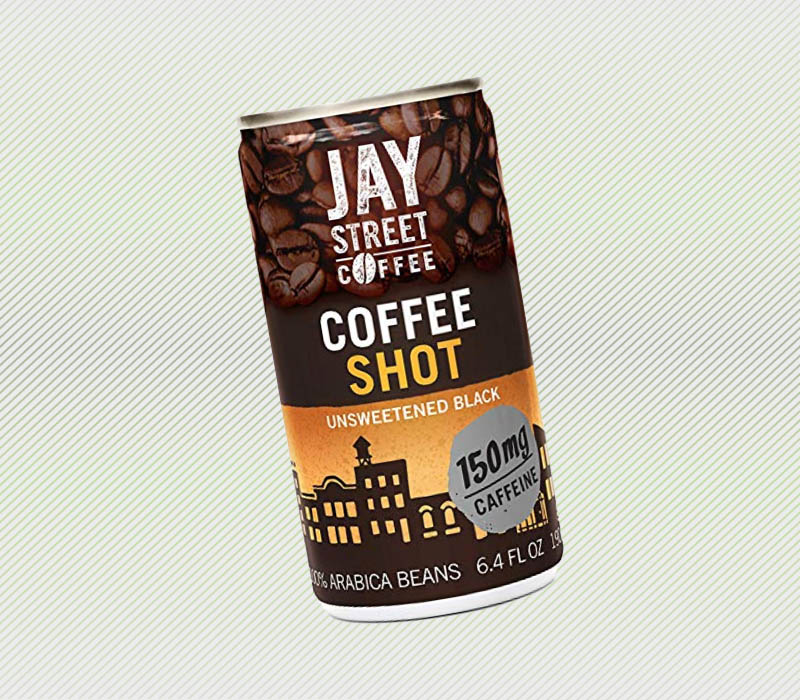 Jay Street Coffee, Coffee Shot
Pros: 
Comes in packs of 20 at a price well under $2 per serving.

Provides a full 150mg of caffeine in just 6.4 fluid ounces, which many drinkers can finish in relatively few sips. 

Highly portable and fits almost anywhere. 

Recognizable coffee flavor that tastes true to the bean.
Cons:
While we enjoyed the flavor, it didn't rank at the top for being the smoothest OR strongest on taste. A bit middle-of-the-road when it came to flavor.

Isn't cold brewed and lacks the natural smoothness of many cold brews. 

The small serving size means it won't be a great thirst-quencher. 
Strongest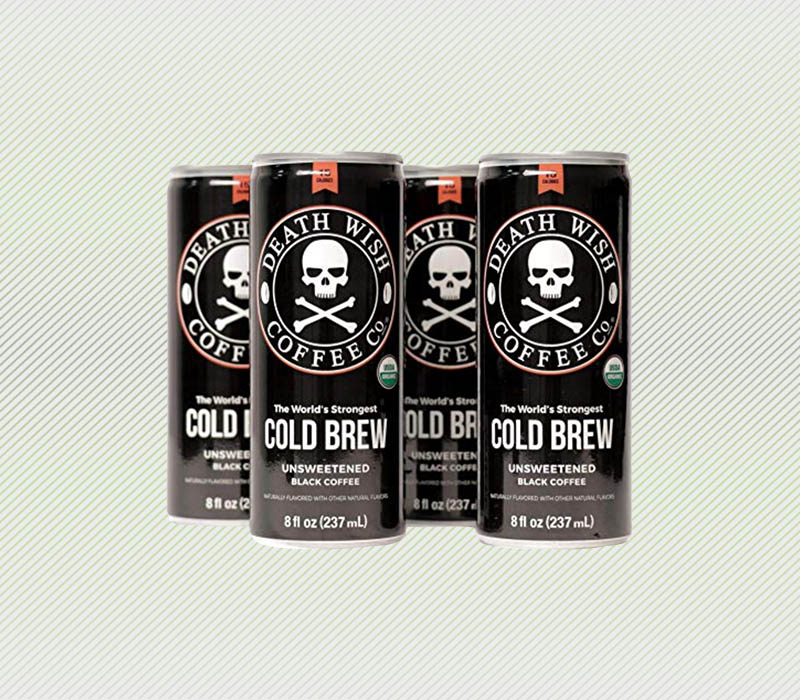 Death Wish Coffee Cold Brew Cans
Pros:
Just about the strongest cold brew or iced coffee on the market today.

Enjoyable coffee flavor that skews mild-smooth as opposed to bitter. 

Manageable serving size for a high dose of caffeine. 

Certified organic and Fair Trade coffee.

Comes in unsweetened and "slightly sweetened" varieties. 

Tastes good with a favorite milk to increase volume and extend the serving.
Cons:
At 300mg of caffeine per 8 ounce can, this may be too strong for even experienced coffee drinkers. 

High caffeine to volume ratio could make it easy to lose track of how much caffeine you've consumed.

Contains added natural flavors. 
Smoothest Taste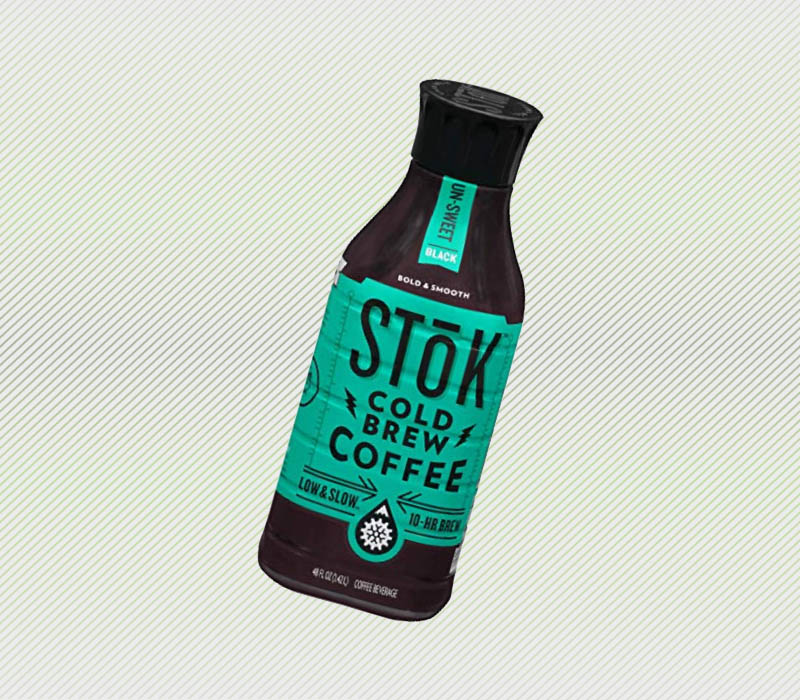 SToK Cold-Brew Iced Coffee
Pros:
Incredibly smooth flavor and texture with a tiny hint of natural sweetness, despite it being sugar and sweetener-free. 

No added sweeteners.

Easy-to-pour container that fits well in most refrigerators. 

Perfect for those who prefer very low-acidity, mild coffee. 
Cons:
SToK's cold brew contains added flavors, which could be a letdown for those who prefer the simplest recipe around: coffee beans and water.

Almost a complete lack of noticeable acidity and bitterness, which may prove too mild for some coffee drinkers.
Crowd Pleaser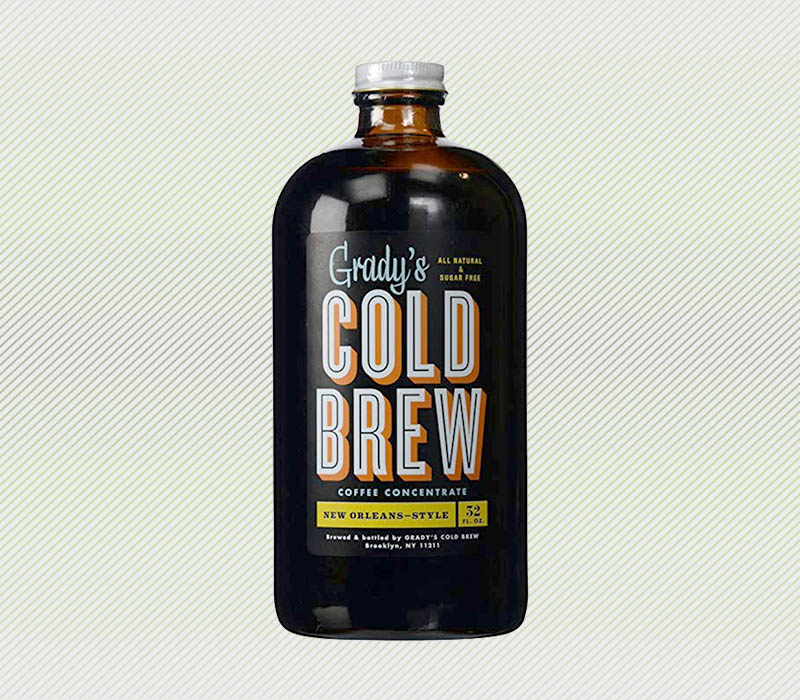 Grady's Cold Brew Iced Coffee
Pros:
Interesting range of flavors that will stay pleasing to a wide variety of preferences.

Natural sweetness from chicory and spices.

Great for a group setting. 

Mixes incredibly well with water, milk, cream, and other additions to build a more customized drink.
Cons:
Glass bottle can be a bit unwieldy. 

Contains added flavors via chicory and spices. 

Best if diluted with water or another mix-in, so not as ready to drink as some other choices on this list.
Americano Flavor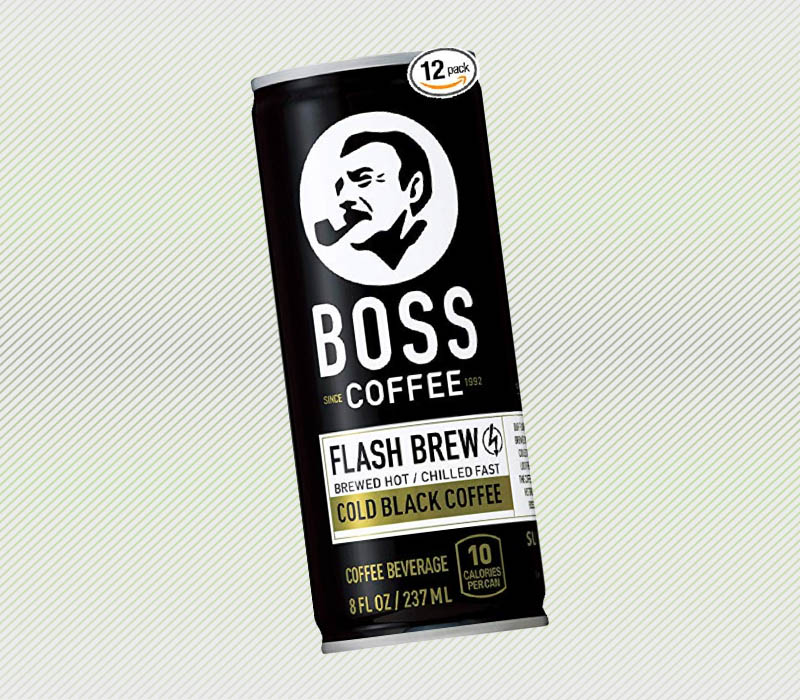 BOSS COFFEE by Suntory
Pros:
A straightforward (delicious) coffee flavor. 

Great choice for fans of Americano-style taste.

Serving can is extra thick, which feels great in your hand and accentuates the overall experiences. 
Cons:
Contains added natural flavors.

Not cold brewed and lacks the smoothness associated with cold brews.
Best Nitro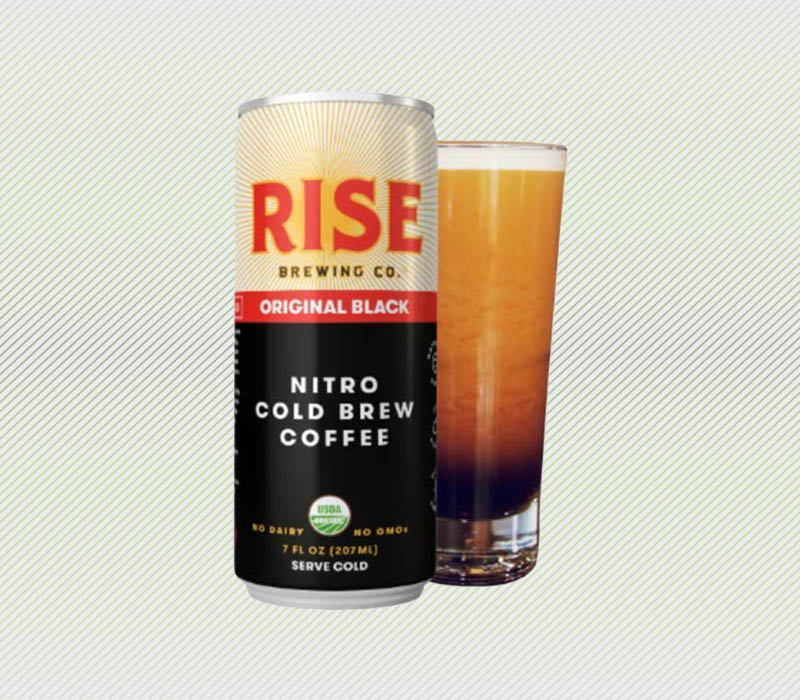 RISE Brewing Co. Original Black Nitro Cold Brew Coffee
Pros:
Pleasant texture that doesn't overpower your tongue with nitro fizz. 

Made with organic beans.

Contains an impressive 200mg of caffeine per 7 ounce can.
Cons:
Some drinkers may be turned off by the nitro-infused texture and frothiness. 

Because of the nitro-infused texture, mix-ins aren't super welcome.
Also Try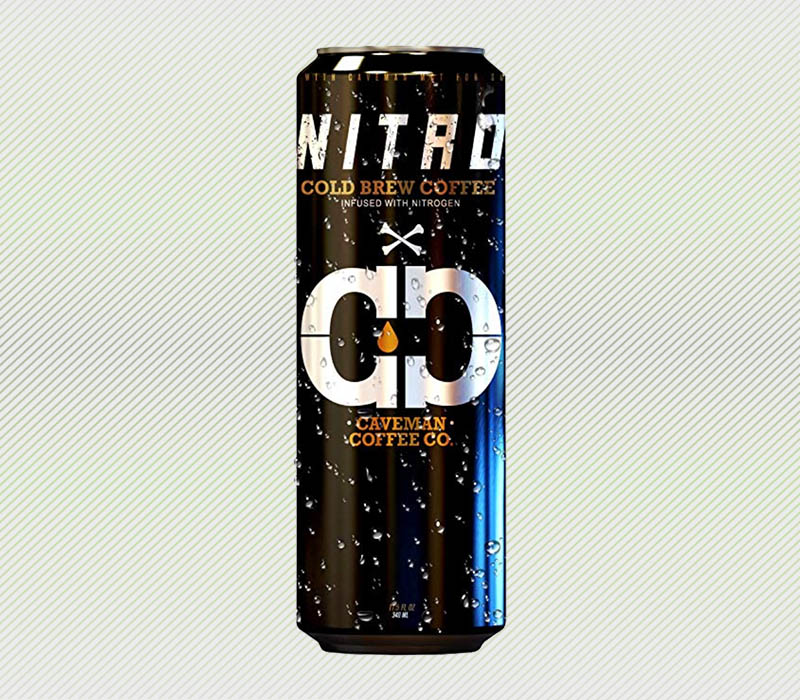 Caveman Coffee Nitro Cold Brew Coffee
Pros:
Comes in a hefty 11.5 ounce can for a satisfying serving that lasts.

Contains 200mg of caffeine per can.

Unlike some nitro-infused brews, mixes well with add-ins (the manufacturer recommends MCT oil).

Strong flavor that hits immediately. 
Cons:
Very noticeable nitro texture that could be off putting for some. 

Slight aftertaste and may not be a great thirst-quencher. 
How We Picked
To narrow down these top favorite cold brew and iced coffee varieties, we looked at a number of factors, which we dive into below. Overall, we trended toward trying black and unsweetened varieties, though many of the brands in my list also sell sweetened, flavored, and milk-added versions. Personal preference will vary, and what we like might be different than your favorites. Here's what we looked at when it came to narrowing down the picks above.
Price
Any long-term coffee aficionado knows that prices — for everything from beans to barista-made drinks — vary wildly, and cold brew/iced coffees are no exception. Bean origin, brewing method, packaging, and strength can all have huge impacts on the price for individual servings, though many of these picks come a little cheaper when buying in bulk. For the value pick especially, we weighed brands that provide affordable (but still high quality) drinks for a competitive cost per serving.
Flavor
Cold brew coffee is known for having a smooth, low-acidity finish. Iced coffees that are brewed hot and then chilled may have a stronger and more traditional coffee taste. That doesn't mean, however, that there are only two variations on flavor. Some companies add natural flavors and spices to help balance out flavor profiles while lending shelf stability to their tastes. The type of bean used will also — and perhaps obviously — make an impact on flavor.
Finding that favorite flavor profile to fit your personal preferences may require some shopping around. (Hopefully it's a journey you enjoy!)
Bite
This category could just as easily be described as acidity, though "bite" may be a bit more accurate, as some cold brew and iced coffee companies add flavors that smooth out the flavor of higher-acid drinks. The average cold brew on the market tastes noticeable less better and acidic than a standard cup of drip coffee or espresso. When shopping for cold coffee, consider whether that familiar bite at first sip is something you absolutely love or can definitely live without.
Strength
Conventional wisdom suggests cold brew coffee is generally brewed stronger than hot varieties, though this isn't often the case. Pre-made cold brew and iced coffee comes in an incredible variety of strengths, and the amount of caffeine per serving is almost always listed on the container.
Portability
Was the container easy to transport and serve or drink out of? Did the container impart any sort of unwanted (metallic, stale, etc.) flavors? Did the packaging help or hurt the overall consumer experience? That takes a good amount of in-person experience with the product, and we weighed these factors when looking at all the brands above.
BarBend Tips
Still wondering how to pick the right brew for you? Consider the following BarBend tips when shopping:
Check the strength. Make sure to look at how much caffeine you're getting per serving of the product. Note that some products may contain multiple servings of coffee per container.
Is it customizable? Some people have a preference for unsweetened, black coffee. Others like it a tad sweeter or thicker. Do you like adding milk, cream, cinnamon, or sugar? Many of the brands on this list offer different varieties, and it's worth considering how you prefer to drink your coffee before making a purchasing decision.
Where are you drinking it? At home, nothing quite beats fresh cold brew on tap in your refrigerator. That may be tougher on a morning commute. Check the packaging type before buying, and consider whether resealable containers are important for you to extend a drink's lifespan.
Flavor profiles change. Some people find that perfect brew and are set for life. Others like to bounce around to explore different flavors, even over the course of a week or day. Consider how invested you are in a particular flavor profile. That could influence whether you buy in bulk or dabble in different brews.