Put simply, CoQ10 is a compound that's naturally produced in the body and helps cells produce energy. Most folks produce less of it as they age, and so may want to bolster their CoQ10 levels with a supplement. Though more research is needed before making any definitive claims, there are a host of potential benefits associated with CoQ10. Because of its role in the energy transfer process, some research has linked it to increased energy in everyday life, including power and stamina during exercise (1)(2).
CoQ10 may also be an effective antioxidant (3)(4)(5). Though many health conditions have been linked to low levels of CoQ10, there is no research to back up theories that CoQ10 supplements can be used to avoid these diseases. Regardless of your particular need for CoQ10, you'll notice that there are many different varieties on the market. Before purchasing one, it's important to know the differences between your options.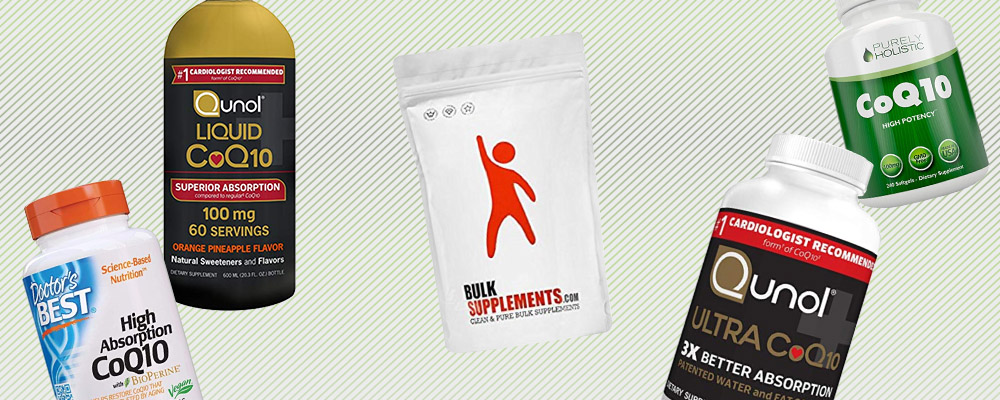 Best Value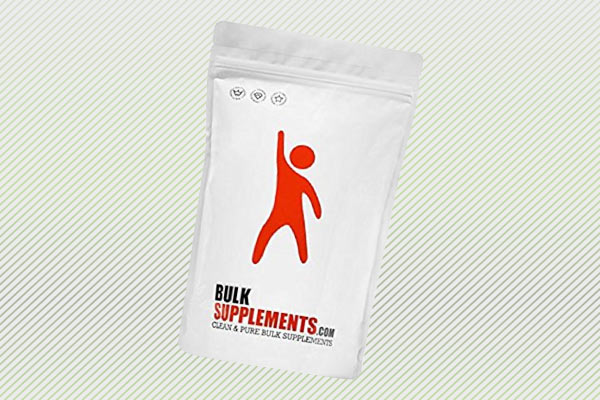 BulkSupplements CoQ10 Powder
Pros:
As with most BulkSupplements products, this is a very competitively priced item, and its cost per serving is lowest on our list. 

Third-party testing confirms the exceptional purity of the CoQ10 in this powder.

A few folks have noticed a slightly chalky taste, but many note that there's little to no taste at all. 

With 125 servings per container, one bag should last a few months. 
Cons:
Since the portion sizes are quite small, you may need to use a milligram scale to be sure you're getting the appropriate amount. 

BulkSupplements CoQ10 is not water-soluble, so you won't be able to slug this down in a glass of water the way you can with many other supplements. 
BulkSupplements CoQ10 Powder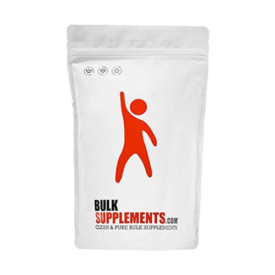 BulkSupplements CoQ10 Powder
BulkSupplements offers a cost-effective, straightforward CoQ10 supplement in powdered form. This third-party tested product is among the highest ranked CoQ10 products on Labdoor, and made by a company that excels in offering rigorously tested supplements. 
Editors' Choice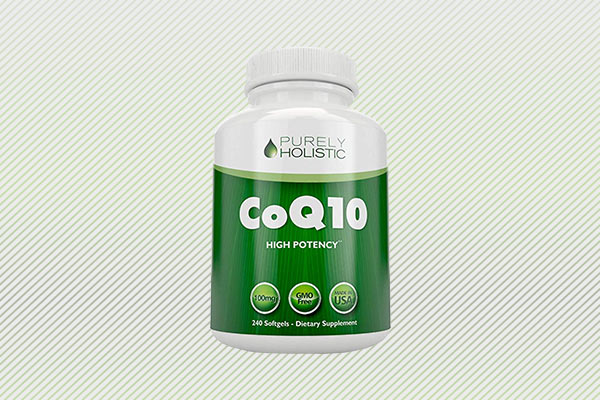 Purely Holistic CoQ10 SoftGels
Pros: 
The price point on Purely Holistic's SoftGels is very competitive, as this is one of the more affordable supplements per serving on our list. 

These gels are non-GMO and do not contain any artificial flavoring. 

The No Risk Guarantee promises a full refund if you're not satisfied with this product for any reason. 
Con:
Since gelatin is used in making these pills, they are not vegan-friendly.
Purely Holistic CoQ10 SoftGels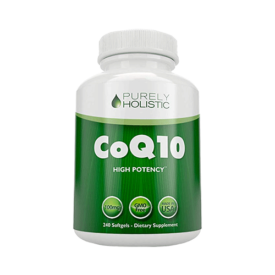 Purely Holistic CoQ10 SoftGels
Purely Holistic offers a very competitively priced CoQ10 SoftGel. They claim the softgel is designed for easier swallowing and fast absorption. They're so confident in their product they offer a No Risk Guarantee, allowing you to ask for a refund if you're not satisfied with the product. 
Contender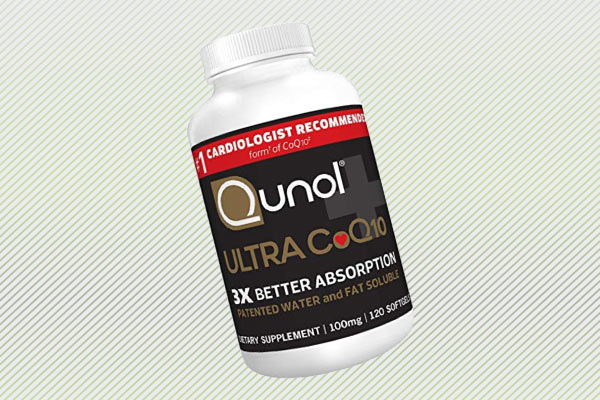 Qunol Ultra CoQ10
Pros:
Qunol uses a patented process to make their product water soluble, which may increase the amount of CoQ10 you're able to absorb. 

One bottle contains 120 softgels, each of which has 100mg of CoQ10. 

In addition to CoQ10, each softgel has 500% the daily-recommended dosage of Vitamin E, which may be beneficial to the health of your eyes (

7

).
Con:
This product contains soy and gelatin, meaning it is not vegan-friendly.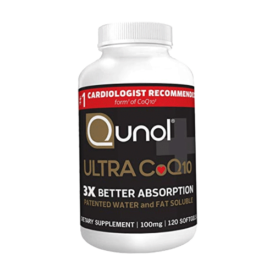 Qunol Ultra claims that their water and oil-soluble CoQ10 softgels are absorbed three times better than other CoQ10 supplements. While there's no independent testing available to confirm Qunol's 3x claim, research does suggest that CoQ10 is better absorbed when made water-soluble (6). Qunol's patented formulation to turn CoQ10 water-soluble may increase the amount your body is able to absorb. 
Best Liquid Supplement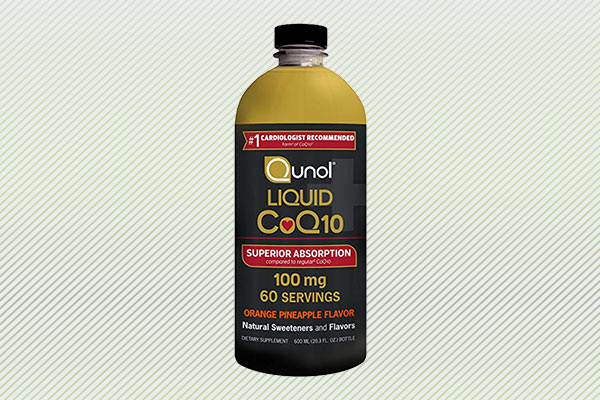 Qunol Liquid CoQ10
Pros:
Taking a supplement in liquid form may be more desirable than swallowing a pill for some folks.

Qunol uses a patented formulation to make their CoQ10 water soluble, which may help make it easier for your body to absorb. 

This liquid supplement is free of sugar, soy or milk products. With no animal products involved, this is a vegan-friendly supplement. 
Cons:
There's a lot more than simply CoQ10 in this supplement, including monk fruit juice concentrate and natural flavors. 

On a per serving basis, this is one of the most expensive CoQ10 supplements on our list.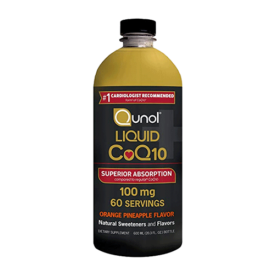 If you're not a fan of softgels or powders, Qunol offers a liquid form of CoQ10. This Orange Pineapple flavored may be easier for some folks to swallow, but does come at a higher price point. 
Best Vegan Capsule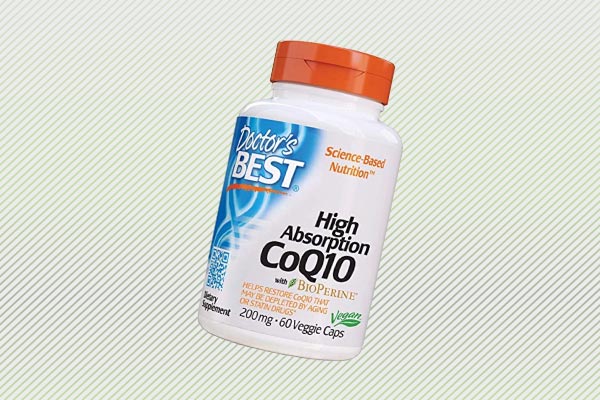 Doctor's Best Veggie Caps
Pros:
Doctor's Best Veggie Caps is one of the best vegan friendly CoQ10 capsules on the market. 

This item is priced very competitively, ranking as one of the most affordable CoQ10 supplements on our list. 

Doctor's Best uses a bit of black pepper extract in an attempt to increase the bioavailability of the CoQ10. 
Con:
Folks with severe allergies to black pepper should probably avoid this product.
Doctor's Best Veggie Caps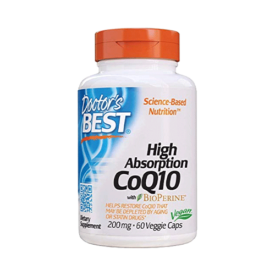 Doctor's Best Veggie Caps
If you're looking for a vegan CoQ10 supplement, check out Doctor's Best Veggie Caps. Doctor's Best uses a bit of BioPerine - black pepper extract - in their CoQ10 capsules. This extract has been shown to increase the rate of absorption in certain cases (8).
Methodology
Shopping for supplements can be a little overwhelming. With so many options on the market, it can be difficult to see past the marketing lines and figure out what the major differences are between each product. Here are a few things to keep in mind when comparing CoQ10 items.
Form
CoQ10 comes in the form of pill, powder or liquid. Depending on your regimen, one option may be easier to incorporate. No supplement is useful if you don't take it, so before clicking "Purchase," think about how you'll fit this product into your daily routine.
Purity
As with any supplement, it's important to know what exactly is in the package you're buying. Check for third-party testing – Labdoor is a great source – to ensure you're buying a product that has as pure a level of CoQ10 as possible.
What's Inside
Take a closer look at the ingredients label. You'll want to be aware of any artificial flavoring or unwanted extra ingredients.
Price
Depending on your budget, factoring in the cost of a supplement may be a key factor in making a decision. Divide the total cost of the product by the number of servings to figure out the value of your purchase. Pay attention though, as some CoQ10 products mete out their servings in terms of 100mg, while others opt for 200mg. Warning: this may require math!
Bioavailability
This is a trickier one to decipher, as there is not a ton of research on how efficiently different types of CoQ10 is absorbed. However, there is evidence that suggests softgels may be more effective than capsules – something you may want to keep in mind when deciding which supplement is best for you.
BarBend Tips
CoQ10 is often used by folks looking to improve and energy levels. However, you should always consult a doctor before introducing a new supplement to your diet.
Once you've decided CoQ10 is right for you, try to figure out which form of it will fit into your daily routine best.
A naturally occurring compound in the human body, CoQ10 may be a useful addition to some users' supplement routine. It's available in a number of forms, and you'll want to make sure you're getting as pure a product as possible.
References
Garrido-Maraver J, Cordero MD, Oropesa-Ávila M, et al. Coenzyme q10 therapy. Molecular syndromology. 2014;5(3-4):187-197.
Gökbel H, Gül I, Belviranl M, Okudan N. The effects of coenzyme Q10 supplementation on performance during repeated bouts of supramaximal exercise in sedentary men. Journal of strength and conditioning research. 2010;24(1):97-102.
Ernster L, Forsmark-Andrée P. Ubiquinol: an endogenous antioxidant in aerobic organisms. The Clinical investigator. 1993;71(8 Suppl):S60-5.
Mortensen SA, Rosenfeldt F, Kumar A, et al. The effect of coenzyme Q10 on morbidity and mortality in chronic heart failure: results from Q-SYMBIO: a randomized double-blind trial. JACC Heart failure. 2014;2(6):641-649.
Morisco C, Trimarco B, Condorelli M. Effect of coenzyme Q10 therapy in patients with congestive heart failure: a long-term multicenter randomized study. The Clinical investigator. 1993;71(8 Suppl):S134-6.
Zmitek J, Smidovnik A, Fir M, et al. Relative bioavailability of two forms of a novel water-soluble coenzyme Q10. Annals of nutrition & metabolism. 2008;52(4):281-287.
Evans JR, Lawrenson JG. Antioxidant vitamin and mineral supplements for preventing age-related macular degeneration. The Cochrane database of systematic reviews. 2017;7(7):CD000253.
Meghwal M, Goswami TK. Piper nigrum and piperine: an update. Phytotherapy research : PTR. 2013;27(8):1121-1130.