We receive free products and receive commissions through our links. See
disclosures page
.
Elbow support braces are worn by a wide range of people. Some athletes who have hurt their arms in the past may absolutely need an elbow brace to help ease their minds. There are also athletes who are involved in sports that put undue stress on certain muscles and tendons in the arm, such as baseball, softball, tennis, basketball, and golf. Even non-athletes can benefit from the support that elbow braces provide.
Choosing the right elbow brace takes some research and requires an understanding of how the brace is going to be used. For some, general compression across most of the middle of the arm may provide the comprehensive support they are looking for; others may have an acute problem they are dealing with and so may need a more targeted brace. We have identified our favorites and explained our reasoning below: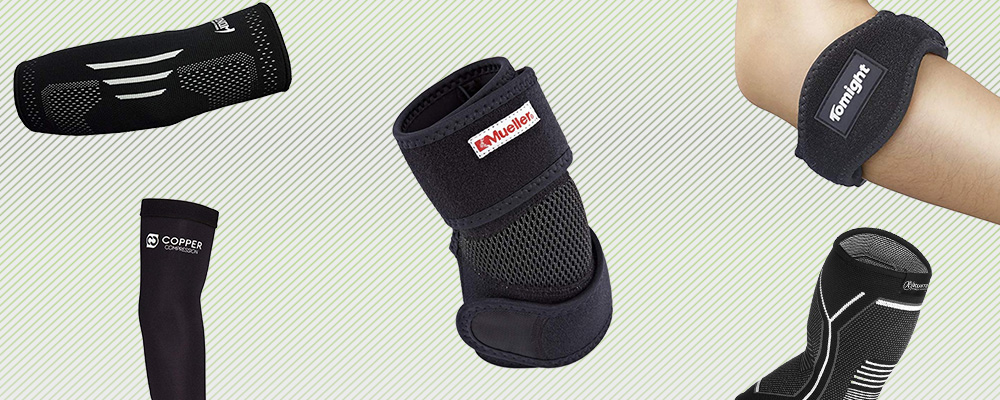 Editor's Choice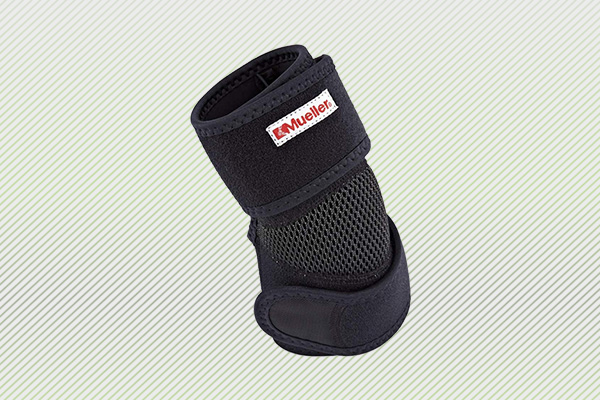 Mueller Adjustable Elbow Support
Pros: 
Two straps. This line of elbow braces is adjustable; there is a strap above and below the elbow that can be tightened to the athlete's liking. This is helpful especially when trying to add extra compression to a certain area of the arm.

Mesh. Because the compression is coming mostly from the straps, the material can be made of a more breathable mesh material than compression braces. This helps with circulation and odor.

Easy to put on. Because this adjustable brace isn't taut until it is secured by its straps, it is easier to slip on than other types of braces.
Cons:
Only one size. Those with elbow circumferences not in the 7-14" range will not fit this brace properly.

May not be enough compression. Though it is nice that the level of compression is adjustable, it just may not be enough for some athletes, especially those with thinner arms.
Mueller Adjustable Elbow Support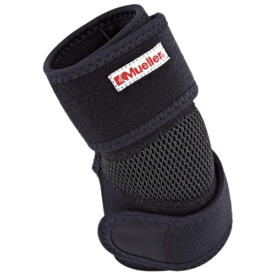 Mueller Adjustable Elbow Support
This adjustable elbow support from Mueller is a one-size-fits-all sleeve that has two straps to customize the fit. It is easy to put on and made of a comfortable and breathable mesh material.
The Contender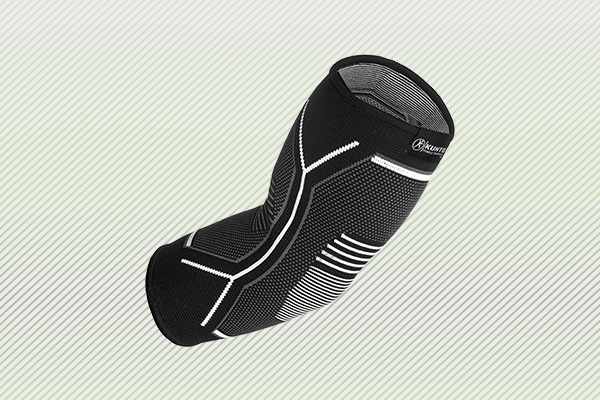 Kunto Fitness Elbow Brace Compression Sleeve
Pros: 
Color options. Many elbow braces come a "one-style-fits-all" – meaning there is only one choice for color. This brand comes in black, beige (nude), and with a colored pattern.

Extra small size. This elbow sleeve comes in an XS size that many competitors don't offer. This may be the preferred brand for those with a smaller frame.

Design. This offering from Kunto features a series of stark lines and patterns that emphasize the motions of the arm. They make the brace look rather cool when in motion.
Cons:
No extra large sizes. This brace tops off at a large size. Those with arm circumferences above 14" may need to look at other options.

Runs a bit small. Some may find that, even after taking accurate measurements, the suggested sizes may be a bit too tight.
Kunto Fitness Elbow Brace Compression Sleeve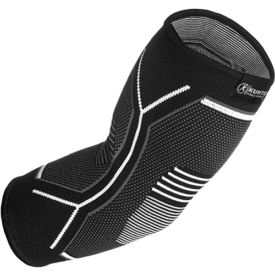 Kunto Fitness Elbow Brace Compression Sleeve
The Kunto Fitness sleeve comes in three colors and sports a futuristic and aesthetically pleasing design. It is made with a lightweight material and is available in extra small.
Best Compression Sleeve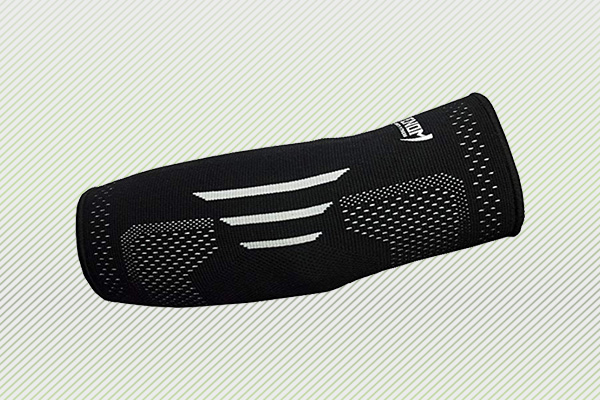 Venom Elbow Compression Sleeve
Pros: 
Cooling agent. This line of sleeves has an option for "infused tech", which is basically a patch of nylon infused with capsaicin and a cooling agent. Derived from chili peppers, capsaicin is commonly used topically to relieve muscle and joint pains, creating a heat sensation.

Doesn't slip. Some elbow sleeves will fit nice but slide down the arm and end up bunching around the inner elbow. These sleeves have a shape and level of compression that prevents slipping during movements.

Thick fabric. The Venom elbow sleeve employs a thicker material than some of its nearest competitors. This helps with durability and can provide more support, provided the sizing is correct.
Cons:
Tag. The tag is sewn on the inside of the sleeve. This can feel uncomfortable for some people who may want to ultimately just cut it out.

Can stretch out if not washed correctly. Some may find that the product stretches or can shrink if not washed properly. Make sure to read the instructions carefully.
Venom Elbow Compression Sleeve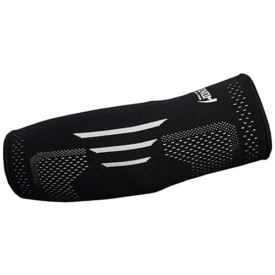 Venom Elbow Compression Sleeve
The Venom Compression Sleeve provides durable yet flexible support from size small to XXL. An "infused tech" version with cooling and heating elements is available for all sizes.
Best for Tennis
Tomight Tennis Elbow Brace
Pros: 
Targeted relief. This brace concentrates the compression on the upper forearm. This can help relieve those who are afflicted with "tennis elbow" or tendonitis.

Wide pad. Though the strap itself is rather narrow, it craters out to create a wide area of support. This padding is covered with a soft and smooth neoprene material.

Five color options. There are five different color options available with this brace. Athletes can choose between green, blue, dark blue, pink, and yellow.
Cons: 
Velcro can catch on clothes. The velcro straps on this brace can catch onto clothes especially if not strapped down properly.

Have to adjust every time. This two-strap device needs to be loosened and tightened every time it is put on and taken off. This can be a drawback for those who plan on using it regularly.
Tomight Tennis Elbow Brace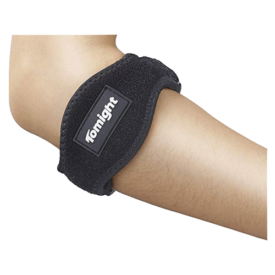 Tomight Tennis Elbow Brace
This elbow brace from Tomight comes in a two-pack and is offered in five different colors. It is much smaller than other elbow braces, isolating the compression on specific tendons and other soft tissue.
Best Copper Compression Sleeve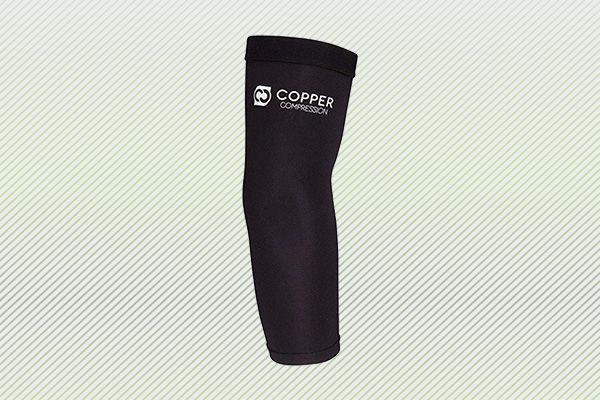 Copper Compression Recovery Elbow Sleeve
Pros:
Copper infused. These sleeves are designed with an infusion of copper in the nylon fabric. Copper (like other metal alloys) has properties that make it useful in helping reduce odor.

Size availability. While many elbow braces will only come in three sizes, this product has an XL and an XXL edition. This can accommodate a wide range of athletes.

Machine washable. If paying close attention to the care instructions for different elbow braces, one may notice that many need to be hand washed. This one is conveniently machine washable.
Cons:
Thin. Though some may find that this makes the sleeve more flexible, this offering has fabric on the thinner side.

Lettering falls off. The brand lettering may deteriorate before the product itself does.
Copper Compression Recovery Elbow Sleeve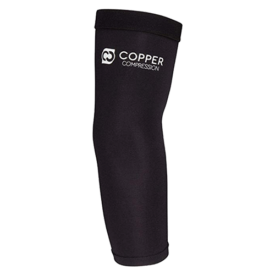 Copper Compression Recovery Elbow Sleeve
This lightweight elbow sleeve is made out of a blend of spandex and copper-infused nylon. It is comfortable, simply designed, and available in sizes up to XXL.
How We Picked
There are a lot of different elbow support brace options out there. There are a few main styles; we have found areas of comparison that are useful when analyzing different options within a certain style and between them as well. As everyone's needs will be different, it is important to identify which area might mean the most to you.
Targeting
Perhaps the most important question to answer for oneself is what exactly you are expecting out of any potential elbow brace. Many athletes will rely on an elbow brace to help provide support while training and competing. Generally, the compression-sleeve style of elbow brace provides consistent support from the mid-bicep all the way to the middle of the forearm.
While this comprehensive compression may be appropriate for the recovery from – or prevention of – certain injuries and other soft tissue stress, the sleeve style of elbow brace doesn't allow for much customization or targeting. Adjustable elbow braces, especially the narrow ones, allow athletes to target their compression and support on a specific part of the arm or even a certain tendon. Not all injuries will need this sort of support, but it is wise to check in with a personal physician before deciding on a path forward.
Design
To understand the utility of different elbow braces, it is important first to differentiate between the styles. Compression sleeves are a very common type of elbow brace; these provide uniform compression throughout the length of the sleeve. These are self-explanatory and relatively easy to use, though they may be difficult to put on if not sized appropriately.
Adjustable braces are loose until tightened by any number of straps; this makes them easier to not only put on but to customize to an athlete's liking. This adjustable level of compression offered by this style of brace may benefit a lot of different athletes, but they tend to have their drawbacks as well. These braces often are one-size-fits-all, so not everyone will fit. Even those at the polar ends of the fitting spectrum may find the brace too loose or too tight to customize much.
Care
Though some elbow braces are made of familiar materials, such as nylon and polyester, they often have care instructions that differ from standard apparel. Though some are machine-washable and machine-dryable, many will get deformed if not cared for exactly as instructed. This can mean stretched out or shrunken braces that will no longer function.
Elbow braces may by nature be apt to collect sweat and the accompanying odors due to their location on the arm. This will require regular cleaning, though some brands have designed the braces to mitigate against certain causes of odor. Look out for products that have a breathable fabric, such as mesh or something that is copper-infused.
Tips
Not sure which pair of elbow support brace is right for you? Take a look at some of the below suggestions for some guidance:
Do you need it for a specific irritation?

Before proceeding to return to athletics or training, it is important to check in with a personal physician and find an agreed-upon course of action.
Depending on the area of the arm that is affected, certain braces may be more helpful. Again, best to check in with a physician before making these choices.

What sport is this for?

Compression sleeves are a good option for those who would like more support or are involved in taxing exercises for the arms, such as weight-lifting, golf, tennis, baseball, and basketball.
Certain sports like golf, baseball, and tennis also require very specific motions and rotations that may necessitate more targeted compression and care.