Erythritol is a mild sugar alcohol that's about as sweet as sugar but provides very few calories. While it technically contains 4 calories per gram just like sugar, erythritol is absorbed so quickly into the small intestine that very little of it is metabolized or turned into energy by the body. Most of it leaves the body, and most research suggests you absorb only around 0.24 calories per gram.
For this reason it's a favorite in the keto crowd, the Paleo crowd, and many other people who want to keep their calories or carbs low. We've looked at all the big hitters and up and comers in the industry so you can land on the best one for your needs.
Best Overall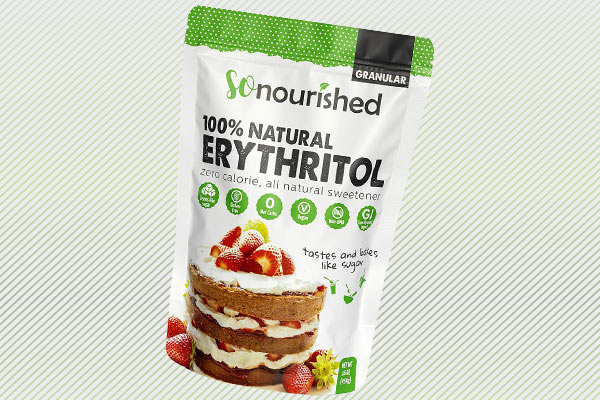 So Nourished Erythritol
This is the best erythritol on the market. It's made from non-GMO corn, it's gluten free, and it's reasonably priced. There are a few other competing erythritols that meet these qualifications, but what makes So Nourished our favorite is that it comes with a money back guarantee.
Pros
The product is non-GMO, gluten free, and certified kosher.
This is one of the more reasonably priced erythritol products.
It comes with a money back guarantee in case you decide erythritol isn't for you.
Cons
This erythritol is advertised as not containing genetically modified organisms, but it hasn't been verified by the Non-GMO project, which is important for some consumers.
Also Consider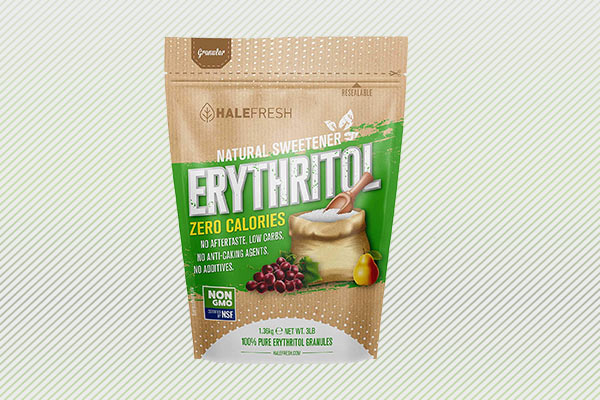 Halefresh Erythritol
A terrific all rounder, this erythritol is notable because it's been certified to be free from genetically modified organisms by the public health and safety organization, NSF. It's also verified as gluten free and it's certified kosher.
Pros
This erythritol is certified gluten free and kosher.
The product is verified as non-GMO by NSF.
Cons
Halefresh's erythritol doesn't come with a money back guarantee.
Best Powdered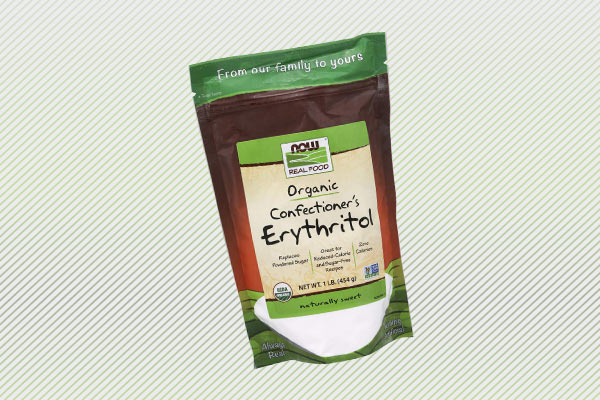 NOW Foods Organic Confectioner's Erythritol
If you need to substitute confectioner's sugar, NOW Foods has the best option. The biggest pro is that it's very reasonably priced, but many consumers will be happy with the fact that it's one of the few erythritol products that's certified organic by the USDA.
Pros
NOW Foods' erythritol is certified organic by the USDA.
This product is verified as non-GMO by the Non-GMO Project.
The erythritol is certified by Terracycle, signifying a commitment to reduce unnecessary waste during production.
Cons
Some consumers take issue with the fact that the product is sourced from China and the United States.
There are reports that the ziplock opening of the bag breaks easily.
Best Blend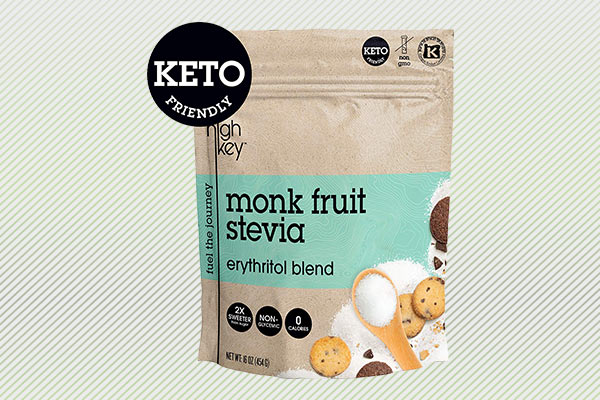 HighKey Monk Fruit, Stevia, Erythritol Blend
Blending sweeteners could help to minimize potential downsides. Some don't like stevia's aftertaste, some don't like the "cooling" sensation erythritol can produce on the tongue. That's why HighKey is the best blend as it combines non-GMO stevia, erythritol, and monkfruit at a reasonable price.
Pros
HighKey's sweetener may help to reduce digestive issues when compared to pure erythritol.
The product is certified kosher.
Unlike many blends, there are no added ingredients or anti-caking agents.
Cons
The product hasn't been certified organic by the USDA or non-GMO by the Non-GMO Project.
Best for Baking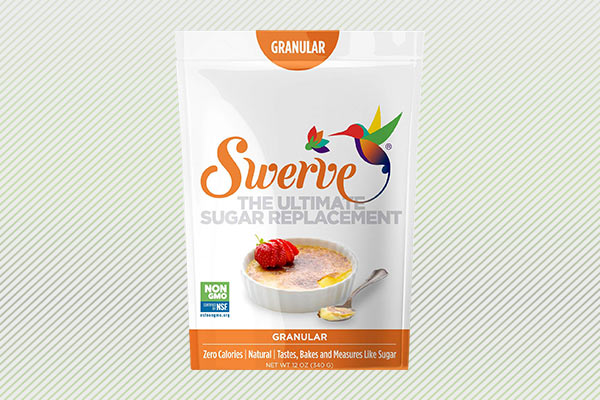 Swerve
Swerve has a great reputation as the best erythritol for baking because it combines it with oligosaccharides and natural flavor from citrus to produce just the right sweetness needed for baking. Another bonus is the oligosaccharides are prebiotic fibers, so they may help to improve gut health.
Pros
Swerve uses natural flavors to make a sweetener that's closer to the taste of sugar than competitors.
The product is widely recommended as the best form of erythritol for baking.
The prebiotic fiber in Swerve may improve digestive health.
Cons
Swerve is pricier than your regular, plain erythritol.
Does Erythritol Have Calories?
Erythritol is what's called a sugar alcohol, sitting in the same group as other non nutritive sweeteners xylitol, sorbitol, and maltitol.
Usually made from corn, erythritol delivers about a quarter of a calorie per gram with almost the same amount of sweetness.
For context, sugar provides 4 calories per gram and erythritol provides less than ten percent of the same number of calories. This is because it digests quickly, in the small intestine, before most of it can be metabolized and turned into energy.(1)(2)
It's not technically calorie-free, but it vastly reduces the amount of calories in a serving relative to sugar.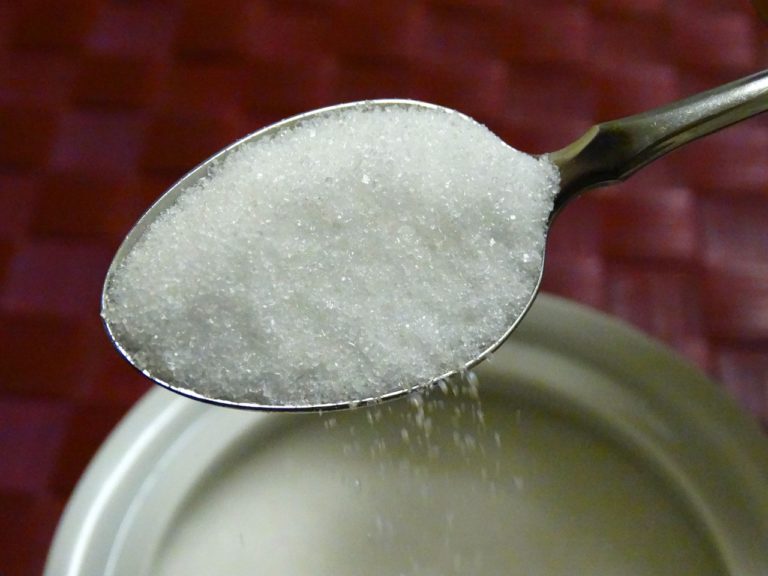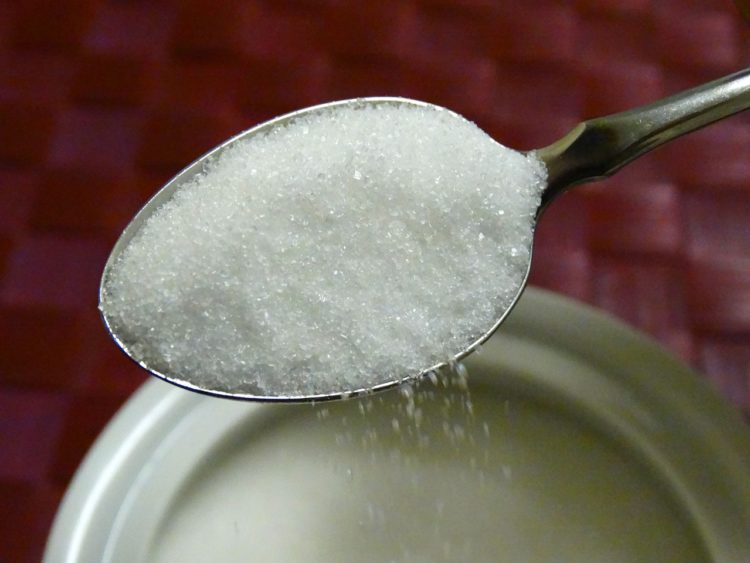 BarBend Tips
Large quantities of erythritol can produce digestive discomfort among some people. About ten percent of the erythritol consumed makes its way to the colon undigested, where it ferments and produces gas. It's smart to start with smaller amounts and gradually increase.
If you're concerned about digestive issues, consider a blend of erythritol and other non nutritive sweeteners like stevia and monkfruit.
Research suggests that erythritol doesn't cause blood sugar spikes, which is why it's often recommended for people with diabetes.(3) Nonetheless, speak with a doctor before considering it.
Some find that erythritol produces a "cooling" sensation in the mouth. It's harmless and not everyone notices it, but it comes as a surprise to some consumers.
While many prefer non-GMO erythritol, this doesn't appear to affect the nutrition content.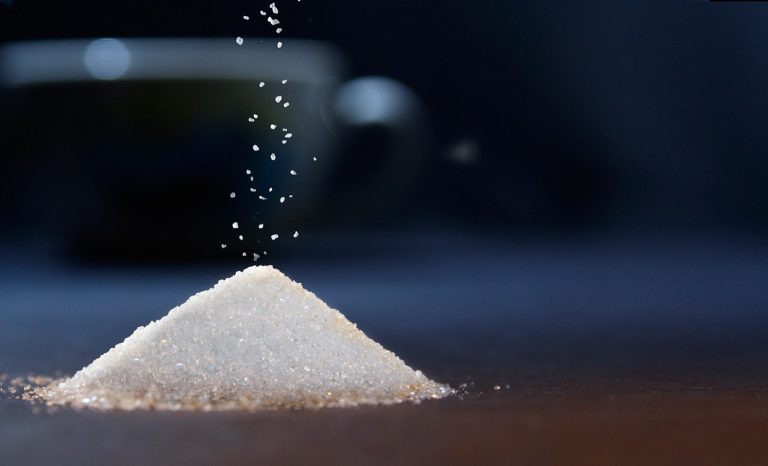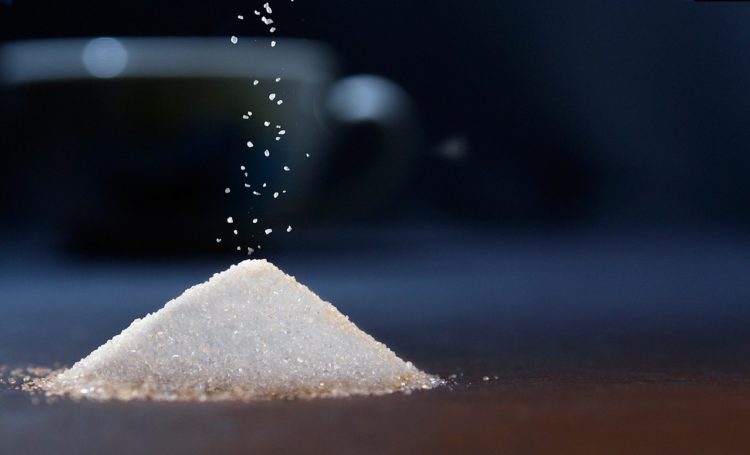 The Takeaway
Whether you're looking to bake more low calorie treats or you're looking for natural ways to sweeten your protein powder and coffee, erythritol is a very solid choice that's widely considered safe for consumption. No matter your preferences, there's an option for you out there; just speak to your doctor before making big changes to your dietary regimen.
References
1. Hiele M, et al. Metabolism of erythritol in humans: comparison with glucose and lactitol. Br J Nutr. 1993 Jan;69(1):169-76.
2. Arrigoni E, et al. Human gut microbiota does not ferment erythritol. Br J Nutr. 2005 Nov;94(5):643-6.
3. Noda K, et al. Serum glucose and insulin levels and erythritol balance after oral administration of erythritol in healthy subjects. Eur J Clin Nutr. 1994 Apr;48(4):286-92.