Fenugreek is an herb that belongs to the bean family. Humans have used its leaves, twigs, seeds, roots—pretty much everything it has to offer—for hundreds of years, and it's commonly used as spice, an essential oil, or as a dietary supplement. Limited research has shown that fenugreek may also promote lactation in breastfeeding women, help to lower blood sugar levels, and act as an anti-inflammatory.[1][2]
Whatever your needs are and however you intend to use it, you'll notice there's a wide variety of fenugreek products out there. With so many products to choose from, how can we get the most out of this herb?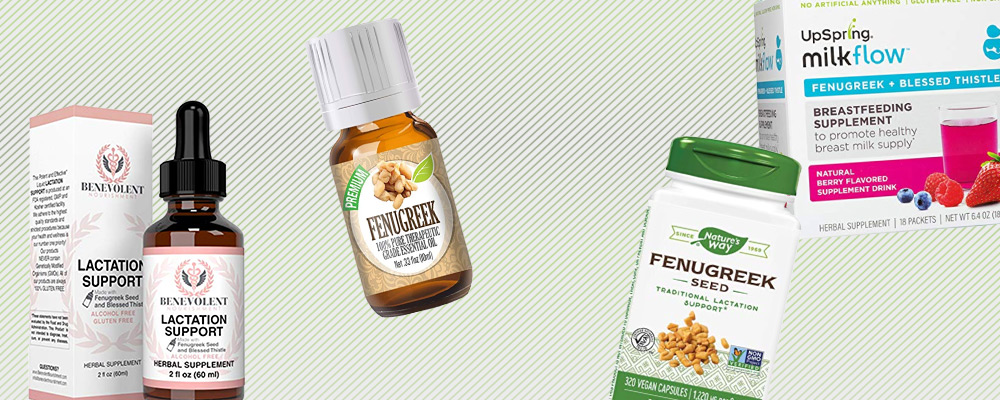 Editor's Pick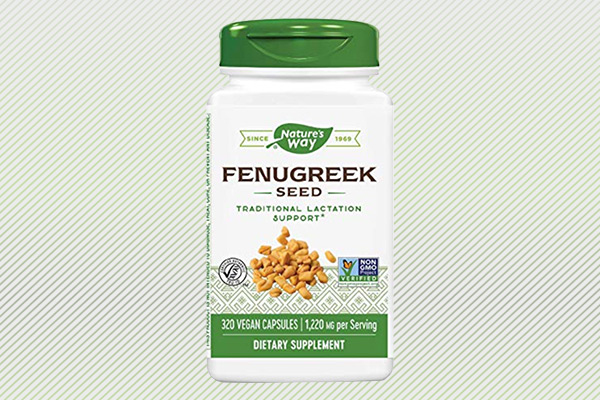 Nature's Way Premium Herbal Fenugreek Seed
Pros: 
Other than fenugreek, the only other ingredients in this supplement are plant-derived capsules—which makes it vegan—and silica. So if you're starting out and looking to explore the effects of adding fenugreek to your diet, this product will deliver it to you in a relatively pure form. 

The pill is gluten free and contains no sugar, salt, yeast, wheat, soy, corn, dairy products, artificial colors, flavors or preservatives, which means you can get the most out of the fenugreek even if you're sensitive to any of those products

Considering the price per capsule, this product gives you a good amount of bang for your buck.

The pills are generally easy to swallow. 
Cons
Since it's in pill form and the servings are standardized, you won't be able  to control the exact amount you ingest. If you're just trying out a fenugreek supplement for the first time, you may want to start with the powder or liquid form so you can better control each serving. 

The pill can smell a bit funky. If you're trying to get the benefits of fenugreek without the flavor, you won't be able to do that with this supplement. 

Nature's Way recommends taking one capsule three times daily, which may end up being a bit of a hassle depending on your routine. 
Nature's Way Premium Herbal Fenugreek Seed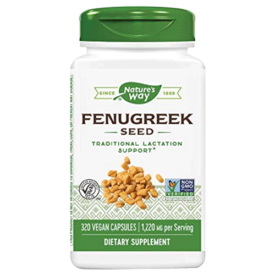 Nature's Way Premium Herbal Fenugreek Seed
This fenugreek dietary supplement comes in a variety of sizes and contains 585mg of fenugreek seed per serving. Regardless of what's motivating you to add fenugreek to your routine, this is a straightforward, no-fuss pill to help get you started.
Best for breastfeeding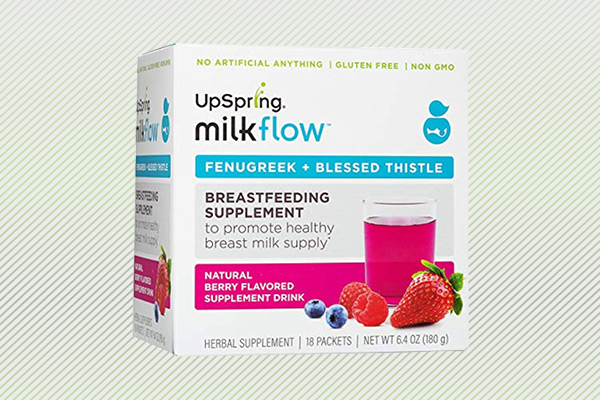 UpSpring Baby Milkflow Fenugreek and Blessed Thistle Powder Berry Drink Mix
Pros 
The powder contains not only fenugreek, but mixes it with blessed thistle and anise, two plants that some evidence has also linked to increased breast milk production, though the studies so far are not conclusive in that regard. [

3

][

4

][

5

]

This drink mix is gluten-free, non-GMO, 100% vegan, and also doesn't include any artificial flavoring. As mom to a new baby you may be especially conscious of what you put in your body, particularly when it affects your breastmilk supply.  

It comes in single-serve packets, easy for a breastfeeding mom on the go. 

The mix has a strong taste, which you may or may not enjoy. The good news is that you can get as much or as little of the flavor as you like; it dissolves in water and can also be mixed with juices and smoothies. 
Cons
On a per serving basis, this is one of the most expensive fenugreek supplements that we looked at. 

If you're allergic to peanuts or other legumes, you may experience some allergic reactions to this product. 

If you're trying to stay away from sugars, you'll want to note that this product contains cane sugar as a primary ingredient. 
UpSpring Baby Milkflow Fenugreek and Blessed Thistle Powder Berry Drink Mix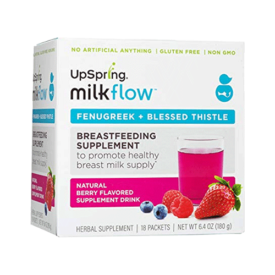 UpSpring Baby Milkflow Fenugreek and Blessed Thistle Powder Berry Drink Mix
A concentrated blend of herb extracts, including fenugreek, blessed thistle, and anise, this drink mix supplement is all natural (but not organic!), berry flavored, and can easily be mixed with water, juice, or your favorite smoothie. 
Contender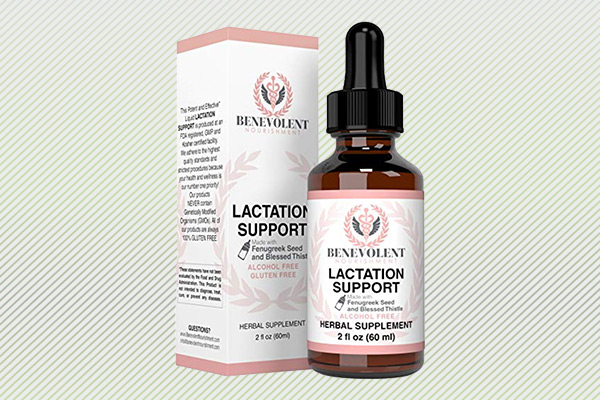 Benevolent Nourishment Lactation Supplement Breastfeeding Support Liquid
Pros:
Taking a liquid supplement may be easier and faster for some than taking a supplement in pill or powdered form.

Since it's a liquid extract, your body may absorb it a bit faster compared to other forms of fenugreek.

It's intended that you take 1 full dropper one to two times a day, which you could even add to a glass of water or juice. 
Cons: 
Since this supplement includes a range of other ingredients, folks who are sensitive to them may wish to try a purer concentration of fenugreek to suit their needs. 

The product may conflict with other medications or supplements and may have some nasty side effects, particularly on your digestive system. You'll want to be aware of allergens and not exceed the recommended dose. 
Benevolent Nourishment Lactation Supplement Breastfeeding Support Liquid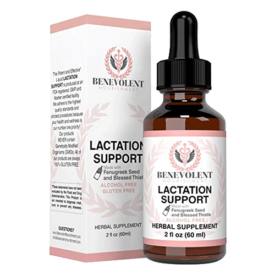 Benevolent Nourishment Lactation Supplement Breastfeeding Support Liquid
This is a liquid extract combines fenugreek with a few other seeds and herbs that are rich in vitamins, minerals, amino acids, and fiber. While the liquid delivery may be a bit easier for some folks to ingest, it does come with a slightly higher price tag. 
Best essential oil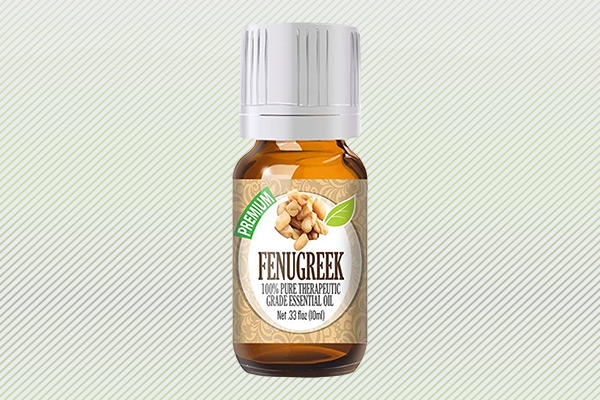 Healing Solutions 0 Pure Therapeutic Essential Oil
Pros: 
It comes in a UV blocking amber glass that slows down oxidation and keeps it from breaking down faster. 

Since it's 100% pure fenugreek oil, you can control the concentration if you wish to use it in a diffuser or blend it with other oils.
Cons:
Some folks have found that the bottles tend to leak, even when they're stored upright. 

Oils interact with different people's skin in different ways, so you'll want to test it out first before applying it generously. 
Healing Solutions 0 Pure Therapeutic Essential Oil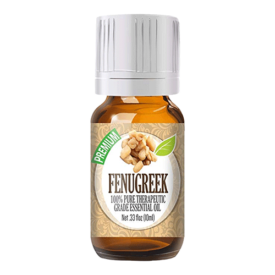 Healing Solutions 0 Pure Therapeutic Essential Oil
Like other essential oils, you can use a bottle of this for the smell, or to add to your bath, mix with lotions, or apply to your skin. It mixes well with a variety of other essential oils. 
How We Picked
With several potential uses for this herb, finding the right format for your fenugreek intake can seem a bit overwhelming. Here are a few things to keep in mind.
Forms:
Given that it's an herb, you can use fenugreek in your food or get it as a dietary supplement in liquid, powder, or pill form. Depending on your preferences, you may find that some forms are easier for you to incorporate into your existing regimen than others. Of course, if you're using the essential oil you won't be ingesting it at all, but it may still come into contact with you skin. You'll want to test it on a small patch of skin to make sure you react well to it.
Flavor:
Fenugreek has a strong presence, which some may not exactly enjoy. We looked at products that allow you to embrace the flavor in its full glory, and also ones that let you dilute it if you're not a fan.
Servings:
Different products contain different amounts of fenugreek per serving, and we looked at options that provide varying degrees of intensity on that front.
Bioavailability:
This one is tricky, especially as there's not a lot of research on how different types of fenugreek supplements are absorbed into the body. You may find, in consultations with a physician, that some forms of ingesting the supplement will be preferable, and you'll want to keep in mind that pill, powder, and liquid options are all available, as is the option of adding it, in spice form, to your food.
What's inside:
If you're buying it as a dietary supplement or essential oil, take a look at other ingredients that may have been added in, either to dilute the product or complement it. You'll want to note any artificial flavoring, added sweeteners, or other unwanted ingredients.
Buying tips
What am I using this for?

Fenugreek is an herb, and it may already be part of your diet. But given that not a lot of research has been done on its benefits, BarBend recommends consulting with a physician to figure out whether you should add it to your diet in supplement form, and how much of it you should take. If you're hoping for a boost in your breastmilk supply, speak with your doctor or a lactation specialist before adding it to your routine.

How much non-fenugreek is in my fenugreek supplement?

Different supplements may mix fenugreek with other ingredients, and you'll want to look out for what those ingredients may be and determine whether you're happy to ingest them too.

How long do I want to use this for?

Fenugreek supplements can vary in price depending on brand and whether they're in pill, powder, or liquid form. You'll want to consider the price per serving, especially if you're planning to incorporate fenugreek as a regular part of your routine.
Citations:
[1] Neelakantan N, Narayanan M, de Souza RJ, van Dam RM. Effect of fenugreek (Trigonella foenum-graecum L.) intake on glycemia: a meta-analysis of clinical trials. Nutr J. 2014;13:7. Published 2014 Jan 18.
[2] Ahmad A, Alghamdi SS, Mahmood K, Afzal M. Fenugreek a multipurpose crop: Potentialities and improvements. Saudi J Biol Sci. 2016;23(2):300–310.
[3] Budzynska K, Gardner ZE, Low Dog T, Gardiner P. Complementary, holistic, and integrative medicine: advice for clinicians on herbs and breastfeeding. Pediatr Rev. 2013;34(8):343–353.
[4] Sim TF, Hattingh HL, Sherriff J, Tee LB. The Use, Perceived Effectiveness and Safety of Herbal Galactagogues During Breastfeeding: A Qualitative Study. Int J Environ Res Public Health. 2015;12(9):11050–11071.
[5] Budzynska K, Gardner ZE, Dugoua JJ, Low Dog T, Gardiner P. Systematic review of breastfeeding and herbs. Breastfeed Med. 2012;7(6):489–503.