Also known as Vitamin B9, folic acid is a water soluble, synthetic version of the naturally occurring folate. Commonly found in a variety of foods, including leafy greens, fruits, nuts, and eggs, this nutrient plays a role in the synthesis of DNA and RNA and in the metabolism of amino acids (1). Even though the FDA has mandated that folic acid be added to all refined grain products – including enriched breads and cereals – some research suggests that many Americans are not getting enough of it in their diet (2).
There's some evidence linking low levels of folate in pregnant women to an increased risk in neural defects among newborn babies (3) (4). As a result, some studies suggest that women of reproductive age take 400 mcg of folic acid on a daily basis (5) (6). Though more research is needed, there are some studies that link high levels of folic acid to a lower risk of getting certain types of cancer (7) (8) (9). Depending on your needs, folic acid may be worth adding to your daily regimen. Consult with a medical professional before diving in. If you know you need an uptick in folic acid, there are a few distinguishing features to keep in mind while researching your options.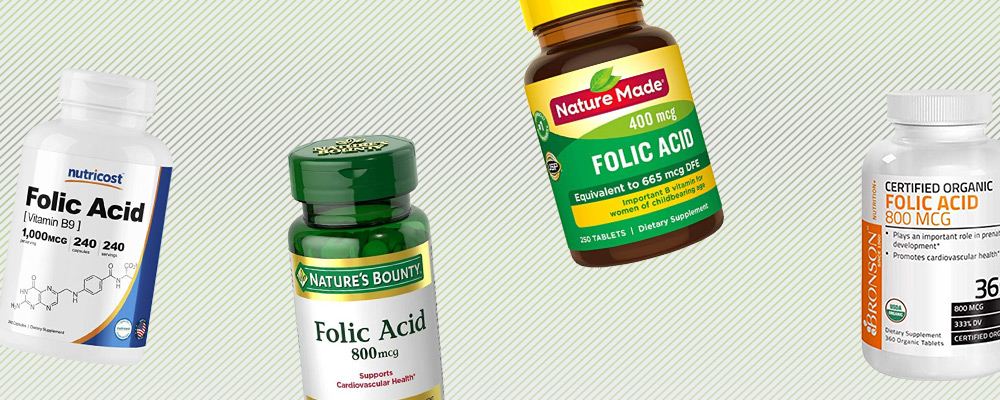 Editors' Choice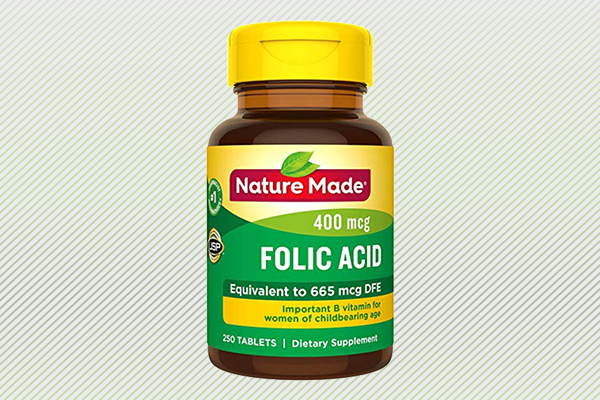 Nature Made Folic Acid
Pros:
Each of Nature Made's Folic Acid tablets contains 400 mcg.

There's no color added or artificial flavors, and these tablets are gluten free. 

On a cost per serving basis, these are very affordably priced.

These vegan-friendly tablets are about half the size of a penny, making them relatively easy to swallow.
Cons:
These 400mcg servings, though meeting the daily recommended dietary allowance, is on the low end compared to some of the other products.
Best High Dosage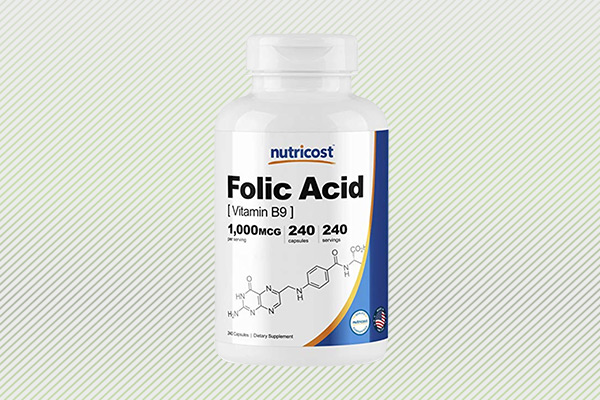 Nutricost Folic Acid
Pros:
Each Nutricost capsule contains 1,000 mcg of folic acid, making it one of the stronger doses on the market.
These capsules are non-GMO and gluten free, produced in an FDA registered facility.

With 240 servings per bottle, these supplements are very reasonably priced. 
Cons:
As these capsules contain gelatin, they are not vegan friendly.

A number of reviewers mentioned that these capsules are a bit bigger than the average size pill, which may make them difficult to swallow for some folks. 
Organic Option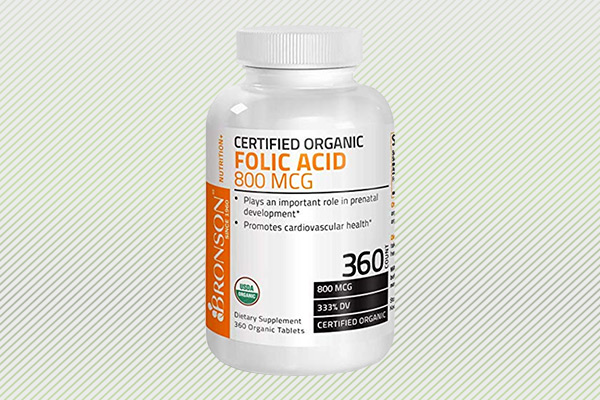 Bronson Organic Folic Acid
Pros:
These folic acid tablets are USDA certified organic, utilizing folates from organic lemon peel extract.

Each tablet contains 800 mcg of folic acid. 

Bronson's folic acid tablets are gluten free, with no added salt, artificial colors, or preservatives. 

These tablets are vegan friendly. 
Cons:
Organic corn syrup is listed as one of the ingredients.

Though reasonably priced, on a cost per serving basis these tablets rank on the high end of the supplements we looked at. 
Best Value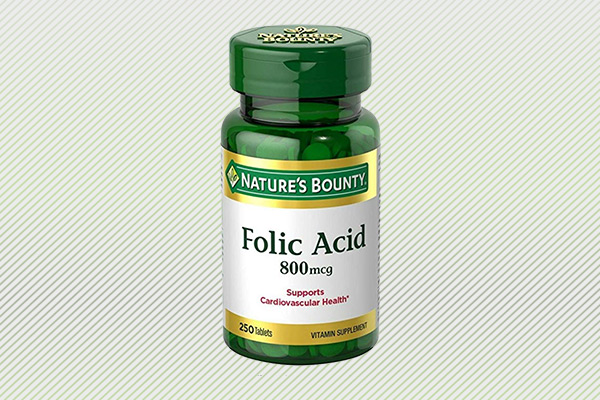 Nature's Bounty Folic Acid
Pros:
Each tablet of Nature's Bounty Folic Acid contains 800mcg. 

These folic acid supplements are made without any artificial colors, flavors, or sweeteners. 

Vegetarian-friendly. 

These tablets are very reasonably and competitively priced, ranking among the lowest of the supplements we looked at on a cost per serving basis.
Cons:
Depending on your needs, 800mcg may be a high amount of folic acid per serving. 
Methodology
Also known as Vitamin B9, folic acid is a water soluble compound that may be linked to a variety of health benefits. Most commonly, it's recommended as a supplement for women of childbearing age, as low levels of folic acid have been linked to neural tube defects in newborn babies. Before introducing folic acid to your diet, you may want to consult with a medical professional. As there are a variety of folic acid supplements available on the market, it's important to know how to distinguish between key features when making a selection.
Dosage
Folic acid supplements come in a range of dosage levels, ranging from 400 mcg to 1,000 mcg. The recommended dietary allowance of daily folic acid is 400mcg for adult men and women, with that number being bumped up to 600 mcg for pregnant women. The Food and Nutrition Board has also set an upper limit of 1,000 mcg of daily folic acid, citing potential side effects for exceeding that amount on a regular basis.
Folate vs. Folic Acid
Put simply, folate occurs naturally and is found in foods, while folic acid is synthetically created. Most supplements on the market will use the more commonly known folic acid in their branding, even if they source their nutrients from a natural folate. The biggest difference between the two may be in how your body processes it, with some evidence suggesting that it may take longer for folic acid to be absorbed (10).
Tablet vs. Capsule
This is really a matter of preference. Some folks find tablets to be smaller and therefore easier to swallow, while others prefer the larger, smoother capsules. Of course, if you're following a vegan diet, take care to peak at the "Other Ingredients" label; if gelatin is used in making the capsule, they are not vegan-friendly.
What's Inside
As with any supplement, you'll want to know what you're putting in your body. Take a look at the ingredients label and make sure there aren't any extra ingredients you may not need.
Cost
To figure out the best bang for your buck, divide the total cost of the bottle by the number of servings listed.
BarBend Tips
Many folks who follow a well-balanced diet will get enough folic acid from food alone. Consult with a medical professional before adding folic acid supplements to your diet.

Pay attention to labels to know exactly how much folic acid you're introducing to your system via supplement.
Folic acid is a very common supplement found in a variety of foods. It's commonly taken in supplementary form, particularly by women of reproductive. As with any supplement, it's always a good idea to consult with a medical professional before introducing it to your daily regimen.
References
Office of Dietary Supplements – Folate. Nih.gov. https://ods.od.nih.gov/factsheets/Folate-HealthProfessional/. Published 2017.

Bailey RL, Dodd KW, Gahche JJ, et al. Total folate and folic acid intake from foods and dietary supplements in the United States: 2003–2006. The American Journal of Clinical Nutrition. 2009;91(1):231-237.‌

Cordero AM, Crider KS, Rogers LM, Cannon MJ, Berry RJ. Optimal serum and red blood cell folate concentrations in women of reproductive age for prevention of neural tube defects: World Health Organization guidelines. MMWR Morbidity and mortality weekly report. 2015;64(15):421-423.

Crider KS, Bailey LB, Berry RJ. Folic Acid Food Fortification—Its History, Effect, Concerns, and Future Directions. Nutrients. 2011;3(3):370-384.‌

US Preventive Services Task Force, Bibbins-Domingo K, Grossman DC, et al. Folic Acid Supplementation for the Prevention of Neural Tube Defects: US Preventive Services Task Force Recommendation Statement. JAMA. 2017;317(2):183-189.

Dietrich M, Brown CJP, Block G. The effect of folate fortification of cereal-grain products on blood folate status, dietary folate intake, and dietary folate sources among adult non-supplement users in the United States. Journal of the American College of Nutrition. 2005;24(4):266-274.‌

Chen P, Li C, Li X, Li J, Chu R, Wang H. Higher dietary folate intake reduces the breast cancer risk: a systematic review and meta-analysis. British journal of cancer. 2014;110(9):2327-2338.‌

Deghan Manshadi S, Ishiguro L, Sohn K-J, et al. Folic acid supplementation promotes mammary tumor progression in a rat model. PloS one. 2014;9(1):e84635.

Lin HL, An QZ, Wang QZ, Liu CX. Folate intake and pancreatic cancer risk: an overall and dose-response meta-analysis. Public health. 2013;127(7):607-613.‌

Wright AJA, Dainty JR, Finglas PM. Folic acid metabolism in human subjects revisited: potential implications for proposed mandatory folic acid fortification in the UK. The British journal of nutrition. 2007;98(4):667-675.