Football cleats are almost as crucial to the game of football as pads and helmets. Cleats not only help gain much more traction than shoes with just treads, but they can help players accelerate, control speed, and stop more efficiently. They can help prevent injuries as well as it makes for a more stable footing.
Deciding which football cleat to go with, then, is a rather important decision. The wrong shoes will be uncomfortable and at worse less likely to prevent an injury. We have picked out our five favorites and explain why we went with those in our review below: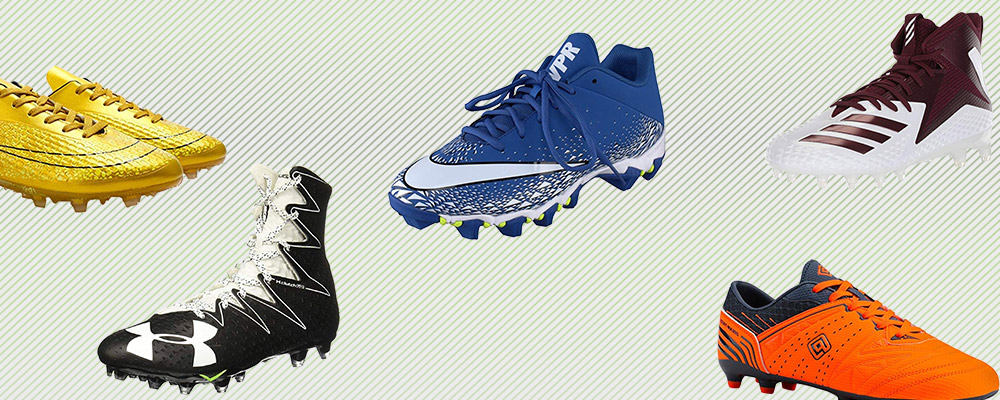 Editor's Choice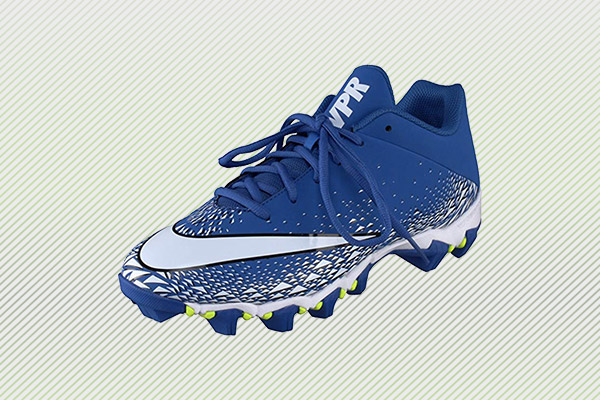 Nike Vapor Shark Men's Football Cleats
Pros: 
Flywire cables. This line of shoes from Nike employs what they call "Flywire cables", which are basically strong but thin pieces of fiber that wrap around the foot in the upper part of the shoe. This provides support without using much material or density.

Cushioned midsole. These shoes are outfitted with a Phylon-lined midsole. Phylon is a dense collection of compressed foam pellets that can provide structural support along with extra comfort.

Width. While Nike shoes often run a bit narrow, these have a nice width that will accommodate most feet. This makes a big difference when playing or practicing for extended periods.
Cons:
Surface wears out. Players should note that the texture on the ball will wear out over time. Though it will still be usable, this is one of the drawbacks of a rubber ball.

Tight at the toes. These shoes really taper at the toe end. It makes it important to make sure the shoes fit or else it might be painful upon impact or during heavy sprinting.
Nike Vapor Shark Men's Football Cleats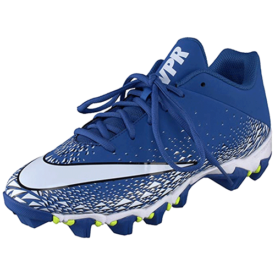 Nike Vapor Shark Men's Football Cleats
These shoes from Nike are lightweight and made of synthetic leather and rubber. The upper part of the shoe is reinforced with strong fiber cables and a cushioned midsole.
The Contender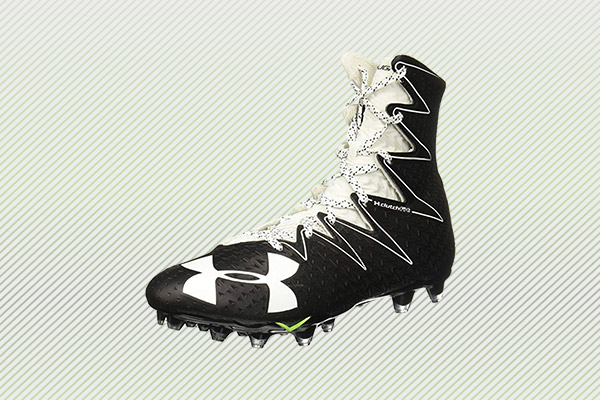 Under Armour Men's Highlight MC Football Cleats
Pros:
High-top. These shoes from Under Armour are designed with a very high profile. This high-top design provides more support for the ankle and the lower leg.

Molded tongue. While many football cleats – and shoes in general – will have a stiff tongue that doesn't contour well to the foot, this line of shoes has a molded tongue. This helps it take up less space and to not encumber ankle and foot movements.

Eyebrow cutouts. The very top of these shoes – the collar – is shaped with a protruding piece of material that helps when putting on the shoes. This "eyebrow" cutout blends seamlessly with the cut of the upper.
Cons:
Narrow. These shoes are rather narrow compared to normal sneakers. Football players – especially growing ones – may need to get shoes a size up.

Price. Those shopping on a budget or for a kid who may not end up playing football that long may look elsewhere. While these are of a high quality, there are more affordable options out there.
Under Armour Men's Highlight MC Football Cleats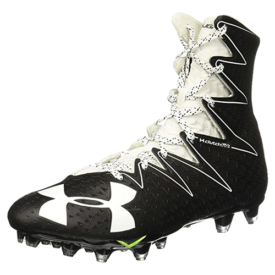 Under Armour Men's Highlight MC Football Cleats
The Under Armour Men's Highlight MC Football Cleats are a well-constructed high-top shoe with a molded tongue and made of a lightweight synthetic material. They are available in five colors and feature a modern aesthetic.
Best Colors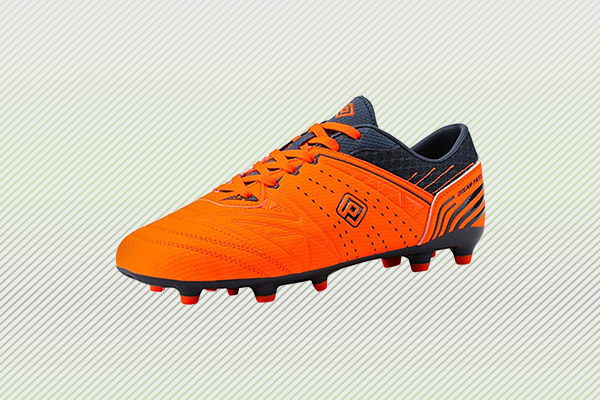 DREAM PAIRS Men's Football Cleats
Pros: 
Color varieties. These cleats have one of the wider number of options available in terms of color and design with 16 different styles to choose from. The silver/orange, neon green, and black/gray shoes stand out.

Cleat configuration. The cleats on the soles of these shoes are made of molded rubber and positioned to give maximum rotational traction. Great for making cuts and accelerating.

Standard football cleat. These shoes are rather basic – but in this case that is a good thing. They are built in a standard but proven style and have no frills beyond what is necessary.
Cons:
Run a bit big. These shoes might fit a bit bigger than other football cleats. This would probably be great for a fast-growing kid who may need new shoes every year.

Might be too wide. Those with narrow feet may find these shoes a bit too wide. In that case, football players could wear an extra ankle-length sock for added volume.
DREAM PAIRS Men's Football Cleats
DREAM PAIRS Men's Football Cleats
These cleats from DREAM PAIRS are vividly colored in a number of different styles. The cleats are well-configured and constructed and the material is a durable synthetic fabric.
Best Mid Tops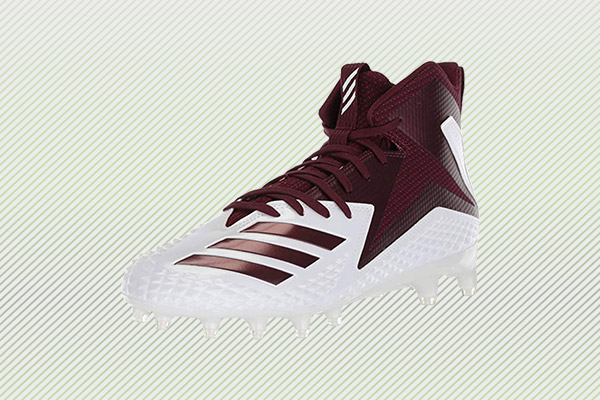 adidas Men's Freak X Carbon Mid Football Shoe
Pros: 
Textile. These shoes are made of a solid synthetic material and a woven textile. This makes the shoes more breathable than many other football cleats, as well as more lightweight.

Design. This offering from adidas really stands out for its style. With different geometric patterns and color combinations, these shoes are well-designed and fashionable.

Mid top height. These cleats have a medium height, standing at 5.5" at the top of the collar. This is great for those who want ankle support but don't want to feel too constrained with a true high top.
Cons: 
Narrow in the midsole.These cleats tend to fit a bit tightly in the midsole area. Those with wide feet should definitely try them on first.

Less cushioning. Some may find these shoes not as comfortable as oher cleats due to the lower amount of cushioning. This is less of a problem if the shoes have a nice fit.
adidas Men's Freak X Carbon Mid Football Shoe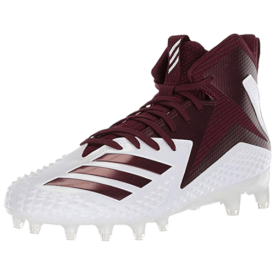 adidas Men's Freak X Carbon Mid Football Shoe
The Freak X Carbon Mid Football Shoe from adidas is made of a lightweight combination of materials. They sit above the ankles and feature a handsome design.
Best Design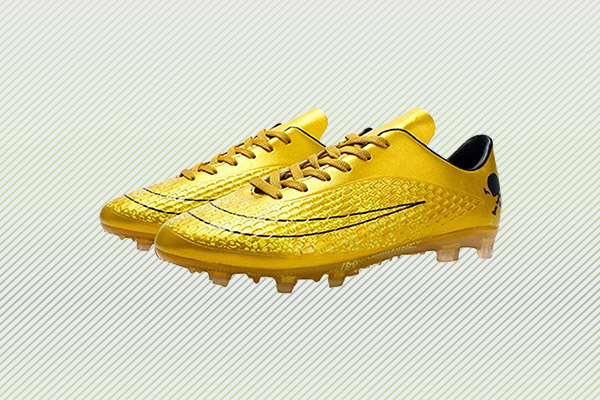 iFANS Football Cleats
Pros: 
Comfortable lining. The lining in these shoes is particularly comfortable and is designed to be stretch-resistant. This is great for those who tend to get irritations and blisters from tight or rigid shoes.

Outsole grip. In addition to the cleats, the rubber outsole of these shoes has nice textured grips to help with cuts and traction. They make the shoe more durable and flexible as well.

Style. These shoes, though only available in a few colors, each have a vibrant sheen to them and a cool skull and crossbone decor. They will surely stand out on a football field.
Cons: 
Only available up to size 9. Those with larger feet may need to look elsewhere; the size range of these shoes is 3 Narrow to 9.

Tongue doesn't stay in place. Football players may notice that the tongue moves to one side or the other. This often happens when the laces aren't tight enough.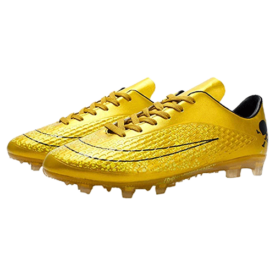 These IFANS Football Cleats are brightly colored and will literally shine on the field. The rubber outsole provides additional traction and the lining is rather comfortable.
How We Picked
Football cleats will have many similar characteristics such as the materials used for the sole and upper part of the shoe. However, there are differences in shape, color, and design that differentiate various brands' cleats. Here are the aspects we compared when evaluating these shoes:
Height
Football cleats can have a wide range of height, with collars sitting anywhere from 2.5" all the way up to 8" or higher. Some players will prefer low tops. This is especially true for players who need maximum mobility, such as running backs, quarterbacks, defensive backs, and wide receivers.
High tops are great for players who will need maximum support and stability, like offensive and defensive linemen. Mid tops might be more appropriate for players who need a bit of mobility and good support, such as linebackers and some outside linemen.
Width
The width of a football cleats is important for a couple of reasons. First and foremost is comfort; some football shoes are more narrow than normal sneakers or even other sports shoes, such as basketball shoes. Football players may need to buy a size larger than normal or look for wide shoes if they have wide feet.
The width of football shoes also makes a difference based on the position and style of the player. Those hoping for more agility may want a more narrow shoe that is lighter-weight and has less surface area. A wider shoe may help with traction and resistance, just what an offensive or defensive linemen would require, for example.
Style
Depending on the team setting and how the shoes will be worn, the style may make a big difference in which shoe to get. Some teams will require players to wear the same color, such as white or black. Other times the shoes will need to match the uniform.While most teams are not so strict, how a shoe looks on the field will still be something to consider. Some players may want to wear flashier shoes, such as those that are neon or have a sheen. Those with a favorite color will usually be able to find something to their liking, though not always with every brand.
Tips
Not sure which football cleat is right for you? Here are some things to consider before making your purchase:
Do you or your kid already play football?

If the player already knows what position they will be playing, it's much easier to make a decision on which pair of cleats to get.
Those new to football might want to get a shoe that allows the most flexibility, typically a lower-cut cleat.

Can football cleats work for other sports?

While most manufacturers make shoes specific for various sports, some are indeed appropriate for other sports, such as baseball, soccer, and ultimate frisbee.
Shorter and lighter cleats will be the most versatile for cross-sport action. Some sports' shoes will need to be more specialized, however.