Finding the right shorts for basketball can be a complicated task. Depending on how the shorts will be used (as a game uniform, for practice, or just for running around), there are different things to look for in a pair of shorts. Basketball shorts tend to have a nice combination of traits that make them ideal for lots of uses.
Girls' basketball shorts tend to be comfortable yet suitable for playing sports, specifically basketball. What's important for basketball shorts is to have a soft and breathable fabric and a fit that allows the player easy movement. Many brands have their own idea of how to make the perfect sport short – and we checked out what is on offer: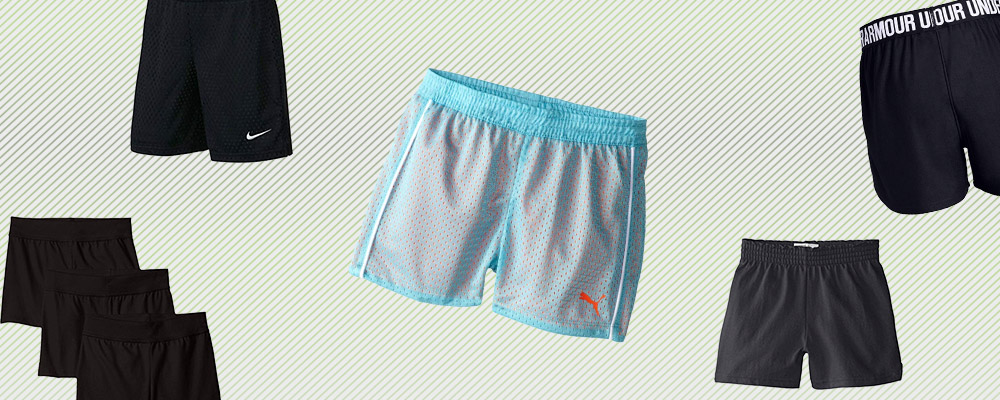 Editor's Choice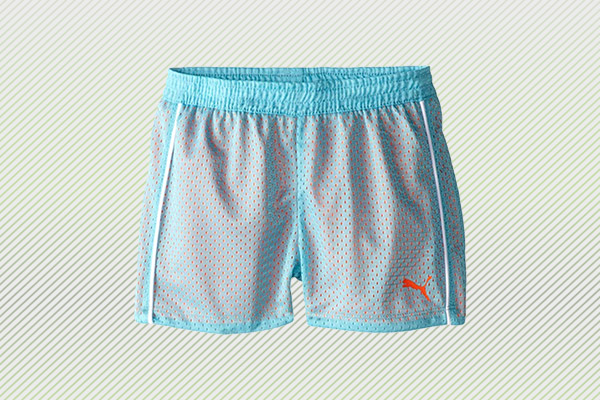 PUMA Girls' Active Double Mesh Short
Pros: 
Two-tone. These shorts sport a nice two-tone aesthetic, with nice color combinations and good balance. The two layers of mesh are different colors, with the inner-layer providing a nice accent.

Size range. This line of shorts offers one of the widest range of sizes for young girls. It has baby, toddler, little girl, and big girl size groupings.

Double layers. Having two layers of mesh is helpful during physical activity because the shorts can absorb more moisture. It can also feel more comfortable and lead to less irritation.
Cons:
Short inseam. While some may like the style of a short inseam, these shorts may be too short for others.

No drawstring. These shorts do not have a drawstring, so if the sizing is too loose it will be hard to remedy at home.
PUMA Girls' Active Double Mesh Short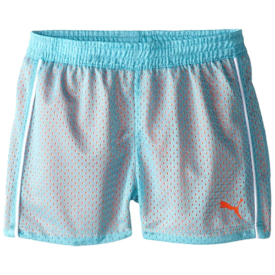 PUMA Girls' Active Double Mesh Short
These colorful shorts from PUMA feature a two-tone double-layer mesh that helps with sweat absorption and durability. They are available in five color sets.
The Contender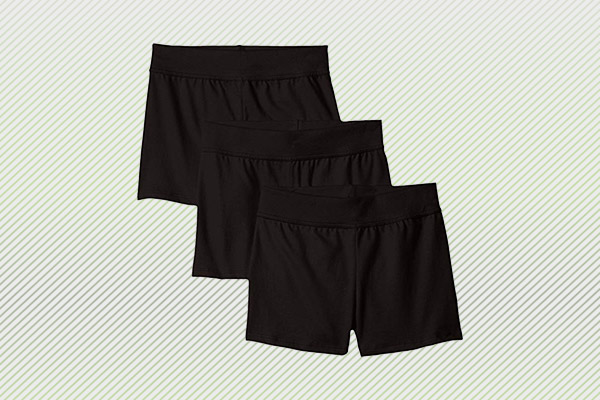 Hanes Little Girls' Jersey Short
Pros:
Sturdy. These shorts have noticeably thick seams – this is due to the double-stitching method used. This allows for more durability over a long period of time.

3-pack. Parents can cover practice for the week with a few of these three-packs. Great for those shopping on a budget.

Cotton. These shorts are 100% cotton. Cotton can feel more comfortable for younger kids and provides more insulation than polyester mesh.
Cons:
Lack of color variety. These shorts are only available in pretty neutral colors, aside from pink. They are also found in black, navy, and gray.

Run big. Those looking for short and tight-fitting shorts may need to look elsewhere or buy these shorts a few sizes down, as they tend to run big.
Hanes Little Girls' Jersey Short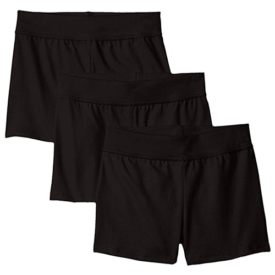 Hanes Little Girls' Jersey Short
This 3-pack from Hanes provides a dependable and well-made if not showy pair of shorts. They are great basic cotton shorts that can be comfortable for leisure and sport.
Best Style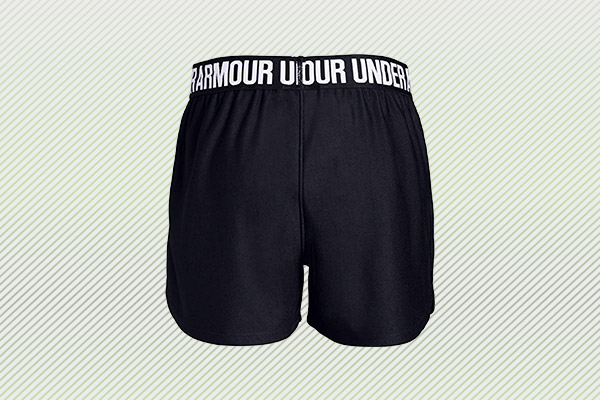 Under Armour Girls' Play Up Workout Gym Shorts
Pros: 
12 color options. These shorts from Under Armour feature one of the widest collection of colors available in girls shorts. There are 12 colors to choose from with several bright options that are sure to stand-out.

Cool style. The shorts have a simple design with nice stylish accents. In particular, the waistband is adorned with the Under Armour brand name in a bold font and complementary color.

Softness. The solid knit of these shorts makes them a bit more comfortable than polyester mesh. They are great for all sorts of activities.
Cons:
Wide waistband. These shorts have a waistband that is noticeable larger than most girls' fitness shorts. Some may find them a bit less comfortable for that reason, especially if they are sized too small and are too tight.

Baggy. These shorts have a wide profile and may look a bit baggy on more slender frames.
Under Armour Girls' Play Up Workout Gym Shorts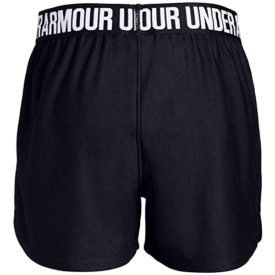 Under Armour Girls' Play Up Workout Gym Shorts
The Under Armour Girls' Play Up line of shorts are simple yet feature an effortless style with a nice design and good color usage. They are 100% polyester and have an adjustable drawstring.
Best Long Shorts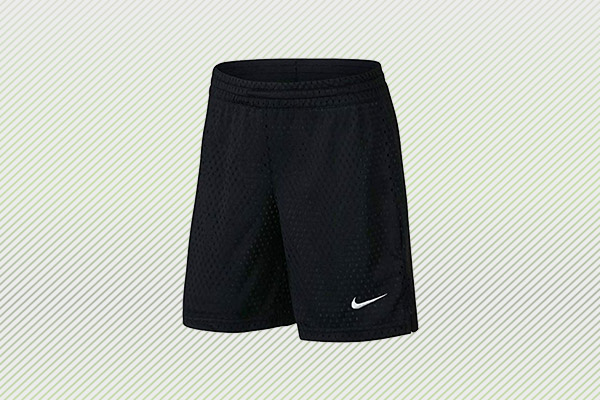 NIKE Girls' Dry Trophy Training Shorts
Pros: 
Quick dry. The fabric that these shorts are made of tends to dry quicker than other types of materials. This is great for long practices and hot climates.

4" inseam. The inseam on these Nike shorts is one of the longer lengths available for girls basketball shorts. Some girls may prefer this longer style that is common in basketball.

Drawstring. A great aspect of these shorts is the well-made drawstring. It can easily be used to tighten the shorts and doesn't tend to get stuck in the lining.
Cons: 
Run small. Parents may need to buy a size larger than they normally would; these shorts tend to run a bit small.

Mesh holes are large. The knit of the mesh on these shorts features wider-berthed holes than many other mesh shorts. This can reveal more of the inner lining.
NIKE Girls' Dry Trophy Training Shorts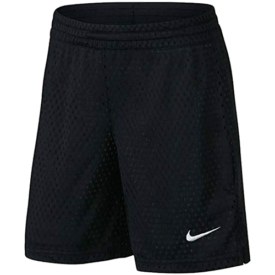 NIKE Girls' Dry Trophy Training Shorts
These shorts from Nike have the look and feel of adult basketball shorts. They are double-layered and have an easy-to-use drawstring to help give a great fit.
Most Comfortable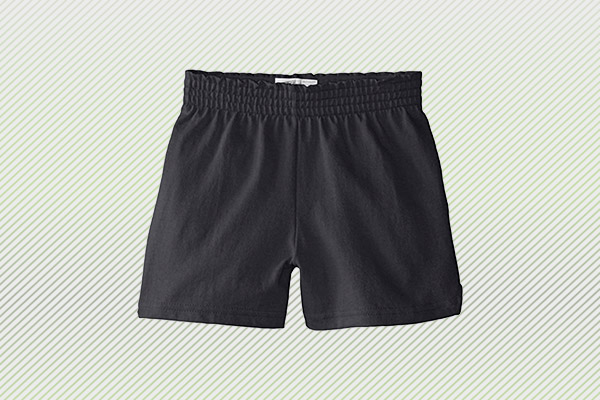 Soffe Big Girls' New Soffe Short
Pros: 
Vented sides. These shorts allow for a nice level ventilation due to the slits cut on the side. These vents allow more circulation during play, helping to cool down the legs.

50/50 blend. Those looking for the durability of polyester but still want the softness and breathability of cotton may prefer a 50/50 blend. These shorts are half polyester and half cotton.

Roll down waistband. This line of shorts features a wide elastic waistband that can be easily rolled down in order to adjust the height and fit of the shorts. This is a great way to accommodate varying styles as some girls may prefer the shorts to sit lower or higher on their legs.
Cons: 
Waistband can feel scratchy. Though the waistband is easy to roll down, it is rather thin and can feel scratchy when against bare skin.

White shorts are rather sheer. Some may find that the white shorts in particular are a bit too sheer and see-through.
Soffe Big Girls' New Soffe Short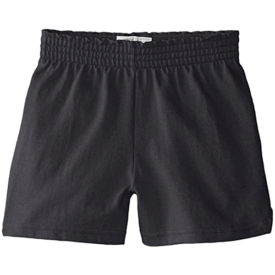 Soffe Big Girls' New Soffe Short
Soffe's Big Girls' line of shorts feature a basic design with some nice features. The shorts have vented sides for increased circulation and style and are made of a durable but comfortable cotton and polyester blend.
How We Picked
Finding the right pair of shorts for girls basketball will be different for each person. Some may prefer a style that more closely resembles the college and pro look, while others may be looking for something that more resembles other athletic shorts. With such a wide range of attributes, here are the ones we were most concerned with:
Shape
Most basketball shorts worn by pros have a longer inseam and a wider profile than many other types of women's shorts. That doesn't mean all basketball shorts will look like this. Many brands will combine a wide or baggy fit with a short inseam, for example.
Some shorts can be altered a bit even after purchase. Some parents may want to buy a pair of shorts for a girl to grow in and so should look for shorts that have a drawstring. Shorts that have a waistband that can be easily rolled up and down are great for adjusting the length to match the frame of the player.
Fabric
Girls' fitness shorts, and basketball in particular, can be made from a wide variety of materials. One of the most common fabrics found in basketball shorts is polyester. This is usually woven with a mesh knit for increased breathability.
Polyester mesh is not the only suitable material for basketball, however. Cotton and cotton-polyester blends are common and have some features that differentiate themselves from polyester, such as breathability and sweat absorption. Ultimately, it may come down to the fabric that feels most comfortable, and that changes from person to person.
Style
There are many ways companies can go when decorating sports shorts. Many times a black or navy pair of shorts will be most appropriate, because they will need to match (and not necessarily clash) with a uniform. White and gray are good neutral colors as well.
Those just looking for a fun pair of shorts with some pops of color will have plenty to choose from. Not only are shorts offered in a variety of bright and vibrant colors, but often times there are fun color combinations that shine through in the artwork and logo design. Colored shorts in some cases can also be used to match a team uniform depending on the color scheme.
Tips
Not sure which basketball shorts are right for your kid? Take a look at at the below suggestions for some guidance:
Will your child be using this for basketball or just for fun?

Those looking for basketball-specific shorts should look for the most breathable and comfortable fit.

Basketball shorts can be great for lounging and general play, so the cost, color, and material might matter more if the shorts are just for fun.

Is the child still growing?

For those kids that are still growing, it may make sense to buy a pair of shorts one size too big.

Another option is to buy shorts with a drawstring that can adjust how tight the waistband fits and where it fits on the hip.