Glucosamine and chondroitin supplements have achieved significant prominence as a means for combating joint pain and stiffness. Given this supplement hasn't been popular or accepted in the scientific community for very long — it's not as well established as many vitamin supplements, for instance — it can be hard to know which products are worth your money. But the two ingredients, glucosamine usually sourced from shellfish and chondroitin from cartilage, may have promise when dosed appropriately.
That's why we did the work for you and landed on these five excellent options.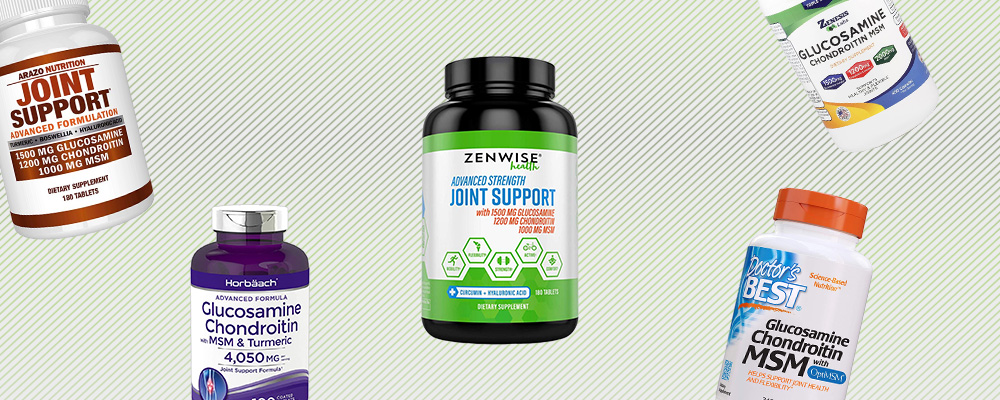 Best Overall
Zenwise Health Advanced Strength Joint Support
Zenwise's product has a good 1.5 grams of glucosamine and 1.2 grams of chondroitin, in addition to a gram of methylsulfonylmethane and some hyaluronic acid, which might help with knee pain related to osteoarthritis. Plus there's 100 milligrams of curcumin, which has links to reduced inflammation.
Pros
The pills have good doses of glucosamine and chondroitin, in addition to curcumin, MSM, and hyaluronic acid, which have links to reduced knee pain.
The product is third party tested to help ensure potency and label accuracy.
Cons
Some find the capsules to be rather large.
It's not suitable for people sensitive to binders, fillers, and additional ingredients, as the tablets contain stearic acid, silicon dioxide, croscarmellose sodium, microcrystalline cellulose, dicalcium phosphate, ascorbyl palmitate, hypromellose, and glycerin.
Also Consider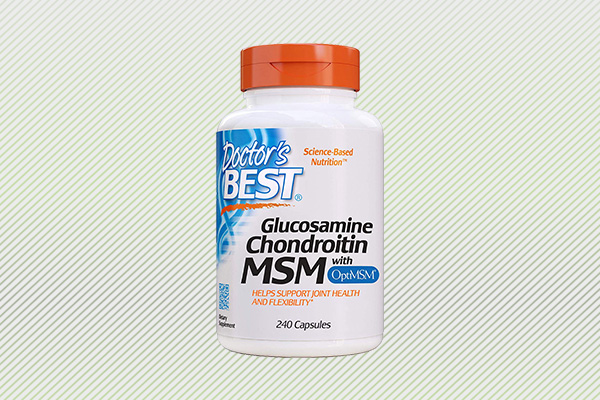 Doctor's Best Glucosamine Chondroitin MSM
Doctor's Best has put together a simple, effective formula that hits all the right notes: it delivers a clinically supported 1.5 grams of glucosamine with 1.2 grams of chondroitin, plus it has a gram of methylsulfonylmethane.
Pros
Doctor's Best has potent doses of both glucosamine and chondroitin.
The addition of methylsulfonylmethane could potentially help with osteoarthritis-related knee pain.
Cons
The capsules are made from gelatin, which might not be useful for those avoiding pork.
The capsules contain silicon dioxide, which some prefer to limit.
The product isn't 3rd party tested.
Also Consider
Arazo Nutrition Joint Support Advanced Formulation
Arazo Nutrition has a superb option, with good dosages of 1.5 grams of glucosamine and 1.2 grams of chondroitin. The formulation also includes a gram of methylsulfonylmethane and some Boswellia serrata extract, an Ayurvedic herb that may act as an anti-inflammatory.
Pros
In addition to 1.5 grams and 1.2 grams of glucosamine and chondroitin, it includes MSM and Boswellia serrata extract.
This is one of the more reasonably priced glucosamine and chondroitin products.
Arazo Nutrition has their products third party tested for potency.
Cons
The turmeric and the Boswellia serrata aren't especially well dosed.
Highest in Glucosamine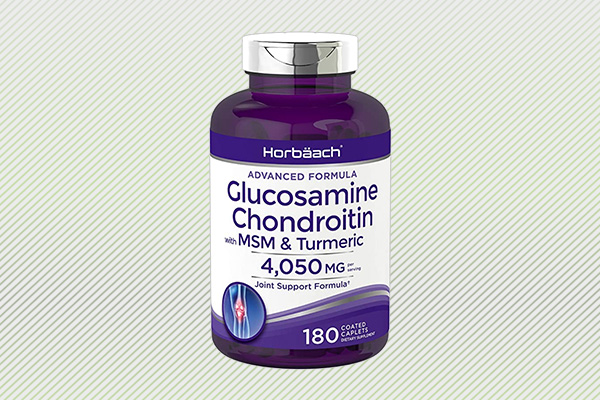 Horbäach Glucosamine Chondroitin with Turmeric & MSM
Most glucosamine and chondroitin supplements tap out at 1.5 grams of glucosamine, which is an effective dose, but Horbäach's delivers a solid 2.25 grams per serving. In addition, it contains a blend of MSM, chondroitin, turmeric extract, collagen, and hyaluronic acid.
Pros
There's a huge variety of ingredients linked to reduced joint pain: glucosamine, chondroitin, MSM, turmeric extract, and hyaluronic acid.
The ingredients also includes some Vitamin C, manganese, and potassium.
The capsules are vegetarian friendly.
It's guaranteed free of gluten, dairy, soy, GMOs, and artificial preservatives.
Cons
While the label discloses the exact amount of glucosamine, the rest of the ingredients above are in a proprietary blend, so we don't know their precise dosages.
Some users aren't a fan of the taste.
Highest in MSM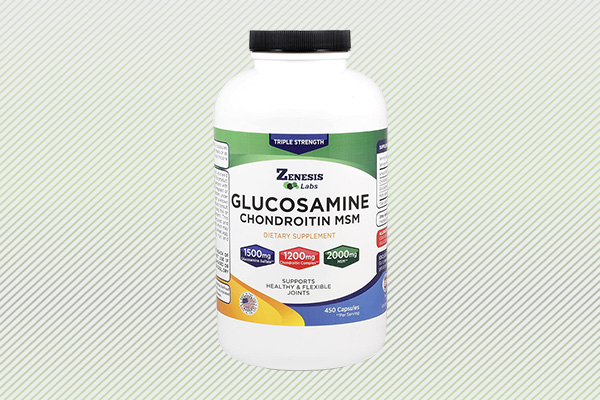 Zenesis Labs Glucosamine Sulfate Chondroitin MSM
Zenesis Labs has produced a product that's simple, but well dosed and particularly high in methylsulfonylmethane, a common ingredient in joint pain supplements. It's also completely made in the US and the company donates a portion of their profits to the Arthritis Foundation.
Pros
The product is well dosed and especially high in MSM, which also has links to reduced joint pain.
The fillers are simpler than most: just vegetable magnesium stearate and rice flour.
The pills are made in the US in a GMP certified facility.
Cons
The pills are made from bovine gelatin, so they aren't suitable for anyone avoiding beef.
Zenesis Labs' product is on the pricier side.
What Are the Benefits of Glucosamine and Chondroitin?
These are two separate ingredients: glucosamine, which is derived from shellfish and may slightly delay the progression of osteoarthritis and relieve pain, and chondroitin, a chemical found primarily in joint cartilage. (That's two reasons why it isn't vegan friendly.)
Some research indicates that this supplement may help to reduce pain and bone degradation caused by osteoarthritis.(1)(2) A study published in Drugs & Aging in 2007 concluded, "there is compelling evidence that glucosamine sulfate and chondroitin sulfate may interfere with progression of (osteoarthritis).(3)
It seems that the chondroitin is more closely linked with the reducing joint swelling and glucosamine helps with pain and interferes with osteoarthritis progression.
BarBend Tips
Research puts effective doses at one to three grams of glucosamine combined with one to four grams of chondroitin. Typically, good supplements use between one and two grams of each.
The most common side effect of glucosamine is flatulence.
There's more evidence that glucosamine is effective than chondroitin, if you'd rather save some cash.
Glucosamine also has some links to reduced inflammation, so some people take it as a general health supplement. The evidence for this is currently a little limited though.
Wrapping Up
Now, you should have a good amount of information at your disposal so you can choose the best glucosamine and chondroitin for your individual needs. Just make sure you talk to a doctor before making any changes to your diet or supplement regimen.
References
1. Deal CL, et al. Nutraceuticals as therapeutic agents in osteoarthritis. The role of glucosamine, chondroitin sulfate, and collagen hydrolysate. Rheum Dis Clin North Am. 1999 May;25(2):379-95.
2. Black C, et al. The clinical effectiveness of glucosamine and chondroitin supplements in slowing or arresting progression of osteoarthritis of the knee: a systematic review and economic evaluation. Health Technol Assess. 2009 Nov;13(52):1-148.
3. Bruyere O, et al. Glucosamine and chondroitin sulfate as therapeutic agents for knee and hip osteoarthritis. Drugs Aging. 2007;24(7):573-80.