A common site along boardwalks and sidewalks across the country, roller skates are a quick and enjoyable way to travel short and long distances while being outside in the fresh air. Experienced roller skaters can glide in almost any urban environment, but for those just trying out roller skates for the first time, riding in public can be daunting. A number of manufacturers make rollerblades specifically for beginners, kids, and those who need added support.
On the other hand, some roller skates are designed to cater to experienced skaters. Because there is such a gap between styles and whom the brands are creating skates for, it can be a bit overwhelming to decide which pair to get. We have examined some of the leading options and distilled some key info to help with this process: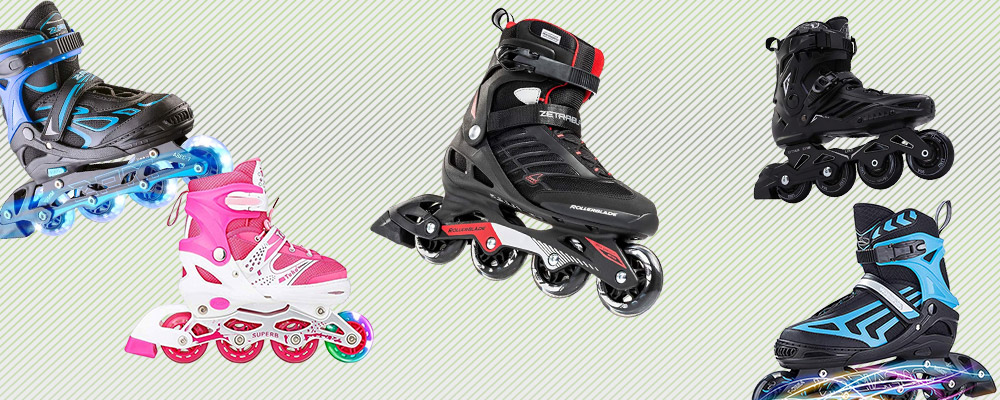 Best for Experienced Skaters
LIKU Black Professional Inline Skates
Pros: 
Removable lining. The cotton lining of these inline skates are removable and washable. This is great for those skating during the summer as the interiors of the skates can get sweaty.

Heel cushion. This brand of inline skates has a buffering heel contraption, meaning it is designed to absorb some of the shock and friction that occurs at the point of contact with the heel.

76mm-80mm-80mm-76mm wheels. These skates have smaller wheels on the outside and bigger ones on the inside. This offers the speed of the larger wheels while allowing more agility with the smaller wheels on the outside. Great for those practicing agility and performing tricks.
Cons:
Pricey. These inline skates from LIKU are not cheap. These are designed to be suitable for experienced skaters, so it isn't surprising that the cost is higher than many competitors.

Brake needs to be installed. The rubber stopper that acts as the brake does not come pre-installed. Skaters will need to screw it in themselves, which can be a tedious process.
LIKU Black Professional Inline Skates
LIKU Black Professional Inline Skates
The LIKU Black Professional Inline Skates have the look and feel of inline skates that are suitable for all types of skating. These have interchangeable wheels allowing skaters to rely on smaller wheels for agility or bigger wheels for speed.
Best for Beginners
2PM SPORTS Adjustable Inline Skates with Light-up Wheels
Pros: 
4 adjustable dimensions per size. Each pair can be stretched to three additional sizes with the push of a button. This makes them ideal for kids who will need them expanded as they age.

Fun colors. These inline skates might be one of the most fun and vibrant products on the market. The blac and pink upper provides a nice contrast to the colorful wheels.

Easy for kids to operate. The buckle, velcro strap, and laces are all rather simple and easy to use. Children should have no problem putting them on without adult assistance.
Cons: 
Plastic brake stop. While many manufacturers make brake stops out of rubber, these have hard plastic. This may damage some floor surfaces and make stopping harder.

Sizing runs small

. Skaters should take note that the sizing may not reflect the same sizing of other shoes or skates. Larger sizes may need to be purchased to ensure a good fit.
2PM SPORTS Adjustable Inline Skates with Light-up Wheels
2PM SPORTS Adjustable Inline Skates with Light-up Wheels
The 2PM SPORTS Adjustable Inline Skates have 8 colorful light-up wheels each. The skates themselves are quite colorful and are rather easy for children to operate independently of their parents.
Most Fun for Kids
XinoSports Adjustable Kids Inline Skates for Girls & Boys
Pros: 
Illuminated wheels. All eight wheels on this set of inline skates illuminate at night, providing added visibility and a dollop of fun for kids. They do not need batteries as they use magnetic and kinetic energy to provide the illumination.

Color varieties. These well-designed skates use a solid base color and provide shocks of accent colors in the details. They come in three unique color combinations.

Comfort. These inline skates are some of the more comfortable pairs available in its price range. These are a great gift for beginners who could be scared off by uncomfortable skates.
Cons: 
Screw in heel. Inside the inline skates is a screw in the heel that can be jostled loose with extended use.  If not tightened, the screw could get loose and might be hard to replace.

Not all skates have full light-up wheels. Some versions of this line of skate have wheels that only light up in the front, not the whole skate.
XinoSports Adjustable Kids Inline Skates for Girls & Boys
XinoSports Adjustable Kids Inline Skates for Girls & Boys
These colorful skates are a fun way for beginners to start out their inline skating exploits. Each of the four fun colors have wheels that illuminate at night.
The Contender
Roller Derby Aerio Q-series Women's Inline Skates
Pros:
Memory foam. The padding in these inline skates are made of a memory foam material. This not only allows the skates to partly envelope the shape of each skater's foot, but also is quite comfortable.

Adjustable. These skates are quite adjustable, which is great for those who may not fit exactly into a certain size. The buckles tighten enough for those who want some toe room to get a larger size.

Chrome bearings. The bearings used for these skates are made of chrome and rated as being race quality. This means less vibration and longer-lasting efficiency.
Cons:
Less padding. These skates have less padding than youth versions. The memory foam is comfortable but some may prefer a thicker padding.

Stiff. While this may be appropriate for some beginners, the frame can feel quite stiff. This may make wearing them more uncomfortable than need be.
Roller Derby Aerio Q-series Women's Inline Skates
Roller Derby Aerio Q-series Women's Inline Skates
These inline skates from Roller Derby are for women but are similarly designed to an equally awesome men's version. These skates have memory foam padding, are quite adjustable, and are elegantly designed.
Editor's Choice
Rollerblade Zetrablade Men's Adult Fitness Inline Skate
Pros: 
Available up to size 13. This set of inline skates comes in seven sizes, more than most competitors. It is available in sizes 7, 8, 9, 10, 11, 12, and 13.

Wide wheels. The Zetrablade has wide 80mm wheels, which makes it easier for beginners to have stability while they glide.

Slick design. Sporting a black body with red accents and white chyrons, this set of inline skates looks appropriate for all ages, but especially adults. Many skates for beginners have more childish colors and designs.
Cons: 
Collar can be uncomfortable. The cuff collar near the top of the skate can dig into the leg of the wearer depending on the thickness of their legs. Despite some cushioning, it still can feel uncomfortable.

Not great for wide feet. Skaters with wide feet may have a hard time fitting into their normal size comfortably. These are not designed for people with wide feet.
Rollerblade Zetrablade Men's Adult Fitness Inline Skate
Rollerblade Zetrablade Men's Adult Fitness Inline Skate
Rollerblade company's Zetrablade Men's Adult Fitness Inline Skate is great for adults who are not comfortable or experienced inline skating. These have a large range of sizes, a professional look, and wide wheels for extra balance
How We Picked
Roller skates are a fun way to stay active and mobile while getting to a destination. Since it can take quite a toll as a workout, riders often want to find brands that are comfortable, durable, and efficient. Roller skates are designed to cater to the needs and style of the customer, so they have marked differences that distinguish them. Here are the things we looked at that set each pair apart or rendered them similar.
Style
Roller skates, though in nature are sports equipment, they also double as a piece of fashion that represents the aesthetics of the wearer. From the wheels to the shell, the laces, and the buckle, there are plenty of individual components that manufacturers can color, decorate, and use to complement each other.
The main distinction in style tends to be whether or not the roller skates are being marketed for children. Adult roller skates tend to have less ebullient designs; they will be more subdued with neutral colorings and minor accents. Children's roller skates will have light-up wheels, a smattering of different colors, and playful details. Roller skates marked as being suited for beginners may not fit the aesthetic of an adult novice.
Price
One of the most glaring characteristics noticed when surveying different brands of roller skates will be the cost. These are somewhat complicated pieces of gear, with many different component parts that were assembled together using screws, berrings, and brackets. This type of equipment can cost hundreds of dollars due to the manufacturing costs and the complexity of the design
That being said, several manufacturers have turned reducing costs into a science. The more affordable roller skates may be missing certain features that are not crucial, such as removable liners for cleaning and plastic rather than rubber brakes. Often times the more affordable offerings are for children or for beginners. The low cost typically mitigates against the risk that the recipient of the gift might not take to roller skating at all.
Fit
Roller skates form a unique bond to the feet of whomever is wearing them. The wearer needs to feel comfortable but secure, able to quickly react to changes in the road and environment in front of them while being able to seemingly forget that they have roller skates on. Snug fits are important and that's why most brands of roller skates have three ways of securing user's feet: velcro straps, buckles, and tied up laces. Sometimes the fit is tighter than a typical shoe size, so customers are advised to test them out before going on any long rides after purchasing.
Kids' roller skates can have an option to be adjustable in size. This means that sometimes even with the push of a button, the roller skate can be expanded to allow more room. As children will probably out grow their roller skates quicker than the roller skates will be worn out, this is a crucial feature offered by brands.
Tips
Not sure which pair of roller skates is right for you? Here are some suggestions for questions you may ask yourself before making a purchase:
Are you a beginner or do you have skating experience? One of the questions you should ask yourself is how comfortable do you feel roller skating – or even balancing while moving in general. If you have experience on roller skates, skiing, or skateboarding, it may come naturally to you.

If you have any trepidation, it is important to get a set of roller skates that are amenable to novices. These tend to have 80mm or 70mm wheels.

Larger wheels tend to make the skates move faster and this can be dangerous for rookies and children if they aren't comfortable slowing down and braking.

If buying for child, how fast are they growing? Some kids shoot up the growth charts at breakneck speed, while others grow at a steadier pace.

If your child is at the stage when they are outgrowing their clothes every few months, look out for the type of roller skates that have adjustable sizes. These usually allow four different sizes within the pair you purchase, usually expanding with just the push of a button.

However, some roller skates only come in a few different sizes and it may be difficult to find a pair that matches the growth range your child is in. Some manufacturers make more specific sizes that match what is typically found with shoe sizing.

What is your budget? Roller skates can be a pricey purchase. The top of the line units can cost into the triple digits. Experienced skaters who know their likes and dislikes can shop for very specific sets of roller skates with specifications that align with their needs.

Speed skaters, roller-rink enthusiasts, and those who use roller skates to commute all have different needs. The more basic models – the ones typically used for occasional pleasure – tend to be less expensive.

Those hoping to perform tricks and really hit top speeds will be looking for lighter skates with wider wheels. This may cost extra.