When making changes to a diet, some favorite culinary pass-times may be altered, or even culled completely from a regular routine. Some people can't go a day without coffee and – of course – their favorite creamer. Switching to a ketogenic diet means dropping as many carbohydrates as possible, while supplying your diet with more fat content. Without the glucose from carbohydrates, bodies go into a state of ketosis, in which it is processing from fat reserves because it hasn't had enough glucose to consume for energy.
While most regular coffee creamers and sweeteners may not be keto compliant, some companies are making keto-specific coffee creamers with extra fat content. We've looked at some of the top brands to see how they stack up against each other. Here are our findings: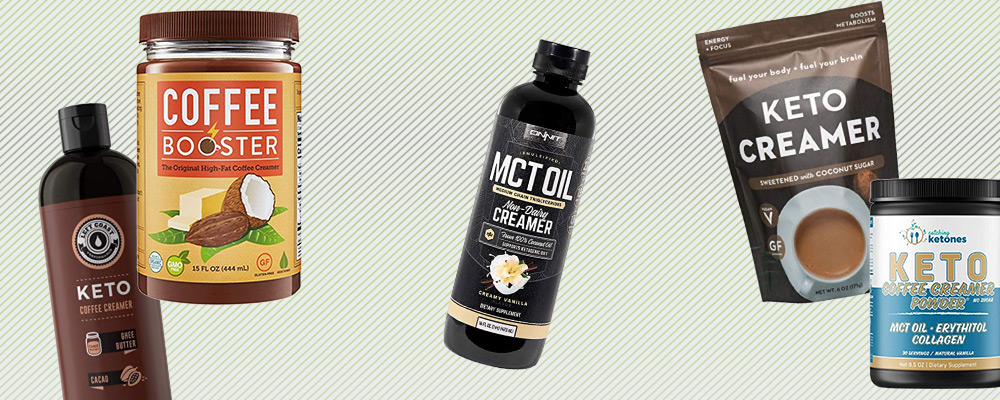 Editor's Choice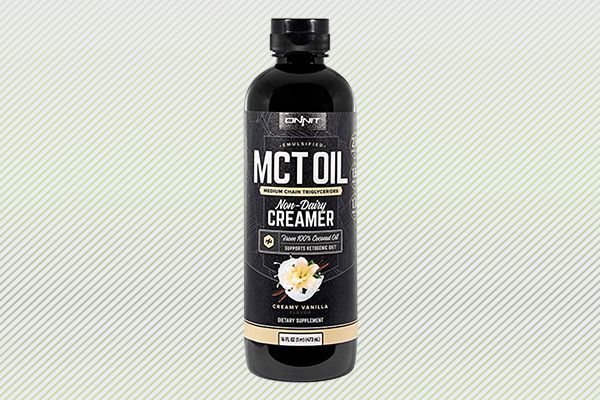 ONNIT Emulsified MCT Oil Keto Creamer
Pros: 
Emulsified. When shopping for keto coffee creamers, shoppers will often see notices that inform users that they will have to blend or heavily mix the MCT oil. ONNIT emulsifies the MCT oil, so it can drop right into any drink.

3 flavors. This coffee creamer has three distinct – and tasty – flavor offerings: almond milk latte, creamy strawberry, and the classic, vanilla. Most competitors offer only one or two flavors.

Hot and cold. This product works just as well mixing quickly and smoothly into cold drinks as well, such as iced tea or cold brew. Perfect for those who like a cold dive into the day or fun afternoon drink.
Cons: 
Small bottle. Depending on how often user's drink coffee and use this MCT oil, thesupply may run out faster than in some competitor's case, just because the bottle is smaller than most. The per ounce price is a bit higher than normal for this reason.

Still need to stir. While the effects can be negligible, some users may find that they need to stir their drinks a few times to keep the oil from separating from the rest of the drink.

This will be true of most MCT oil products.
ONNIT Emulsified MCT Oil Keto Creamer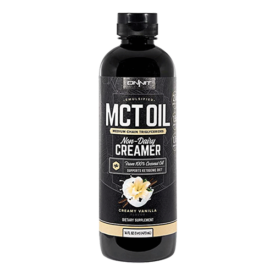 ONNIT Emulsified MCT Oil Keto Creamer
ONNIT's Emulsified MCT Oil Keto Creamer is designed to provide extra fat content in a quick and easy form. MCT (medium-chain triglyceride) oil is shorter than other forms of triglyceride, making it easier to metabolize into component cells that bodies use for fuel. Because it is emulsified, this creamer won't have to blended or mixed further.
The Contender
Left Coast Performance Keto Coffee Creamer with MCT Oil, Ghee Butter, & Cocoa Butter
Pros:
Ghee butter. Ghee is a natural type of butter that many people are turning to in the keto world, as it has a higher content of fat. This is a great way to get more fat in early in the day.

Cocoa aroma. The inclusion of cocoa butter is an ingenious way to give delicious flavor without adding sweeteners. Cocoa butter is high in stearic acid, which is considered healthier than other types of saturated fat.

Nice packaging. When ordering this creamer online, the manufacturer – Left Coast Performance – takes care to package the product tightly in bubble wrap, enveloped by a sturdy cardboard box.
Cons:
Dairy. While ghee butter is considered a more mild form of dairy, those who are a bit more than a little sensitive may get an upset stomach.

Needs to be blended. Though not unique in this market, this MCT oil creamer will need to be blended or heavily stirred before drinking. This is to mix the oil with the rest of the liquid in the drink smoothly and evenly.
Left Coast Performance Keto Coffee Creamer with MCT Oil, Ghee Butter, & Cocoa Butter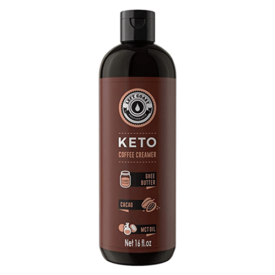 Left Coast Performance Keto Coffee Creamer with MCT Oil, Ghee Butter, & Cocoa Butter
Left Coast Performance's Keto Coffee Creamer uses MCT oil derived from coconuts with ghee & cocoa butter for added fat and flavor. This unsweetened drink comes in both unflavored and cocoa, which tastes great with any hot drink.
Best Bargain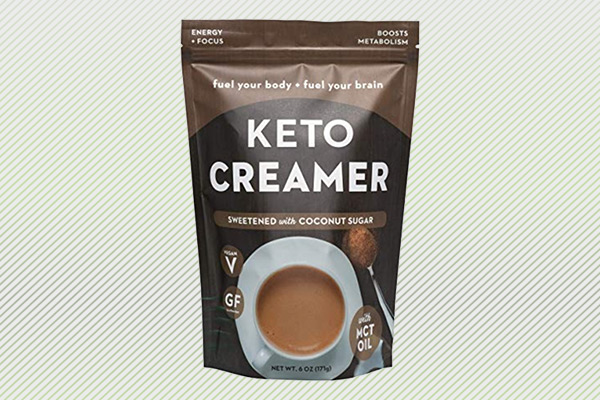 Nutrition 360 KETO Creamer with MCT Oil
Pros: 
Dairy-free. Many creamers, whether ketogenic compliant or not, will contain some dairy. If users are sensitive to dairy or lactose intolerant, this might be the right keto creamer.

No blending. This powder can be dropped right into a hot drink without having to blend it. Only a few brands on the market allow for this ease of use. Great for when waking up and still groggy.

Price. This keto creamer is one of the cheapest offerings available on the marketplace. It costs half as much as some of the leading brands.
Cons: 
Sweetened version. The version sweetened with coconut sugar is no-doubt very tasty, but that added sugar (and thus carbohydrates) might be unappealing to folks who are trying to follow a strict keto regimen Opt for the unsweetened version if you are looking for strictly keto-friendly creamers.

Serving size too big. Many users who are hoping for a light flavor may recoil after using the recommended serving size. Just 1 tsp is often plenty.
Nutrition 360 KETO Creamer with MCT Oil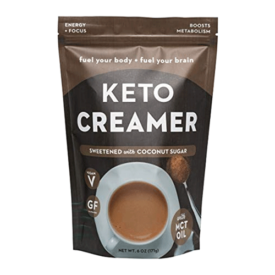 Nutrition 360 KETO Creamer with MCT Oil
Nutrition 360's Keto Creamer with MCT Oil is a powder made up of mostly coconut (MCT) oil and has a version that is sweetened with coconut sugar. This product is also dairy-free and does not need to be blended with drinks.
Best Flavor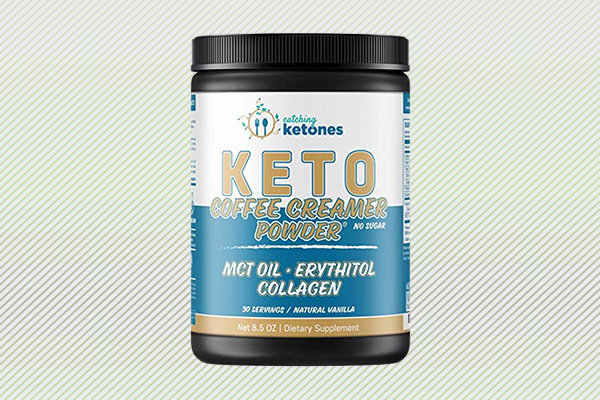 Catching Ketones French Vanilla Keto Coffee Creamer with MCT Oil
Pros: 
Erythritol. The addition of erythritol as a natural sweetener is great for both taste and for the consumer's sugar intake. Erythritol is known to carry a low glycemic index, meaning meaning it is digested slowly and leads to lower blood sugar rises than other sugars.

Taste. Most keto creamers on the market are intended to add some flavor to coffee or other preferred beverage. Catching Ketones' creamer has a french vanilla flavor that blends nicely with most coffee bases.

Himalayan sea salt. Adding a bit of salt to coffee is known to reduce the bitter taste inherent in most coffee products. The Himalayan sea salt included in this powder reduces bitterness while containing less sodium than regular salt. Salt also helps with digesting the MCT oils.
Cons: 
Powder needs to be mixed. If using a blender or emulsifier, this won't be too much of a problem, as the powder can be easily mixed into a drink with those tools. However, if stirring by hand, expect to spend a few minutes vigorously stirring to get the mix smooth.

Sodium. While most users won't flinch when seeing the sodium contents, if really trying to avoid salt, this product may not be the right fit. The sodium content is low but higher than some other options.
Catching Ketones French Vanilla Keto Coffee Creamer with MCT Oil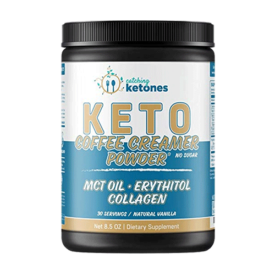 Catching Ketones French Vanilla Keto Coffee Creamer with MCT Oil
Catching Ketones' Keto Coffee Creamer comes in a tasty french vanilla flavor that is dairy-free, containing MCT oil, collagen, Himalayan salt, and erythritol. Because the MCT oil comes in powder form, it is less oily than many competing MCT oil products.
Best Flavor Options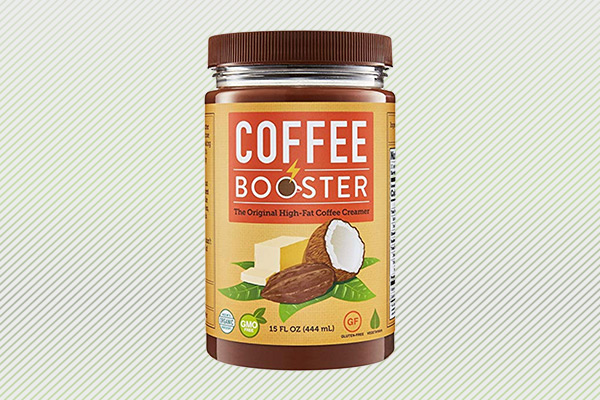 Coffee Booster Organic Keto-Friendly Ghee and Coconut Oil Coffee Creamer
Pros: 
Value. Though each bottle of this creamer may seem like one of the more expensive items on the market, the per ounce value is actually quite competitive. This 15 ounce bottle will last a while.

Grass-fed ghee. Some users may be looking for products that have certain sourcing characteristics, such as having organic or non-GMO providence. The ghee is organic, non-GMO, and comes from grass-fed cattle.

No emulsifier. This product can be dropped right into coffee or drink of preference and will mix without having to blend. Some other products promising the same ease-of-use contain emulsifiers in the ingredients, which some claim changes the taste.
Cons: 
No froth. One of the detriments of having a product that requires not mixing is that the end product is missing the buttery froth that is indicative of a coffee creamer. A user could use a frother or whisk to recreate that effect, but that defeats the purpose of its purported convenience.

Flavor options have additional ingredients. Though most users will be content with the composition of all of the flavor options, some may hesitate when seeing the added xanthan gum and sucralose (Splenda) if they are trying to avoid those sweeteners.
Coffee Booster Organic Keto-Friendly Ghee and Coconut Oil Coffee Creamer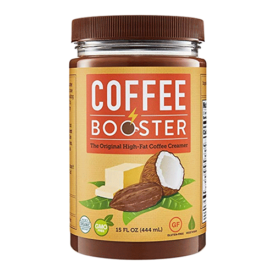 Coffee Booster Organic Keto-Friendly Ghee and Coconut Oil Coffee Creamer
Coffee Booster's Ghee & Coconut Oil Coffee Creamer is made out of only 3 or 4 natural ingredients: ghee oil, coconut oil, and raw cocoa. The vanilla and cinnamon offerings add nice flavor options to the fatty original's base flavor.
How We Picked
A ketogenic diet is one that requires adherents to make some changes to their daily routines, and morning coffee is no different. Many people enjoy creamers with their coffee, others can't drink coffee without it. Thankfully many brands have created keto-friendly coffee creamers that not only have low or no carbohydrates, but they also contain MCT oil, which has the type of fat that ketogenic theory smiles upon. The creamers come in different forms, flavors, and compositions, so it can be a bit bewildering trying to find out the best one for you. When judging these creamers, here are the criteria we used:
Taste
Though this may seem a tad on the nose, if something we are adding to our coffee doesn't taste right or goes too far in a certain flavor direction, it can render the drink inedible. Some users will very much enjoy the additional buttery taste of ghee and coconut oil. Others may opt for a flavored option to overcome the bitterness of coffee, such as cinnamon or cocoa. Most of the additional sweeteners are low in carb, but some are surprisingly not. When opting for a flavor option, definitely check the sugar content first.
Form
MCT oils can be consumed in different ways. Some MCT oils come as one would expect, as an oily liquid. Others come in powdered form. Many times if the MCT oil is in powdered form, it doesn't need to be mixed thoroughly, especially if it is emulsified. When coming in an oily form, it is often recommended to blend or vigorously stir the coffee and MCT oils together, in order to make sure the oil molecules disperse amongst the rest of the liquids.
The powders can be more convenient because there don't have extra steps needed, but sometimes they need to be stirred a bit more than advertised, and can leave a mess on the kitchen counter.
Extra ingredients
Some ketogenic coffee creamers pride themselves on the low amount of ingredients they have in their products, boasting as little as only three components. Other producers add ingredients that are meant to help with the ketogenic lifestyle, such as salt for easier digestion, collagen for added protein, and cocoa butter for flavor and fat. Ghee butter is also a common additive, meant to provide the type of fat content perfect for the keto diet. However, some products have added sweeteners that may go against the grain of what some consumers are trying to accomplish by adding some carb intake to their coffee.
Value
Whether trying out the keto diet for the first time, looking for a new source of energy in the morning, or are simply tired of regular keto creamers, you still want to get a good bang for your buck. Some products have a higher price point that might deter potential customers just because they aren't sure if keto is right for them. If just starting a keto diet, users may not want to splurge on the most expensive products as they may not like the taste or simply might not even continue keto for that long. Thankfully there are products on the lower end of the price spectrum that are perfect for beginners and those with keto experience alike.
Tips
Not sure which keto coffee creamer is right for you? Here are some tips to help you make your decision:
Have you tried keto before? If you are a grizzled keto veteran, you are aware of the necessity of adjusting your daily routine to fit the ketogenic lifestyle. If keto is definitely your thing, then finding a coffee creamer that boosts your fat intake while limiting your exposure to carbohydrates should be paramount. If you are just beginning your keto journey or aren't the biggest coffee drinker, then perhaps a keto coffee creamer that is easier to use or with a lower cost might be the right option for you.

Are you lactose sensitive? Several of the leading brands in the keto creamer field offer products with ghee butter. While this ingredient is great for providing the right type of fats, it is also a dairy product. It is typically less disruptive than regular butter or milk, but some people with moderate levels of sensitivity to lactose may end up getting an upset stomach.

How much time do you have in the morning? Those with a busy back-to-back-to-back schedule may not care to blend or stir for several minutes every morning when preparing their coffee with keto creamer. This is especially true if a user is planning on having multiple cups, sharing with guests, or trying to use keto creamer while traveling. The powder options can eschew the blending process altogether, but these may not be as easy to clean-up, as powder has a tendency to get on kitchen counters everywhere it is used.