We receive free products and receive commissions through our links. See
disclosures page
.
Keto is a theory on food that places emphasis on eliminating most or all carbs from one's diet in favor of high-fat foods. By eschewing carbohydrates for fat, bodies can go into a metabolic state called ketosis, wherein people are asking their bodies to burn fat cells from bodily reserves for energy rather than burning consumed glucose. Chefs have pioneered many different methods for replacing dishes heavy in carbohydrates with meals that are keto friendly and taste nearly identical or at least as tasty
Though this diet isn't for everyone, for those looking to try it out, there are a myriad amount of publications promising the best recipes. To help get this all sorted, we've combed through the top cookbooks on the market to see what they are all about. Here is what we found.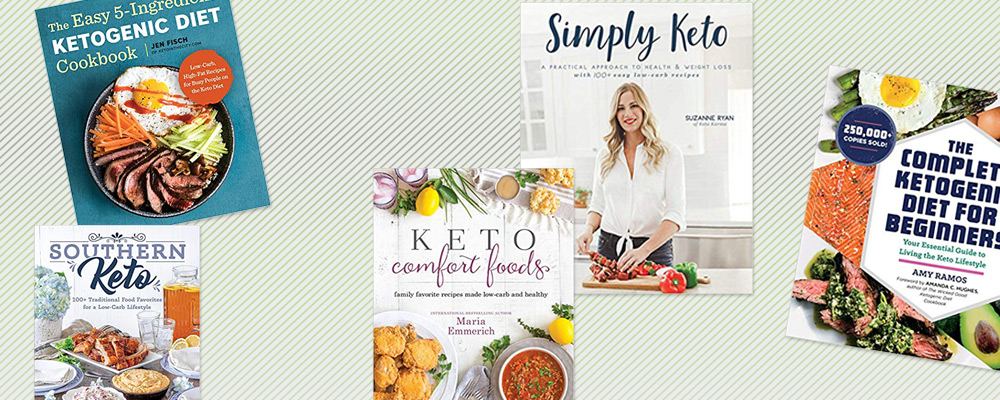 Editor's Choice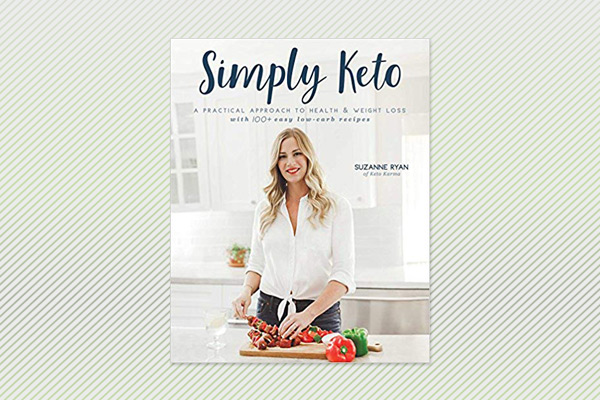 Simply Keto: A Practical Approach to Health and Weight Loss
Pros:
Motivational.

Hearing about a new diet fad is all well and good but with huge lifestyle changes like changing one's diet, seeing is believing. Reading about Suzanne Ryan's journey and subsequent weight loss provides an inspirational template upon which users may imagine their own successful lifestyle change.

Great for beginners.

Many of the books on the market are geared for those who are quite serious about their keto diet. That can be intimidating for those curious or not used to huge diet changes. This book contains shopping list tips and and easy to understand 30-day meal plan.

Video supplements.

Though this is not included in the book, the author has a plethora of additional material accessible to supplement the reading experience. The online video recipes and blog posts are perfect for those who like learning through audiovisual means as well.
Cons:
Not every recipe is simple.

If users are new to cooking as well as new to keto, some of the recipes in this book may seem daunting. While anyone can become a chef, it may be a matter of not having enough base ingredients in the pantry, such as spices and different oils, to complete every meal without making an extra trip to the grocery store.

Needs more recipes.

While there are many recipes included in the book – in fact over 100 – if users are dedicated to making the decision to switch to a keto diet, they may need more recipes than that, especially ones that are simple and can fit easily into a daily routine. The recipes included are great, it would just be nice to have more to be a true cookbook.
Simply Keto: A Practical Approach to Health and Weight Loss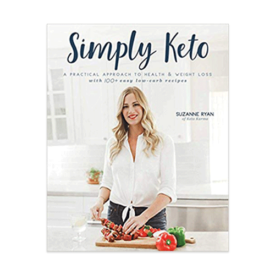 Simply Keto: A Practical Approach to Health and Weight Loss
Simply Keto, a book by author Suzanne Ryan, is a combination of a personal memoir about weight loss and a guidebook to healthy living lifestyles. With a detailed accounting of how author Suzanne Ryan lost 100 pounds (40% of her bodyweight), supplemented with over 100 recipes and a 30-day meal plan, this book is both motivational and practical.
The Contender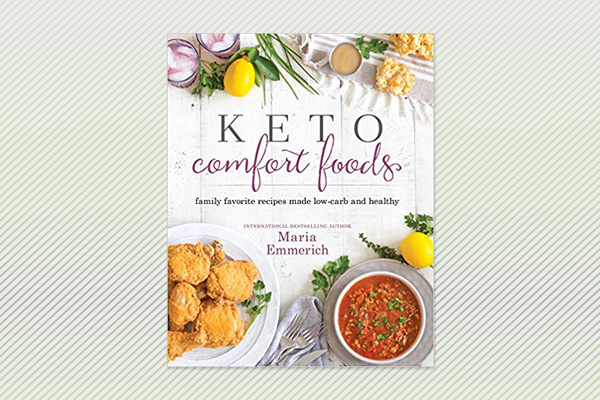 Keto Comfort Foods: Family Favorite Recipes Made Low-Carb and Healthy
Pros:
Nutritional information comparison.

One of the coolest aspects of this book is that on several recipes the author Maria Emmerich has included nutritional information for different versions of the same meal. For example, making a certain entrée, say steak, without any additional sauce, will have a totally different effect on a diet according to keto theory. Having the nutrition information laid out is a great help in understanding this.

Keto meter

. Every recipe in the book has a meter illustration that denotes how ketogenic that meal is. Understanding that not every meal is as ketogenic friendly as the last will help to plan a sustainable and healthy gameplan.

Desserts.

Many people who are embarking on a lifestyle change or simply want to diet before the summer swimsuit season may balk at the idea that desserts can be part of a healthy lifestyle. Maria Emmerich does away with that misconception with several delicious and ketogenic desserts, such as bananas foster fudge and some amazing brownies.
Cons:
Expensive ingredients.

This will not be true of most ketogenic ingredients one will find in a cookbook, but not all substitutes for carbohydrates or sugar are cheap! Several recipes call for substitutes such as almond flour or coconut flour, which can be hard to find at all grocery stores or may be more expensive than typical ingredients.

Dairy-heavy.

When making the decision to go keto, there are certain food groups that may play a more prominent role in daily food consumption. Dairy is a food group that is seen throughout Maria Emmerich's cookbook and at times is hard to be avoided. If customers are lactose intolerant be aware that they may need to figure out dairy alternatives for some recipes.
Keto Comfort Foods: Family Favorite Recipes Made Low-Carb and Healthy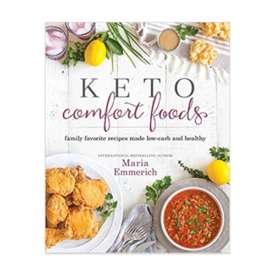 Keto Comfort Foods: Family Favorite Recipes Made Low-Carb and Healthy
The author of Keto Comfort Foods, Maria Emmerich, is a wellness expert who struggled with her own weight issues while growing up. After successfully publishing a few popular ketogenic cookbooks, her latest tome is an homage to the classic and traditional, as well as the fun and family-friendly. It's a take on some of the world's most popular recipes through a ketogenic lens.
Best Bargain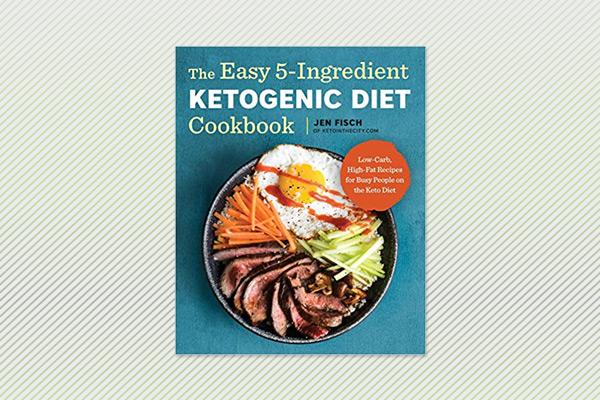 The Easy Five-Ingredient Ketogenic Diet Cookbook: Low-Carb, High-Fat Recipes for Busy People on the Keto Diet
Pros: 
One-pot meals.

Many of the recipes in the easy five-ingredient ketogenic diet cookbook are designed to be cooked in only one pot. This is perfect for those who don't have a lot of kitchen space or don't have time to do multi-dish clean up every night.

Alternatives.

This book keeps into consideration that not everyone will have every ingredient for every recipe. Thankfully this book includes many substitute ingredients that will do just as good of a job as the suggested ingredient.

Great for beginners.

Many people who are interested in the keto lifestyle may hesitate at the prospect of having to cook fancy meals in order to start their new routine. This book offers every recipe with around five ingredients, more or less. This ensures an easy liftoff for those hoping to try out the ketogenic way.
Cons: 
May need more seasoning –

Though this may be expected for a recipe with only five ingredients, some readers may wish for more flavor or seasoning in the recipes. This may call for some personal improvisation for certain dishes.

More than five ingredients

– While many of the recipes are indeed completed with only five ingredients, some dishes in the book call for a few more. Though this is not the biggest deal and still qualifies as a simple meal, those expecting five ingredients or less for every recipe maybe disappointed by the somewhat misleading book title.
The Easy Five-Ingredient Ketogenic Diet Cookbook: Low-Carb, High-Fat Recipes for Busy People on the Keto Diet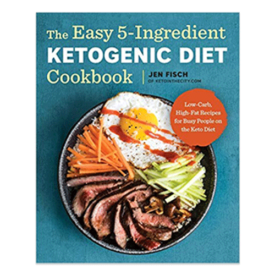 The Easy Five-Ingredient Ketogenic Diet Cookbook: Low-Carb, High-Fat Recipes for Busy People on the Keto Diet
Not everyone who is making the switch to a ketogenic diet is necessarily the most experienced person in the kitchen. Further, some readers may just simply want a recipe that is easy and quick to make during a busy day. This cookbook by Jen Fisch provides recipes that use about five ingredients for every recipe.
Best for Beginners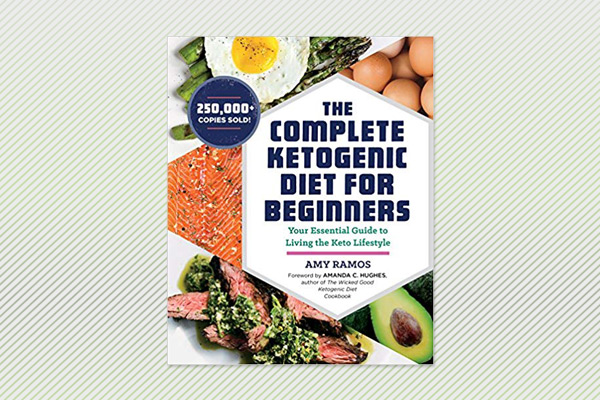 The Complete Ketogenic Diet for Beginners: Your Essential Guide to Living the Keto Lifestyle
Pros: 
Consistency.

While some keto cookbooks have recipes that have various amounts of carbs and thus vary in how ketogenic they really are, this book boasts the consistency of only having 6g of carbs per recipe. This approach takes away some of the guessing when choosing which meal to prep. 

Price.

Especially because this is a book for beginners, it is a nice feature of

The Complete Beginner's Guide

that it is so low-priced. If shoppers curious or tentative, or would like to give this as a gift, this is a low risk purchase to make.

Short preparation time.

Every recipe in this cookbook claims to be able to be prepared in under 30 minutes. Many competitors have more complicated recipes which might suit some readers, but knowing that each meal can be completed shortly may make switching to a ketogenic lifestyle more appealing.
Cons: 
Meal plans don't share ingredients.

The meal plans provided in the 14 day schedule are all nice and flavorful meals, however some home chefs may wish the base ingredients were combined so that if cooking a certain protein, for example, home chefs could make several portions to use in various meals during the week.

Not many photos.

Some people like only looking at the text when cooking from a recipe book. However some users learn best from pictures, or at least want to compare their final product with an example from the cookbook. This book contains less photos then some competitors.
The Complete Ketogenic Diet for Beginners: Your Essential Guide to Living the Keto Lifestyle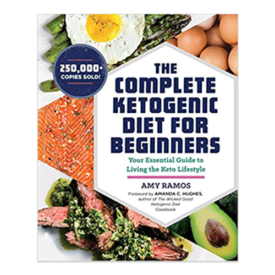 The Complete Ketogenic Diet for Beginners: Your Essential Guide to Living the Keto Lifestyle
The Complete Ketogenic Diet for Beginners is a book by Amy Ramos designed to hold the hand of people just diving into the keto lifestyle. With 75 recipes designed to have only 6g of carbs each, this text should have plenty of interesting recipes for novices to take a stab at.
Best Comfort Food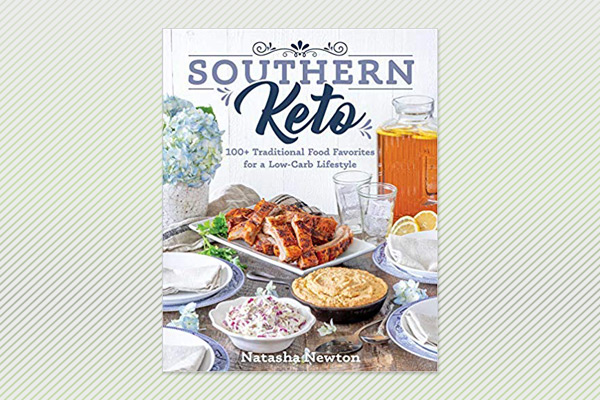 Southern Keto: 100+ Traditional Food Favorites for a Low Carb Lifestyle
Pros:
Themed menus

.

One of this reviewer's favorite aspects of Southern Keto is that she includes multiple dishes that tied together in themes. This helps when cooking for a big group of people or simply to have a meal or set of meals that harmonize with a certain season or festivity.

Southern style cooking.

Though this may seem obvious due to the title, this recipe book really does emphasize traditional southern comfort food. The pan fried chicken, drop biscuits, and the chili Cheese pot pie are standout recipes.

Personal touch.

As someone who struggled with weight problems before switching to a ketogenic lifestyle, the author Natasha Newton has a unique perspective and provides tips throughout the book that personally helped her along her journey.. This is great for those needing inspiration or simply a role model to follow.
Cons:
Special ingredients

. Some of the recipes in this book require ingredients they may not be in everyone's pantry. Readers may need to make some extra trips to the grocery store in order to fulfill every recipe's requirements.

Cost.

This book is usually priced higher than many other keto cookbooks. For those purchasing their first keto cookbook, this shouldn't be a problem, but for those just looking for some new recipes, there might be too much of an overlap with other cookbooks you already own to justify the cost.
Southern Keto: 100+ Traditional Food Favorites for a Low Carb Lifestyle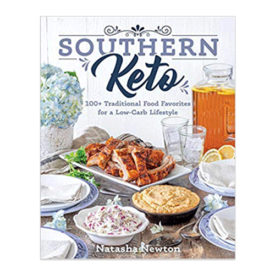 Southern Keto: 100+ Traditional Food Favorites for a Low Carb Lifestyle
Southern Keto, a recipe book by Natasha Newton, is proof that it is possible to choose to make a lifestyle change and yet not give up on the foods that make you happy. Natasha has shared over 100 recipes that are both ketogenic friendly and allow home chefs and their families to enjoy the comfort food
How We Picked
Switching to a ketogenic diet is not the easiest thing to do. It involves changing a lot of habits and food items in our diet that we may be accustomed to. Finding a cookbook that not only provides recipes that are exciting but can fit easily into a daily routine is a challenge that could be costly in terms of failed meals and crumpled expectations. Often times the author explains the theories and gives tips to those who are new to the keto lifestyle.
Whether just a beginner or are looking for some fresh recipes to spice up a weekly meal prep, there are a lot of options that may fit your needs. Below are the different qualities we used to judge each of the leading books available for purchase:
Ease of use
Not everyone is a gourmet chef. If you haven't gone to culinary school or haven't had much practice in the kitchen sometimes cookbooks can be a little overwhelming. Some of these books are designed for people just like that who have only a little experience cooking ketogenic food or even any style of cuisine. Other cookbooks cater to those who want to experiment in the kitchen and test out the limits of their gastronomic toolbox.
Variety of meals
Many cookbooks have meals that are almost identical to one another with only a few modifications. This is great for those hoping for simpler home cooking experience without multiple trips to the grocery store. Other cookbooks may have hundreds of recipes from which to choose from. If looking for a cookbook with thematic groupings or similar food items throughout with which you can get familiar with, look out for a cookbook that has a specific focus.
Cost
Cookbooks are a staple of any kitchen that hopefully will last not only years but for generations. However if purchasing a cookbook without using it much, it might just end up being a sunk cost. Some cookbooks are rather affordable, being priced at only a handful of dollars. These may be best for gifts or for beginners. If you know you love cookbooks and will use them and there's no reason not to get the one that calls to you, even if it is one of the top offerings on the market.
Personal touch
Choosing a diet can be a very intimate experience that touches on personal vulnerabilities. When reading a cookbook, some people may prefer a more neutral or scientific approach. Others may prefer a more personal story of weight loss and the journey that a ketogenic diet may lead you on. Check out the author's personal story to see if anything from their experiences resonate, whether personal or professional.
Tips
Not sure which keto cookbook is right for you? Here are the determining factors that may help guide you in making your decision:
Do you have a well-stocked pantry? Some of these recipe books include deep cuts as far as ingredients go. Not everyone will have tarragon or Jamaican rub in their pantry. If you are serious about cooking as a pass-time or as a means of creative expression, then you should look for one of the more technical cooking books. If you don't cook often or are just beginning your culinary adventure with the switch to a keto diet, then you should consider a book for beginners.
Are you just starting keto or have you been doing it for a while? Some of these books have good tips for beginners and have a meal layout for a certain amount of days. Other books have personal anecdotes that may help inspire someone who is skeptical or could perhaps even change the mind of a family member who is watching this endeavor from afar. If you are a beginner and like getting inspiration from credible sources or from role models then perhaps find a text through which you can relate to the author.
How much time do you have to cook? Even the best chefs are sometimes in a hurry. Trying to cater your schedule to a new diet may initially be time consuming regardless of your experience in the kitchen. Some books cater to those with a busy schedule or whom don't simply want to spend a lot of time in the kitchen. Books for beginners aren't necessarily quick and some books for pros can have shockingly simple recipes. Keep in mind that every author has their own unique view of how much time should be spent preparing and cooking their recipes.