Learning to ride a bike is a process so universal that the phrase itself has become an idiom. That being said, it isn't necessarily the easiest thing for all children to do. Thankfully, many manufacturers are designing bikes that can ease the process of learning to balance, coast, and slow down.
There are various types of bikes that can aid in this period of instruction, some that may be graduated out of in months if not weeks, and others that can be adapted to last a lot longer. Since these bikes take different forms and offer a range of structural aspects that differ between brands, it can be difficult to decipher which bike might work for a certain kid. When first training, riding with a helmet is a must, along with other safety gear that can protect elbows and knees. As safety is paramount when riding bikes, especially as children get more comfortable and get on the open road, it is important to find a bike that parents and kids feel comfortable on. We have evaluated some of the most popular brands to see how they stack up: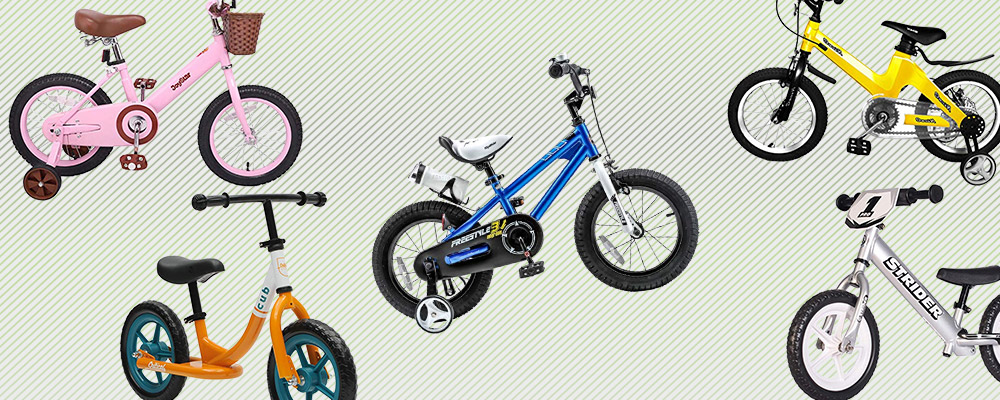 Editor's Choice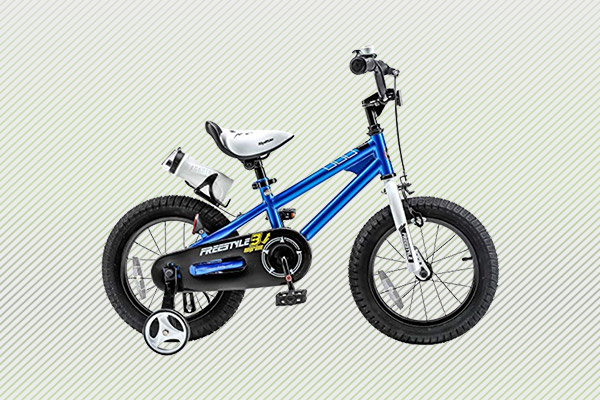 RoyalBaby Freestyle Kids Bike
Pros: 
Carrying handle. The 12", 14", and 16" versions of the RoyalBaby Freestyle Kids Bike all come with a carrying handle in the rear of the seat. This allows for easy transport for parents during the period before kids have enough endurance to complete rides on their own.

95% pre-assembled. Most of the bike is pre-assembled before opening. Only the saddle, training wheels, pedals, and handlebars need to be constructed by the consumer.

High seat back. As an aid for helping youngsters balance while riding, this bike has a high seat back that protrudes up from the shaft of the seat post.
Cons: 
Heavy bike. Weighing around twenty-five pounds, this bike might be around the same weight as some of its youngest riders. This can make storage and transport a bit of a hassle.

Water bottle holder only on smaller versions. While it is nice that the 12", 14", and 16" versions of this bike have a water bottler and water bottle holder, it is odd that the 18" and 20" versions omit this feature.
The Contender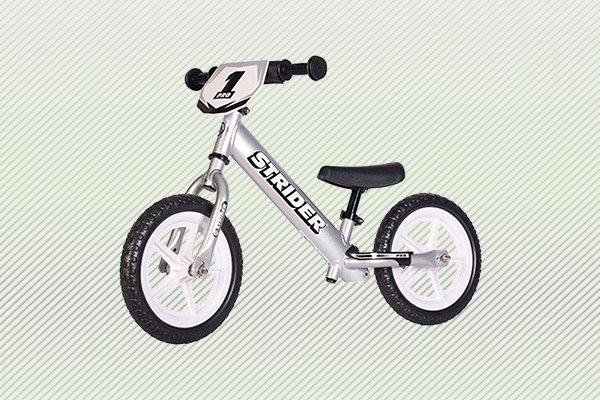 Strider 12 Sport Balance Bike
Pros:
Comes with XL seat post. Each version of this bike is accompanied with an extra seat post that is larger than the original, extending the usefulness of the bike. The standard seat will satisfy kids up to 36 months old, while the extension is designed for children aged up to 60 months.  

5.3 pounds. This bike is rather lightweight when compared to adult bikes or even similar beginners bikes for kids. At 5.3 pounds, it will be easy for kids to maneuver with and for parents to transport and store.

Padded handlebars. Located right in between the handlebars' grips is a foam pad. This provides a layer of protection in case new riders accidentally collide with a wall or other immovable object and propel forward into the handlebars.
Cons:
Wheels made out of foam. Though this may make the bike lighter, the wheels are made out of foam rather than rubber. Rubber tires might have better traction and provide greater control.

Expensive. The Strider Sport Balance Bike costs more than many bikes with pedals. As customers will only be using these training bikes for a short period before upgrading to a bike with pedals, this may be too much for some families to spend with another bike purchase coming so soon down the road.
Best Starter Bike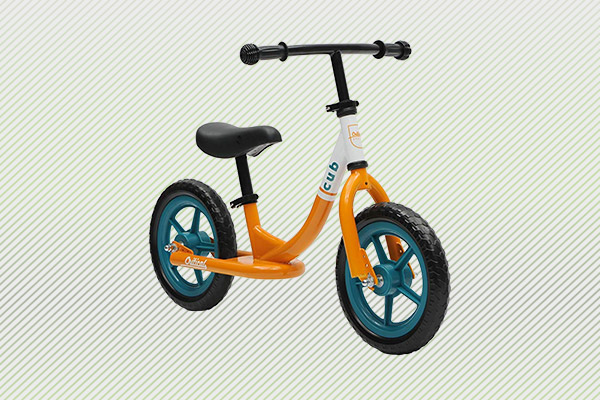 Retrospec Cub Kids Balance Bike
Pros: 
Seventeen colors. With a bounty of different varieties, this kids' balance bike from Retrospec is sure to offer a color that is enjoyed by most kids. It sports 17 different fun colors, each with a complimentary accent color that features on the rims of the wheels.

Adjustable seat & handlebars. The Retrospect Cub Kids Balance Bike is meant to grow with the kids who are training on it. With an adjustable seat and adjustable handlebars, the bike can be customized to fit most young children (under 5 years old) and be adjusted as they grow.

Cost. This training bike is very reasonably priced, incentivizing the use of a training bike as a safer means of balance training. When training bikes are too pricey, some parents may just skip this step altogether.
Cons: 
Foot rest. This bike has a somewhat unnecessary foot rest that protrudes from either side of the frame. This can be used for kids if they can balance well enough to coast, but more likely can get in the way of their legs as they try to propel themselves forward and balance.

Seat post release not tight enough. The seat post release that holds the seat in place can have trouble being tight enough. This makes the seat more apt to wobble and pivot in place rather than stay securely in one position.
Best BMX Kids Bike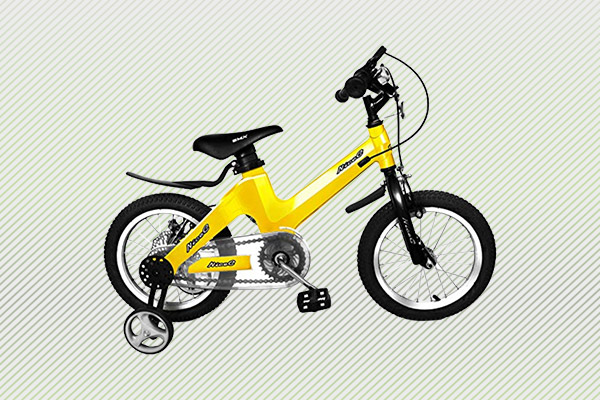 Nice C BMX Kids Bike
Pros: 
Pedals with reflectors. The pedals for this bike from Nice C each have reflectors, increasing visibility for those kids who may not be experienced dealing with other actors on the road. The pedals are made from a non-slip resin, helping feet stay on as kids learn to pedal.

Thick rubber tires. Nice C's BMX Kids Bike utilizes multiple layers of rubber to help ensure that the tires are durable and roll smoothly over a variety of surfaces.

Stickers. Each bike in this line comes with a page of stickers that kids can use to customize their bikes. Making the bike unique to each individual kid can encourage them to care for and take pride in their bikes.
Cons: 
Small pedals. The pedals included are quite small, even for a kids bike. This can make consistent contact between feet and pedals a bit more difficult.

Bolts are loose out of box

. This bike isn't necessarily ready to go out of the box. Several of the bolts will need to be checked and tightened before using.
Best Design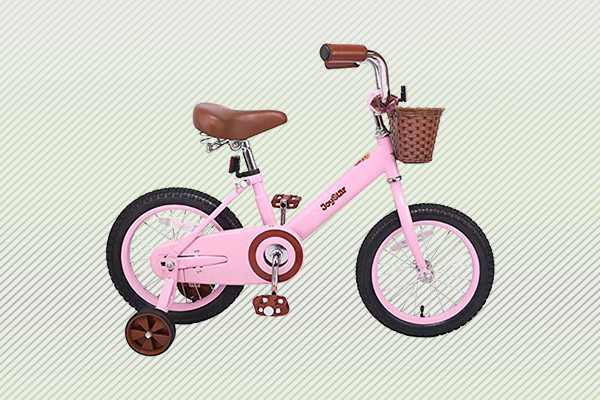 JOYSTAR Kids Bike with Basket & Training Wheels
Pros: 
Shock-proof saddle. The saddle – or seat – on this bike has shock absorbers placed directly underneath it, helping absorb impact or instability from rough terrain.

Basket. This bike has a plastic basket (designed to look like wicker) placed in the front. This can be used by kids to safely carry objects, such as toys, without needing to hold them in their hands.

Leather handles. Not only do the leather grips on the handlebars look classically fashionable, but they may feel softer on the hands than typical rubber grips.
Cons:
Hard to assemble. Customers may notice that the instructions included in the instruction manual aren't super straight forward. There seems to be one instruction manual for all lines of bikes, not one tailored exactly to this product.

Only two sizes. This bike unfortunately only comes in a 14" and 16" size variety. This limits the range of kids who can potentially ride on it.
How We Picked
Unlike other products designed for kids, bicycles aren't designed just purely for fun, purely for education, or purely to keep kids active. They teach kids a valuable skill that will hopefully be applied throughout a lifetime. With this in mind, manufacturers tend to create products that need to check a few important boxes. Bicycles for kids need to offer a few salient qualities in order for them to be exciting for the kids to ride, secure for the parents' peace of mind, and comfortable for the kids to use and the parents to transport. Here is how we evaluated the brands we examined:
Glide or training wheels
There are two main types of training bikes for kids. One type doesn't have wheels at all; they are meant for kids to glide and coast, developing balance and familiarity with the whole apparatus itself. These glide bikes don't have brakes, so kids will need to learn how to stop themselves once they get going. These bikes are ideally suited for kids on the younger range of the age spectrum, as working pedals and brakes might be too complex for the youngest kids.
The other type of training bikes have training wheels. These are two small wheels jutting out from the rear of the bicycle on either side. These provide balance and support while allowing kids to accelerate and turn as if riding a normal bike. Many manufacturers create bikes that have removable training wheels, so once a child becomes accustomed to riding their bike and feels confident they can try balancing, parents can remove the training wheels and help their kid progress to the next stage.
Look
One of the metaphorical hills that parents need to climb when teaching young children how to ride bikes is getting them excited to learn. A great aid in this process involves finding a bike that exudes a joyful vibe but also alludes to the exciting future of riding bikes as an older kid. With that in mind, some bikes are very much miniature versions of what adults would ride. They have similar coloring, black wheels, and even mimic features like a front-facing basket on the handlebars.
Another approach is to have bicycles with more fun childish design elements, such as a bright pink frame or bright neon accents. Some manufacturers include stickers to help kids customize their bikes to make them feel more ownership. Bear in mind, however, some bikes are adjustable, meaning seats and handlebars can be raised and training wheels taken off. If these bikes are to be used for many years, sometimes the stickers and bright colors won't age as well.
Protection
What can give parents peace of mind with training bicycles is not just the type of bike they are buying, but what additional features that add can extra security. These can be structural features; lighter-weight bikes may be easier for kids and adults to maneuver and store, but some parents may be looking for heavier bikes that allow a firmer base for kids to balance on.
Some bike producers add details such as pads across the width of the handlebar or reflectors on the pedals. The type of tire can make a difference as well. Some bikes have rubber tires that may perform better on rough terrain, most likely roads that haven't been resurfaced in a while. Lighter foam tires may make the bike lighter, but probably can't withstand as much impact over time.
Tips
Not sure which kids' bike is right for you? Here are some things to consider before making your decision:
How old is your child?

Depending on how old your kid is, some training bikes may even be too advanced for your youngster. The glide bikes are designed for kids who may have an interest in riding a bike but don't quite have the motor skills to navigate the handlebars and pedal at the same time.

Bikes with training wheels are well suited for kids who may be ready to start biking more independently. Aside from removable training wheels, some bike manufacturers have adjustable seats and handlebars, making the training bikes transformable into kids' first two-wheelers.

Are you handy with bikes and tools?

Some manufacturers boast about how easily their bicycles can be assembled. If you aren't confident in your abilities to manipulate tools, whether your own or ones included with bikes, it is advised that you get a bicycle that is mostly assembled ahead of time. Additionally, sometimes there are assembly services that are available for purchase.

Those that are handy may find that they are tuning the bikes they are purchasing: greasing the gears, tightening the bolts, and adjusting the seat and handlebars. This may not be necessary for all bikes, but some manufacturers haven't made their bikes "ready-to-use" out of the bike. Frankly, bikes should almost always have a thorough examination before use.

Will you need to clean these often?

Some of the leading shin guards are made out of materials that can be machine washed and even machine dried. This makes cleaning them much easier. Some brands need to have each part washed by hand and dried on a line.

Those playing soccer multiple times a week may need to find a pair of shin guards that is easier to clean to avoid having their gear get too musty. Sleeves or other shin guards with only one component piece may be the easiest to take care of.