Though we mostly think about it as a sweetener today, honey has been used for thousands of years (1). Manuka Honey is a unique honey native to New Zealand and southern Australia. Manuka honey's high levels of methylglyoxal (MGO) may contribute to its potential health benefits (2). Though more research is needed, some studies suggest that manuka honey, when applied topically, may be effective at treating wounds, though likely not as well as conventional treatments. More search is needed to prove this benefit (3) (4). Manuka honey's antibacterial nature may also make it an effective treatment for oral health and sore throats, but again, more research is needed to show any conclusive benefits (5) (6).
While each brand of manuka honey varies in terms of potency, texture, and flavor, it is generally pretty high in natural sugars. In addition to being used as a sweetener, some folks take advantage of manuka honey by using it topically to treat wounds. When shopping for manuka honey, you may notice that each label has a variety of numbers and claims related to its strength including MGO, a measure of the amount of methylglyoxal (MGO) per kg of manuka honey. With so many manuka honey options on the market, it's important to know how to distinguish between their key features.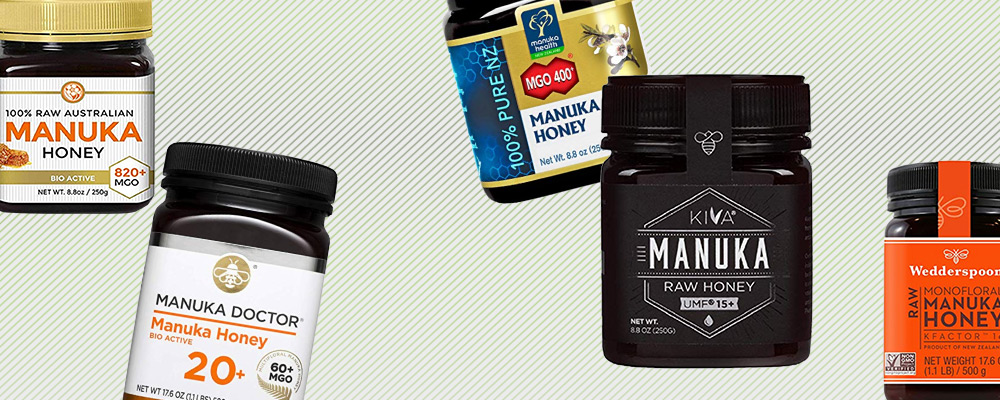 Editors' Choice: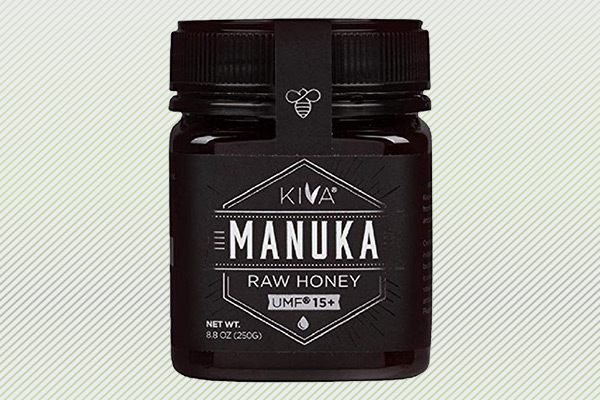 Kiva Raw Honey
Pros:
Kiva's 15+ UMF score translates to an MGO rating of 514+, meaning there are 514mg of MGO per kg of this honey. 

Each batch is independently tested for purity and quality, and no ingredients are added to this raw honey. 

Harvested from remote hills in New Zealand, this honey has a notable floral smell, a very rich, sweet taste, and a beautiful, bright golden color. 

Each tablespoon serving contains 60 calories with 15g of sugar. 
Cons:
Compared to some of the other manuka honey products on this list, Kiva's offering is a bit on the pricier side. 
Contender: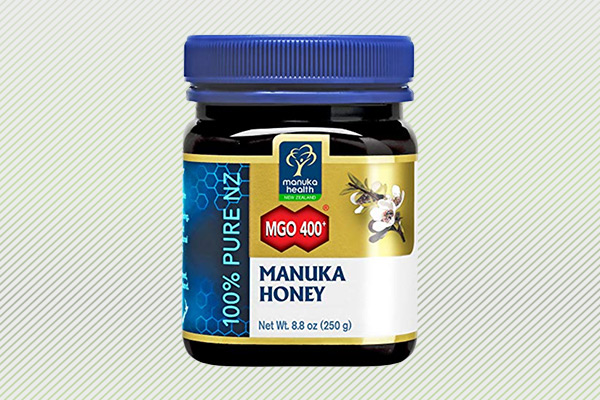 Manuka Health Manuka Honey
Pros:
With a rating of MGO 400+, this is a moderate source of MGO, the active ingredient that gives manuka honey its unique antibacterial properties.

Each 1 tbsp serving contains 45 calories and 12g of sugars.

Manuka Health's thick, amber colored honey spreads quite easily. 

Company touts its relationship with its New Zealand beekeepers and claims to use independent testing on each batch of its honey.
Cons:
Compared to some of the other honeys we looked at it, Manuka Health was not quite as sweet or floral tasting. 

As there's no mention of this honey being raw, it is likely that it was pasteurized, which may turn off folks looking for a raw honey.
Premium Option: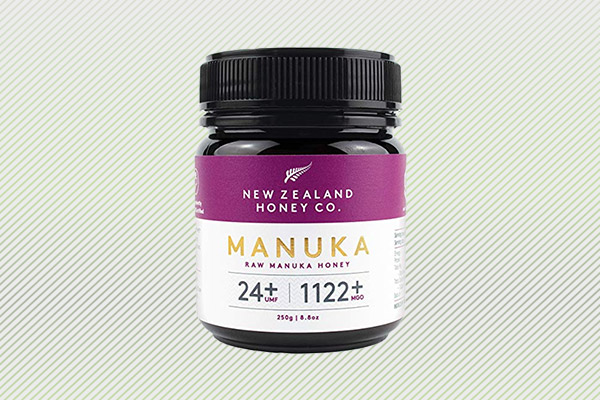 New Zealand Honey Co. Raw Manuka Honey
Pros:
At 24+ UMF and 1122+ MGO, this is one of the most potent manuka honeys on the market.

Sourced from manuka plants in New Zealand, each batch of New Zealand Honey Co.'s manuka honey is independently tested for purity.

This raw honey has a very thick but spreadable consistency. It has a delightfully floral smell and a strong, but not overwhelming taste. 
Cons:
Due to its high levels of MGO, this is one of the more expensive manuka honeys on the market.

Since it's so thick, this honey may not be as versatile as some of the less viscous options on the market. 
Best Value: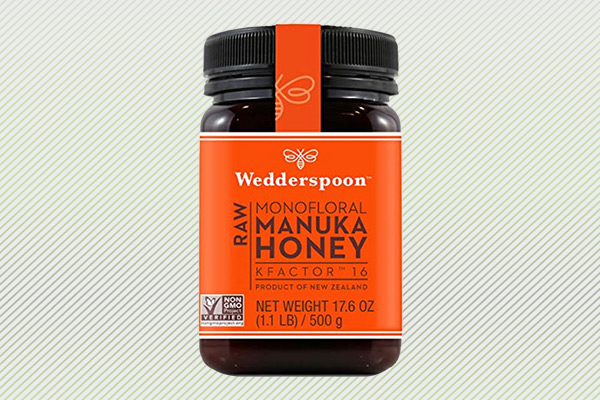 Wedderspoon Monofloral Manuka Honey
Pros:
Wedderspoon's monofloral honey is raw and unpasteurized, making it an excellent natural source of manuka honey. 

Each serving contains 70 calories and 16g of sugar. 

This manuka honey has a bright golden color, a nice flow, and a delightful taste. 

Non-GMO verified and free of pesticides. 

Competitive price point. 
Cons:
Wedderspoon uses the unique K Factor rating to determine the quality of its honey. According to the company's website, K Factor 16 means that this honey is "wholly or mostly" from the manuka plant. While this rating system is recognized by the government of New Zealand, it makes it difficult to compare this honey's MGO levels to its competitors. 
Additional High MGO Pick: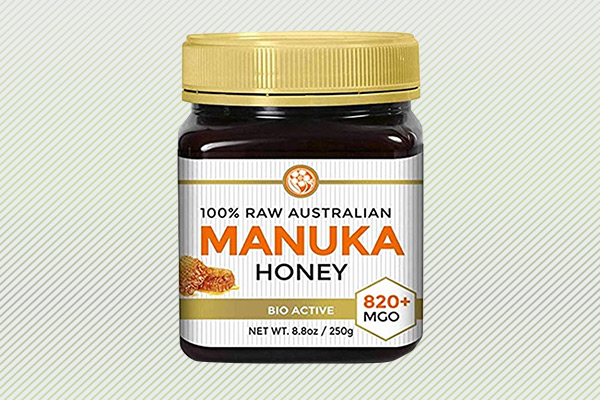 100% Raw Australian Manuka Honey
Pros:
At 820+ MGO, this is one of the highest MGO ratings available on the market. 

Since the manuka honey extracted using a cold process, it is considered raw. 

Each tbsp contains 45 calories and 12 g of sugar. 

This manuka has a darker color than many of the competitors, and also flows more quickly than many other manuka honeys we looked at. 
Cons:
This is not quite as sweet as some of the other manuka honeys we tasted. 

Compared to some of the other manuka honeys on the market, this is among the most expensive on a cost per ounce basis. 
Also Consider: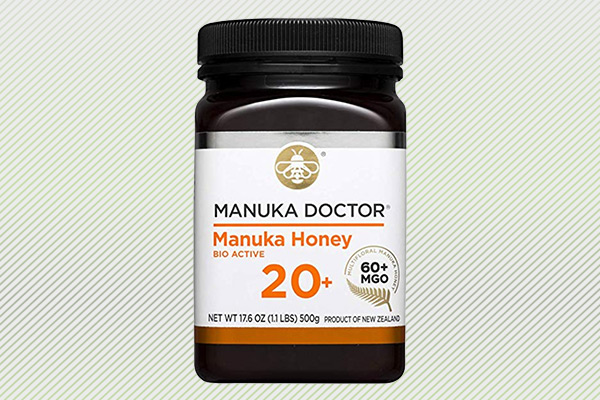 Manuka Doctor
Pros:
Each tablespoon serving of Manuka Doctor contains 70 calories and 15g of sugars. 

This is a very competitively-priced product as far as manuka honey goes. 

Though it's got a nice sweetness to it, the flavor is not incredibly potent or notable. 

Manuka Doctor touts that since they are a family owned company, all of their honey is traceable from "hive to home." 
Cons:
At 60+ MGO, this is among the weakest manuka honeys we reviewed in terms of MGO. 

This honey is not labeled as raw, meaning it was likely heated up during a pasteurization process.

Since this is a multifloral manuka honey, it means that a portion of it was sourced from non-manuka bushes. This helps to account for its relatively low MGO score, as it is manuka in particular that possesses naturally high levels of MGO.
Methodology
If you're accustomed to buying honey out of a bear-shaped squeeze bottle, manuka honey can be a bit intimidating. With so many different qualifiers on the label, making a decision can be overwhelming. Here's a few key things to consider before investing in a jar of manuka honey.
Where's It From?
Manuka honey is most commonly found in New Zealand, though Australia has a few producers of this unique sweetener as well. If you come across a honey that's labeled as manuka but not from New Zealand or Australia, steer clear. It is the manuka bush in particular that gives manuka honey its unique antibacterial properties.
Manuka Rating Systems
UMF stands for Unique Manuka Factor and is a widely recognized independent rating system in New Zealand (7). Any manuka honey brand with a UMF rating on its label has been vetted and third party tested for purity by the UMF Honey Association. These numbers range from 5+ to 20+, with a higher number indicating a greater amount of methylglyoxal (MGO) per unit. For example, UMF 5+ contains 83 MGO while a 20+ UMF contains 829 MGO, measured by mg per kg of honey.
Similarly, MGO is a measure of how much methylglyoxal, measured by mg per kg, is in each type of manuka honey. There's not a standard third-party MGO organization, and so it's ultimately up to the company itself to measure its honey and report accurately.
K Factor is another type of rating system, and it's most commonly used by the company Wedderspoon. This system is recognized by the New Zealand government, and takes into account purity, enzymes, and pollen count, but curiously leaves out MGO.
Manuka honey has seen an increase in popularity in the last few decades. A lot of companies have started making their own manuka honey, using unique and sometimes confusing ratings. Some brands are so desperate to get a bit of the honey pot they'll even try to pass off adulterated or synthetic manuka honey as the real deal (8). The UMF Honey Association was formed over twenty years ago to try to insure that manuka honey on the market is, in fact, manuka honey.
While it's hard to be 100% certain of the purity of any manuka honey, brands with UMF ratings are probably among the most trustworthy.
RAW
The difference between the affordable, common honey you're probably accustomed to and raw honey is in pasteurization. Raw honey has not been pasteurized – this means it was simply strained from the source to remove unwanted bits from nature such as dead bees, and put into a container. Pasteurized honey, on the other hand, was likely heated up to remove impurities and create an even consistency.
Multifloral vs. Monofloral
This is another term that's specific to the honey market. Monofloral refers to honey that was sourced from one type of plant, while multifloral means that multiple types of plants were involved in the creation.
Cost
Authentic manuka honey is much costlier than the stuff you'll find at the bodega. However, you can still figure out how to get the best bang for your buck by dividing the total cost by the amount of ounces.
BarBend Tips
Manuka honey may have some intriguing uses, particularly with regard to healing wounds. However, there's no conclusive evidence it's effective at wound treatment, especially compared to conventional treatment, and it's advisable to consult with a medical professional before replacing your medicine cabinet with a few jars of honey.

If you're going to invest in manuka honey, try to make sure you're getting a true authentic bottle. Look for a UMF rated version.
Authentic manuka honey is prized for its unique chemical profile. While there are a ton of copycats and imitators on the market, if you can afford a genuine, authentic manuka honey, it may make a great addition to your kitchen.
References
Eteraf-Oskouei T, Najafi M. Traditional and modern uses of natural honey in human diseases: a review. Iranian journal of basic medical sciences. 2013;16(6):731-742.

Carter DA, Blair SE, Cokcetin NN, et al. Therapeutic Manuka Honey: No Longer So Alternative. Frontiers in Microbiology. 2016;7.

Niaz K, Maqbool F, Bahadar H, Abdollahi M. Health Benefits of Manuka Honey as an Essential Constituent for Tissue Regeneration. Current drug metabolism. 2017;18(10):881-892.

Yaghoobi R, Kazerouni A, Kazerouni O. Evidence for Clinical Use of Honey in Wound Healing as an Anti-bacterial, Anti-inflammatory Anti-oxidant and Anti-viral Agent: A Review. Jundishapur journal of natural pharmaceutical products. 2013;8(3):100-104.‌‌

Eick S, Schäfer G, Kwieciński J, Atrott J, Henle T, Pfister W. Honey – a potential agent against Porphyromonas gingivalis: an in vitro study. BMC oral health. 2014;14:24.

‌Sela M, Maroz D, Gedalia I. Streptococcus mutans in saliva of normal subjects and neck and head irradiated cancer subjects after consumption of honey. Journal of oral rehabilitation. 2000;27(3):269-270.‌

UMF | Honey Association. Umf.org.nz. https://umf.org.nz/. Published 2019.

Ministry for Primary Industries. Fines totalling $372,500 imposed in landmark mānuka honey fraud case. Govt.nz. https://www.mpi.govt.nz/news-and-resources/media-releases/fines-totalling-372500-imposed-in-landmark-manuka-honey-fraud-case/. Published June 28, 2019.

‌