Before becoming a staple of trendy cafe menus, matcha tea was a very popular drink in Japan for centuries. Matcha is a fine green powder that's derived from the same kind of plant from which green tea is often harvested. However, in the process of cultivating matcha, the leaves are grown in the shade, altering the chlorophyll production and amino acid content, resulting in a darker hue of green.
While green tea is steeped in boiling water, matcha is a powder of ground up leaves, meaning more of the nutrients from the original plant are transferred to the resulting beverage. Matcha can be prepared a number of ways, from simplistic teas with hot water to elaborate lattes featuring your preferred milk and latte art. It's often commonly used in baking, or as an ingredient in smoothies. As matcha has grown in popularity in recent years, there has been a spate of manufacturers trotting out their own versions of matcha. We tried some of the best matcha powder on the market, taste-tested them, and gave our selections.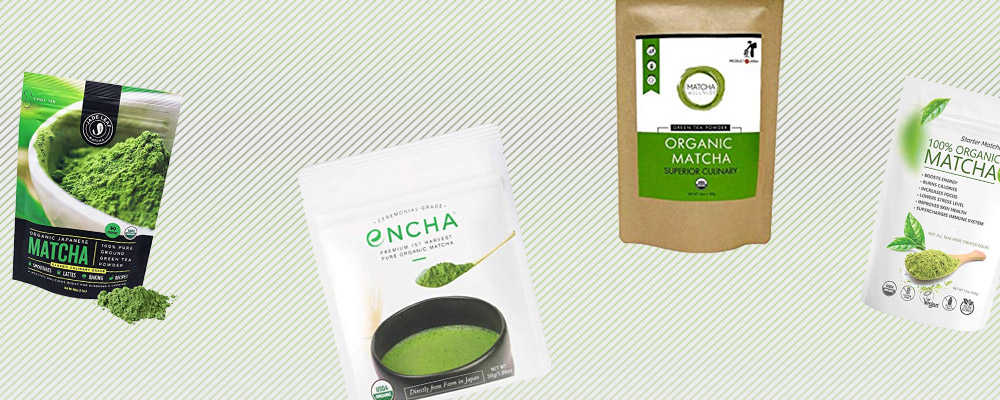 Editors' Choice: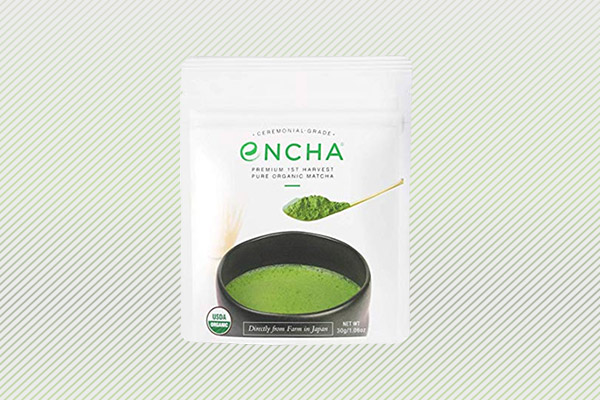 Encha Ceremonial Grade Matcha
Pros:
Encha Ceremonial Grade Matcha mixes up well and does not leave a ton of residue at the bottom of the cup. Also, when hot water is added, this matcha gives off a delightful frothiness. 

Taste-wise, this is a good option, as the natural essence of the matcha comes through without being overwhelming in any way. 

Cup of prepared matcha has a beautiful, rich green color.

Made with organic matcha tea leaves grown in the Uji mountains in Kyoto, Japan. 

Each serving contains about 60mg of caffeine.
Cons:
From a cost standpoint, this is a bit expensive in comparison to some of the other matcha on the market. 
Encha Ceremonial Grade Matcha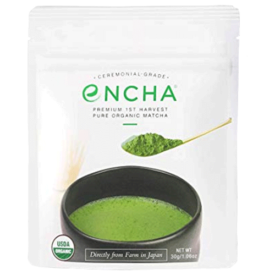 Encha Ceremonial Grade Matcha
Getting top marks for taste and texture is Encha's Ceremonial Grade Matcha. This rich green tea delivers a natural and fresh taste and a nice hum of energy.
Contender: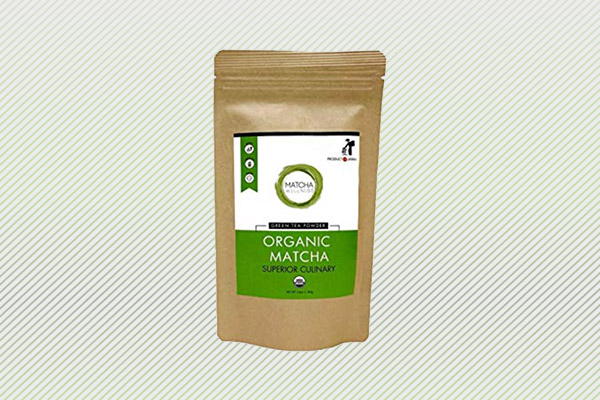 Matcha Wellness Organic Matcha
Pros:
Matcha Wellness Organic Matcha mixes up very easily, resulting in a delightfully frothy mixture. 

Taste-wise, this has a very natural essence to it. It's rich and distinctive without being cloying or overpowering. 

Since this is competitively priced, it may be a good option for folks who've never had matcha but are interested in trying it.

Company produces three grades of matcha: ceremonial, artisan, and culinary. We tried the culinary, and while it's technically the lowest of the three, it certainly got the job done. Maybe that's more telling of our palettes than this matcha? Perhaps…
Cons:
This matcha is a bit more fragrant than some of the others. While some might enjoy the essence it gives off, this reviewer found it a bit grassy.
Matcha Wellness Organic Matcha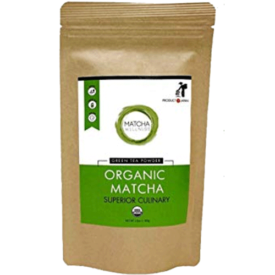 Matcha Wellness Organic Matcha
Looking for a natural tasting matcha that won't break the bank? Consider this offering from Matcha Wellness. Grown in the Uji region of Kyoto in Japan, this fresh tasting matcha sports a rich green color and fragrant, earthy smell.
Best for Cooking: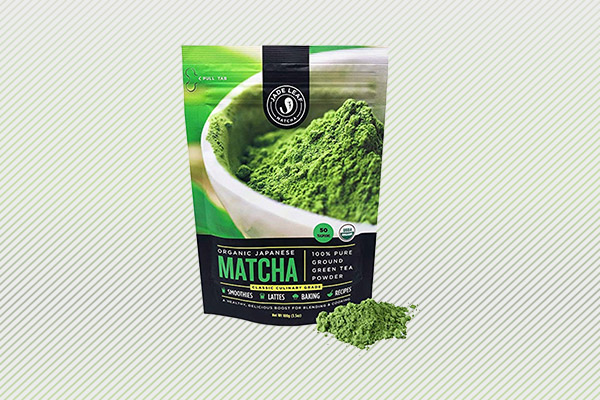 Jade Leaf Organic Japanese Matcha
Pros:
Jade Leaf uses organic matcha grown on small family-owned farms in Uji, Japan.

Every batch of Jade Leaf's tea is third party tested for purity and safety to ensure there are no heavy metals or radiation present.

Culinary grade matcha may be a terrific option if you'relooking to utilize the taste and nutritional benefits of matcha in a variety of recipes. 

Very competitively priced. 
Cons:
As a stand alone tea, Jade Leaf's matcha left a bit to be desired. It's green hue was a bit more dull than some of the competitors, and there was no froth factor. 

Taste-wise, this tea came off a bit more bitter than some of the competitors. 
Jade Leaf Organic Japanese Matcha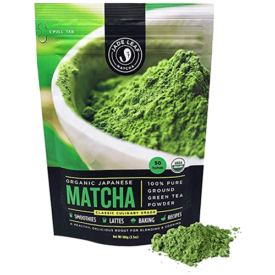 Jade Leaf Organic Japanese Matcha
Jade Leaf's Organic Japanese Matcha is sourced directly from organic farms in Uji, Japan. This culinary grade matcha may be a great choice for anyone looking to use matcha in a variety of recipes. 
Consider: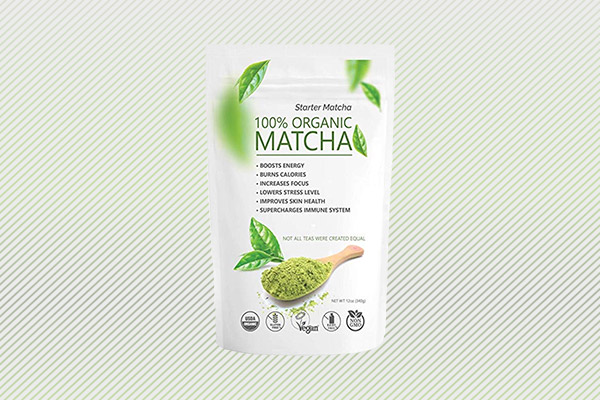 Matchaccino Starter Matcha
Pros:
Matchaccino earns top marks for affordability, as their Starter Matcha is one of the most competitively priced matcha powders on the market. 

USDA Organic and non-GMO. 

Company provides several recipes to utilize matcha as both a drink and in food items. 
Cons:
As a tea by itself, this matcha was not super tasty. It had a very dull green color to it and little to no froth. 

Very little smell and not much of a discernible taste. 
Matchaccino Starter Matcha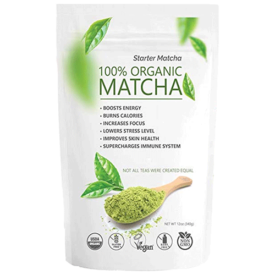 Matchaccino Starter Matcha
Matchaccino sources their matcha leaves from China to create a USDA Organic certified powder. Their culinary grade starter matcha may be a solid option for those just getting into the matcha game.
Methodology
There are a ton of manufacturers capitalizing on the current matcha trend. In testing matcha powders, we followed a simple procedure, pouring some hot water over the powder, mixing it vigorously, and adding more hot water to make a cup of tea. Regardless of how you intend to use matcha in the kitchen, there are a few key features to consider.
Grade of Matcha
The two typical grades of matcha are Ceremonial and Culinary. Ceremonial matcha is generally made from higher quality ingredients, and is intended primarily for drinking. Culinary matcha is generally a bit cheaper, and while it can be used in tea, its flavor is generally not as rich. As a result, some will turn to culinary matcha when they intend to bake with the flavors of this green plant.
Japanese Vs. Chinese
Matcha is produced in both Japan and China. Generally speaking, the Japanese versions tend to be a bit more expensive, and also tend to be a bit more forthright about exactly how and where their tea leaves are grown.
Baking
Matcha is a very versatile powder and can be used in a number of recipes to bring out its flavor. If tea is not your thing but you're still eager to try matcha, there are a number of ways it can be ingested.
Additional Tools
To prepare matcha in the way it's intended, you'll probably need to get a unique whisk and bowl. While it's still possible to enjoy matcha without these implements, die hard matcha drinkers may want to invest in the additional hardware.
Cost
Generally, ceremonial grade matcha is a bit more expensive than culinary grade matcha. To find out what kind of bang for your buck you're getting, divide the total cost by the number of ounces.
FAQs
What's the best grade of matcha tea?
For drinking, the best grade of matcha tea is typically ceremonial. Those with unrefined matcha palettes may do just fine with a culinary grade.
Is matcha better than green tea?
Matcha is different from green tea. Because the entire leaf is ground up and used when making matcha powder, it's generally higher in caffeine and other nutrients than green tea, which is typically steeped in hot water. 
Does matcha make you poop?
Well, matcha does contain caffeine. Caffeine is considered a diuretic, meaning it makes the body excrete more liquid. We'll leave it at that. 
BarBend Tips
Matcha is a unique drink that may provide a nice alternative source of energy for some drinkers. Pay attention to how your body responds after drinking it, and adjust your dosages accordingly.

If possible, it may be wise to try out a sample cup of matcha from a local cafe before committing to an entire supply of your own.
Matcha powder is a unique beverage and ingredient rich in antioxidants. It's unique dark green hue makes for attractive Instagram posts and may give you a nice mellow energy!