When taking in the scene at a gym or a park, one of the most distinguishable sights is the flash of colors and shine provided by various brands of basketball shorts. Not just a piece of apparel for the basketball court, this style of athletic short is popular for many physical activities due to their style and design. Some simply like wearing them as lounging shorts.
Since basketball shorts can have use in all types of sport and non-sport activities, it is important to contextualize the differences between different brands. Some shorts may be perfect for a person on the court but not meeting expectations for someone who wants them to serve as pajamas. We have surveyed some of the more popular brands to see how their shorts stack up when put head-to-head: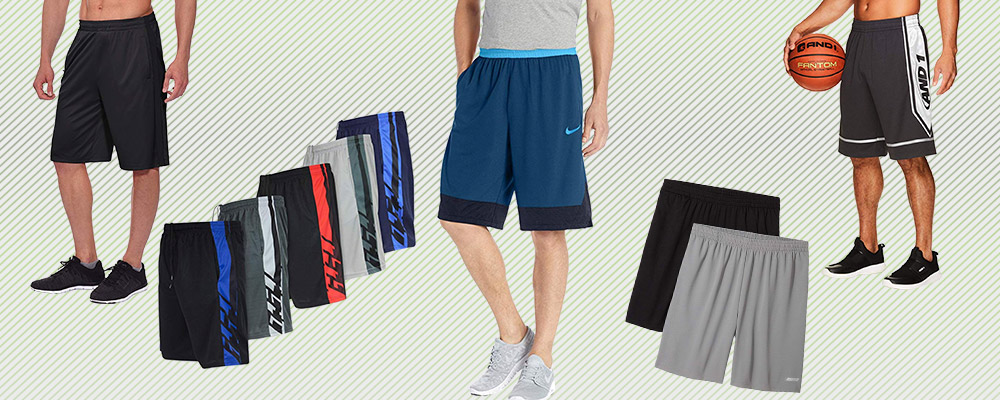 Editor's Choice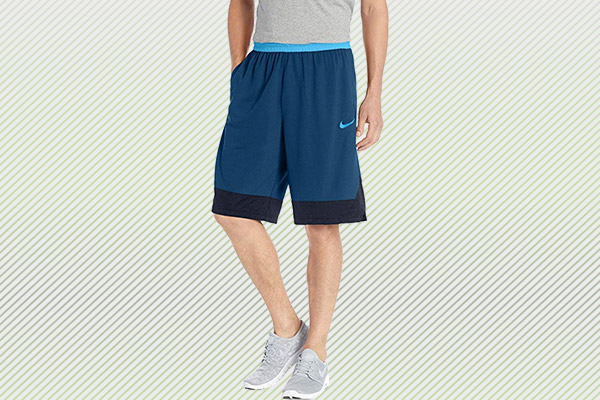 Nike Dri-FIT Icon Shorts
Pros: 
Dri-FIT. Nike's Dri-FIT fabric works to absorb moisture and move it to the surface of the shorts. Sweat evaporates instead of soaking the shorts so this is great for those who sweat a lot.

Jacquard knit. These shorts are woven with what is called a jacquard knit, which is a way of programming complex weaves. This style promotes breathability and increased durability.

Trim. Several of the options available in this line have a trim along the waistline that provides a nice shock of complementary color to the main fabric. This helps give the shorts some unique character.
Cons:
Not as soft. Due to the Dri-FIT material and jacquard knit, these shorts aren't quite as soft or smooth against the skin as traditional mesh basketball shorts.

See-through. These shorts are rather thin, and though this makes them feel less cumbersome during play, they can be a bit see-through.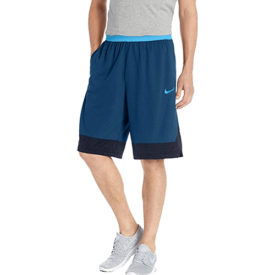 These basketball shorts from Nike are made of a quick-drying polyester woven into a breathable style of knit. This line features several solid and mixed-color options.
The Contender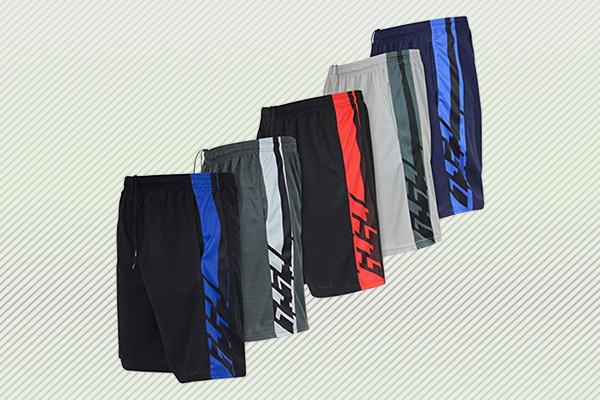 Real Essentials Men's Active Athletic Performance Shorts with Pockets – 5 Pack
Pros:
5-packs. This set is great for those who are in need of several new pairs of shorts. The per-unit price of the shorts turns out to be a great deal.

Designs. The designers of these shorts were not conservative in their stylistic choices. The diverse sets of patterns on the piping of these shorts make each 5-pack unique.

Colors. Each five pack has five shorts of different colors. This is great for creating matching outfits to go along with basketball jerseys and shoes.
Cons:
Pockets. The pockets included on these shorts are not very big or deep. Contents may fall out when sitting down, depending on how bent the legs are.

Waistband drawstring. The drawstring on these shorts has a tendency to fall inside of the waistband itself, making it difficult to tighten. It is wise to keep the drawstring tied.
Real Essentials Men's Active Athletic Performance Shorts with Pockets - 5 Pack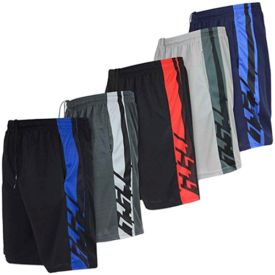 Real Essentials Men's Active Athletic Performance Shorts with Pockets - 5 Pack
This five-pack from Real Essentials provides a variety of different styles and colors within and between each variety pack. Outfitted with pockets and with a shorter fit than other basketball shorts, this is a versatile product that can be used in a wide assortment of activities.
Best Bargain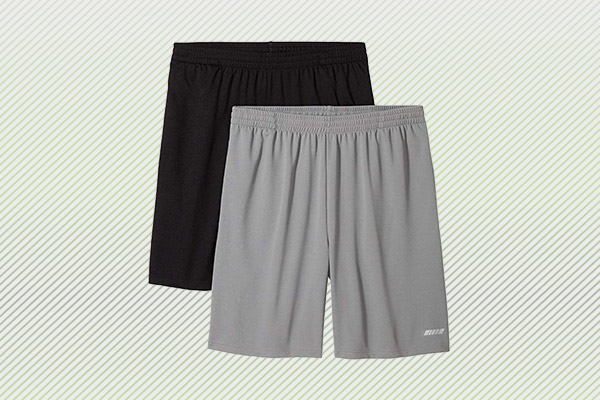 Amazon Essentials Men's 2-Pack Loose-Fit Performance Shorts
Pros: 
8" inseam. While many basketball shorts are designed with long inseams, this can make certain basketball moves more difficult, as the excess fabric can get in the way of the ball or the player's legs. These shorts have an inseam that is a few inches shorter than average.

Reflective logo. For those who plan on wearing these shorts at night, the logo, though small, provides a crucial reflective surface for increased visibility. This is great for those who go jogging at night.

Value. These are some of the most affordable classically-styled basketball shorts one can find. They offer a comparable fit and style as many name-brands but for a lower cost.
Cons: 
Waistband not that tight. These shorts will most likely need to be tied tightly before play, as the waistbands on their own may not be tight enough to stay on.

Loose fit. For those looking for a baggy fit, these are great options. Some may find that the loose fit around the thighs does not suit their frames.
Amazon Essentials Men's 2-Pack Loose-Fit Performance Shorts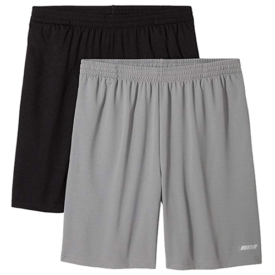 Amazon Essentials Men's 2-Pack Loose-Fit Performance Shorts
This affordable two-pack is available in packs of two black shorts or with different colors such as gray, red, navy, and blue. They are made of a soft-feeling polyester and have a loose fit.
Biggest Size Range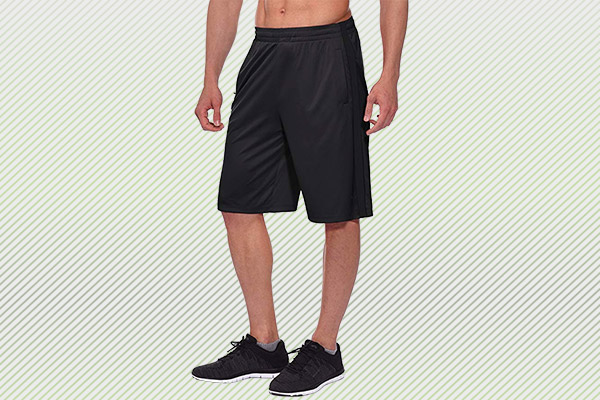 BALEAF Men's Athletic Basketball Shorts
Pros: 
Small to XXX-Large. These shorts have one of the greatest ranges of sizes of its nearest competitors. It has six sizes, ranging up to XXX-Large.

Zipper pockets. Both sides of these shorts have have zippers, making them great for safely carrying items from home to the gym and back. This is also great for when keys and other belongings can't be safely stored during play.

Tight waistband. The waistband on this pair of shorts is rather taut and provides just enough compression that many may find they don't need to tighten the strings too much.
Cons: 
Length. Those looking for moderately-long to long shorts may enjoy the length of this brand, but others may find them too long. They fall at about the knees.

Won't fit all smartphones. Though some smartphones will probably fit in these pockets, they only measure 5.5" in depth. Lots of smartphones are longer than that and will be partially uncovered.
BALEAF Men's Athletic Basketball Shorts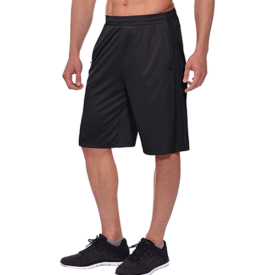 BALEAF Men's Athletic Basketball Shorts
These shorts from BALEAF feature not only pockets but zippers to keep belongings safe from falling out during play or transit. Ranging in size from small to triple extra large, these shorts have one of the largest ranges of sizes available.
Best Pockets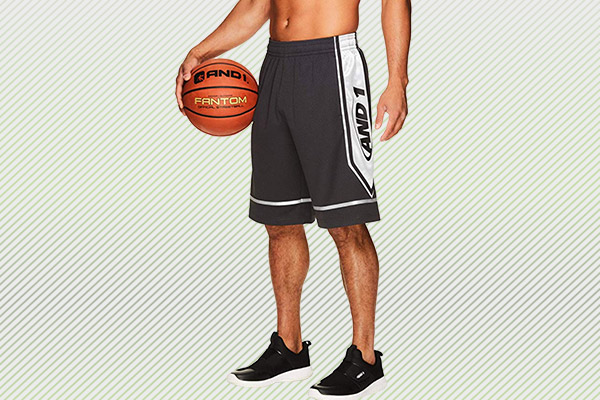 AND1 Men's Basketball Gym & Running Shorts
Pros: 
Thick waistband. A defining feature of AND1 basketball shorts are the thick waistbands. These have a greater surface area (height) along the waist and thus prevent the shorts from rolling up or falling down and can be more effective at securing a tucked shirt.

Colorful. While many brands focus on similar areas of the color spectrum, AND1 makes shorts using more off-beat colors like orchid, coral, and lime. Great for those who want to show some flare with their style along with their game.

Deep pockets. These pockets are designed to be large enough to fit many types of smartphones (or about two tennis balls). Smartphones are one of the main reasons people may want to have basketball shorts with pockets.
Cons: 
Tight waist. The waistband on these shorts may be too tight for some people accustomed to wearing a certain size. People on the edge between two sizes should perhaps go one size up.

Limited sizes and colors. While there is a great range of colors, there aren't a lot of neutral options. Also, not ever color is available in every size.
AND1 Men's Basketball Gym & Running Shorts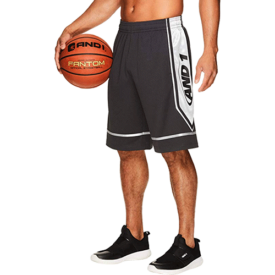 AND1 Men's Basketball Gym & Running Shorts
The AND1 Men's Basketball Shorts feature a wide range of colors, deep pockets, and are made of a quick-drying fabric that helps players deal with sweat. The waistbands are especially secure with these shorts.
How We Picked
Basketball shorts have a very meaningful presence both as a signature part of a sport uniform and as generally comfortable and versatile shorts to own. There are certain aspects of shorts that can be a positive or negative in either case. Here are the factors we used when measuring various options:
Shape
Though sharing many attributes, all basketball shorts aren't necessarily designed in a uniform way. The length of each pant and the shape of the cut can make a big difference in the comfort level for different players. It can also have an impact on performance if the shorts are being used in another activity such as jogging.
Shorts that are too long either in the pant or in the inseam can actually be obstructive when playing basketball. Certain moves, such as a between-the-leg dribble, uses some of that same real estate. Those hoping to wear the shorts purely for leisure may enjoy the extra room this style provides, however.
Style
The most basic version of basketball shorts may not feature any designs or patterns, but they can still be distinguishable based on color. While neutral and subdued colors such as black, white, and gray are popular options, there are any number of variously colored basketball shorts to be found. Those with a favorite color can surely find a pair of shorts to wear that fulfills their fashion needs.
Further, the waistband and piping of the shorts can provide extra opportunities for unique and colorful designs. These accents often offer a nice pop of color that can provide flair or just another color to match with. The use of branded logos and other imagery can also enhance the look of a pair of shorts.
Material
Most basketball shorts will be made out of polyester, though that is not an ironclad rule. Some manufacturers make shorts out of cotton or nylon, or in a blend with polyester. Not all polyester materials are going to be the same either; the knit of the fabric plays a part as well.
Some designers use knits that promote quicker drying of sweat. There are a number of weaves that can achieve this; each brand may even employ their own, proprietary sort of knit. As far as the aesthetics of the fabric, one of the stylistic differences that emerge between various basketball shorts is the amount of shine the shorts show as they are moved under lights, with some brands making that a key feature of their products.
Tips
Not sure which basketball shorts are right for you? Before taking the court, here are some considerations to make:
Do you need pockets?

Not everyone needs pockets while they play basketball. Those looking for something strictly to wear in games can probably get a lower-priced product without pockets.

For those looking for shorts with pockets, it is wise to measure the size of your phone or wallet to see if they will fit in a particular pair.

Will you use these for basketball or other activities?

Those hoping to play basketball in their new shorts should consider the fit of the shorts. Those who do a lot of ball-handling may want to have a shorter inseam, for example.

Those who will be using the pants as pajamas or as general activity shorts may be more interested in aesthetics or the softness of the material.