Tank tops are a classic part of any man's wardrobe. Whether worn as an undershirt, for working out, or for just lounging around the house, tank tops are designed to be versatile and comfortable. Depending on the intended use or uses of these tank tops, different competing brands have certain aspects of their tanks that may put them over the top. Because this purchase might lead to a piece of apparel that is worn everyday, it is important to get the right shirt for you. To help make this decision, we've compared some of the leading brands to see what they are all about. Here is what our findings were: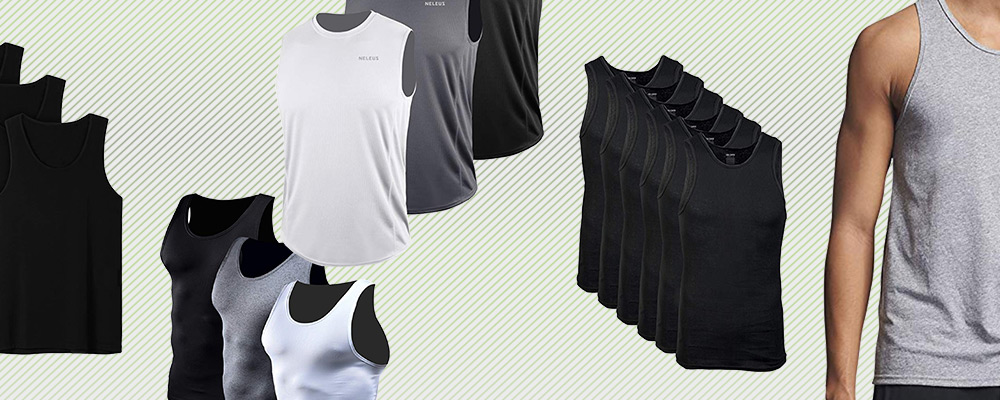 Editor's Choice
Gildan Men's A-Shirts Multipack
Pros: 
No tag. One of the most irritating components of a t-shirt or undergarment can be the tag at the back of the collar. Gildan has removed that inconvenience by including the relevant product information right on the fabric, saving those who frequently feel the tags on other shirts from experiencing the same with these tank tops.

100% cotton. Cotton is commonly used as material for undergarments and t-shirts because of its softness and comfort, even while being kinetically tested. Cotton can easily stretch and fold with bodily movements while not pressing too tightly to the skin.

Moisture repellent. This product from Gildan uses a special finishing process to its cotton material, applying a technology they call Cool Spire Moisture Wicking, which attracts moisture from the skin and disperses it across the surface of the tank top, allowing it to evaporate. Additionally, cotton is known to absorb more moisture than most other materials, meaning the surface of the skin stays even more dry.
Cons: 
Can't get all grey. For some reason, the manufacturer doesn't have an option to get all grey tank tops. Shoppers can get a black set and a white set, but the two varieties of grey offered only come in a variety pack with black tanks as well.

Thin shirts. These shirts aren't the thickest weave of cotton, meaning they may degrade faster than other articles of clothing. Depending on how often these are worn, that may mean buying a few packs at once.
The Contender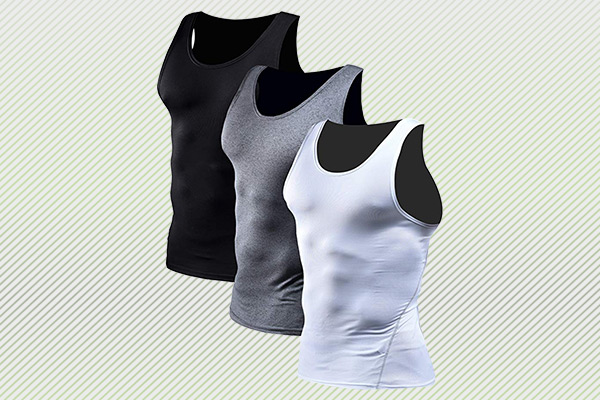 Neleus Men's 3 Pack Athletic Compression Tank Top
Pros:
Compression fit. Unlike cotton tank tops, this offering from Neleus utilizes the properties of spandex and polyester to make a tight-fitting but stretchy tank top. Neleus uses a "four-way" stretch design process that allows the material to stretch and bend any which way while still maintaining its form and tight fit to the body.

Color options. For those hoping to add some vibrancy to their work-out attire, Neleus offers bold blue and red colors to supplement their grey, black, and white offerings. These color options can be purchased in variety packs with black and grey tank tops.

Won't wear down as fast. Because this product is made primarily of polyester, it is likely to last longer than most cotton competitors. Polyester is a synthetic fabric that is designed to last longer than natural fibers, like cotton. These synthetic fibers are also designed to be resistant to most chemicals so will not degrade as much as cotton when washed.
Cons:
Sticks to skin. Though the compression fit may be preferable to those who will wear this as an undershirt or prefer tight-fitting work-out clothes, others may be uncomfortable with a tank top material designed to form to the skin.

Sizes are small. Customers who are used to wearing small will probably need to get a medium, and so on and so on. Easy mistake to avoid, but for those purchasing a size that is normal for them, this may be an annoying inconvenience involving a return shipment.
Best Bargain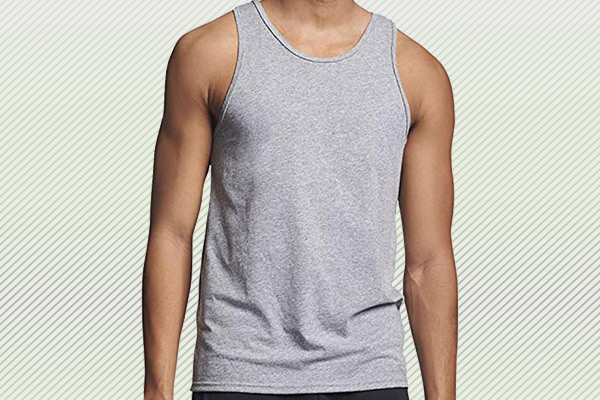 Russell Athletic Men's Cotton Performance Tank Top
Pros: 
Size options. Unlike other competitors, Russell makes shirts to fit any shape, size, or performance need. With sizes ranging from small all the way up to 4XL, most customers should be able to find a shirt that fits their fancy.

Blended material. This shirt from Russell features some of the best aspects of cotton and polyester and combined them into one shirt. This tank top won't wrinkle as much as cotton and will dry faster, while it won't adhere to moist skin as much as polyester.

Cost. This tank top is definitely one of the most affordable on the market. These shirts can be bought individually for less than the usual cost of lunch.
Cons: 
Runs small. This is another brand that tends to run small in terms of its sizing. Those accustomed to a small may need to order a medium, a medium should order a large, etc.

Large arm-opening. Though many customers may be looking for a tank top with large holes cut out for the arms, some may prefer a tighter fit, whether for performance or cosmetic reasons. This tank top has a larger arm-opening than many similar competitors.
Best Design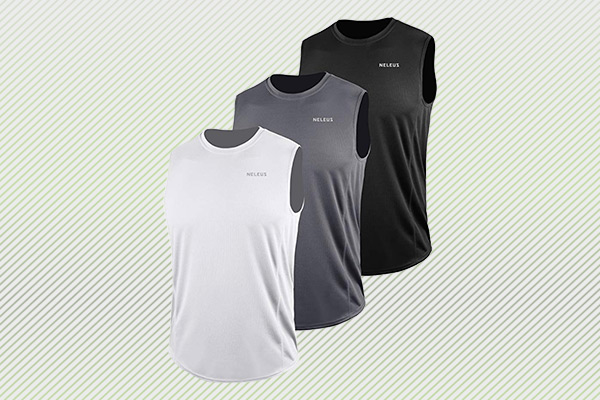 Neleus Men's 3 Pack Dry Fit Y-Back Muscle Tank Top
Pros: 
Variety of colors. This offering form Neleus has all of the standard colors someone would expect from a tank top manufacturer, such as grey, white, and black. Additionally, customers can opt for red, blue, yellow, and green shirts, perfect for those hoping to feature a different style every day.

Mesh openings. The mesh-like fabric in these Y-Back Muscle Tank Tops are great for allowing air to flow to hot skin, and to let the skin have airways through which to breathe. It also keeps the material feeling lighter than solid fabrics.

Shape. The Y-back, otherwise known as Racerback or T-back, provides a flattering cut on the back, while allowing more movement and less sweaty fabric to deal with. This is especially popular with weight-lifters and bodybuilders.
Cons: 
Armpit flares. For some users with smaller frames, this shirt may flare out at the armpit. Though this won't be particularly noticeable or even in the way of a work-out, for some people the shirt won't fit like it looks like it should in the pictures.

Retains smell. As this is a 100% polyester tank top, sometimes the body odor earned while working out will be retained by the material until washing. Not a big problem unless planning on wearing the shirt multiple times before washing.
Best Fabric Options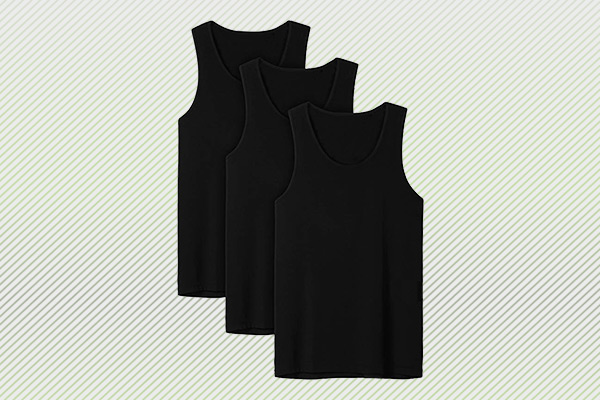 David Archy Men's Bamboo Rayon & Cotton Crew Neck Tank Tops
Pros: 
Bamboo rayon. Customers can find David Archy tank tops made out of 95% bamboo rayon (a synthetic fabric made out of natural pulp). This makes for a silk-like texture with the durability of a material more akin to polyester.

Ribbed cotton. The David Archy tank tops that utilized a ribbed knit are made to be more durable and elastic than standard cotton. The alternatively raised lines of weaving might make for a more long lasting and versatile work-out shirt than competitors with plain knit cotton.

Long length. While some people may like a longer length tank top for how it falls on the body, others may opt for a longer tank top so it can be more easily and securely tucked in. Perfect for those who need a tucked-in shirt for sports or competition.
Cons:
Price

. These are one of the more expensive tank tops available in the market. With such variety in fabric composition and with its high quality manufacturing, some customers may find it worth it. If you are used to basic style tank tops, this may be excessive.

Sizes run big. As opposed to what is commonly found with tank tops, these offerings from David Archy can be larger than what most would expect. Those who are used to ordering a large may find a medium to be a better fit, for example.
How We Picked
Tank tops are a popular piece of apparel that can be found anywhere from the beach, to the gym, and even in the office. Their usefulness in any of these settings is dependent not just on the properties of the tank tops, but also the size and preference of the wearer. There are certain factors that might make a shirt unbearable to wear for some people, but a go-to attire for others. Because this is such an intimate product that could feasibly be worn day-in and day-out, it is important to get this right. Here are some key aspects of tank tops that might affect a customer's decision making.
Material
One of the most notable differences found between competing tank tops is the varying material used as fabric. Some shirts go all-in on classic cotton, one of the more traditional materials used for all kinds of undershirts and t-shirts. Cotton has benefits when it comes to moisture absorption and softness, though may not be as durable as its synthetic brethren, such as polyester and spandex. These materials have a different feel to the touch, yet provide more durability and can fit the body differently, usually a bit tighter. Rayon is another option, as it is rather smooth to touch like silk and nylon, and is a strong material for being so lightweight.
Stretchiness
Depending on if these tank tops are meant to be used in rigorous physical activity, used as an undershirt for work or while playing casual sports like golf, or are merely a pajama shirt, the elasticity of the material might be of utmost importance – or could merely be uncomfortable. People looking for loose-fitting tanks will probably opt for cotton or cotton-polyester blends, as these tend to keep their form or even get saggier. Compression-style shirts are popular with athletes and bodybuilders but may simply be uncomfortable for some people.
Fit
These shirts are not all cut from the same cloth. Many are designed to be tucked in, and have extra-long lengths that allow them to be tucked in without fear of coming undone during a workout or competitive match. Tank tops can have wide or narrow arm-holes, both of which may be flattering or unflattering for certain wearers. Wider arm-holes are popular with lifters and athletes who need great mobility with their arms. These tank tops are all sized differently as well, meaning those who like a baggy fit may have to order a size up or size down from what they normally would get. These shirts are typically designed to be loose, fit snug, or to be literally skin-tight, which should help lead customers in the right direction.
Style
There are several different looks that can be found when shopping for men's tank tops. Traditional tank tops, commonly in white, are a popular choice that have classic features or can be modern upgraded versions. Those looking for something simple or subdued can get a white, black, or grey tank top from most companies. Even modern compression-style tanks can look neutral and classic. Those wanting to splash some personality while working out or as an undershirt can find some brands with several color options. This is great for those who plan on wearing these tank tops often but don't want to repeat the same look day-in and day-out.
Tips
Not sure which men's tank top is right for you? Below are some considerations to make before making your choice:
Will you be wearing this at the gym? Some tank tops are frankly better for athletics than others. That doesn't mean that they all can't be used for working out, whether at home or at a public gym. Brands are making tank tops that are compression fit or with a y-back shape, specifically catering to weightlifters and other athletes who are looking for either compression or increased range of motion. The y-backs also help show off muscle definition on people's backs. If these tank tops are going to be worn often it is best to get a pack of multiple tanks, especially if looking for a variety of looks and colors.

How tight do you like your shirts? A big decision to make when choosing the right tank top is how tight you would like the shirt to fit. Some shirts are specifically designed to be skin tight, such as compression tank tops. Other companies simply design their shirts to be on the smaller side, so people may be getting a more snug fit just by ordering their typical sizing. Some materials are better suited for tight fits, such as polyester and spandex. For those hoping to use the tank top as an undershirt, especially in athletics, a tighter fit may be the preferred option.

What is your aesthetic? Most tank top manufacturers provide their tank tops in neutral colors, like black, white, and grey. These are classic colors for a tank top and can be used in a variety of environments, whether athletic, business (as an undershirt), or casual. However, some customers may want to have a little fun with their attire, and should look for brands that offer a variety of color options. These can often be found in variety packs. Those who plan on wearing these tank tops every day to the gym may look at color options to add some variety to their wardrobe.