Hailed by some as the next "superfood," moringa oleifera, also known as the drumstick tree, is a large tree native to north India. Most parts of the tree are edible, and the moringa has been used as an ingredient in herbal medicine for centuries. Today, it's commonly used as a dietary supplement (1). It is an impressively dense source of nutrients, including protein, Vitamin A, Vitamin B6, Vitamin C, Magnesium, Iron and Potassium (2). While most folks who follow a well-balanced diet will ingest most of these nutrients on a daily basis, it may be a helpful dietary supplement for some.
Though more research is needed, some evidence suggests that taking moringa could come with some health benefits. This green powder may have antioxidative properties, may help lower blood sugar, and may be good for cholesterol (3) (4) (5). In all of these instances, the scientific research is still a bit thin, and more studies will be needed to reach any firm conclusions. In general, most moringa supplements, including the ones we looked at, utilize the tree's leaves in formulating their powder. Excessive amounts of moringa roots and seeds, though not commonly found in the supplement market, may have toxic side effects. It's also worth noting that pregnant women are generally advised to avoid moringa supplements, as they may have undesirable side effects (6) (7). However, moringa's nutritional profile and possible health benefits have made it an increasingly popular supplement in recent years. With an uptick of moringa supplements available on the market, it's important to know what to look for when deciding which one is right for you.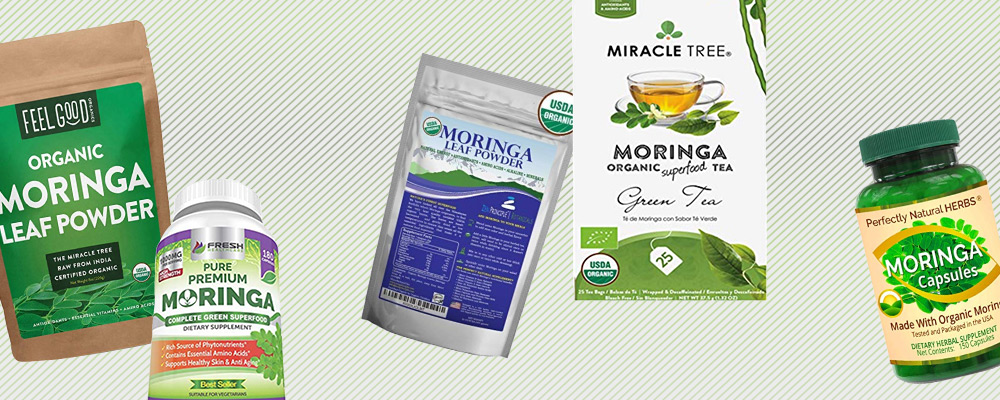 Editors' Choice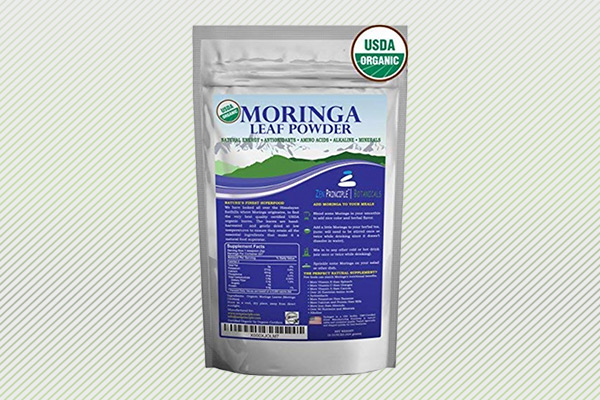 Zen Principle Moringa Leaf Powder
Pros:
With 227 servings per container, this is an excellent source of moringa for folks who intend to use it on a regular basis.

Zen Principle's moringa is grown on small farms in the Himalayan foothills.

Powder comes in a resealable bag that many reviewers found to be very convenient and effective.

Gluten-free, vegan friendly and processed in a Good Manufacturing Practices facility.

On a per serving basis, this is one of the most competitively priced moringa products on the market.
Cons:
Though this supplement is priced competitively, this may be a lot of moringa for folks who are not intending to take it regularly. 
Contender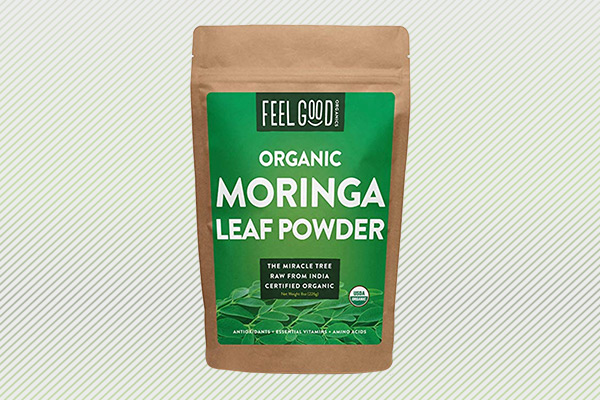 Feel Good Organic Moringa Leaf Powder
Pros:
Each batch of this non-GMO, organic supplement is lab tested for chemicals and heavy metals. 

The manufacturer offers full refunds if you're not happy with the product. 

This 100% raw powder is grown by a collection of farmers in India, whom the manufacturer asserts are fairly compensated.

Each 3g serving of Feel Good's moringa contains 10 calories. They include a variety of recipes, including soup and smoothies suggestions.
Cons:
Only 75 servings in each bag.
Best Tea Bags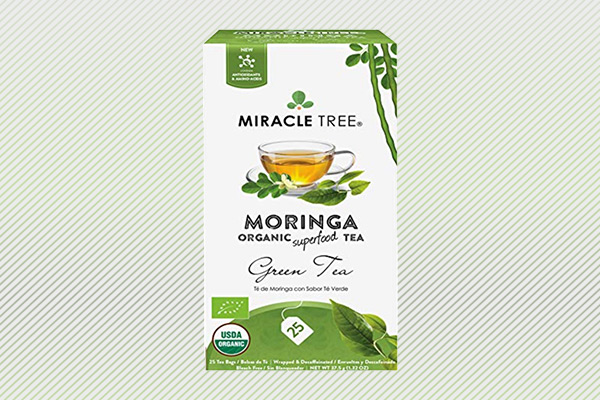 Miracle Tree Moringa Green Tea
Pros:
This certified organic supplement contains zero sugar, additives or calories. 

Miracle Tree's tea is a mixture of dried moringa leaves and green tea leaves.

These individually wrapped tea bags may be an easy way for some folks to add moringa to their diet. 
Cons:
On a per serving basis, this is a bit pricier than some of the other supplements we reviewed.

Compared to some of the other supplements we looked at, the smaller serving size of this tea makes the nutritional profile a bit less robust.
Best Capsule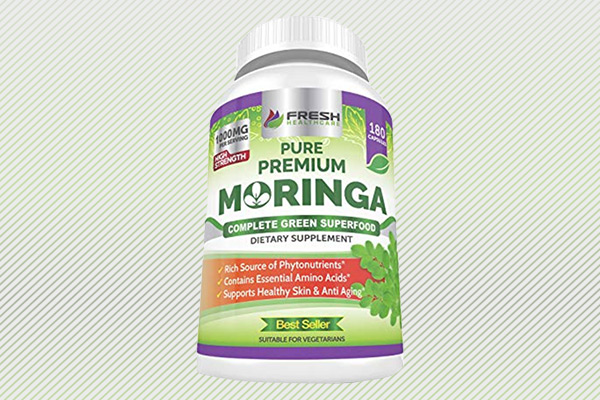 Organic Moringa Capsules
Pros:
Each capsule contains 500mg of organic moringa powder. 

These vegetarian friendly capsules are GMO free and made without any artificial fillers. 

Moringa organically grown in India and packaged in California. 

Manufacturers offer a 100% money back guarantee, so if you're not satisfied with your purchase, send it on back. 

Company donates 5% of profits to support Medical Relief International.
Cons:
On a cost per gram basis, these capsules rate a bit higher than some of the other powders we reviewed. 

The advertising makes quite a few claims about the efficacy of moringa, most of which are not backed up by any research.
Contending Capsule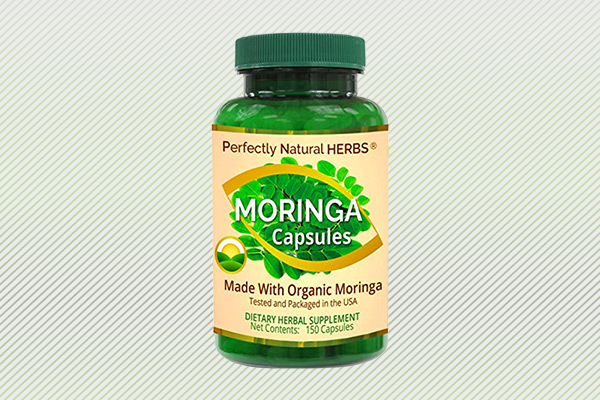 Perfectly Natural Herbs Moringa Capsules
Pros:
For folks who don't enjoy mixing up powders, these capsules may be a more convenient way to get a good source of moringa.

These capsules are vegan friendly

The company offers a 100% money back guarantee.

No fillers or additives, as the only ingredients listed are organic moringa and a vegetarian capsule.
Cons:
At 500mg per capsule, this is a relatively lower dosage of moringa compared to some of the other supplements on the list. 
Methodology
As moringa has gained popularity as a supplement in recent years, more and more manufacturers have started creating their own versions of this green supplement. While independent third-party testing is not readily available, there are still a few key things to look for while searching for the right moringa supplement.
Dosage
The amount of moringa per serving will vary from brand to brand. Generally, the more grams per serving, the higher dose of vitamins and nutrients you'll receive. Of course, however, that can also dovetail with an increase in calories.
Form
Moringa is commonly sold as a powder or a capsule, and occasionally as a tea. When you're deciding which type of moringa to purchase, consider how you'll use it. In theory, it may sound delightful to start your day with a moringa smoothie. In practice, if you're already rushing out the door to work in the morning, you may want to opt for capsules.
What's Inside
Although independent third-party testing for moringa purity is not currently available, it's still important to check the label to insure you know what you're putting into your body. Some supplements will use fillers or additives to enhance the texture of flavor.
Cost
Generally, you'll get a better bang for your buck when you opt for powders over capsules. However, not everyone finds powders to be an extremely convenient way to take a supplement.
BarBend Tips
If you decide to try out moringa, it may be wise to start slowly. Try taking a half dose for a few days to let you body ease into it.

Before you click purchase, consider when and how this supplement will fit into your daily regimen. You certainly won't see any benefits from a supplement that you don't take regularly.

Note: pregnant women are generally advised to steer clear of moringa.
Moringa is a natural supplement derived from drumstick trees indigenous to northern India. While the jury is out on some of the broader health benefits it may offer, moringa is a packed source of nutrients and protein. Though moringa has been found to be generally safe, it's advisable not to exceed the recommended dosages, particularly if moringa roots or seeds are used in the formulation of the supplement (6) (7).
References
Quinton A, Davis U. Moringa, the next superfood? The Washington Post. https://www.washingtonpost.com/brand-studio/wp/2018/10/09/feature/moringa-the-next-superfood/. Published October 9, 2018.

Food Composition Databases Show Foods List. Usda.gov. https://ndb.nal.usda.gov/ndb/search/list?fgcd=Branded+Food+Products+Database&ds=Branded+Food+Products. Published 2019.

Chumark P, Khunawat P, Sanvarinda Y, et al. The in vitro and ex vivo antioxidant properties, hypolipidaemic and antiatherosclerotic activities of water extract of Moringa oleifera Lam. leaves. Journal of ethnopharmacology. 2008;116(3):439-446.‌

Sreelatha S, Padma PR. Antioxidant activity and total phenolic content of Moringa oleifera leaves in two stages of maturity. Plant foods for human nutrition (Dordrecht, Netherlands). 2009;64(4):303-311.

Mbikay M. Therapeutic Potential of Moringa oleifera Leaves in Chronic Hyperglycemia and Dyslipidemia: A Review. Frontiers in pharmacology. 2012;3:24.‌

Possible Role of Moringa oleifera Lam. Root in Epithelial Ovarian Cancer. Medscape. https://www.medscape.com/viewarticle/551169_4. Published February 6, 2007.

Kamal Patel. Moringa Oleifera: Uses, Side Effects, Interactions, Dosage, and Warnings. Examine.com. https://examine.com/supplements/moringa-oleifera/#things-to-know. Published September 18, 2019.