Nutritional yeast, sometimes referred to as "nooch," is a popular ingredient and topping used in vegan cooking. Also known as saccharomyces cerevisiae, it is the same type of yeast used to brew beer or bake bread, but it's grown specifically to be used as a food product. It typically comes in flake form and has a savory flavor many folks think resembles cheese, and so is frequently used as a topping on salads, popcorn, and a host of other foods.
In addition to being a savory food additive, nutritional yeast is typically a good source of protein, B Vitamins, and some trace minerals. Depending on the brand, nutritional yeast flakes are sometimes fortified with folic acid and Vitamin B-12. Vitamin B-12 is commonly found in meat, so folks following a vegan diet may benefit from adding nutritional yeast to their menu. With so many nutritional yeast options on the market, it's important to know how to distinguish between them. We rounded up some of the top brands, then tasted and compared them.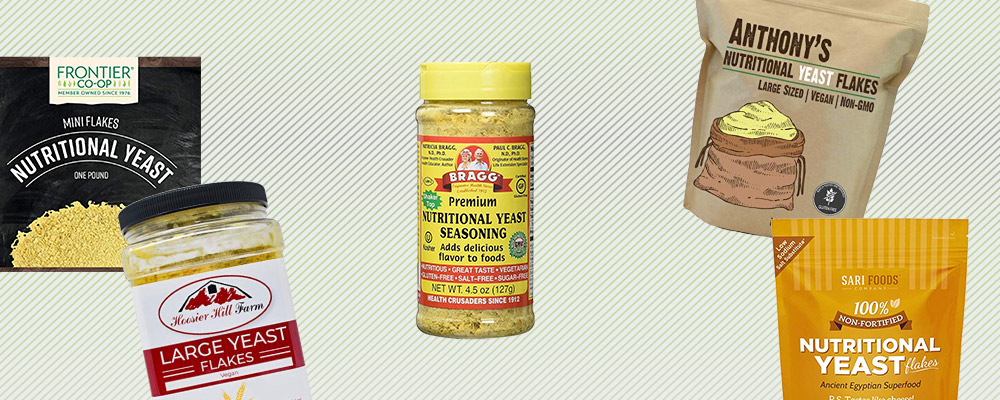 Editors' Choice: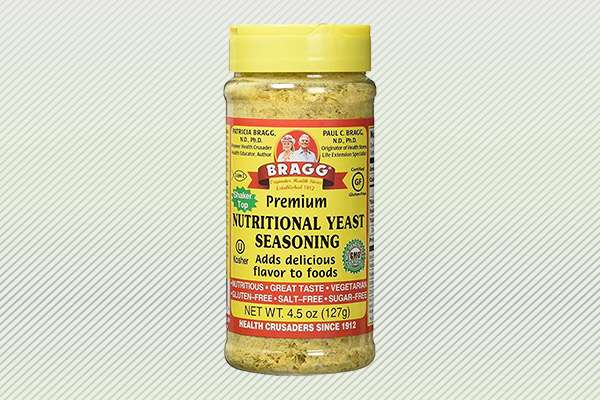 Bragg Nutritional Yeast Seasoning
Pros:
Each 1 tbsp serving contains 5g protein and 3g of carbs. Also an excellent source of Vitamins B1, B2, B3, B6.

These vegan, low sodium, gluten and sugar-free flakes are fortified with folate and Vitamin B12

The classic-looking bottle contains both a wide mouth and a narrow opening, making it good for measuring out large amounts or sprinkling flakes on top of prepared food. 

With a slightly nutty, savory taste, Bragg's makes a lovely addition to plain popcorn, though we did add a bit of olive oil to help the flakes stick. 
Cons:
Compared to some of the other items we looked at, this checks in as a bit more expensive on a per serving basis. 
Also Consider: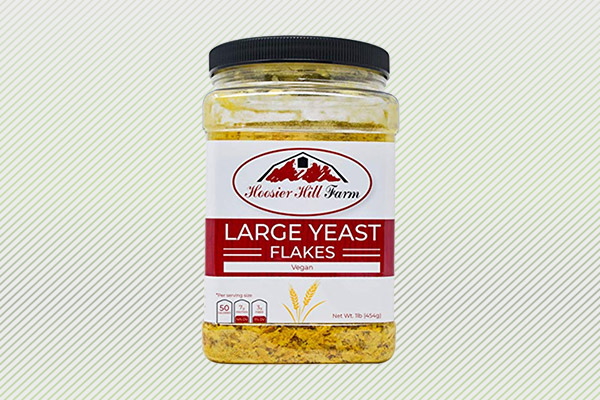 Hoosier Hill Farm Nutritional Yeast Flakes
Pros:
Hoosier Hill's nutritional yeast flakes are non-GMO, gluten-free, and of course, vegan friendly.

Fortified with Vitamin B12, with each 2 tbsp serving containing 1,460% of the daily value.

Competitively priced.

In our taste test, these had a somewhat muted taste profile compared to some of the other brands. However, there was still a slight nutty, savory sensation, making it a nice addition to a light snack. 
Cons:
This product comes in a very wide mouth 1lb plastic jar without a scoop, making it a bit awkward to get flakes out if you're using it as a topping. 

At 3.5g per tbsp serving, this is among the least protein-dense of the nooch we looked at.

Hoosier Hill's flakes had a pretty big size discrepancy between the biggest and the smallest, making each spoonful of seasoning a bit unique.
Contender: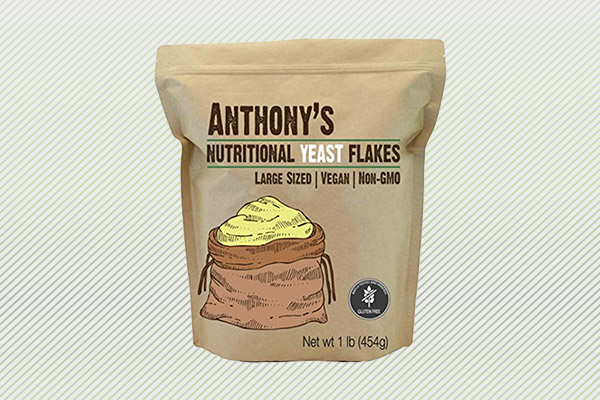 Anthony's Nutritional Yeast Flakes
Pros:
Anthony's claims that their product is fortified by natural fermentation and that there are no synthetic vitamins or nutrients added. 

These non-GMO and gluten-free vegan flakes are quite small and have an almost dusty quality to them. 

Each tbsp contain 5⅓ g of protein.

Competitively priced. 
Cons:
Comes in a resealable bag, but the bag did not reseal all that easily. 

These flakes tasted perfectly fine at first, but carried a bit of a pungent after taste after a few bites. 
Non-Fortified Option: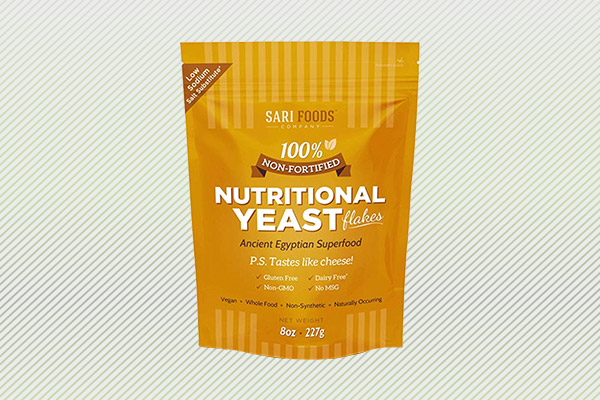 Sari Foods Nutritional Yeast Flakes
Pros:
Sari Foods Nutritional Yeast Flakes are not fortified with any synthetic vitamins, making it entirely natural.

Marketed as a "low sodium salt substitute," this topping is gluten and dairy-free, non-GMO, and vegan. 

Manufacturer claims that these flakes deliver all 18 amino acids and are a good source ov Vitamin B.

Comes in an easily resealable pouch. 

With a relatively even consistency and an almost crystal-like appearance, these flakes function well as a topping. Taste-wise, they're not overpowering, but provide a delightful savory, salty addition to otherwise plain snacks. 
Cons:
On a per ounce basis, these flakes are a bit more expensive than most of the other nooch we looked at.

Since it's not fortified, this product contains no Vitamin B12 or folate.
Best Value: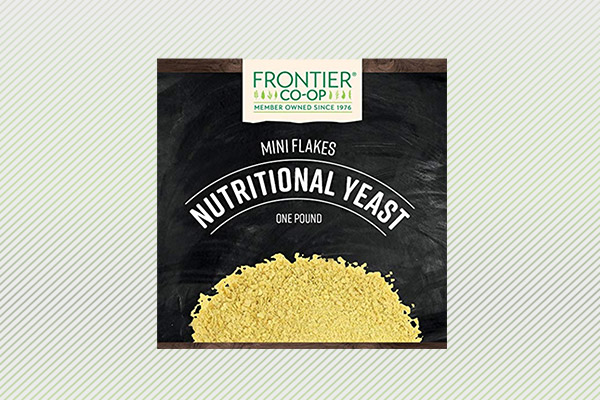 Frontier Co-Op Nutritional Yeast Mini Flakes
Pros:
Frontier Co-Op's nutritional yeast is available at a very competitive price. 

These mini flakes are dairy-free, certified Kosher, and sustainably grown without pesticides, toxins or irradiation in Estonia. 

These flakes are a bit smaller on average than some of the other nooch competitors on the market, but pack a pleasant, almost herbal taste. 
Cons:
These nutritional yeast mini flakes are delivered in a big, rather utilitarian foil bag, so you'll probably want to store them in your own container. 

Frontier Co-Op's nooch has a more pungent smell than some of the other competitors, which may not be appealing to all. 
Methodology
Nutritional yeast flakes are a very popular vegan ingredient, often used in place of cheese or other salty toppings. Often rich in Vitamin B-12 and folic acid, "nooch" has seen increasing popularity in recent years, ad more and more folks turn to vegan diets. When deciding between all the nutritional yeast options on the market, there are a few key things to consider.
Fortified or Non-Fortified
Most nutritional yeast is fortified with additional supplements, usually folic acid and Vitamin B12. Since Vitamin B12 is most commonly found in meats, vegans may have a tricky time getting enough of it in their diets, which makes fortified nutritional yeast a useful tool.
Non-fortified nutritional yeast may be more appealing to those who wish to avoid any synthetic nutrients.
Protein
Nooch is often about 50% protein. Take a look at the Nutrition Facts on the label to see how much protein is listed per serving. Note, however, that not all serving sizes are created equally; some are based on 1 tbsp, others on 1.5, and other on 2 tbsp.
Cost
To get a sense of how much bang you're getting for your buck, divide the total cost of the item by the amount of ounces.
Container
Nutritional yeast comes in a variety of container types, ranging from huge bottles to small shakers to resealable bags. Though you don't need to refrigerate nutritional yeast, you'll want to think about where in your kitchen you intend to store it, and if you have room for a bulk-sized container.
BarBend Tips
Though nutritional yeast is certainly and definitionally not cheese, it can be used to give a salty, savory flavor to a number of snacks.

If you're transitioning to a vegan diet, check out the wealth of recipes available online; many folks have been experimenting with nutritional yeast for years and have found innovative ways to use it in cooking.
Nutritional yeast, or nooch, has a salty, almost nutty quality to it. Though a lot of folks use it to replace cheese in vegan dishes, its unique nutritional and flavor profile make it a valuable addition to a healthy menu.