A paleo diet is all about consuming plenty of lean meats and fish, fruits and vegetables, and all kinds of other foods that would have been available to our hunter-gatherer ancestors. It also cuts out processed foods, refined sugar, artificial sweeteners, and dairy products, which means some extra creativity might be needed when it comes to snack time.
We've looked at a variety of paleo-friendly meat, fruit, and vegetable-based snack options that can help satisfy cravings without deviating from a paleo diet. We've listed our favorites below.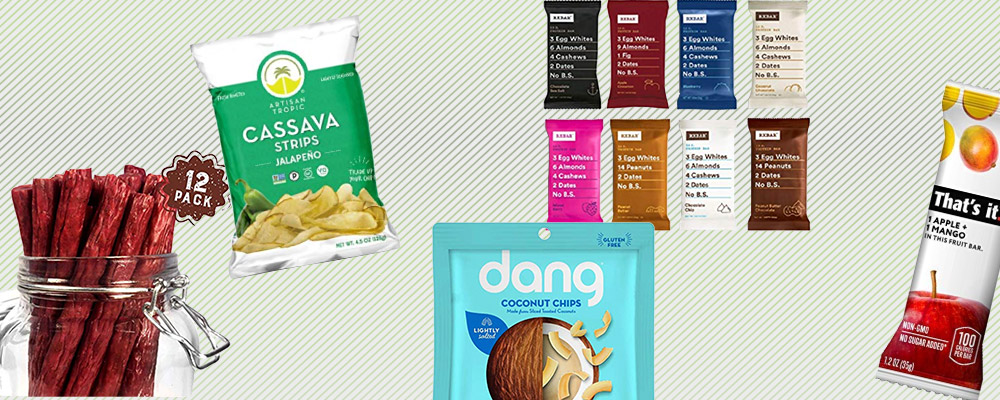 Editor's choice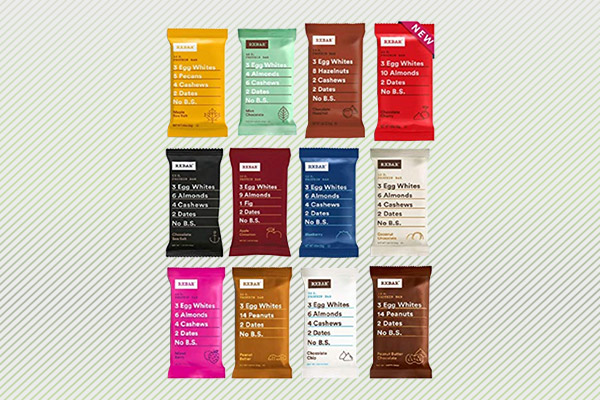 Protein bars by RXBAR
Pros: 
The ingredient list is straightforward and printed conveniently on the front of the package.

There are a number of paleo-friendly flavors offered, and the ones we tried had rich flavors and pleasing texture. 

Each bar contains about 12 gr of protein. 

Competitively priced. 
Cons:
Since they contain no preservatives, the bars needs to be stored in a cool, dry area to avoid mold. 

Dates are a key ingredient in these protein bars and add a notable flavor and texture to them. If you're not a fan of dates, these bars may not be for you. 

Some of the bars are chewier than others, depending on the ingredients they contain.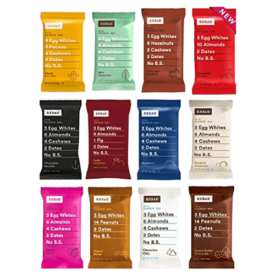 RXBAR offers a variety of flavors that are generally paleo-friendly—the ones containing peanuts being a notable exception since peanuts are legumes. Devoid of artificial colors or preservatives, these protein bars pack are a tasty and satisfying paleo-friendly snack. 
Best meat-based option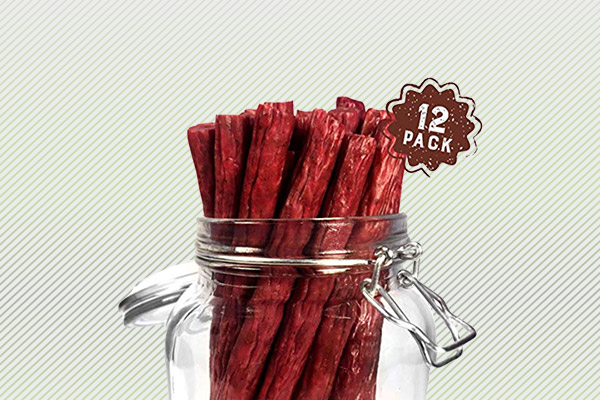 Beef snack sticks by Mission Meats
Pros:
The sticks are made with

100% grass-fed, grass-finished, and pasture-raised beef.

The flavors are rich and tasty—they have a slight kick to them, but if you can handle a light drizzle of hot sauce you could handle this level of spice.

It has a pleasing texture, a good "snap" when you bite down, and doesn't leave you with a greasy feeling in your mouth. 

Your snacking will be supporting a good cause: Mission M

eats gives 10% of its proceeds to social good organizations that have a philosophy of empowering people to help themselves.
Cons:
The packaging can be hard to open without a pair of scissors or a knife. 

While you may be happy to hear that the sticks don't contain any preservatives, that also means that there's a higher risk of spoilage. You'll want to make sure you store it properly and don't puncture the vacuum seal prematurely.

Per serving, these beef sticks are one of the pricier items we looked at.
Beef snack sticks by Mission Meats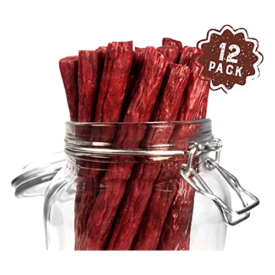 Beef snack sticks by Mission Meats
These sticks come in a variety of flavors and are made with 100% grass-fed beef originating from the United States and Australia. They're tasty, easy to transport, and will give you a good midday protein boost. 
Best fruit-based option:
Fruit bars by That's It.
Pros: 
The ingredient profile is just the dried fruits, so you know what you're consuming is clean and definitely paleo-compatible.

The texture is soft and chewy (comparable to a prune or a soft brownie).

The bars are compact and easy to store.

These fruit snacks have a shelf life of about 2 years. 
Cons:
The flavor can be on the tart side, especially if you're opting for the more sour fruit combos. 

For their price, these bars are relatively small (they contain 1.2oz per bar).
These fruit bars are perfect to grab and go, they're chewy and delicious and contain nothing but the fruits themselves. You can pick the fruit blend that stands out to you or try out the variety pack.
Contender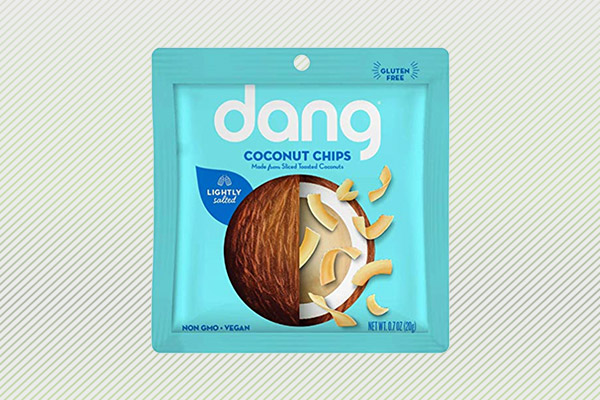 Coconut chips by DANG
Pros:
DANG's coconut chips are non-GMO, gluten-free, vegan and of course, paleo friendly. The "lightly salted" flavor lists only coconuts and salt on its ingredients list. 

The chips pack a pleasant flavor and a satisfying crunch—they don't have a moist or chewy texture to them. 

Comes in an easy and resealable bag. 
Cons: 
Per ounce, these chips are on the pricier side. 

The individual chips are quite small.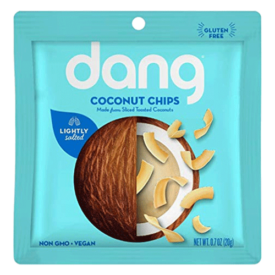 DANG offers a very simple coconut chip made from only toasted Thai coconut and salt. They could be eaten on their own or added to soups, salads, smoothies, or granola for the perfect crunch. 
Best vegetable-based option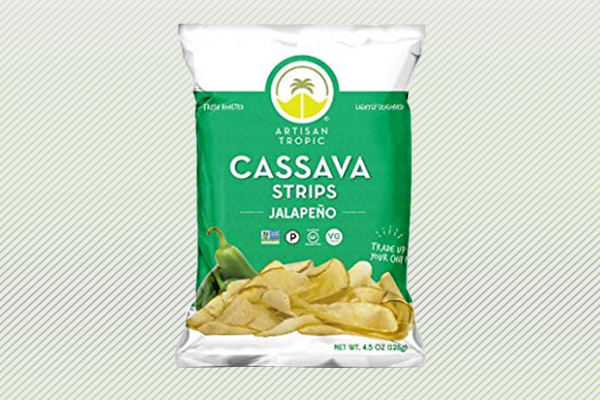 Cassava strips by Artisan Tropic
Pros: 
These strips offer good flavor, crunch, and texture.

They are curved in such a way that makes them optimal for dipping. 

Artisan Tropic is a family company and they use only ethically sourced and natural ingredients in their products. 
Cons:
The strips are cooked in non-hydrogenated palm oil, which is worth noting both for its flavor as well as potential dietary sensitivities. 

These cassava chips tend to go stale more quickly than a potato chip, so ideally you'd be finishing them pretty soon after you open up the bag. 

Some folks found the chips to be a tad too salty. 
Cassava strips by Artisan Tropic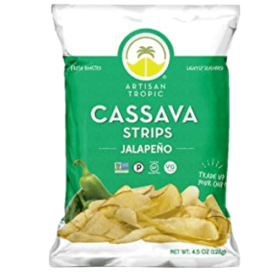 Cassava strips by Artisan Tropic
Cassava is a root vegetable similar to potatoes or yams. These strips are prepared with non-hydrogenated palm oil, and can be eaten much in the same way as you would eat potato chips—on their own, with a dip, or even as part of another dish.
How we picked
We looked at a wide range of snacking options that would comply with a paleo diet and suit all kinds of snack cravings without compromising on flavor or variety. Here are some specific considerations that we took into account.
Flavor
First and foremost, we tried to find snacks that tasted good and would have you going back for more. Sticking to the requirements of the paleo lifestyle can be hard to do, and we wanted to make sure that you can still find joy in snacking without the guilt of having strayed from your diet.
Diversity
We looked at meat, fruit, and vegetable-based paleo snacks options to ensure that you had a wide range of options to choose from.
Price
Given its reliance on lean meats, fruits, and nuts, we know that switching to a paleo diet can place a strain on your budget. We wanted to make sure that that strain isn't exacerbated by snacks, and we took into consideration the overall price and price per serving for each of the options we looked at.
Ingredient quality
We wanted to make sure that the products we tested out were not only complaint with the restrictions of a paleo diet, but were made from clean and high quality ingredients.
Company ethics
We believe in supporting companies that value sourcing their ingredients thoughtfully and ethically, and we looked for products that taste good and do good, too.
Buying tips
Do I have food sensitivities?
If you're on a paleo diet, you're probably no stranger to checking ingredients lists already. Nevertheless, we suggest taking a close look at the ingredients label to double check that what you're eating is in accordance with your diet. You may also want to check up on what other items may have been produced in the same facility.
How often do I snack?
If you're only an occasional snacker, you may want to opt for some of the snacks that have longer shelf lives and are packaged in smaller quantities, so you're not creating unnecessary waste. If you snack more regularly, make sure you're going for items that will fit your budget in the long run and give you enough variety to keep you interested over time.
How much am I getting?
If you're on a tight budget, consider how much you're spending on the snack per serving.