Stickball, wiffle ball, backyard baseball; the recreational substitutes for America's pastime. Swinging a plastic bat at a lightweight ball moving swiftly through an afternoon breeze can evoke strong bouts of nostalgia.
Whether continuing this classic sporting tradition with the next generation, keeping up your technique during the colder seasons, or just looking for a safer and easier way to play in the sandlot, knowing which wiffle ball sets stand above the rest is as important as stretching in the 7th inning.
Although quantity may vary, wiffle ball sets consist of at least one bat and one ball. Here's what else you need to know when deciding which wiffle ball set should be your next.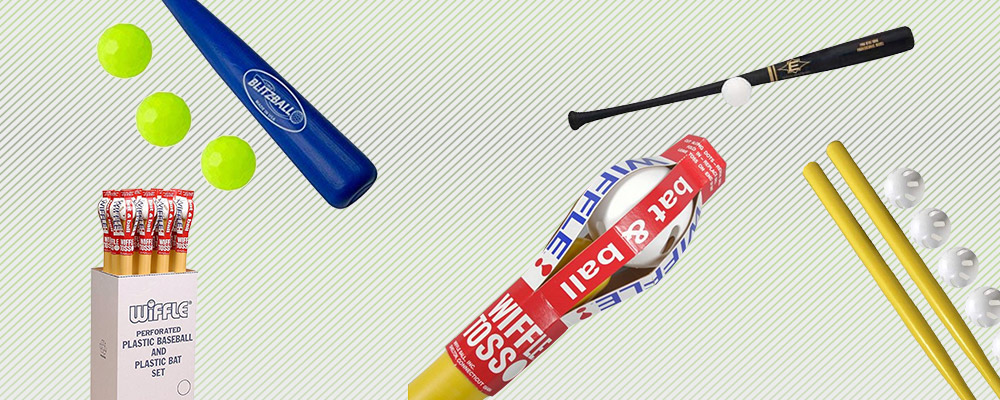 Editor's Choice: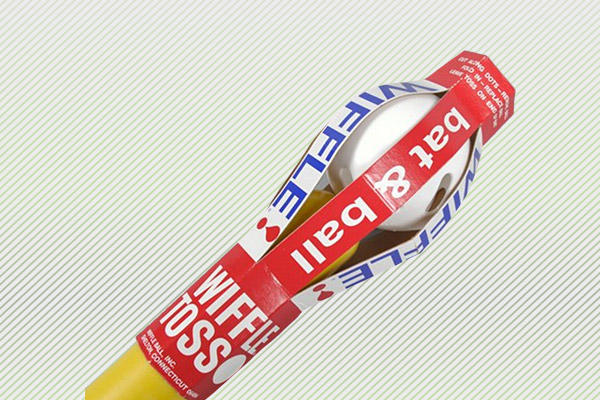 Wiffle Bat & Ball, 32inch
Pros:
One of the more affordable options available.
Cons:
With only one ball in the in set, needing to purchase more is inevitable. However, a variety of bundle options with multiple bats and additional balls are available.
Wiffle Bat & Ball, 32inch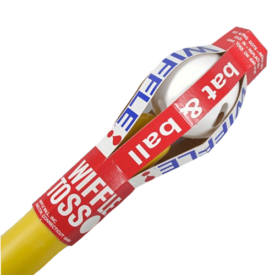 Wiffle Bat & Ball, 32inch
The original continues to earn its spot as one of our go-to's. Inspiring the name for the sport, WIFFLE's classic yellow bat and white ball with oblong perforations, paired with a reasonable  price, have fended off newcomers from claiming our top spot.
Contender: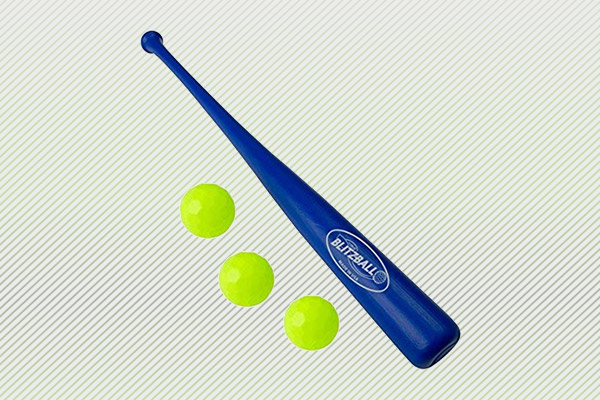 BLITZBALL Starter Pack
Pros:
Non-perforated balls have movement more reminiscent of baseballs.

The bat has a denser feel, wider barrel, and a bit more heft than more classic models.

Bright yellow balls are clearer for players in the field to see.
Cons:
Due to non-perforated balls traveling farther when hit, the balls might be easier to lose.

A bit pricier than most of its competitors.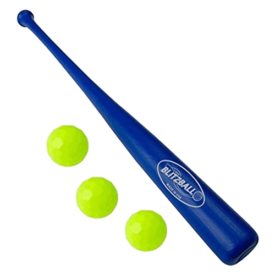 Blitzball's starter pack gives a nod to the major leagues with a wood texture in its bat's plastic design alongside 3 plastic balls.
Best for More Advanced Players: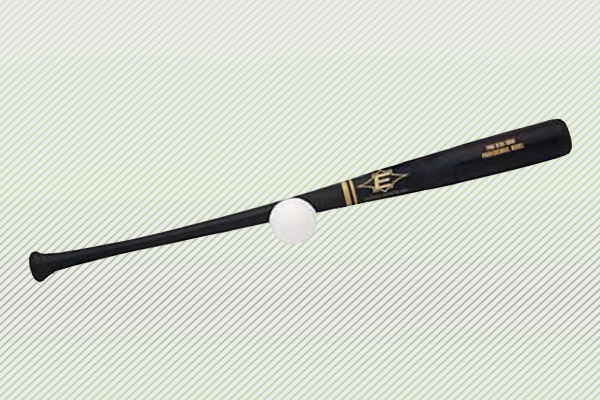 EASTON PRO STIX Plastic Baseball Bat & Ball Set
Pros:
Heavy duty plastic and narrow barrel makes this bat a great tool for kids to use before moving up to baseball or softball.

The ball's seams are aesthetically and proportionately similar to a baseball.
Cons:
The ball may be prone to cracking over time than comparable options.
EASTON PRO STIX Plastic Baseball Bat & Ball Set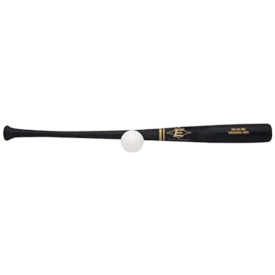 EASTON PRO STIX Plastic Baseball Bat & Ball Set
A sleek bat paired with a plastic ball detailed with seams gives the feel of a real baseball, which may make it more appealing to pitchers.
Best Small Bundle: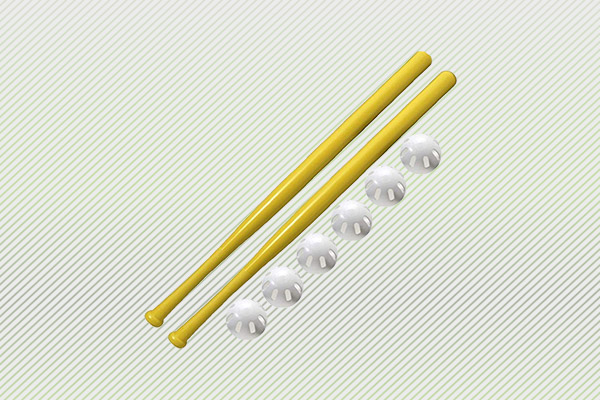 Wiffle 32′ Bat and 3 Baseball Set Bundle
Pros:
Better value than single bat and ball set.
Wiffle 32' Bat and 3 Baseball Set Bundle
Wiffle 32' Bat and 3 Baseball Set Bundle
Each team gets their own bat. 6 balls will keep the game going after a rooftop home run and prevent slower gameplay due having to fetch the same ball after every pitch.
Best Large Set: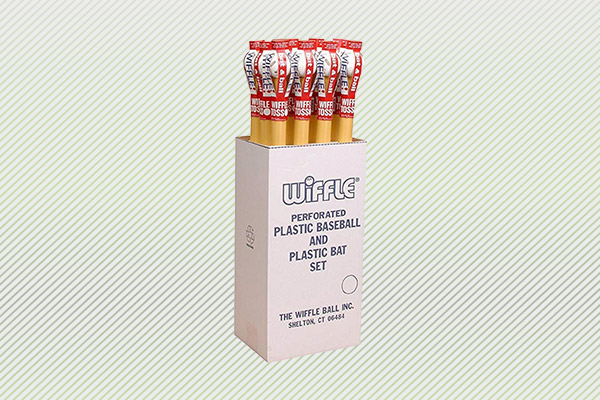 Wiffle Ball 1001 Bat & Ball Set
Pros:
The box display the sets are packaged in holds all the bats upright and can fit neatly in a garage or shed.

The price per individual bat and ball set is quite low.
Cons:
Bats naturally have more longevity than balls so the need for additional balls may arise.
Wiffle Ball 1001 Bat & Ball Set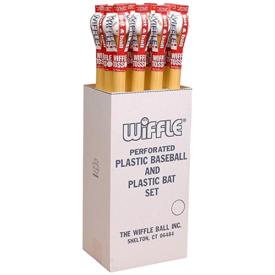 Wiffle Ball 1001 Bat & Ball Set
12 individual sets consisting of a bat and a ball in a standalone display box. A great option for a neighborhood league or longer intramural season.
Methodology:
Wiffle ball is a long standing recreational substitute for baseball that can be played in backyards, open fields, and larger indoor spaces alike. Although usually a simple plastic bat and ball, there are some notable design differences that you should be aware of.
Width and Thickness of the Bat
Some bats have equal thickness from the grip through the barrel while others can look like Popeye's arms. Thinner bats are more often stiffer and lend themselves to preteen and early teenage players. The wider barrel bats are usually better for younger players.
Ball Design
The biggest attribute to look at when choosing the right ball is whether or not it's perforated. Perforated balls will naturally have some give to the wind, won't travel as far when hit hard compared to non-perforated balls, and will more often pull to the batters dominate side. Non-perforated balls will travel farther and faster, but will be more prone to cracking.
Packaging
It is rare for a plastic bat and ball set to be packaged in anything that might be helpful when traveling. Some are packaged in a reusable mesh bag, but if that is something you value highly, be sure to check if the set you're considering offers it.
Wrapping Up
Wiffle ball, stick ball, and all the variants of this classic neighborhood game can help prepare you for baseball, softball, and all the variants of America's pastime. Just remember to keep your eye on the ball so you can rack up more hits and less whiffs.