As the name suggests, posture correctors are devices that provide posture support and give tactile feedback to help the wearer maintain more "correct" positions, thereby discouraging bad habits and relieving tension from the neck and back. Some take the form of physical correctors, such as a brace, that align your shoulders and back. Others will function more as gadgets that remind you to stop slouching—with these, you'll be the one fixing your posture once you're prompted.
We've evaluated a range of posture correctors, and considered the best out there on the basis of effectiveness, breathability, cost, and comfort.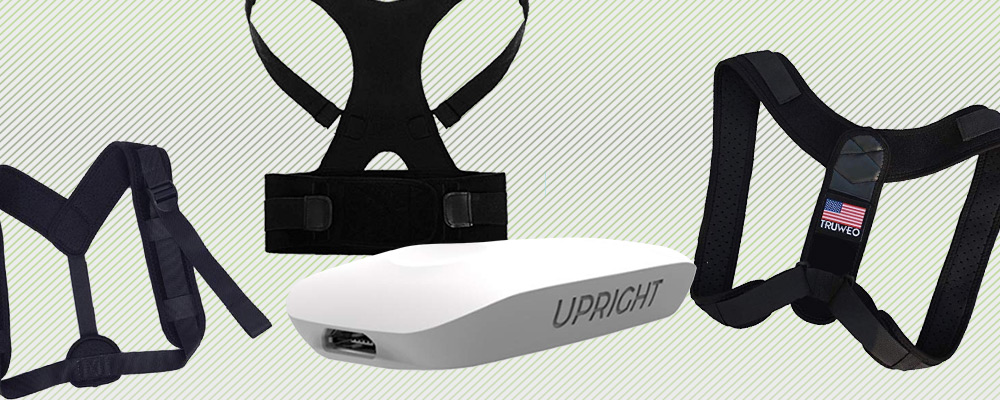 Editor's Pick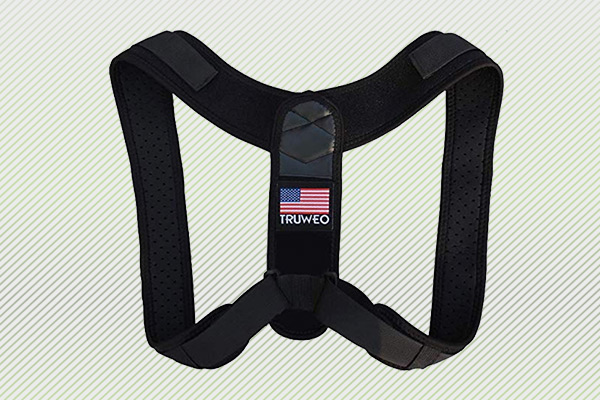 Truweo Posture Corrector For Men And Women
Pros:
The instructions are easy to follow and getting started with using this product is easier than most. 

The brace is comfortable to wear for long stretches and doesn't impede your range of motion. 

It's discreet enough to not be noticeable under your clothes. 
Cons:
You may experience some underarm pain due to the positioning of the straps, particularly as you're starting out. 

Despite the varying sizes and strap adjustment options, some folks found the brace tricky to fit. This tends to be more of an issue for women, as chest size may need to be accounted for. 
Truweo Posture Corrector For Men And Women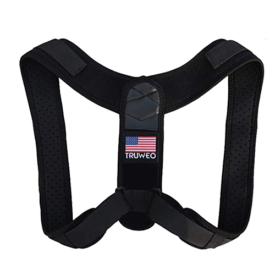 Truweo Posture Corrector For Men And Women
This Truweo brace stood out to us for its simplicity and ease of use. The product comes in three different sizes—small, medium, and large—and can be adjusted to your body. It's made out of neoprene, a synthetic rubber, which means the brace is machine-washable and pretty breathable.
Contender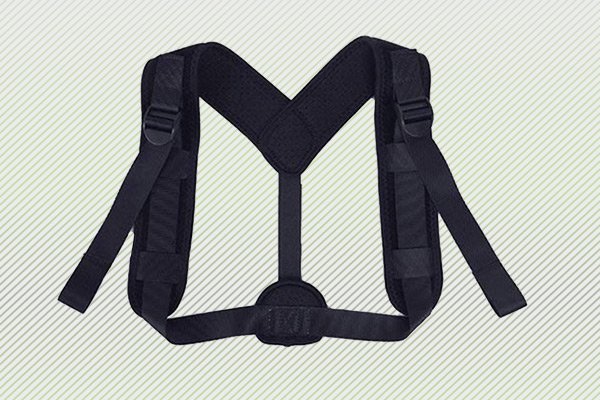 Eoney Posture Corrector
Pros: 
This product comes with 2 detachable pads that will provide extra underarm protection.. 

It can be worn like a backpack, and the straps are thin enough to give you a wide range of motion. 

It's waterproof and can be machine washed (in cold water). 

If you're not satisfied with this product, Eoney offers a full refund within 60 days. 
Cons:
The item utilizes plastic buckles, which can be detectable through your clothes.

The straps will sit quite close to your neck—another factor to consider if discretion is important to you. 

The universal size may not work well for everyone. 

Despite the extra padding in the armpit area, some folks still felt a pinch.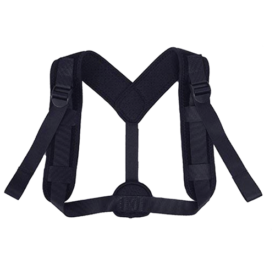 This posture corrector is also made with a lightweight blend of mesh fabric and neoprene, and is designed to fit like a backpack. It comes in a universal size and can be adjusted to fit 25" to 50" in chest circumference. 
Best for full back support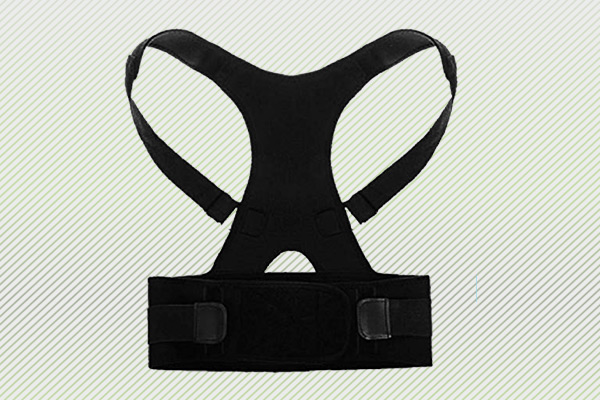 Flexguard Support Back Brace Posture Corrector
Pros: 
The brace covers both your upper and lower back and feels very solidly constructed, but not at the expense of comfort or breathability. 

It provides solid lumbar support, which is especially helpful if you're getting a brace to relieve pain in that area.

It comes with a booklet that provides exercises to help you improve your posture and make the most out of this product. 

The brace comes in 4 different sizes.
Cons:
This product is bulkier than the other posture correctors we looked at, and will serve you best if you're using it at a desk. If you intend to move around while wearing it, you may get a bit frustrated by the limitations can place on your motion. 

The straps can feel a bit uncomfortable and may dig into your skin if not adjusted properly.
Flexguard Support Back Brace Posture Corrector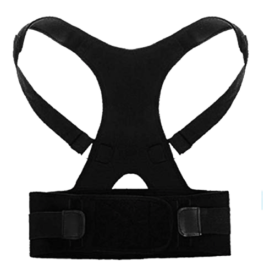 Flexguard Support Back Brace Posture Corrector
This is a full back brace, meaning there are straps that pull your shoulders back and a waist band that supports the middle and lower back. The Flexguard was one of our favorites because of its breathable material and its sturdy feel. 
Most discreet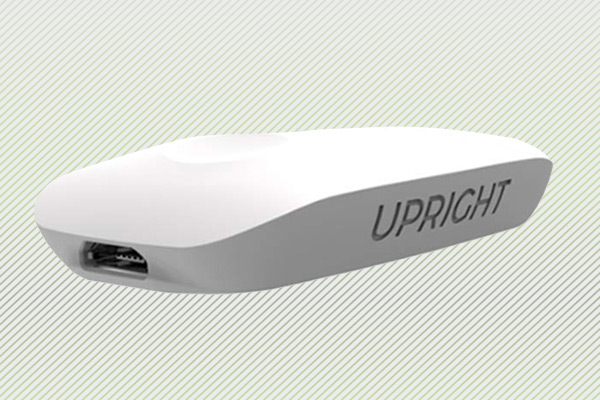 Upright GO Original
Pros: 
You can download free accompanying apps to your Android or iOS device to track your progress over time. 

Since it's small and strapless, the device does not restrict your movement at all. 

It comes with a nifty carrying case and accessories. 
Cons:
Compared to its analog counterparts on our list, this product is considerably more expensive. 

It requires a lithium polymer battery to operate.

It attaches through an adhesive that's applied to your back, which will need to be cleaned and periodically replaced.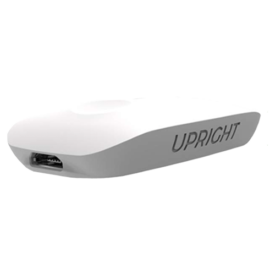 This is a strapless posture corrector that reminds you to stay upright by vibrating any time you slouch. It's portable and small and easy to fit into any lifestyle. 
How we picked
Whether it's to improve our general stance or relieve aches and pains that may have resulted from poor posture, we all have different factors that lead us to putting on a posture corrector. These products are designed to address a range of needs and goals when it comes to our back strength. Having looked through our favorites, let's take a look at some of the factors we considered when making our selections.
Comfort:
This is a tricky category for this item because posture correctors, by their nature, are meant to draw attention to stances and habits that you're trying to change, and some discomfort is to be expected as your muscles are strengthened. Nevertheless, we tried to find products that will allow you to move around comfortably and without digging into your skin, and will also remain securely fastened during use.
Ease of use:
You don't want a posture corrector that easily comes undone, but you also don't want one that takes a chunk out of your day just to get on and off, requires frequent maintenance, or is a chore to clean. In our search, we looked for products that could strike that balance between being effective and also not disrupting your lifestyle.
Discretion:
You're probably going to be wearing a posture corrector in the course of your day-to-day life, and probably don't want it inhibiting your existing routine. We looked for products that can be worn under your clothes with minimal bulk and can serve you without being disruptive.
Intensity:
We looked at posture correctors that offer gentle reminders to stand or sit up straight, as well as braces that offer more hands-on remedial support to help you improve your stance. The intensity of the corrective process will ultimately depend on your specific needs and how quickly you wish to improve your posture. Whether you're looking to generally improve your posture or need to relieve aches and pains in your shoulders and back, you'll find a product to assist you in meeting your objectives.
Price:
Posture correctors can be comfortable, functional, and effective without breaking the bank. We tried to find items that are reasonably priced but also don't compromise quality for cost, and are durable enough to last you until you're able to sustain a healthier posture on your own.
Buying tips
As you try to find the posture corrector that would work best for you, consider some of the following questions.
What am I using this for? What these devices all have in common is that they prompt you to pay attention to how you're moving and what kind of posture you're maintaining while seated. That can of course be beneficial if you're trying to improve your posture or release tension in your shoulders and back, but they won't fix everything. If you are suffering from chronic pain, consult with a medical professional.
Where do I plan to wear it? The different options we've listed vary in the degree of discretion they provide. If you plan on wearing a posture corrector at your place of work, use it at home first to make sure it feels comfortable and provides you with an appropriate range of motion.
How often will I use it? Since they're all about breaking down existing habits and building up new ones, posture correctors are most effective when used consistently, until you're able to sustain the desired posture on your own. Different products will get you to that point at different paces, and you'll want to make sure that you find a posture correctors that will suit your needs and goals.
What materials am I sensitive to? A lot of posture correctors utilize rubbers, plastics, and velcro to make sure the device is sturdy and effective. For the most part, they are designed in such a way to still be comfortable and breathable on your body, but that doesn't negate the fact that they're still coming into contact with your skin for long stretches of time. If you're sensitive to any of these materials, you'll want to make sure that the posture corrector you end up with is free of them.
Wrapping up
Good posture can play such a role relieving pressure in your body as well as feeling (and appearing!) more confident. If you're looking to improve on that front, our list has hopefully provided you with a range of options that you can pick from. Of course, if you're struggling with chronic pain or have long-term concerns about your posture, you'll want to consult with a medical professional.