Pressure cooking is a culinary method that is gaining steam as companies are making cheaper and more user-friendly devices. Pressure cooking can help people follow new dietary lifestyles, as well as making cooking quicker and easier for some users. By using pressure while heating the food items, less water is needed to cook certain dishes. Many people opt for pressure cookers to help them get used to cooking at home and to help promulgate new lifestyle decisions.
The convenience and simplicity pressure cookers offer often leave home cooks with a new dilemma: figuring out how to utilize this new tool. There are many cookbooks with different slants that offer a wide range of recipes of varying complexity and focus. We have taken a look at some of the more popular texts to see how they compare. Here is what we found: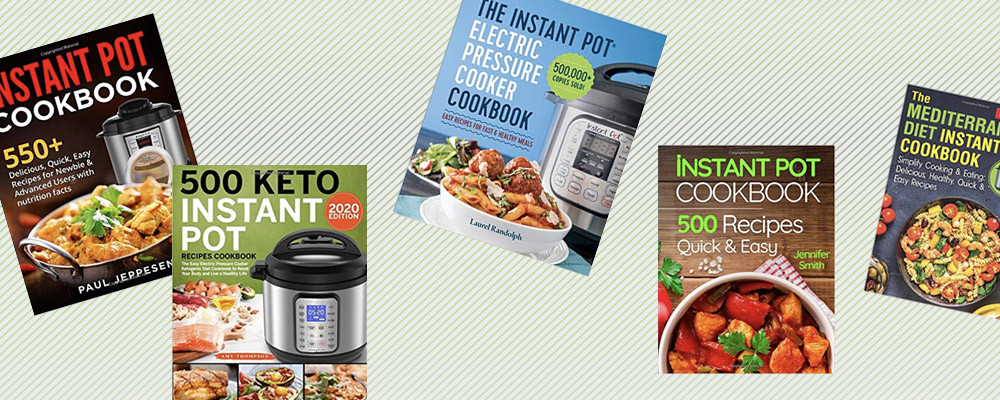 Editor's Choice
The Instant Pot Electric Pressure Cooker Cookbook: Easy Recipes for Fast & Healthy Meals
Pros: 
Variety of diets. This cookbook from Laurel Randolph has over 100 recipes, many of which fall into different lifestyle categories. There are vegetarian, vegan, paleo, and gluten-free recipes included to satiate a wide variety of dietary needs.

Cooking times labeled. One thing that makes this book especially useful is the clear labeling of which recipes will cook quickly, so readers can flip through and find a quick recipe in a pinch.

Kid-friendly. This recipe book lists recipes that are specifically designed to be palatable to kids, who may be pickier eaters than adults. Great for families trying to accommodate a range of ages and tastes.
Cons: 
Not for beginners. Randolph's book assumes a baseline of culinary experience and doesn't explicitly walk through every step as some other cookbooks do. If ever coming across a step in a recipe that seems confusing, it is recommended to seek help online.

Very few photos. While it would have been useful to measure a completed dish with an example from the book, there aren't really any photos to support the text of each recipe.
The Contender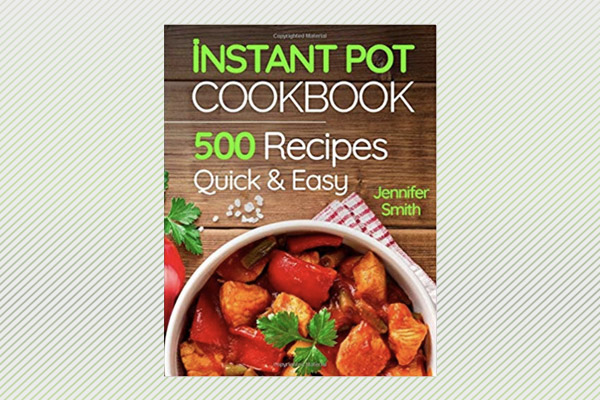 Instant Pot Pressure Cooker Cookbook: 500 Everyday Recipes for Beginners & Advanced Users
Pros:
Spares exotic ingredients. A nice thing about this cookbook is that most of the ingredients will be things that are either already in many peoples' pantries or are common items found on a shopping list. Other cookbooks may have key ingredients for recipes that are uncommon and maybe even unfamiliar to homecooks.

Spiral-bound option. For anyone who has tried to cook a recipe with their hands covered in dough or other sticky substance, it can be difficult to flip through or even keep open pages while in the midst of cooking a recipe. This book comes in a spiral-bound format, which makes accessing and examining pages easier than plain paperback.

Table of contents. A benefit to this cookbook is that the table of contents, located at the front of the book, organizes dishes by the main ingredient, whether it be grains, beef, etc. This is helpful when trying to find a recipe to accommodate the food already in the kitchen or to satisfy a particular craving or dietary need.
Cons:
Typos. Though this is a cookbook and not a narrative, there are typos that can distract from the cooking experience. Doesn't harm the final product but noticeable nonetheless.

Lacking nutritional info. This cookbook does not contain any nutritional information like other cookbooks have provided. Users will have to judge by the contents of each recipe and their own experience and dietary needs to determine the content of each recipe.
Best Bargain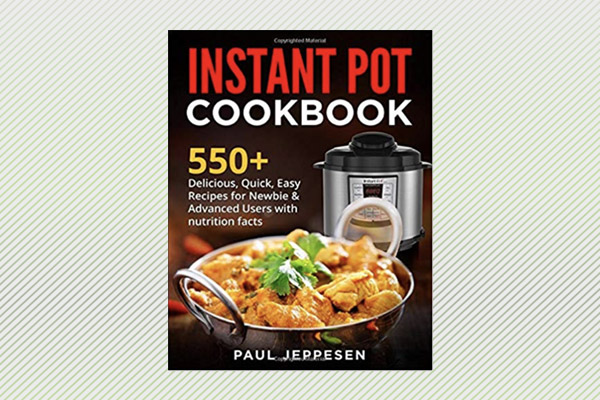 Instant Pot Cookbook: 550+ Delicious, Quick, Easy Recipes For Newbie & Advanced Users
Pros: 
Stocks and sauces. The Instant Pot Cookbook provides not only main courses, appetizers, and snacks, but also has recipes for stocks and sauces that can be used in a variety of ways. The sheer diversity in types of recipes gives users ample resources to create their own meal and dish combinations.

Great introduction. This cookbook doesn't just dive into recipes off the bat. There is a methodical approach to explaining pressure cooking basics, providing a section for frequently asked questions, what to do when cooking at different altitudes, and what accessories would be nice additions to a kitchen, among other tips.

Affordable. While many books can cost a pretty penny, especially when purchasing a hard copy, this cookbook can be bought for less than the cost of most meals themselves.
Cons: 
Recipes can be complex. While some users may delight in having an assortment of rich dishes to cook, some may be looking for quick recipes. The complexity of the dishes sometimes betrays the swiftness with which people are using pressure cookers for.

No alphabetical index. Though there is a table of contents at the front of the book, there is no alphabetical index for finding specific ingredients or types of recipes. Those looking for something specific may have to trawl through the table of contents or from page to page.
Best Ketogenic Pressure Cooker Book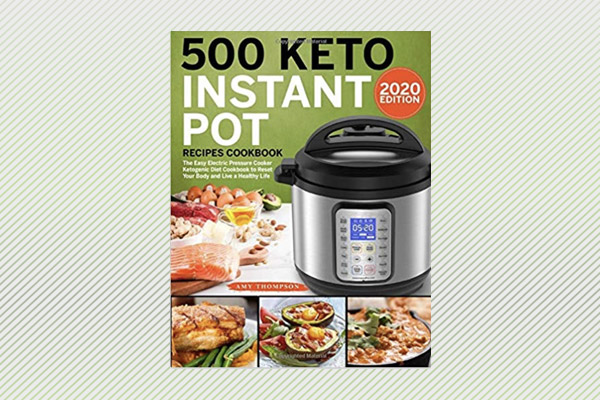 500 Keto Instant Pot Recipes Cookbook: The Easy Electric Pressure Cooker Ketogenic Diet Cookbook to Reset Your Body and Live a Healthy Life
Pros: 
Ketogenic explanation. This is a great book not just for beginners to the pressure cooker style of cooking, but also those interested in a ketogenic lifestyle. This book provides information and plain-language explanations about what ketogenic means and how one can apply it to their lifestyle. 

Vegan options. Many recipes designed for ketogenic diets tend to be focused on animal products. This book, while providing plenty of those, also has plant-based options for those who are keen to avoid meat and other animal products.

Slow cook recipes. While many homechefs will use their pressure cookers to make quick recipes, they can also be used to slow cook. This cookbook has several recipes for delicious slow-cooked proteins and other dishes.
Cons: 
No table of contents. While each section has a table of contents (poultry, beef, etc), there is no master list in the front or back. It can make navigating this book a bit of a hassle.

Elaborate ingredients.

Some of the ingredients listed in various recipes may not commonly be found in pantries. Ingredients like Mexican oregano, blue cheese powder, and Kashmiri chili powder may necessitate special shopping trips.
Best Mediterranean Diet Pressure Cooker Cookbook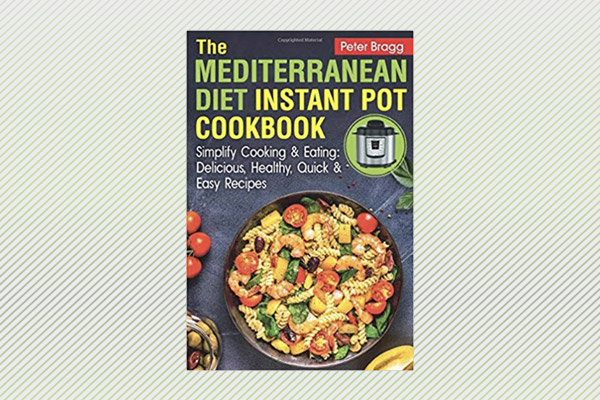 The Mediterranean Diet Instant Pot Cookbook: Simplify Cooking and Eating: Delicious, Healthy, Quick and Easy Recipes
Pros: 
Peter Bragg, author. The author, Peter Bragg, is an experienced fitness trainer with hosts of experiences working with athletic brands and discussing dietary lifestyles to audiences. His credentials add weight to the book's aim to spread various lifestyle tips.

Mediterannean diet primer. This book does not just jump into recipes; there are about 41 pages of information about the mediterranean diet, its benefits, and the science behind the theory. This is great for understanding how to apply this diet to an everyday lifestyle.
Pictures. A great advantage of this book is that it includes pictures for almost every recipe. This can help homechefs determine if they have cooked the dish properly by comparing to the picture.
Cons:
Price. This is one of the more expensive pressure cooker cookbooks available in paperback form. The increased price is probably from the cost of printing all the pictures of the dishes.

Not as many vegetarian or fish recipes. This book doesn't have a great balance of vegetarian or fish main dishes compared to other proteins. Those who are vegetarian, vegan, or pescetarian may need to find additional recipes from another source.
How We Picked
Pressure cookers can be a great addition to any kitchen. These allow a wide arrange of meals to be cooked in shorter times than they typically would be when prepared in a pot, skillet, or grill. Cookbooks for pressure cookers can specialize in these quick recipes, but can also feature complex recipes or those that necessitate slow cooking in the pressure cooker.
Because cookbooks are often times the entry point to the process and theory of pressure cooking, it is important to find a book that matches the skillbase, experience, and tastes of the user. Here are the qualifications we measured to make our evaluations of some of the leading cookbooks:
Ability to navigate
When reading a cookbook that has a diverse range of ingredients and recipe types, it is important to be able to find exactly what you are looking for. Unless the reader is going to go through, meal by meal, cooking them in order, it is very beneficial to have a table of contents and alphabetical or categorical index to be able to navigate the pages of the text. Unfortunately, not all cookbooks have both. Some have neither. This can make the process of finding a relevant recipe challenging and even frustrating.
Say, for example, the home fridge has a surplus of chicken and broccoli; it would behoove the reader of a cookbook to be able to find recipes that feature either if not both of these ingredients. Books that have an alphabetical index make this process a lot easier. Books with a table of contents, especially if divided by the main ingredient of the recipe, can offer a path to finding the right recipe. However, when dividing tables of content by main ingredient, other factors – such as the time it takes to prepare, whether it is gluten, or what time of day the recipe is for – can be disregarded at the reader's peril.
Theme
Aside from the commonality of all being pressure cooker cookbooks, there can be focuses that authors use to inform their selection of recipes. While pressure cooking can be a great tool for those hoping to pivot to a new lifestyle, those with particular dietary needs may find that there are several books that cater to them.
The ketogenic lifestyle involves a reduction of carbohydrates and focuses on fats and proteins. Those who are new to this type of lifestyle can perhaps be motivated with the use of a new, convenient piece of equipment, like a pressure cooker. The same goes for the Meditteranean diet, which focuses on food groups that are typically found around the sea of the same name. Cookbooks are a great introduction to both a new tool (pressure cooking) and a new lifestyle, so those hoping to learn a bit about either may want to double up their reference points and try for a focused cookbook.
Complexity
Not all cookbooks are written with the same type of home cooks in mind. Some recipe books are specifically geared towards beginners, amateurs, and those who perhaps are lacking in specific experiences or even confidence. Cookbooks for chefs of these profiles tend to have more introductory information to help guide the chef through the theories and typical preparations that they will be practicing with the associated recipes.
Cookbooks that are focused on more experienced chefs will undoubtedly have more complicated recipes. A complex recipe can involve more tedious preparation work, longer cooking times, and more precise instructions that need to be carried out in a specific cadence. The type of ingredient is also a factor; sometimes simpler recipes can rely upon common food items that will usually be in a pantry or nearby store, while more complex recipes will call for ingredients that are less common.
Tips
Not sure which pressure-cooker cookbook is right for you? Take a look at the below tips to help make your decision-making process a bit easier:
Are you trying out a new culinary lifestyle?

If you are trying out a new lifestyle, whether it is ketogenic or mediterranean, often times a great motivator can be a new piece of equipment (like a pressure cooker). Pressure cookers are a great (and affordable) way to diversify your kitchen without needing to purchase loads of new equipment.

Cookbooks can often give a license for more creativity or even a whole new genre of cuisine. If you are trying to remove a certain food group from your diet, cookbooks can guide the way. Pressure cookers often have recipes that can help replace foods that need to be excised from a diet.

Do you have experience pressure cooking?

Pressure cooking is not that complex, but there are certain tricks and routines that accompany the acts of prepping and cooking. Those who are already familiar with pressure cooking can opt for a cookbook that has more advanced recipes.

Those who are new to pressure cooking may want to find a cookbook that is geared towards beginners. These have simpler recipes and can have more explicit instructions. These tend to also have more explanations of the methodology and benefits of pressure cooking.