Whether you're training for your next MMA fight or just looking to let off some steam, a punching bag can be a great addition to your fitness routine. Across the country, boutique boxing studios are popping up, offering athletes the chance to train like a champ. If you're looking to replicate the intensity of a boxing class in your home, you may want to consider investing in a punching bag of your own. But with so many options on the market, it's important to know what you're looking for so you don't end up swinging blindly.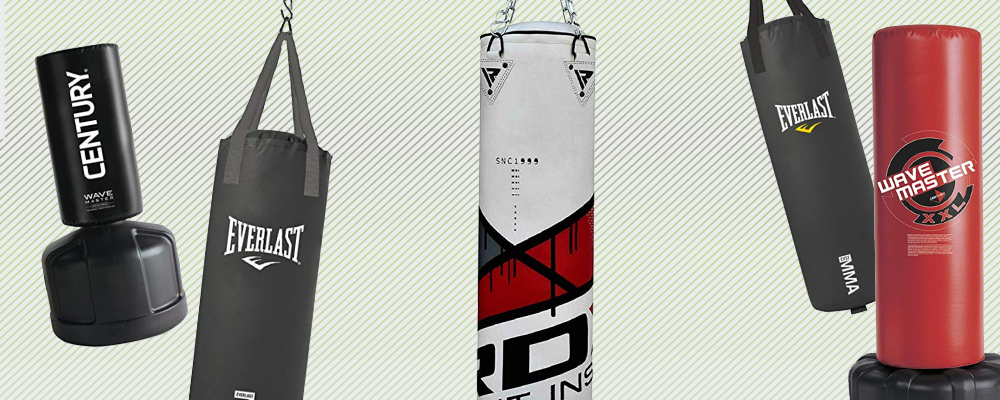 Best Hanging Bag Value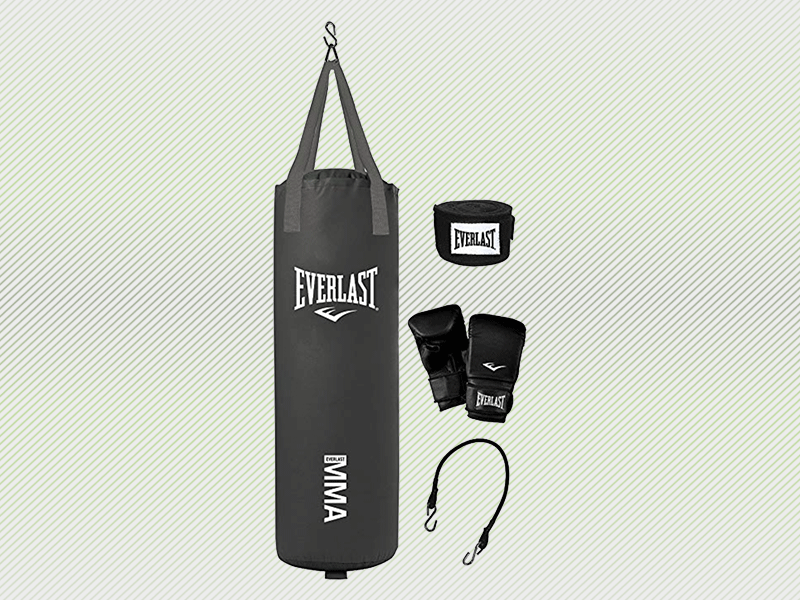 Everlast Traditional Heavy Bag Kit
Pros:
At 70 lbs, this is a very sturdy bag for the average athlete. Everlast fills their bags with a blend of synthetic and natural fibers along with sand, ensuring the weight in the bag stays evenly distributed. 

The top of the bag is equipped with nylon straps which attach to a loop to make for easy hanging. They've also made sure the chain from which the bag hangs is adjustable, so it's possible to mix up the height. 

Since this kit comes with gloves and hand wraps, you'll be ready to roll as soon as you can get it set up. 

At $80, this is a really solid start-up kit for a new boxer.
Cons:
By its nature, a hanging bag is going to necessitate a bit more set up work. And if you don't have a sturdy place to suspend it (a ceiling beam works for most folks), you may need to invest in an additional stand.

The gloves included are fine for beginners, but more experienced fighters may find them a bit underwhelming. 
Best Standing Bag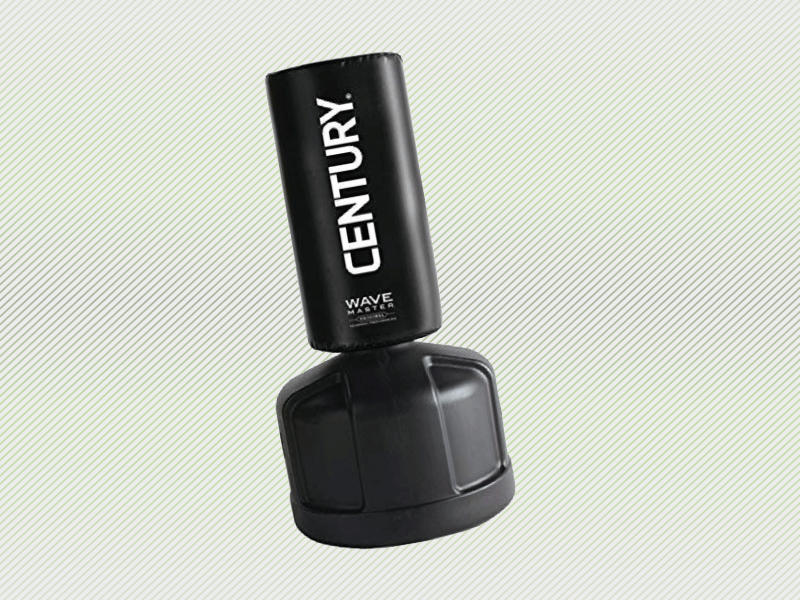 Century Original Wavemaster Freestanding Heavy Punching Bag
Pros:
A freestanding bag is going to require less space and handyman knowhow than a hanging punching bag, which may be key depending on your home gym layout (or lack thereof). 

While the Wavemaster can certainly take a punch, it's also used by a lot of martial arts athletes to practice kicks. The at-home amateur athlete will be able to get plenty of use out of this bag.

This bag is able to be adjusted anywhere between 47 and 68 inches, making it a great item for multi-heighted folks to share. 
Cons:
The strongest MMA athletes may be able to topple this unit over with an exceptionally strong kick. Folks kicking at an elite level may need to invest in a hanging bag. 

While filling the base with water may be easiest, some people feel the water did not weigh it down quite as well as sand, which, though not prohibitive, is an additional cost and takes more time to set up.
Most Accessories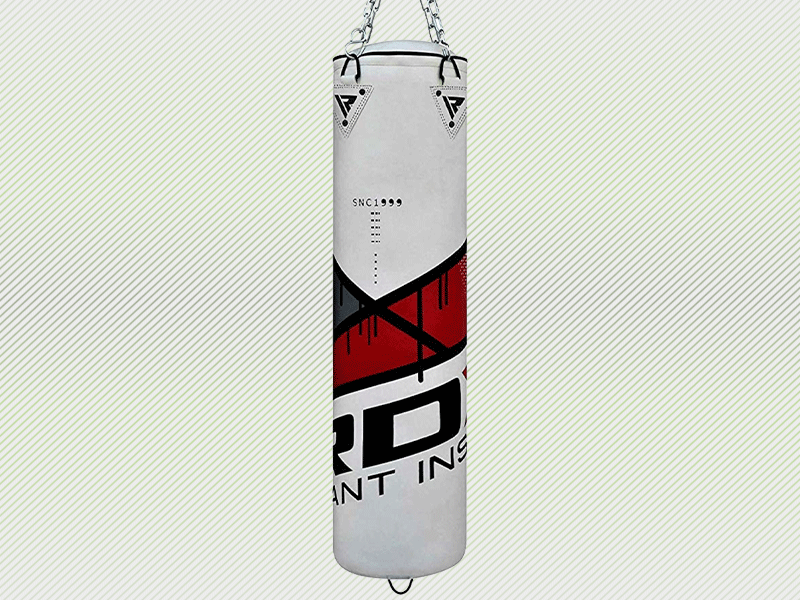 RDX Punch Bag for Boxing Training
Pros:
This kit includes a lot of accessories, including hand wraps, boxing gloves, a jump rope, a hand gripper, and even a few decorative miniature boxing gloves. 

The bag is suspended by steel chains that attach to a triangular piece of webbing made of leather and synthetic materials sewn into the bag. The metal chains hook into a steel swivel, allowing the bag to rotate as it's hit.

The bag is filled with shredded textile material, designed to give it an evenly balanced feel. 

Includes wall mount and bracket to help with installation. 
Con:
Weighing in at approximately 40 pounds, this bag is a bit lighter than most other hanging bags. 
Best Bag for Big & Tall Hitters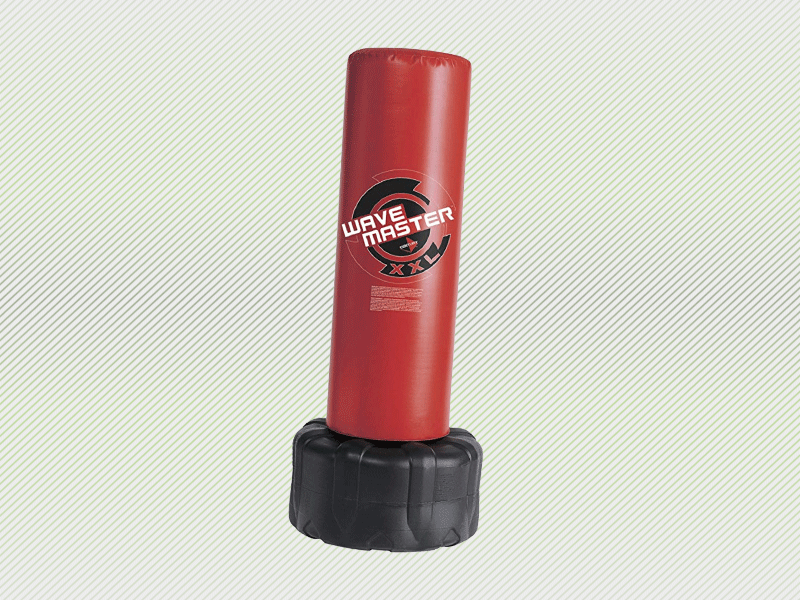 Century Wavemaster XXL Training Bag
Pros:
Similar to Century's other freestanding bag, this is very easy to set up. Just add water! (Or sand.)

Made with a high density foam filling and a vinyl cover, the XXL is built to take a pounding. 

At 69 inches, this bag stands taller than any other on the market. When filled with sand, it can weigh up to 270 pounds, giving it a very solid base.
Con:
The more you get, the more you pay for. This bag retails at $300.
Just the Bag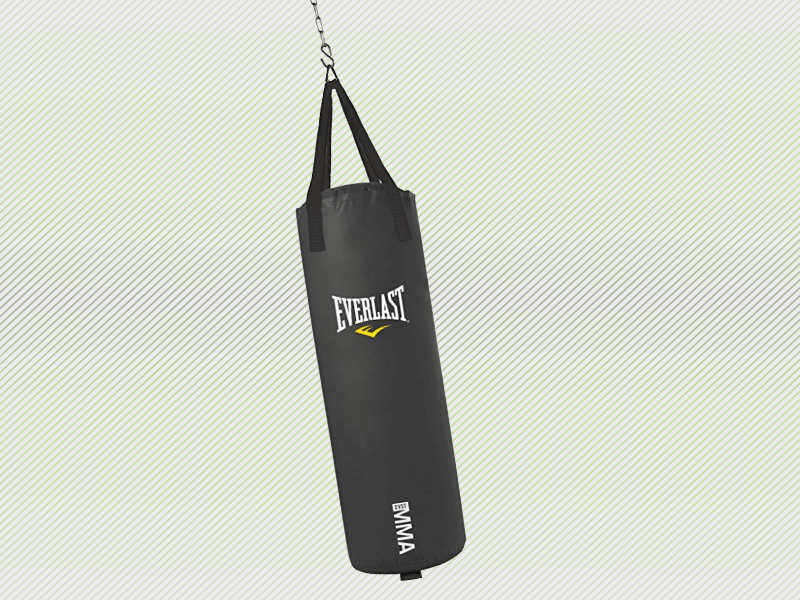 Everlast 70-Pound MMA Poly Canvas Heavy Bag
Pros:
Like all of Everlast's bags, this is stuffed with a blended mix of fillers – including synthetic and natural materials – designed to help with shock absorbency and to ensure the weight in the bag does not settle. 

At $70, this is a very reasonably priced heavy bag to add to your home gym set up. 

Comes with a 120 day warranty, so if there are any defects, you can trust Everlast will replace it.
Cons:
If you don't have any complimentary items, you're probably better off going with a starter kit. 
Methodology
When determining which punching bag is the best fit for your needs, it's important to look at a few of the key design differences. Depending on your goals, needs, and space restraints, a few key features could help you decide which is the best fit for your home gym.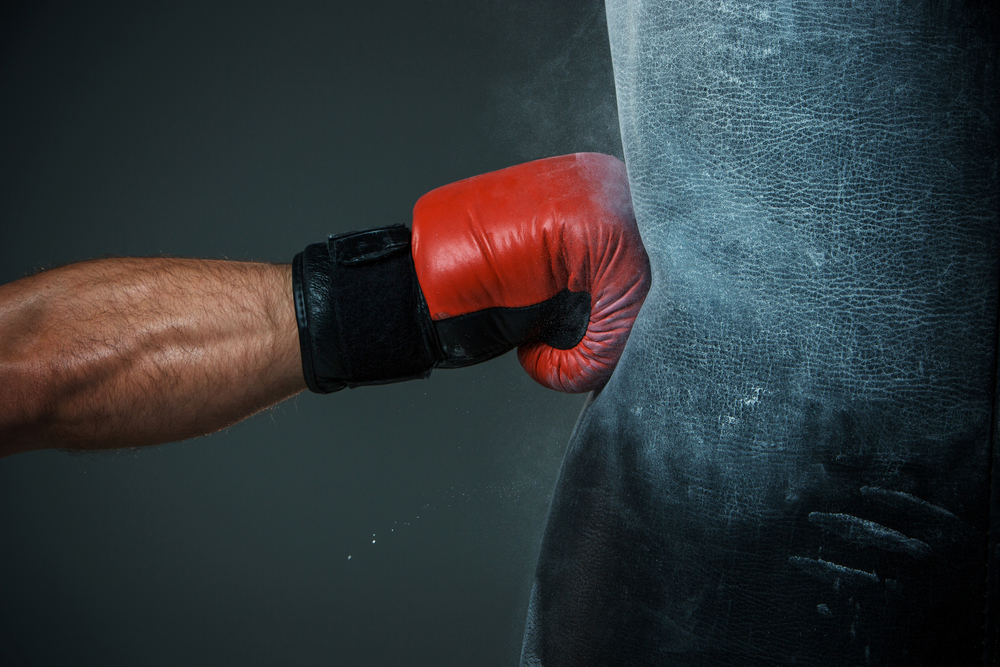 Hanging Bag
By nature of its design, a hanging punching bag swings more when you hit it, theoretically allowing fighters to more closely replicate the actions of an opponent in the ring. Even if you're not planning to step in the ring anytime soon, a hanging bag will force you to move more during your workout, upping your cardio. A hanging bag is also a better option for folks looking to practice advanced martial arts kicks.
Standing Bag
One of the biggest advantages of the standing bag is the ease with which it can be set up. No need to search out ceiling beams or do any work hanging a heavy bag – all you need is water or sand. The standing bag may be liable to topple over if you're an elite MMA athlete, but for the average user trying to get a good workout in, it should do the job. 
What's in the Bag
Since standing bags are weighed down at the base, they usually use a foam to fill in the bag. Most hanging bags utilize a mix of natural and synthetic materials to ensure the weight is more evenly distributed. Something to note, however, is how heavy the hanging bag is. A lighter bag may be fine for light work, but if you're a heavy hitter, you may want to go with a more weighty bag.
Accessories Included
If you're just starting your fighting-fitness journey, it may make more sense to opt for a start up kit that includes gloves and hand wraps. If you've already got those accessories, you're all set to get the bag by itself.
Space
A hanging bag requires more space than a standing bag. Because it swings when you hit it, you'll want to hang it in a spot that allows you to move all the way around it. And of course, you'll need a ceiling beam or a sturdy wall (or even a tree, if you're going the rustic route) from which to hang it. A standing bag, on the other hand, just needs a floor. 
BarBend Tips
As inspiring as the Rocky movies can be, it may not make sense to pull the trigger on your own punching bag if you've never hit one before. Check out a class at a local boxing gym and see if it's the right workout for you.

If your home gym is flexible enough to allow for either a hanging or a standing bag, try to test out either at a local gym. Generally, a hanging bag will offer you more flexibility though. 
Boxing and MMA-style workouts can be a great addition to your fitness regimen as a way to improve upper body strength and get some cardio in. Before you go off and swing away at a bag, invest in the proper materials – hand wraps and gloves – and try to test out a session at a local boxing gym.