What's the difference between raw honey and the stuff that comes in a bear-shaped squeeze bottle? Most honey that you'll find at the grocery store or the local coffee shop is pasteurized. This means honey has been collected and then heated to a certain temperature to remove yeast and other impurities and to standardize the texture and color. The result is a more uniform product that has a longer shelf life.
Raw honey, on the other hand, is honey that has not been heated to this level, and thus maintains many of the natural enzymes that give it its purported antibacterial and antioxidative properties. People have been using raw honey as a natural remedy for centuries. Though more research is needed to make any substantive or comprehensive claims about the health benefits of raw honey, it may help soothe a sore throat or serve as a cough suppressant. From brand to brand, raw honey varies widely in terms of texture and color. We collected some of the top raw honeys on the market, indulged our sweet tooths, and figured out which was our favorite.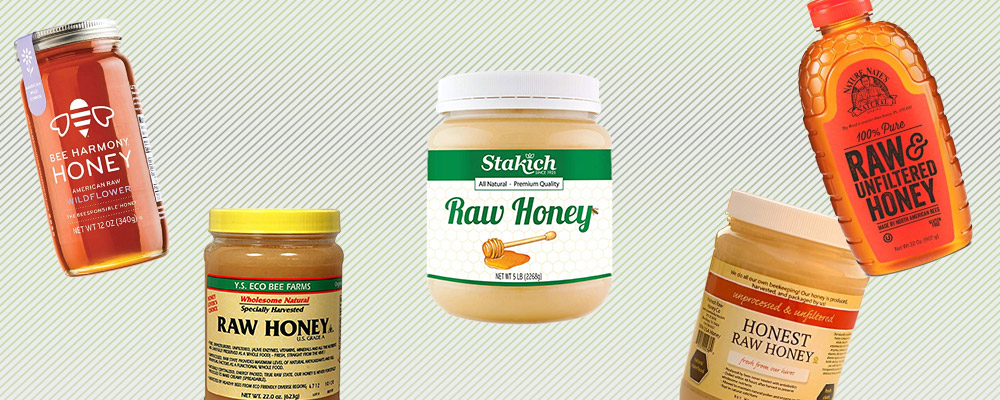 Editors' Choice: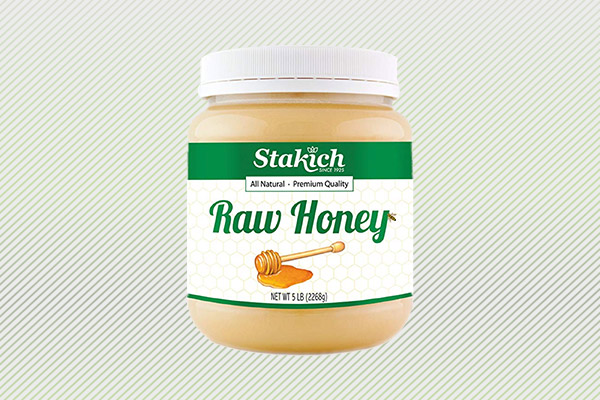 Stakich Raw Honey
Pros:
A peek inside Stakich's raw honey jar reveals all manners of raw honey. Some of it flows with a low viscosity, while some takes on a thicker, more crystallized form.

The thicker bits of honey have a lovely, fudge-like texture that melts in your mouth.

Taste-wise, this is a delightful profile, with a sweetness that is perceptible but not overpowering. 

From a price standpoint, this is one of the more competitively priced raw honeys on our list in terms of cost per ounce.
Cons:
 This honey is a bit more fragrant than other raw honeys we looked at, and has a bit of a lingering aftertaste. 
Contender: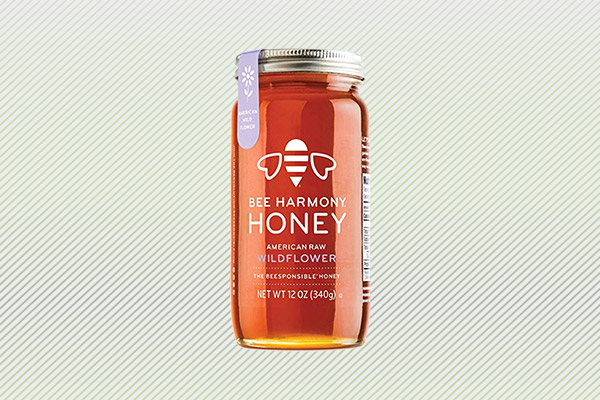 Bee Harmony American Raw Honey
Pros:
Taste-wise, Bee Harmony's wildflower had top marks of the honeys we tested. It's got a perceptible floral quality without being overpowering, and a nice level of sweetness.

Each 21g serving contains 60 calories and 16g of sugar. 

From a texture standpoint, this raw honey resembles a more traditional honey in terms of its flow. 

Attractive glass jar may make for a delightful addition to a kitchen counter. 
Cons:
Price-wise, this is a bit more expensive on a per ounce basis than some of the other raw honeys we looked at. 

This reviewer found it exceedingly difficult to get the screw cap off of the jar. Fortunately, the BarBend office is filled with strong people who were willing to help.

The company admits to heating their honey a bit to even out the texture. While they claim they do not heat the honey to a level that would make it pasteurized, this is still worth noting, as other raw honeys essentially go straight from the hive to a jar. 
Also Consider: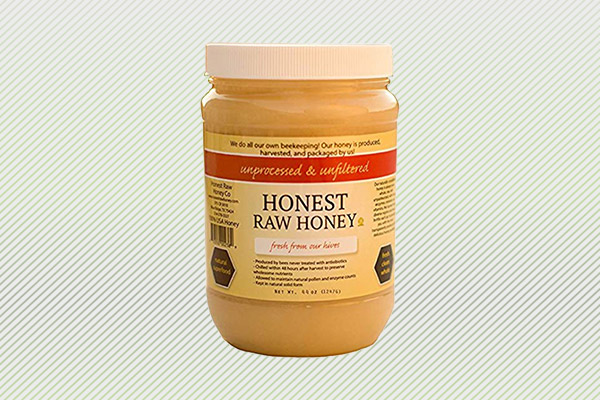 Honest Raw Honey
Pros:
This honey has a very natural taste and feel, as there's almost a bit of a granular feel to the honey as it hits your mouth. 

From a taste perspective, this is a delightful honey, with small floral notes and a sweetness that is just right without being cloying. 

The creamy texture of this honey would make it great for spreading.

Claims there are no herbicides or pesticides. Company controls the hives and claims to keep them far away commercial farming. 
Cons:
There's no nutritional info listed on the jar.
Best for Sweet Tooths: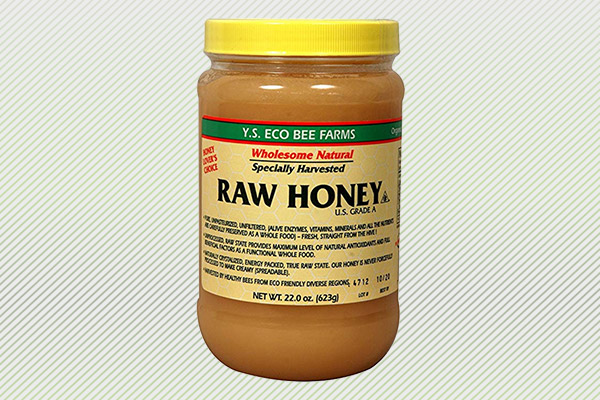 Y.S. Eco Bee Farms Raw Honey
Pros:
From a texture standpoint, this was the most solid of all the raw honeys we reviewed, making it ideal for spreading. 

This unpasteurized and unfiltered raw honey is packed straight from the hive, keeping the antioxidants and natural enzymes intact. 

From a price standpoint, this is a very reasonably priced raw honey. 
Cons:
Though some might enjoy the level of sweetness this honey offers, we found it to be a bit over the top. 
Most Convenient Bottle:
Nature Nate's 100% Raw Honey
Pros:
Texture-wise, this honey most closely resembles the traditional honeys you'll find in most grocery stores. 

Packaged in a BPA Free bottle, it features a very functional and easy to use squeeze top.

Each 21g serving contains 15g of sugar and 70 calories. 

From a price perspective, this is one of the most competitively priced raw honeys on the market. 
Cons
From a taste perspective, Nature Nate's is perfectly serviceable, but not overwhelmingly memorable.

To give it a consistent texture, this honey is gently warmed. Though the manufacturer asserts it's not heated to a level high enough to be considered pasteurization, it's still certainly not quite as natural-looking as some of the other honeys we looked at. 
Methodology
Testing raw honey is truly one of the most arduous and pain-intensive endeavors your humble reviewer has ever gone through. Just kidding. It's delightful! In addition to tasting each raw honey, we looked at a few other key features you should consider when selecting one for yourself.
What Is Raw?
Raw honey is honey that has not been heated above a certain temperature in a pasteurization process. When honey goes through this pasteurization process, it may lose many of the antibacterial and antioxidative properties that people prize in raw honey. As a result of this unfiltered and raw state, the texture of raw honey can vary widely from manufacturer to manufacturer.
Source
Some of the companies on this list, including Stakich, Honest Raw Honey and Y.S. Eco Bee Farms, source their honey directly from their own bee hives, ensuring a truly raw state. Others collect honey from a few different farms, resulting in unique blends.
Texture
Generally speaking, raw honey's texture will vary more greatly than traditional honey. While some companies gently warm their raw honey to achieve a more consistently liquid texture, even these honeys may crystallize when left in cool conditions. If you're persnickety about your honey's texture staying liquid, you can give it a bath in warm water. Some honeys on this list, notably Y.S. Eco Bee Farms, resemble a soft butter in their texture.
Flavor
Obviously, honey is sweet. But not all sweetness is the same! Keep an eye out for particular varieties of honey. For example, the Bee Harmony Wildflower has a distinctively lovely floral bent to it.
Cost
Divide the total cost by the number of ounces to figure out how much bee you're getting for your buck.
BarBend Tips
Raw honey can be a great substitute for sugar in baking. However, since it's a bit sweeter than traditional sugar, you'll probably want to use less than what the recipe calls for.

Since raw honey contains natural enzymes, it's advised to keep it away from infants under the age of one.

While the antioxidative properties of raw honey are quite frequently hyped, this natural product is still very high in sugar, so be wary about just how much you have on a daily basis.
Whether you're spreading it on toast, drizzling it on a pastry, stirring it into your tea, or just enjoying it by the spoonful, raw honey is a delightful snack.