Shaker bottle packs help fitness enthusiasts that like either drinking different beverages or having bottles in different places. You can keep one at home, one in the office, one in the gym, and so on. It beats having one to keep up with and carrying around at all times. They are also great for traveling with the family.
If you or your family need a pack of shaker bottles for any reason, the packs that follow are the best options available. As long as they are well taken care of, they should last you a long time.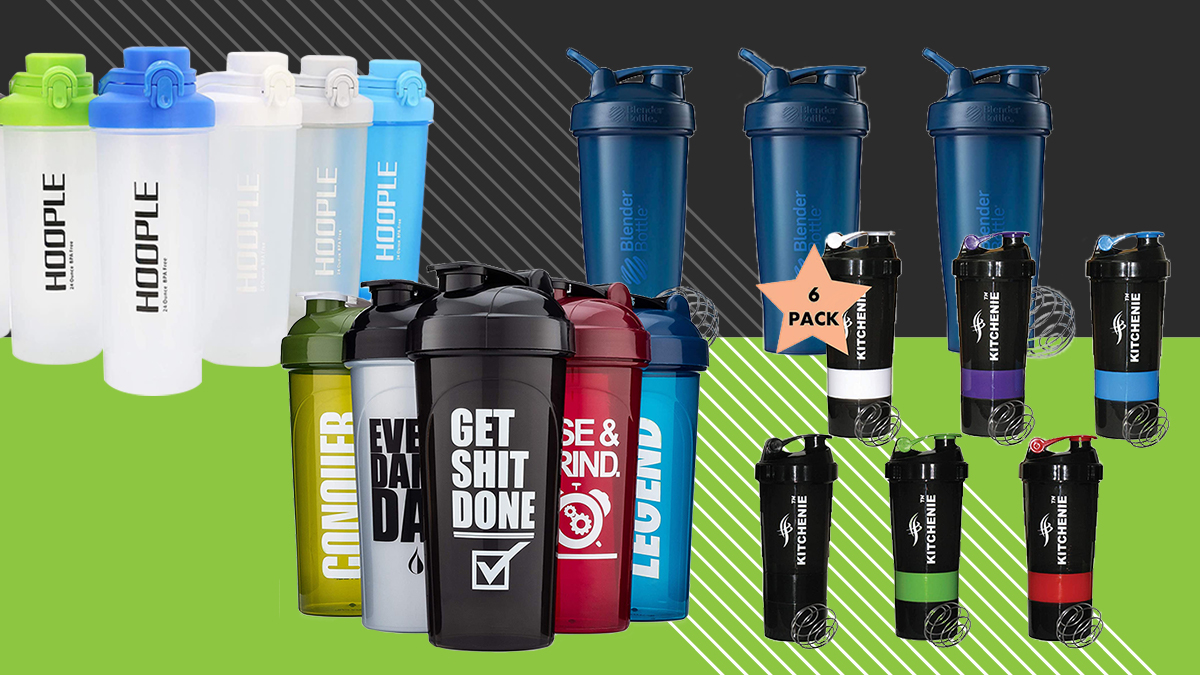 Best Overall Pack
Quality and Quantity
Pros:
Each bottle comes with a plastic grid to help break down powder.
Since each bottle is different, you'll have no trouble telling them apart if you want to keep different fluids in each.
The labeling on each cup is high quality and will last, even after several cleanings.
Cons:
Some of the cups have colorful language which may be offensive to some consumers.
There is no handle for carrying or attaching the bottle to a bag or carabiner.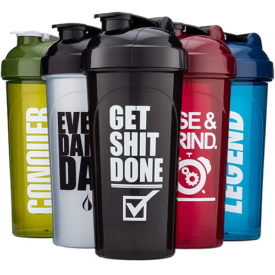 Each bottle in this five pack will hold 24 ounces of liquid. The motivational phrases on each also could make using them more enjoyable for the consumer.
Best for Travel
Bigger Can Be Better
Pros:
The handle makes it easier for carrying or attaching to your bag.
The auto flip lid allows you to use the bottle with only one hand.
A shaker ball is included with each cup.
Cons:
You don't get to choose the colors. They're distributed randomly.
The size of the cup may not fit the top of your dishwasher, which is preferred by most consumers.
Hoople Protein Shaker Bottles 4 Pack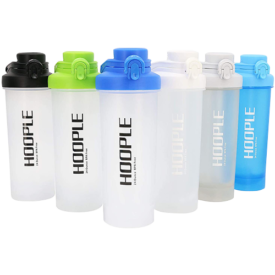 Hoople Protein Shaker Bottles 4 Pack
These bottles hold 24 ounces of liquid each and come in packs of four. There will be different colors so you can organize them as you see fit. The handle for carrying it is also strong.
Most Cups Per Pack
A Different Kind of 6 Pack
Pros:
You get six bottles that are all different colors and are dishwasher safe.
Each bottle comes with its own separate storage containers.
A wider mouth on the lid allows smoother flow of liquid for each drink.
Cons:
The bottles only hold 20 ounces of liquid which is smaller than other bottles.
The steel shaker ball will be noisy when shaking the bottle which may be annoying to some consumers.
KITCHENIE Protein Shaker Bottles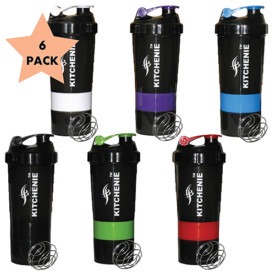 KITCHENIE Protein Shaker Bottles
You get six cups in this pack and each has storage containers for powder or pills if desired. They also have a wider mouth for more fluid per drink.
Biggest Bottle
Less Refills
Pros:
Each bottle holds up to 28 ounces. You won't have to make as many trips to refill it as you would with smaller cups.
You can pick from six different colors.
In spite of their size, each bottle will still fit in most cup holders.
Cons:
There are three bottles in this pack, which is smaller than others available.
You don't get to choose multiple colors. All three come in the same design.
You may have trouble drinking out of it if you're driving or riding in a smaller vehicle.
Blender Bottle Classic Loop Top Shaker Bottle, 3 Pack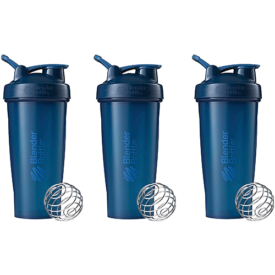 Blender Bottle Classic Loop Top Shaker Bottle, 3 Pack
These bottles hold 28 ounces each which makes it a bigger bottle than most in its category. It's also easier to hold thanks to the gripper bars on the sides of the cup.
Conclusion
Having only one shaker cup can be a hassle to keep up with. Bottle packs are more convenient for consumers as long as they are quality bottles. Whether you want to use more for different liquids or have them in different locations, make sure you choose wisely when placing an order. The choices above should last you a long time with the proper care.