In most sports, certain equipment is absolutely necessary for anyone hoping to participate in a meaningful way. Most soccer leagues – for kids or adults – will require shin guards. These are crucial in protecting the shin bone, or tibia, which is vulnerable to impact from kicks, slides, and collisions while trying to advance or steal the soccer ball.
Given their essential requirement for safety, they are generally considered mandatory pieces of equipment. Those with pre-existing injuries or health problems should seek medical advice from a sports medicine professional before starting play. It is highly recommended to check on league regulations to see which type of equipment may be required. Since shin guards have different designs and features that may suit players differently, it is important to see what types of shin guards the leading brands are offering. We've evaluated some of the most popular ones to see how they are alike and how they differ: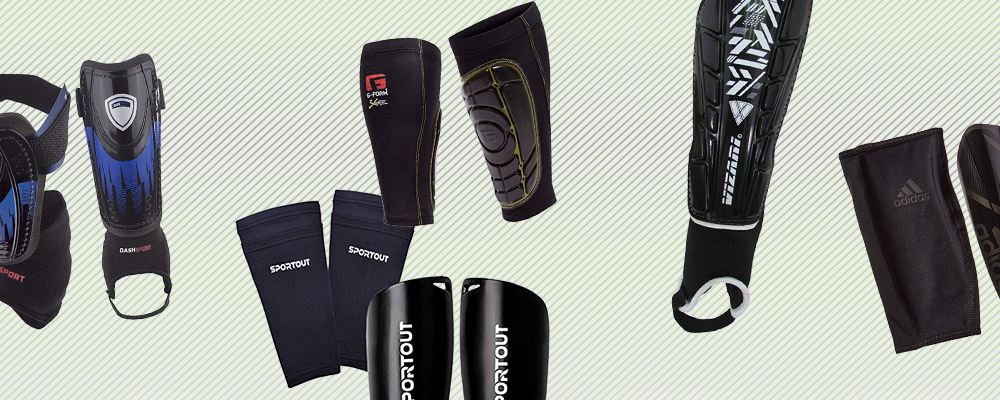 Editor's Choice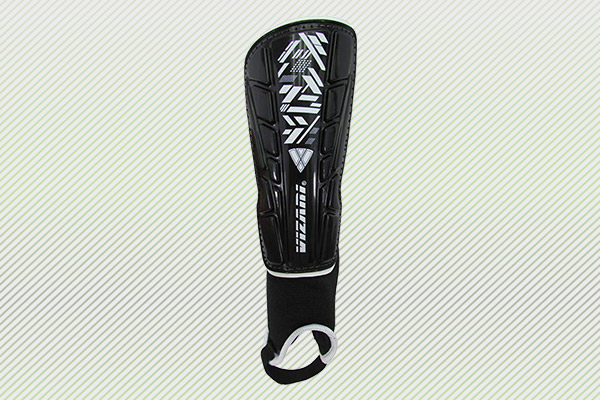 Vizari Malaga Soccer Shin Guards
Pros: 
18 color options. The shin guards from the Malaga line by Vizari come in a whopping 18 different unique color combinations. Standout options are the sky blue & yellow, neon green & black, and the white with black accents.

Multipacks. Whether ordering for a few kids in the family or for the whole team, this company thankfully offers multipacks of either two or five per set. These will be the black with white accents.

Wide size availability. These shin guards have ten different sizes available, from Extra-Extra-Small-Youth to Adult-Large.
Cons: 
Light on ankle padding. The protection provided for ankles with these shin guards is just a thin layer of padding. Other competitors have sewn-in protection especially for ankles.

Angular design. The uppermost portion of these shin guards has a relatively sharp angle. If the shin guards aren't a proper fit, this angled edge can irritate soccer players' knees during play.
Vizari Malaga Soccer Shin Guards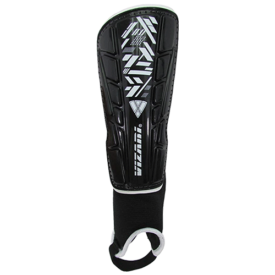 Vizari Malaga Soccer Shin Guards
The Vizari Malaga Soccer Shin Guards have a futuristic pattern with loads of different color combinations to choose from. These come in multipacks so coaches and administrators can order in bulk for added simplicity and some savings. The sizing ranges from youth to adult large.
The Contender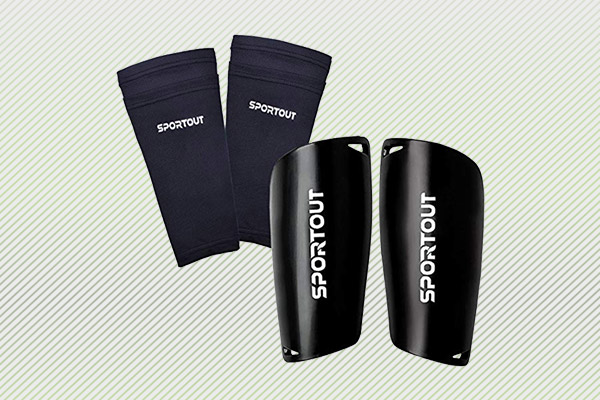 Sportout Soccer Shin Guards
Pros: 
Dri-fit sleeve. The sleeves for this shin guard from Sportout are made out of dri-fit material. This polyester fabric repels water away from the skin to help it evaporate faster.

Double tube construction.This shin guard system utilizes two tubes – one for the calf and one outside of that for the hard plastic front plates that protect the shin. This layering acts like a pocket, making the shin guard more comfortable by separating the shell from the skin.

Easy to put on. A great aspect of these shin guards is that they can slide right on without any further modifications. The plastic shell can live in the sleeve so the shin guards can be ready to go for immediate use.
Cons: 
Lack of breathability. Though this product is made out of a material (dri-fit) that is meant to evaporate excess sweat, the polyester makeup of this fabric doesn't ventilate as well as other fabrics.

Small sizing

. Though the product is advertised as being for adults and kids, the sizing may be a bit tight for some larger adults. Customers may need to buy one size larger than normal.
Sportout Soccer Shin Guards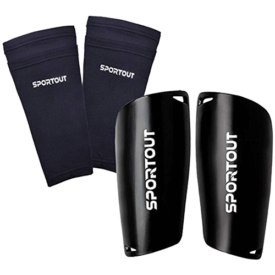 Sportout Soccer Shin Guards
The Sportout Soccer Shin Guards are comprised of tube sleeves with pockets expressly designed for the plastic shin guard shells. These are easy to put on and do not tend to slip off through play like some other sleeve-type shin guards.
Best Bargain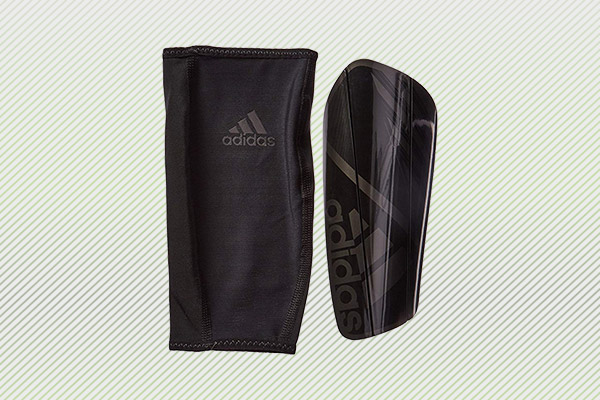 adidas Performance Ghost Pro Shin Guards
Pros: 
Compression sleeve. This shin guard from adidas comes in the form of a compression sleeve, with slits for the protective plastic shin guards. The compression sleeves can be worn alone or with the shin guards.

Design. adidas has created shin guards that have very unique designs, with different patterns and colors for each version available. The sleeves offer complementary looks for the shin guards themselves.

Price. Considering the exotic styling and name brand, this shin guard comes in at a very reasonable cost, especially for adult versions.
Cons: 
Can slide down. As these shin guards are only kept in place by the elastic sleeve, some users may find that the shin guards slide down during play. These customers may need a smaller size or soccer socks to keep the shin guards in place.

Shin guard is narrow. The shin guard itself does not cover as much space across the width of the tibia as other brands. This can leave some areas of the shin vulnerable to impact.
adidas Performance Ghost Pro Shin Guards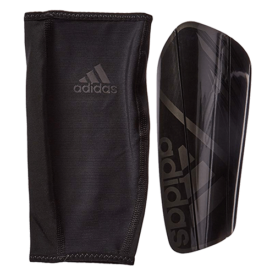 adidas Performance Ghost Pro Shin Guards
The Performance Ghost Pro Shin Guards from adidas have breathtaking designs that vary from variety to variety. With bright colors adorning both the compression sleeves and the shin guards themselves, these are professional-grade shin guards that are available at a reasonable price.
Best For Youth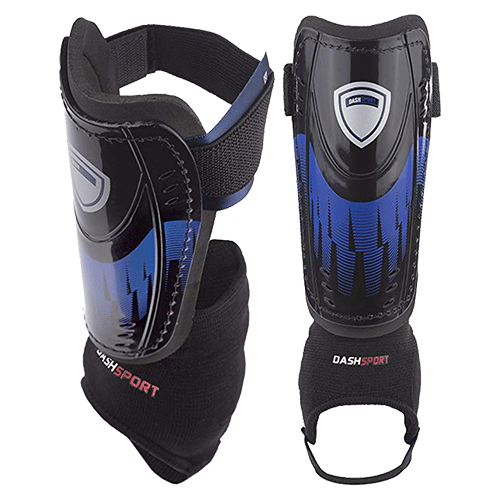 DashSport Soccer Shin Guards
Pros:
Ankle support sleeve. Each one of the four varieties of shin guards from DashSport has an extra ankle sleep that is attached to the main shin guard. This protective component is filled with flexible padding on both sides of the ankle. 

Inner foam padding. On the interior of the shin guard the manufacturer has placed a layer of foam padding. This can lessen the sensitivity of impact during play.

1 year warranty. Those who are worried that they are sinking money into a product that could deteriorate during play can rest assured; there is a one year warranty that protects against material failure.
Cons:
Straps can be uncomfortable under feet. The nature of this form of shin guard necessitates a strap going under soccer players' feet. This can feel uncomfortable for some users.

Only youth sizes. This line is only available in three sizes, Extra-Small, Small, and Medium. Medium is suitable for children up to 5'3".
DashSport Soccer Shin Guards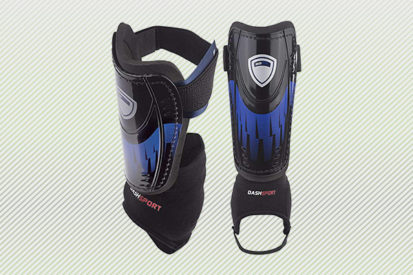 DashSport Soccer Shin Guards
DashSport's Shin Guards have a series of colored chyrons dashing across the front plate of the shin guard, available in four different colors. This product has ankle sleeves with foam padding, allowing extra support that not all the leading brands provide.
Most Convenient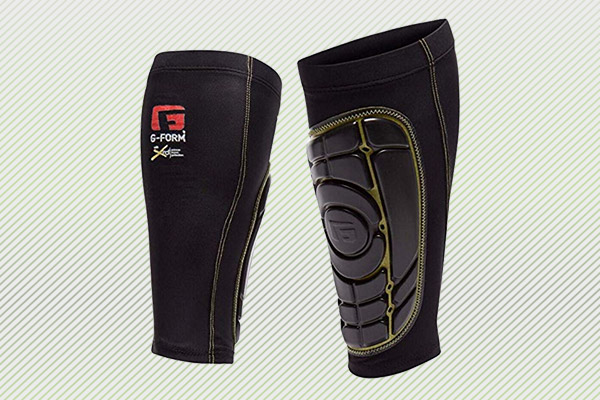 G-Form Pro-S Elite Shin Guards
Pros: 
Reaction technology. This shin guard does not employ the use of a hard shell, instead relying on a unique material that is soft and flexible until experiencing impact. Upon contact, the padding stiffens and absorbs the force of the hit.

Lightweight. Weighing only 3.52 ounces, this is one of the lighter shin guards on the market. This can allow greater agility and less fatigue during play.

Flexible. Due to the articulated design of these shin guards, with a series of smaller contiguous pads, there is increased flexibility while wearing and putting them on.
Cons:
May not have enough protection for certain players. Adults in competitive leagues and defenders everywhere may not get as much protection as they need. Any player who experiences a lot of impact may want to stick with a harder plastic shell.

Cost. This lightweight and convenient one-piece sleeve carries a price tag higher than most competitors.
G-Form Pro-S Elite Shin Guards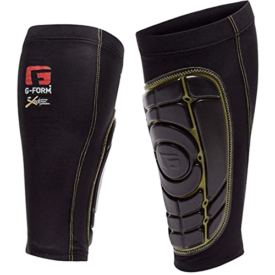 G-Form Pro-S Elite Shin Guards
The G-Form Pro-S Elite Shin Guards are convenient to put on by virtue of only being one sleeve with protective padding built into the material. Using a special technology that stiffens the padding upon impact, these sleeves are meant to be more flexible and lightweight than standard-style shin guards.
How We Picked
Shin guards are essential pieces of equipment that need to serve to protect soccer players while not inhibiting their play. Given this responsibility, manufacturers have devised different types of shin guards that can benefit different categories of users. A shin guard that is ideal for Player A may be more uncomfortable for Player B, while the opposite may be true of a competing shin guard. To fairly judge between some of the leading lines of shin guard, we looked at a few key factors to shed light on their overall effectiveness:
Structure
Shin guards can be made in two primary types of structures. They can be either strapped (using materials like velcro) around the calf, ankle, and heel, or come in a tube-like sleeve form. The shin guards that are strapped tend to have a hard plastic shell as the main component of the equipment. Additional ankle padding may be present to increase protection and to help keep the shin guard in place. The straps can sometimes be uncomfortable with this type of shin guard however and can come undone if placed in an area that experiences a lot of skin contact.
Sleeve shin guards are typically easier to put on, as the just slide over the ankle onto the calf. These sometimes have the protective shell built into the sleeve, but often times this sacrifices a bit of protection and customization. The tube sleeves with pockets for plastic shells can be convenient in that users can buy replacement plastic shells in case the ones they have break or are insufficiently protecting the shins.
Style
Most shin guards lend a bit of color and flash to a soccer player's attire – and sometimes add quite a lot. The colors can be bright, utilizing neon and other colors meant to provide pops of vibrancy. Oftentimes manufacturers will provide unique designs on the shin guards themselves, even varying between each product within the same line of shin guards.
Though these shin guards can look rather stylish and unique, they may also compete with team colors. Sometimes the flashiest shin guards can look quite garish when put in context of a team. Coaches may prefer their players to wear something with a more conventional look. Fortunately most brands have at least one or two varieties that are more subdued, though some only make colorful varieties.
Protection
The most important quality of shin guards is the level of protection they provide, as that's why they are typically mandatory in leagues of all levels of competitiveness. The protection usually consists of a hard plastic shell that is either built into the fabric of the shin guard or is removable. The width of the shin guard can vary between competing brands, so some users may prefer a wider shin guard that protects more surface area of the lower leg. These can be more uncomfortable, however.
Some shin guard manufacturers focus on making lightweight and flexible shin guards. These thinner and softer shin guards offer a baseline level of protection from impact, but may not be as formidable as the harder shells that competitors offer. Further, some manufacturers include ankle sleeves that are meant to shield either side of the ankle from receiving the brunt of impact. Most soccer players with experience will know if this area is vulnerable for them based on their type of play and their level of competition.
Tips
Not sure which shin guard is right for you? When making a purchase, here are some tips to consider beforehand:
Is this for a player on a team?

If the shin guards are being purchased for an individual on an existing team, there may be team colors to account for. As some of the shin guards on the market can be quite flashy and even decadent in the brightness and uniqueness of the design, it is important to see if the team colors would clash or be complemented by whatever colors the shin guards are sporting.
Most manufacturers will make black, white, or some other neutral color that should match most team colors. Those shopping for an entire team may want to opt for something simple like black.

Do you need ankle support?

Some shin guards have built-in ankle support. These tend to be sleeves with padding on either side of the shin guard. Those who get involved in scrums where multiple limbs are attacking the area of play at once may be more apt to get shin guards that have ankle sleeves.
Alternatively, some soccer players may have ankle sleeves they already use that they prefer. Purchasing a shin guard with built-in ankle sleeves may encumber the use of the preferred ankle guards that they already wear.

Will you need to clean these often?

Some of the leading shin guards are made out of materials that can be machine washed and even machine dried. This makes cleaning them much easier. Some brands need to have each part washed by hand and dried on a line.
Those playing soccer multiple times a week may need to find a pair of shin guards that is easier to clean to avoid having their gear get too musty. Sleeves or other shin guards with only one component piece may be the easiest to take care of.