Slow cookers are a wonderful tool to have at home. With the use of this device, home cooks can create flavorful and filling meals for the whole family, often with leftovers to spare. Those cooking for themselves or for them and a partner can experiment with lots of different recipes and have enough to bring to work the next day. Those hoping to start out a new diet or healthy living lifestyle may find that the simplicity of a slow cooker helps facilitate their new routine.
Slow cookers may be relatively easy to operate, but without proper guidance it is also easy to end up with mush after waiting for several hours of heating. Slow cooker cookbooks provide not only recipes, but advice on how to operate, clean, and fully utilize a slow cooker. Because most slow cooker cookbooks have their own angles, perspectives, and audience they are catered to, it can be hard to decide which one would be the best to purchase. We've considered some of the leading texts; here is what we found: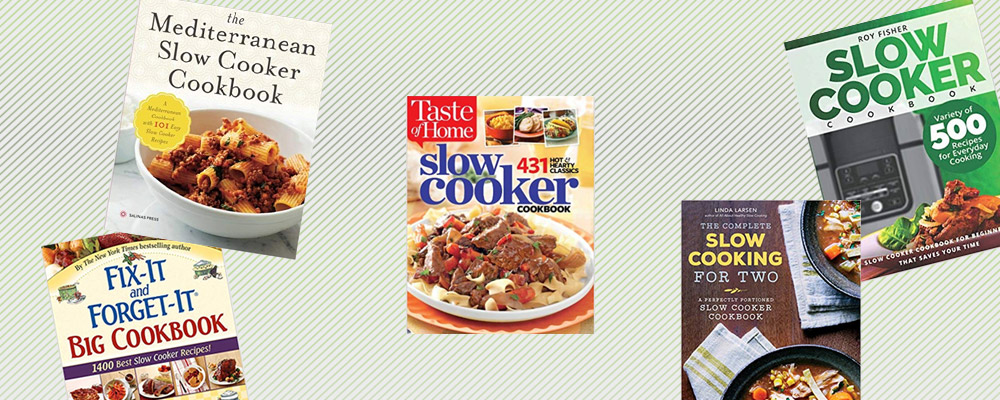 Editor's Choice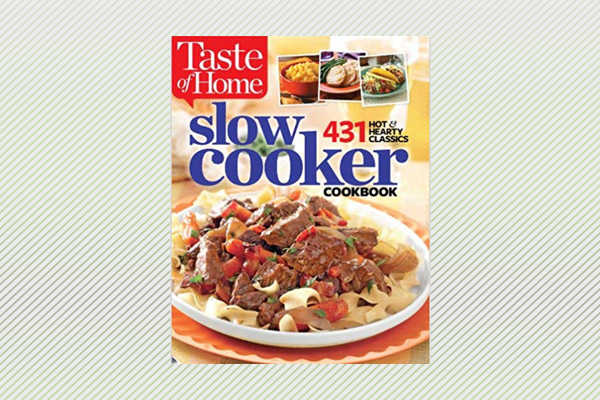 Taste of Home Slow Cooker: 431 Hot & Hearty Classics
Pros:
Healthy focus. Out of the many recipes included in this cookbook, there is a whole section dedicated to healthy fare. These are takes on traditional meals but with a more nutritious twist. Included are fun appetizers, entres, and desserts.

Home cooked meals. The premise of "Taste of Home" is that all of the recipes are submitted by real home chefs. This means that they have been tested and tried out by families across the country, use obtainable ingredients, feature and easy-to-follow recipes.

Simple recipes. Most of the recipes in this book will require ingredients that may already be in most cupboards. While some cookbooks will try to stand out by using exotic ingredients, this book uses common spices and food items.
Cons:
Meat heavy. This cookbook doesn't provide enough recipes for vegetarians or vegans, unfortunately. A hefty portion of this book is dedicated to cooking beef, pork, and poultry.

Lacking nutritional information. While not required to be in all cookbooks, those hoping to keep track of the carbohydrates, fat, or sugar content of their food will have to use their own methods of tracking. This book has no information of that nature.
Taste of Home Slow Cooker: 431 Hot & Hearty Classics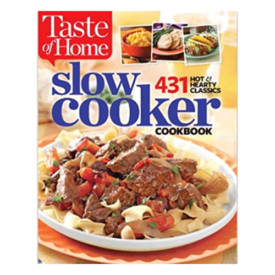 Taste of Home Slow Cooker: 431 Hot & Hearty Classics
This cookbook features hundreds of classic recipes as submitted by home cooks around the country. By featuring family recipes, readers will not have to worry about the deliciousness of the recipes, as they have been vetted by both the publisher and the families of the chefs that submitted them.
The Contender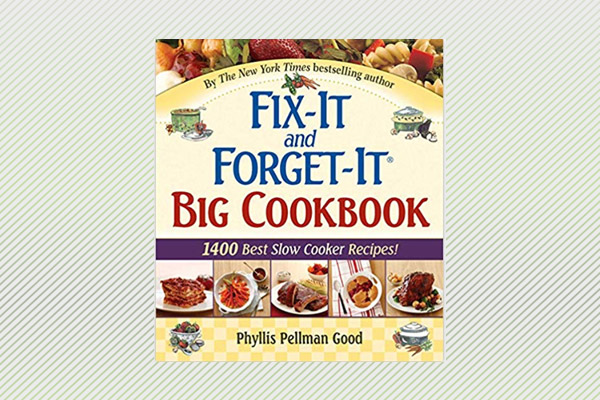 Fix-It and Forget-It Big Cookbook: 1400 Best Slow Cooker Recipes
Pros:
Over 1400 recipes. This is one of the most comprehensive cookbooks, regardless of the style of cooking, that can be found available for purchase. The book features main courses, appetizers, breakfasts, soups, breads, and other categories, each with dozens of recipes each.

Organized by type of recipe. This text does a great job of grouping recipes with similar ones. For example, those looking to make a chicken soup will find several chicken soup recipes grouped together.

Kitchen tool advice. One of the most dispiriting experiences when cooking from a cookbook is finding out halfway through the prep that there is a tool needed to finish cooking properly. This book has a list of helpful tools for slow cooking and even has a guide on which type of slow cookers to purchase.
Cons:
Processed foods. This cookbook relies on user-generated recipes, and some of them in turn rely on processed foods (canned soups, stuffing, etc). Readers may need to find fresh alternatives for those if trying to avoid processed foods.

Traditional recipes. This may not be a detriment for many readers, but the recipes in this cookbook are all classic ingredients that may be found from other sources. Those looking for something novel might have to look elsewhere.
Fix-It and Forget-It Big Cookbook: 1400 Best Slow Cooker Recipes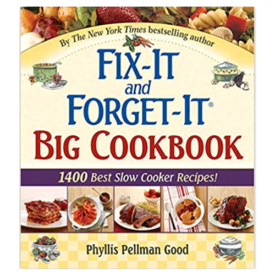 Fix-It and Forget-It Big Cookbook: 1400 Best Slow Cooker Recipes
This cookbook from Phyllis Good contains a comprehensive collection of recipes found from families around the country. This book is great for beginners to slow cooking or for chefs hoping to nail a classic dish for a special occasion or for the whole family.
Best Bargain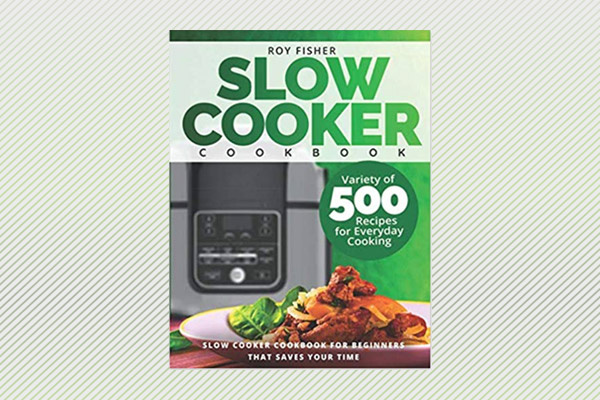 Slow Cooker Cookbook: Variety of 500 Recipes for Everyday Cooking. Slow Cooker Cookbook for Beginners that Saves Your Time
Pros:
Nutrition data. Each recipe in this cookbook has nutrition data included with it. Information is provided on calories, fat, fibers, protein, and carbohydrates.

Realistic recipes. While this cookbook is geared towards beginners specifically, anyone who is short of time may profit from the nature of these recipes. They tend to be simple, easy-to-follow, and take the amount of time it is said they will take.

Value. This book can be purchased for about half the price of most cookbooks for a paperback version and virtually for free for a Kindle version.
Cons:
Not much more than recipes. This cookbook has lots of healthy and tasty recipes, but unfortunately there is not much other info given. Those hoping to learn more about slow-cooking techniques might be disappointed.

No pictures. This book has almost no pictures whatsoever, not even in the introduction. While the utility of the book remains the same, it can be inspiring to see photos of the recipes readers might be able to cook.
Slow Cooker Cookbook: Variety of 500 Recipes for Everyday Cooking. Slow Cooker Cookbook for Beginners that Saves Your Time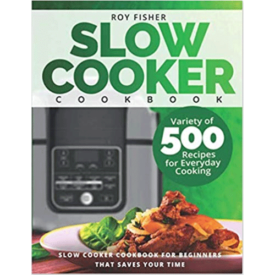 Slow Cooker Cookbook: Variety of 500 Recipes for Everyday Cooking. Slow Cooker Cookbook for Beginners that Saves Your Time
This text from Roy Fisher is focused on providing health-conscious and easy-to-follow recipes. With nutrition data and simplified instructions, this book can be of great service to those hoping to continue or start a healthy lifestyle.
Best for Smaller Portions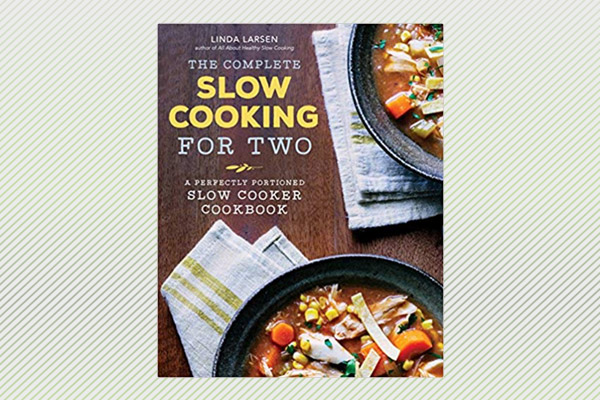 The Complete Slow Cooking for Two: A Perfectly Portioned Slow Cooker Cookbook
Pros: 
Tips and helpful information. This textbook gives a great explainer on how to properly use a slow cooker, how to get the most out of it, and how to shop for recipes.

Addresses myths. A chapter that may be quite beneficial for a slow-cooking neophyte is regarding common myths about clean eating. Sometimes certain ideas and misconceptions about a type of cooking can spread quicker than the cooking style itself; this book looks to dispel some of these.

Health labels. This book includes valuable informational labels that are easy to read at the side of each page. These will declare whether a recipe is gluten-free, nut-free, dairy-free, etc.
Cons: 
Leftovers. Though the title suggests that the meals will be just enough for two people, some of the recipes will have leftovers. This might only really be a misgiving for those without storage space.

Repetitive.

The recipes in this cookbook often times call for the same ingredients. Though this may be economical and make shopping easier, it may not inspire the same joy as exploring a wide variety of recipes would.
The Complete Slow Cooking for Two: A Perfectly Portioned Slow Cooker Cookbook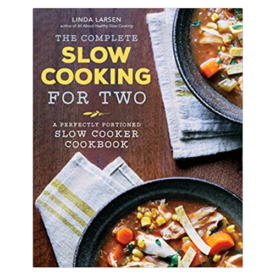 The Complete Slow Cooking for Two: A Perfectly Portioned Slow Cooker Cookbook
This slow cooking cookbook by Linda Larsen includes lots of helpful sections on how to become comfortable with a slow cooking device and how to utilize it to its fullest. With smaller portions than most cookbooks and useful dietary information, this cookbook is great for those with an eye on health and economy.
Best for Vegetables & Grains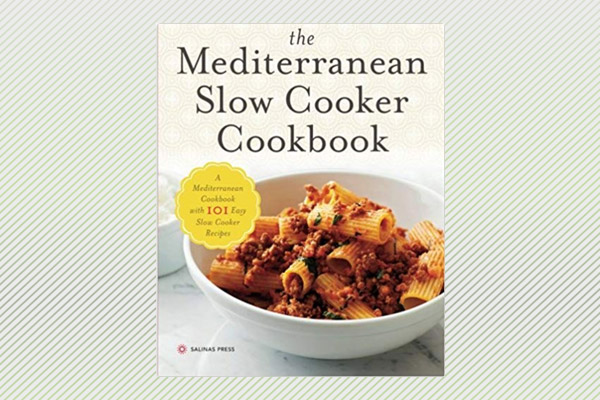 The Mediterranean Slow Cooker Cookbook: A Mediterranean Cookbook with 101 Easy Slow Cooker Recipes
Pros: 
Great for vegetarians and pescatarians. This book dedicates more than 50 pages to grains, fibers, beans, and vegetables. Though there is also a section for other meats, this book has more of a focus on vegetables, grains, and fish than other cookbooks.

Cleaning tips. A handy section in this book covers an issue not often covered in slow cooker cookbooks; how to clean the slow cooker after cooking. Since many meals may end up with residue in the slow cooker, this topic can be very helpful in cutting time out of the cleaning process.

Flavor profiles. The Mediterranean diet consists of foods that are commonly found in countries that surround the Mediterranean. This book gives detailed descriptions of several of these countries' flavor profiles and how to achieve them at home..
Cons:
Lots of prep time needed. While the end result often is a very tasty meal, some of the recipes necessitate a lot of time for preparation. Readers may want to prepare the ingredients the night before or earlier in the day in order to properly manage time.

Not sensitive to food restrictions. Those with certain food restrictions (dairy, gluten, animal protein) will have a hard time finding many recipes they can use. These readers may have to come up with alternative ingredients.
The Mediterranean Slow Cooker Cookbook: A Mediterranean Cookbook with 101 Easy Slow Cooker Recipes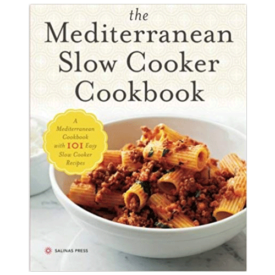 The Mediterranean Slow Cooker Cookbook: A Mediterranean Cookbook with 101 Easy Slow Cooker Recipes
This cookbook focuses on the Mediterranean diet; a lifestyle that features vegetables, fruits, nuts, olive oil, fish, and moderate amounts of dairy, eggs, and poultry. By combining these food groups with slow cooking techniques, the book is giving home chefs a new way to start a healthy lifestyle.
How We Picked
Slow cooker cookbooks tend to have a wide variety of recipes, ingredients, food groups, and dieting perspectives. Not every book will satisfy the average reader. It is important to prioritize what is important before purchasing a cookbook and investing time in cooking it's recipes. We have identified a few key aspects to consider that helped us make our evaluations:
Food focus
Slow cookers are often associated with soups, chilis, and red meats. While that can often be the case, many cookbooks have other foods in mind. Certain books will focus on vegetable dishes, some will focus on pastas, while others will feature anything from breakfasts to desserts.
For customers who have certain dietary restrictions, it can be frustrating to purchase a book that has either very few recipes that satisfy those needs or lack proper labeling to determine if a recipe is appropriate. Cookbooks sometimes clearly state their intent on the cover or in the index; others simply have lots of recipes and the reader can just hope that there are enough recipes that fit in their diet.
Slow cooker advice
One aspect that makes several slow cooker cookbooks stand out in comparison to their peers is the inclusion of informative chapters about slow cooking in general. These sections can have guidelines on how to properly use a slow cooker, how to clean a slow cooker, and what type of slow cooker to purchase.
The advice that goes along with these cookbooks often is catered to a certain type of diet; whether it is a healthy lifestyle or cooking a meal quickly or making food en masse, there are lots of different tips, tricks, and handy guidelines that can make cooking much easier. Conversion tables, cooking time charts, nutrition information, and spice blend quick reference charts can make starting a new diet or learning how to use a slow cooker less intimidating.
Healthiness
While the nutritional value or overall healthiness of food is clearly subjective, based on the needs of the reader, certain texts put more or less emphasis on the subject than others. Several of the leading cookbooks contain nutrition information for every recipe, giving data on fat, calories, carbohydrates, protein, and other food content. This alone can help the reader at home to make sound decisions on what they are putting in their body.
Cookbooks with a slant, such as for a certain diet or for small portions, may try to make most if not all of their recipes follow a certain dietary guideline. These books may be easier for a reader to pick up and feel confident that the recipes they will be making will be healthy. However, what is healthy for one person may not be healthy for the next. It is important to speak with a health professional before making any life changes that may have a big impact on health and lifestyle.
Tips
Not sure which slow cooker cookbook is right for you? Take a look at the below tips to make your decision making process a bit easier:
Do you already have a slow cooker?

Some customers may already have a slow cooker and are just looking for new recipes to literally spice up their culinary routines. For these types of customers, looking for a cookbook with a specific food or lifestyle focus may allow them to get the most out of their new purchase.

If you are thinking of getting a slow cooker, it is advised to get a book either catering to beginners or one that at least has sections explaining the ins and outs of slow cooking. Some texts even have guides on which slow cooker to purchase.

Do you have any dietary restrictions?

Slow cooker cookbooks tend to be comprehensive; many of them have recipes from across cultural backgrounds and tastes. This is wonderful for those hoping to explore their gastronomic skills or those with a wide pallet.

Those with specific foods that they cannot eat or a lifestyle they are trying to accommodate may need to look for a text that is more specialized. Cookbooks that have a certain dietary focus or that have clear labeling, for gluten-free or dairy-free for example, may make the process a bit easier.