To play soccer, one of the key necessities is the soccer ball. A ball is constructed with 32-panels and the design can vary pretty significantly depending on where in the world the beautiful game is being played. Soccer balls come in all shapes, sizes, and colors, which can make shopping for the best one hard to navigate. We've kicked, inflated, and juggled quite a few, and researched several balls on the market to curate a list of our best picks.
Please keep in mind that soccer balls really vary in price range, so we did our best to select affordable and quality products. It is also worth knowing that most soccer balls come deflated, so unless the product comes with a pump, that is something to prepare for. With all that being said, let's go through five of our best picks.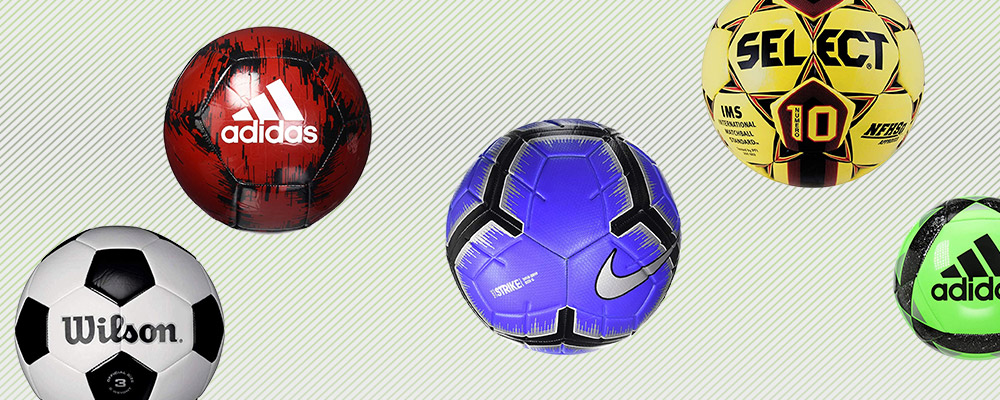 Best Performance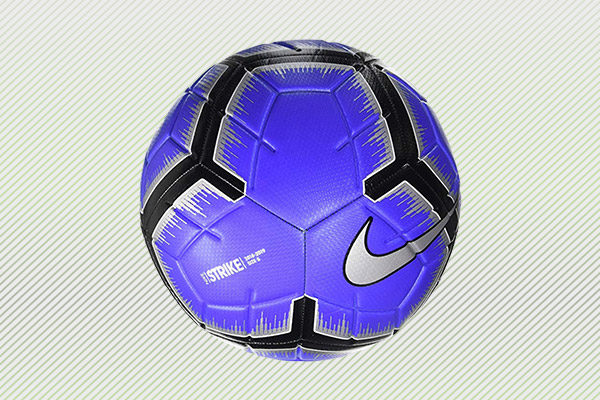 Nike 2018 Strike Soccer Ball
The Nike 2018 Strike Soccer Ball is made with performance goals of all kinds in mind. It was designed using machine-stitching, and is a blend of rubber, polyurethane, polyester, and EVA materials. It has visible and colorful graphics which makes the ball easy to kick around without visibility being an issue. 
Pros:
Design. The machine-stitching makes for a thorough and consistent design throughout. 

Visibility. The colors (white and blue) as well as the graphics on the ball makes it easy to see even from a distance on a big soccer field. 

Durability. The 32-panel design ensures a long-lasting and durable soccer ball. The panels are designed to handle and withstand all types of kicking, dribbling, and hard shots. 
Cons
Price. The price of this ball does vary depending on the color/design selected.

Size. Although the product does come in different sizes, not all of the sizes are available depending on which color/design selected.
Best Design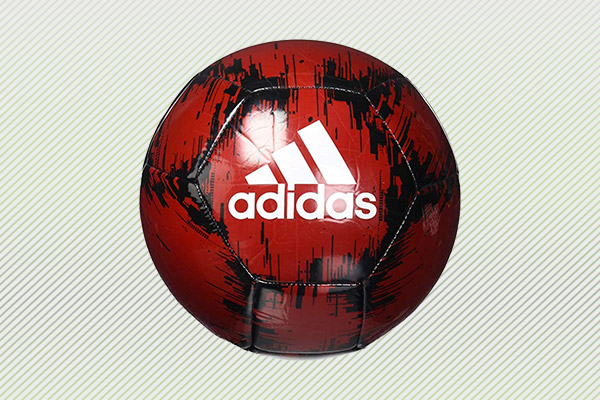 adidas Glider Soccer Ball 
The adidas Glider Soccer Ball is offered in 20 different designs. The variety here stands out from all of the products we've seen on the market, and the color variations make this soccer ball a unique option without function and quality compromised. 
Pros:
Color. This ball is offered in 20 different color/design options. Some of the designs are simple and use just two colors, whereas others use three to four colors and creative graphics. 

Design. The machine-stitching makes for a durable and consistent product. 

Material. This ball is synthetic and bounces well and holds air very well when inflated.
Cons:
Price. With so many different color and design options, the pricing of this ball can vary significantly. 

Size. Not all size options are available for each color/design. 
Best Value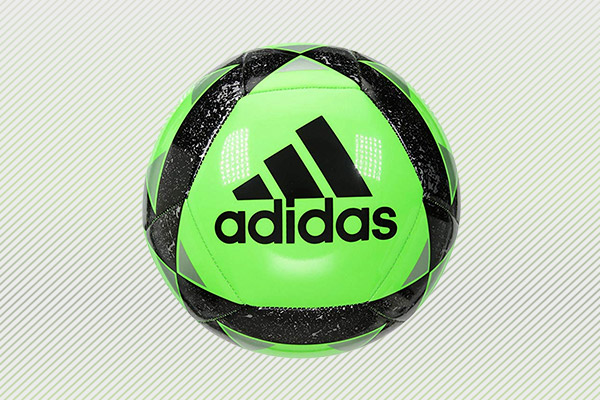 adidas Performance Starlancer v Soccer Ball
This soccer ball will be hard to miss with its bright color palette. This ball is one of the most affordable balls we've seen on the web, and the design is top quality thanks to its thorough machine-stitching.
Pros:
Design. The machine-stitching makes for a durable and consistent product. 

Variety. While all of the colors are bright (lime green, pink, bright blue), there are five product design options providing a solid variety compared to other competitors.

Quality. When this ball is inflated, the butyl bladder gives it great air retention.
Cons:
Price. Depending on the size and color selected, the price varies.

Size. Not all size options are available in every color. 
Best Kids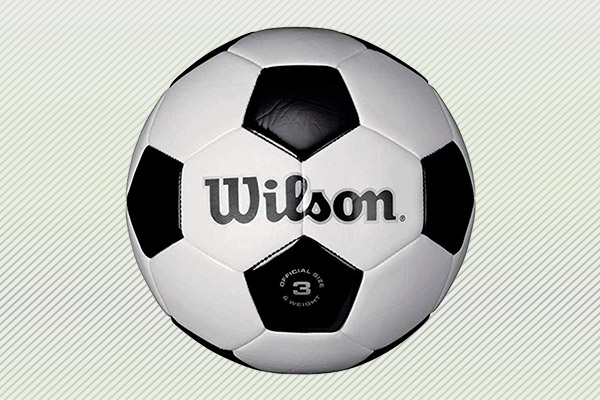 Wilson Traditional Soccer Ball 
The Wilson Traditional Soccer Ball is a no-fuss, simple, and reliable product. The design follows a traditional panel pattern, and the material is primarily synthetic leather. This ball is offered in different sizes, which makes it an affordable and properly sized ball for recreational use. 
Pros:
Simplicity. This soccer ball follows a traditional panel design and is a good quality, simply designed option.

Quality. The butyl rubber bladder gives the ball great bounces and holds air well when properly inflated.

Price. This ball stands out for being good quality and listed at a low cost. 
Cons:
Design. This is a very simple design, so if a more flashy and colorful ball is what you're looking for this might not be the right option.

Price. Even though all of the prices are affordable, they do vary depending on the size of the ball selected.
Best Pro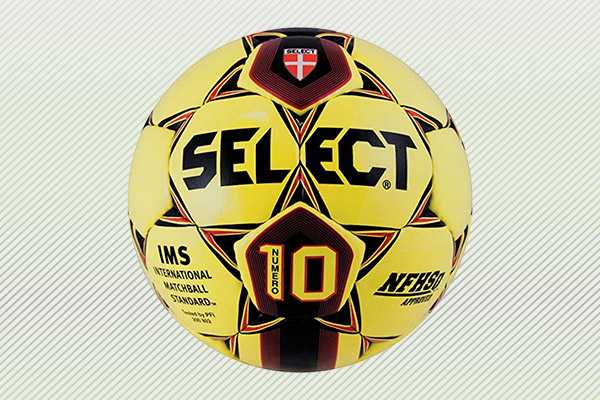 Select Numero 10 Soccer Ball 
Calling all self-proclaimed soccer pros, this Select Numero 10 Soccer Ball may be the ball of your dreams. This product is a familiar soccer ball on the market because of its combination of high-quality materials, and personal hand-stitched craftsmanship on the panels. Look like a pro and play like a pro with this ball.
Pros:
Quality. This soccer ball is constructed with PU material and is laminated with neoprene foam for softness. 

Design. The 32-panel design provides great roundness and durability giving the ball great and accurate flight and a solid bounce.

Variety. This soccer ball is offered in a variety of colors (yellow, white, green, blue, white, and pink.)
Cons:
Price. This is one of the more expensive soccer balls on the market, but that is because of its top quality and high-end and tested materials.

Size. Not every color/design is available in all of the sizes. 
How We Picked
When sorting through the best soccer balls on the web, we looked very carefully at design, quality, and function. A good soccer ball should be well stitched so it properly lasts through difficult games and kick-arounds. It also should be easy to see, which means design and panel construction is important. We also chose affordable balls that were high-quality and made with long-lasting materials. Check out our methodology below.
Durability.

We only chose balls that we were confident would last through all kinds of weather conditions, kicking, and heading. That meant we looked for machine-stitched soccer balls, or balls that were constructed with a blend of durable materials.

Design.

Panel design is a really important detail specific to soccer balls. Often soccer balls are made with 32-panels, however depending on design and maker that can sometimes vary.

Size.

Not one size fits all when it comes to soccer balls. We looked at balls that were offered in different sizes, and even found a few makers that made high-quality soccer balls catered to younger kids.

Price

. Soccer balls can vary significantly in pricing depending on size, design, color, and the maker. We focused on providing a wide selection of pricing options, but did our best to select the most affordable, high-quality picks.

Performance.

Since soccer balls are usually bought with the intent of being used to play with, we kept in mind different performance goals when choosing. We found soccer balls that are better for younger, less experienced players, but also reviewed products that would be a good fit for more experienced and performance-driven players.
Soccer Ball Sizing Guide
Soccer balls come in various sizes, and most of the sizes are catered to specific age groups. When shopping for a ball make sure to consider which size will be the best match. It is also worth noting that sizing may be different depending on the league/location/federation, so please keep in mind that this is a general guide to choosing the right size!
Size 1:

Known as the skills size. Fine for all ages, but typically used for developing footwork skills since it is the smallest option out there. It runs 18-20 inches/46-51 cm circumference.

Size 3:

This is the Junior size. Under-8. 23-24 inches/58.5-61 cm circumference.

Size 4:

The typical Youth size. Under-8 to Under-12. This size runs 25-26 inches/63.5-66 cm circumference.

Size 5:

Adult/Pro. Under-12 and up. This is the size of the soccer ball you will typically see being used in professional soccer matches. This ball will be 27-28 inches/68-70 cm circumference.
Additional Soccer Ball Facts
Most soccer balls are made with 32-panels.

To this day, a lot of soccer balls are still constructed by hand, however there are machines that construct them now as well.

The soccer ball gets its bounce and ability to inflate by an inner air bladder. Once it is thoroughly pumped up, the ball forms, and all of the panels become visible.

Just how the size of a soccer ball varies, the weight does as well. There are rules about the weight of a soccer ball, but most of those are declared at the FIFA level competitions.
BarBend Tips
At BarBend we are constantly testing, reviewing, and suggesting products. While we aren't necessarily tying up our cleats, or kicking a soccer ball around the office, we do know a thing or two about navigating through various makers and designs on the web. Here are a few of our tips for picking the best soccer ball on the market.
Kick it.

Before buying the soccer ball, see what you like! This could mean paying attention to what people around you are kicking around at the park, or even testing out all the balls possible. There are a lot of different designs and sizes on the market, so definitely figure out what kind of material, panel design, and size you prefer before purchasing.

Pump.

This isn't always clear, but most soccer balls are not inflated when you purchase them. Make sure that you have a pump or something available to inflate the ball once purchased!

Size.

Depending on your age and skill-level, size is an important detail to figure out when selecting your soccer ball. It is easy to be mistaken and think that a soccer ball is incredibly affordable on the web before realizing that is only because it is a size for little kids! Pay attention to these details before buying.

Performance.

Something to consider is what your goals and plan is for buying a soccer ball. Depending on your level and commitment to the game can influence what kind of ball and money you're willing to invest. There are a lot of simple designs that are made for a more casual kick-around, but there are also products made with intent of being kicked, dribbled, and worn out during fast and intense soccer games. Figure out your performance goals first!
Wrapping Up
Now that we've gone over five of our best soccer ball picks on the web, we hope you're feeling more informed and ready to take the pitch! With so many makers, colors, designs, and sizes, we hope we've created an informative and detailed breakdown of a few of the best products on the web.