Shopping for soccer shorts can be a hard process, especially because there are so many makers, fits, and styles out on the market. It is often to see soccer shorts designed for the serious players, but we're here to point out a few brands that can be worn by serious and regular athletes.
We've looked at various styles and brands of soccer shorts and selected five of the best on the market. We've kept in mind performance goals, comfort, price, and style during this process. Now, let's get this game started.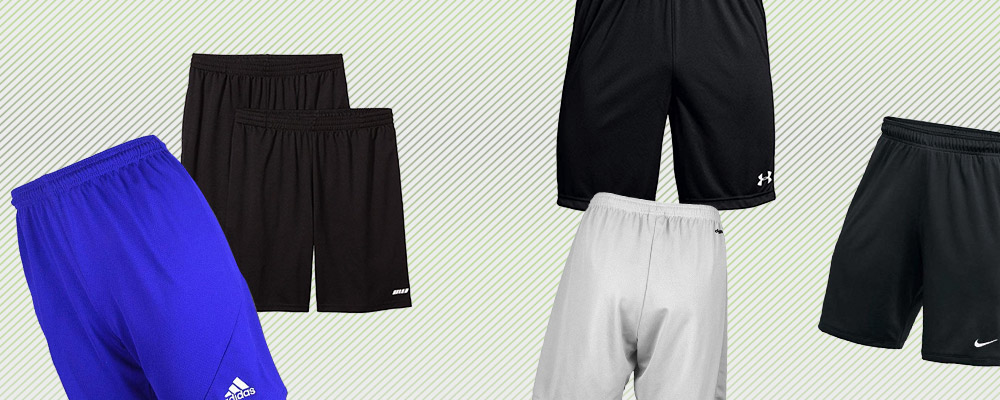 Editor's Choice
Under Armour Men's Golazo 2.0 Soccer Short
These shorts are affordable, offered in five colors, and are designed with a lightweight and breathable fabric ideal and comfortable for different movements. They are also made with an anti-odor technology which means not only do these look and feel good, but they smell good too.
Pros:
Comfort. These shorts have an elastic closure which keeps them on securely, but the rest of the short is made out of polyester which is breathable, lightweight, and comfortable.

Price. For a leading brand in sportswear, and the quality of these shorts these are incredibly affordable compared to other leading makers on the market.

Style. These shorts look sharp. They have a simple and sleek design and the color options include blue, red, black, white, and black/white for a solid variety. 
Cons:
Liner. These shorts do not have a liner. This is certainly a preference thing, so if having a liner is an essential detail, these might not be the right fit.

Material. These shorts are made out of 100% polyester.
Best Performance
adidas Performance Men's Striker Athletic Short
These soccer shorts are simple, comfortable, and are designed for performance with their mesh material. The elastic closure fits snug, but doesn't pinch and the shorts feel loose without looking too baggy. They are durable to handle all kinds of weather and sweaty workouts, and are machine washable. 
Pros:
Comfort. These are made out of polyester and fit snug without feeling too tight or constraining. The material is lightweight and breathable. 

Variety. These shorts come in a wide variety of colors. White, black, blue, orange, and even some multicolor options for a unique look.

Logo. The adidas logo on the left hem is tasteful and well placed. It gives the shorts a nice detail without distracting from the simple design of the entire short.
Cons:
Price. The pricing of these shorts significantly varies. In general, they are affordable, however the price does spike up depending on color, design, and sizing. 

Liner. These shorts do not have a liner. 
Best Fit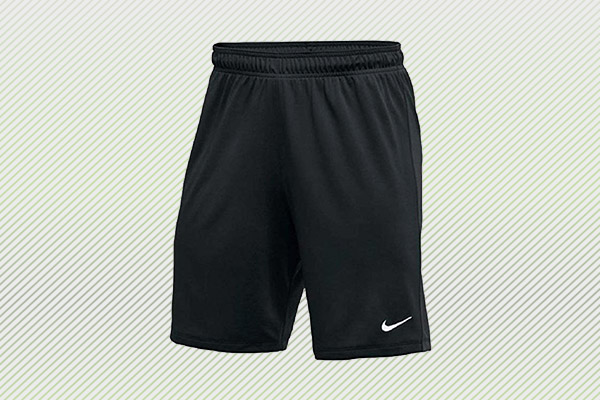 Nike Men's Soccer Park II Shorts
These soccer shorts are made with dry-fit material and are designed with performance and comfort in mind. The fit is secure thanks to the elastic closure, and the elastic drawstring also allows for adjustments as needed. 
Pros:
Fit. Depending on what size is selected, these shorts are completely adjustable. The closure is elastic which gives them a snug yet comfortable feel. They include a drawstring which gives these shorts another added option for more tightening or loosening as needed. 

Price. Given the quality of the product, and the brand, these shorts are incredibly affordable.

Appearance. These shorts have a classic look with no fuss or extra design. They have the token Nike swoosh at the bottom, but apart from that they are just offered in solid black, white, and red colors.
Cons:
Size. Not all of the shorts are available in every color depending on the size selected.

Slim. In general these shorts have a slim fit to them. Like most soccer shorts they are a standard length, but they do have a narrow look and definitely will not look baggy.
Best Price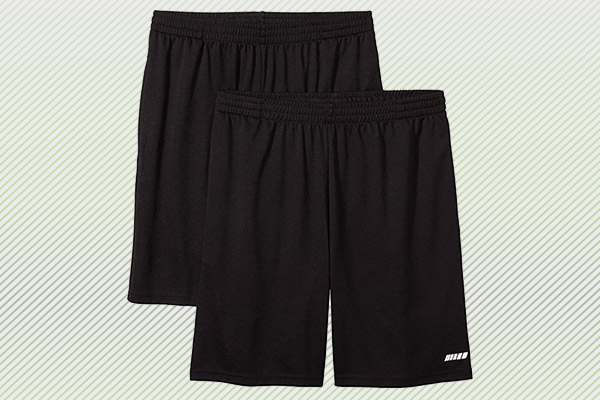 Amazon Essentials Men's 2-Pack Loose-Fit Performance Shorts
Amazon Essentials has produced a package deal of two comfortable and high quality soccer shorts for an affordable price. Most soccer shorts are offered at this price for just one pair, so this is a total steal to get two shorts for the price of one. 
Pros: 
Package. These soccer shorts are offered in a pack of two. So you are getting two high-quality soccer shorts for the price of one. 

Variety. These shorts come in black, white, blue, and red. If you are looking for one red and one black, they are offered in packs of different colors as well. 

Comfort. These shorts have a loose fit feel and are made with a quick-dry and moisture-wicking material that can last through any soccer game or workout.
Cons:
Liner.

None of these shorts have a liner. 

Availability. Not all of the colors are available for every size. 
Best Variety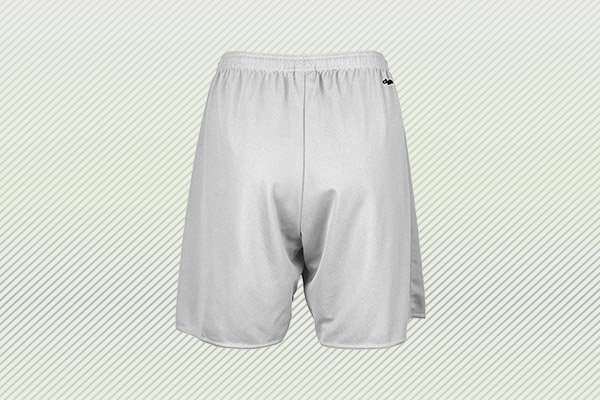 Adidas Men's Soccer Parma 16 Shorts
These adidas soccer shorts stand out from the other ones because of the variety of color options. While most designs are just one bold color, these shorts are offered with two-palette options. For example, some of the shorts are blue/white and power red/white. This adds a unique look and certainly will stand out on a soccer field. 
Pros:
Design. The color palette is tasteful and bold. None of the colors are too wacky, but by offering two colors on every short, it gives a nice balanced look. 

Comfort. These shorts don't only look good, but they fit comfortably too. They are made out of polyester and the material is sweat-wicking, lightweight, and breathable.

Fit. There is a drawstring on the waist which gives these shorts an adjustable fit.
Cons:
Liner. There is no liner included in these shorts. If purchasing the white shorts, definitely look for compression shorts to wear underneath because they can be slightly see-through. 

Price. Depending on the color and size, the price does vary. 
How We Picked
With so many soccer shorts to choose from on the market, we really had to build a methodology that would help us find the best products available. We sorted through brands, styles, and different pricing options to find five of the top soccer shorts available on the web. Here's how we picked.
Performance.

Given that these shorts are made to be for soccer, we had to prioritize performance features when choosing. We looked for shorts that were comfortable, made with breathable and lightweight material, and were easy to move in.

Comfort.

We looked at shorts that had elastic bands that make for a secure fit, but never a pinching feel. We also chose some soccer shorts that incredible drawstrings to make for an even more customizable and adjustable fit.

Style.

We selected shorts that had simple designs, but also chose a few with a variety of color options. We also liked the products that included their logo in tasteful ways, like on the lower left leg for example.

Price.

We found quality soccer shorts that were also affordable. We even found a pack of two soccer shorts for the price of one, which was a total bargain for this particular market.
BarBend Tips
At BarBend we are always searching for clothing that is comfortable, affordable, and looks good. When it comes to shopping for soccer shorts, we have a good idea as to what goes into making a pair of athletic shorts a hit or miss. Above all else, being able to move well and freely is key, so with that in mind, here are a few of our tips to help with your shopping process.
Move.

If possible try on as many soccer shorts as possible. Designers and brands all usually have a certain and specific fit to them, so it is important to establish what feels right. Also, don't just put a pair on and think that is enough, get moving in them!

Material.

Most soccer shorts are made out of polyester. This is a comfortable material that is breathable and lightweight. Bonus points to the brands that go so far to be dry-fit or specify being moisture-wicking.

Price.

Soccer shorts can really vary in pricing depending on the brand, color, and design. Most of the time if just looking for a solid pair of soccer shorts, opt for a simple black and white color to avoid the price spiking significantly.

Performance.

It is important to keep performance goals in mind when shopping for activewear. Look for shorts that will support your goals, whether that is to be a professional soccer player or just looking for a pair of shorts to throw on for a pick-up game or run. Once the performance goals are on the radar, it makes shopping more strategic and focused.
Wrapping Up
Now that we've gone over five of our favorite picks for soccer shorts on the market, we hope you're feeling like the goal (or buying a pair of soccer shorts) is in sight! No matter what your performance goals are, there is hopefully a pair of soccer shorts here that will help you reach your performance goals, feel comfortable, and look good.