Being involved in athletics is a great way to stay fit, engage in competition, and make good friends. It can also lead to lots of dirty and even stinky equipment. Thankfully, there are cleansers that are specially designed for sports equipment and clothing.
Determining which equipment cleaner to go for really depends on the type of sport and how frequently it is played. For example, some cleaners are heavier-duty and more appropriate for hardware (goal posts) rather than personal effects (pads and helmets). To help sort through the options, we've identified several of our favorites.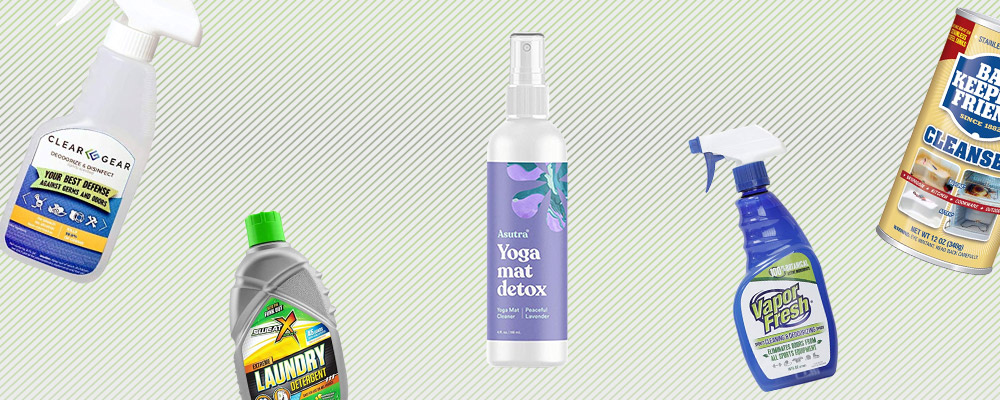 Best for Sports Gear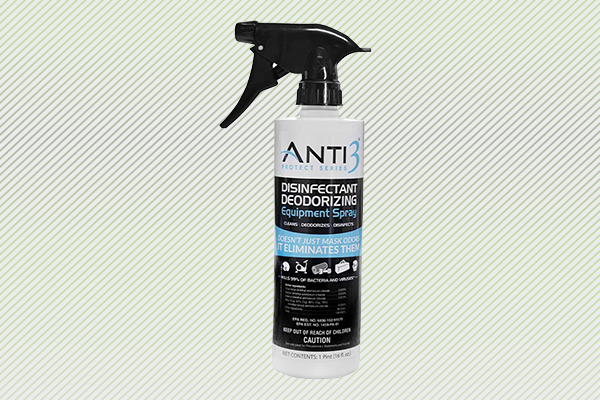 Great for All Types of Equipment
Pros:
Useful for protecting skin against potential infections from dirty equipment.
Works to neutralize scents and limit odor.
Good for spraying mats, benches, and gear that is worn on a regular basis.
Cons:
Larger container is not the easiest to stick in small bags.
Anti3 Protect Series Disinfectant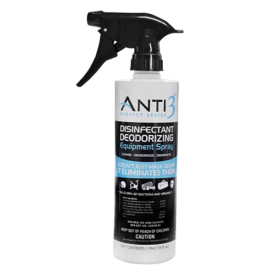 Anti3 Protect Series Disinfectant
This spray is the perfect choice for athletes that want to spray equipment that is constantly covered in sweat.
Best Anti-Odor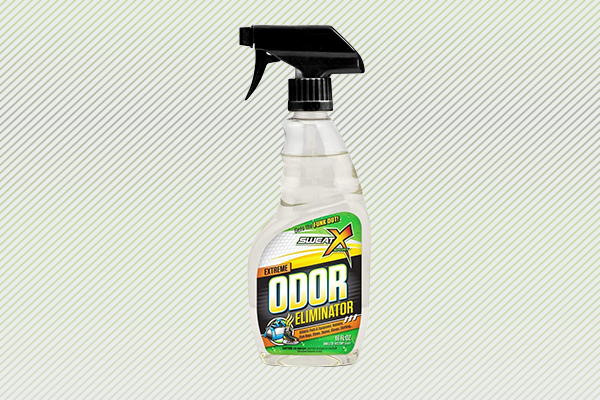 Say Goodbye to Unwanted Odor
Pros:
This product is biodegradable and safe for the environment.
Neutralizes odors by providing a fresh smell of victory.
Removes body odor scent from all types of athletic equipment and clothes.
Cons:
May not work well on certain items like shoes and cleats.
Sweat X Sport Extreme Odor Eliminator Spray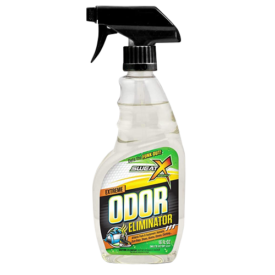 Sweat X Sport Extreme Odor Eliminator Spray
This anti-odor spray is a fantastic option for anyone that wants to clean surfaces with a strong odor fighting spray.
Editor's Choice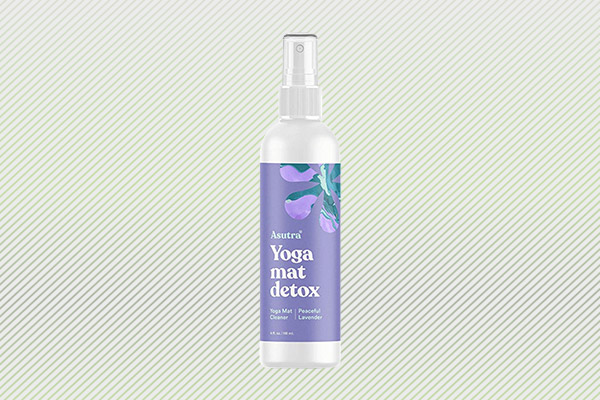 Strongly Scented With Variety
Pros: 
7 different scents. This surface cleaner is available in seven different pleasant scents. Some may prefer any of this collection of natural aromas over the chemical smell present with some other brands.

Eco-friendly. This cleaner is made of organic and natural ingredients and is designed to be biodegradable. Many of the fragrances are derived from essential oils.

Towel. This cleanser comes with a towel that is well-suited for cleaning yoga, exercise, and wrestling mats. The towel is 14" by 14" and is made of microfiber material.
Cons:
Scents are strong. The aromas, while pleasant, may be too strong initially for those with sensitive noses. There is an unscented version that may be the best option in that case.

Cap needs to be secured. It is important to make sure the cap on this bottle is properly secured. If it isn't, this product has a tendency to leak.
ASUTRA Natural & Organic Yoga Mat Cleaner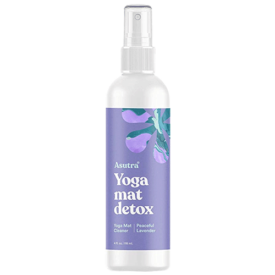 ASUTRA Natural & Organic Yoga Mat Cleaner
ASUTRA's organic mat cleaner is an all natural and organic option for cleaning the surface of yoga mats and other types of equipment. It comes in seven different scents and includes an accompanying towel.
The Contender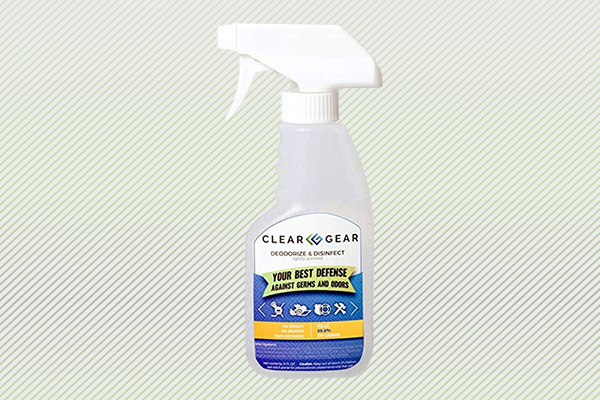 A Great Water Based Option
Pros: 
No need to wipe. This cleaner simply needs to be sprayed on to a surface and left alone as it will disinfect as it dries. No need to wipe the surface to scrub off grime or remove residue.

Water-based. This cleanser is water-based, so it is less corrosive than other brands that employ more harsh chemicals. This makes it safe to use on most surfaces.

Pro endorsement. With over 20 professional US teams using this cleaner in their locker rooms, this is a brand that has proven to be effective on the biggest stage.
Cons:
Neutral scent. This product does not have the strongest fragrance. Though it is pleasant, it is more of a neutral scent.

Need to use it liberally. In order to have maximum effectiveness, a rather sizable amount of this product will have to be used for each area of concern. The bottle may run out rather quickly if used frequently.
Clear Gear Sports Disinfecting and Deodorizing Spray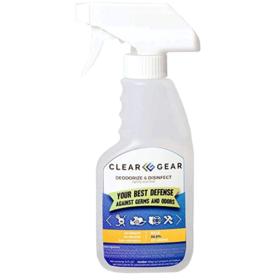 Clear Gear Sports Disinfecting and Deodorizing Spray
This cleaning spray from Clear Gear Sports is a water-based deodorizer and disinfectant. It cleans as it dries and does not need to be wiped across the surface.
Best for Heavy-Duty Equipment
Clean EVERY Piece of Gear and Equipment
Pros:
Variety of surfaces. This all-purpose cleaner works on dozens of different types of materials. Most important for sports, it works as a rust remover and cleaner on metal equipment, and can help clean rubber and plastic gear as well.

Lasts a long time. This product only needs a sprinkle of powder and some water to be effective. One container can be used throughout the house and will still last a long time.

Bleach-free. While many similar powdered cleaners employ bleach to help its cleaning process, this product uses oxalic acid. Bleach doesn't always react well with other cleaning products that might be used.
Cons:
Can damage delicate surfaces. Some delicate surfaces, especially soft metal or painted surfaces, may be scratched or dulled when using this cleaner. When in doubt, test out a small amount first.

Storage. This powder needs to be stored in a dry environment. This is especially true in humid climates.
Bar Keepers Friend Powdered Cleanser
Bar Keepers Friend Powdered Cleanser
Though this product has a wide range of uses beyond sports equipment, Bar Keepers Friend is a great cleaning option for lots of different gear. Sports infrastructure (goal posts, basketball hoops), shoes and cleats, and gear like hockey sticks can all be cleaned effectively with this cleaner.
Best Aroma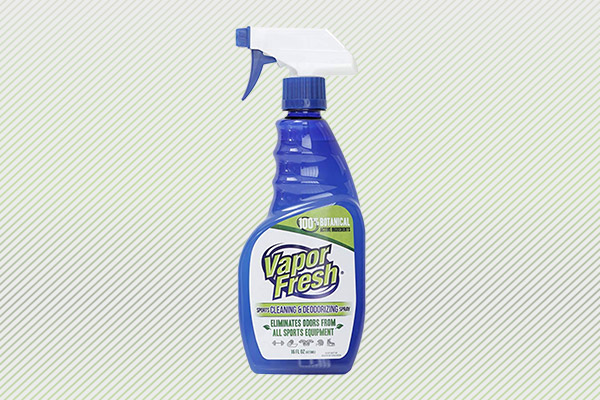 Pleasant All-Natural Scents
Pros: 
No residue. A great part of this cleaning product is that it doesn't leave residue. It can be safely sprayed on all sorts of equipment and just be left to air-dry before being ready.

Essential oils. This cleaning uses a solution of four different essential oils to help with cleaning and providing aroma. 

Right level of scent. While some cleaners have overpowering fragrances and others err on the side of a weaker scent, this cleaner gets it just right. The scent is pleasant and just noticeable enough to know it is working.
Cons: 
Only masks deep stenches. Some may find that this product may not be totally effective in getting out the deepest stinks, especially on first application. It will do a good job of masking the stench, however.

Price. This is a rather expensive cleaner, especially when compared to more general household cleaners. For that reason, this should only be used on sports equipment.
Vapor Fresh Natural Cleaning and Deodorizing Spray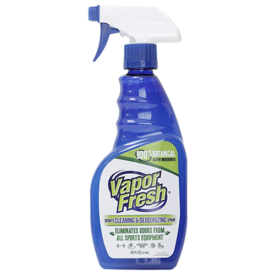 Vapor Fresh Natural Cleaning and Deodorizing Spray
This spray from Vapor Fresh is an all-natural cleanser that works both to eliminate smells and the sources of those smells. It doesn't leave a residue and employs essential oils for a great fragrance.
Best Design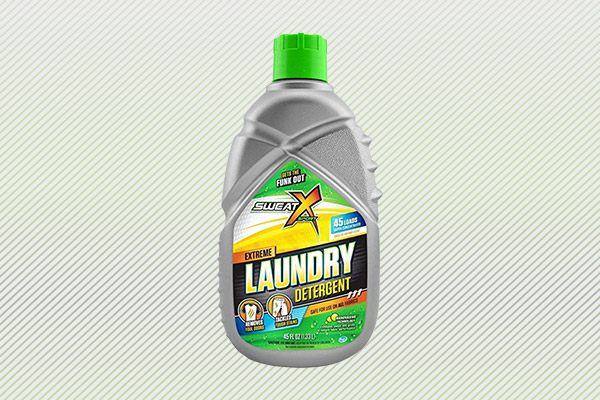 A Detergent Tough Enough to Tackle Strong Odors
Pros: 
Safe for most fabrics. This detergent is designed to be safe for almost all fabrics. This is great for those wanting to clean delicate basketball or soccer uniforms, for example.

Biodegradable. This offering from Sweat X is biodegradable, using organic and non-toxic ingredients. This is great for those who prefer not to use brands that rely on less eco-friendly chemicals.

Exfoliates. This detergent has a formula that manages to exfoliate the surface of the clothes it is cleaning. This helps to physically remove the bacteria that is the source of unpleasant odors.
Cons: 
Bottle is hard to manage. This product would benefit from having a handle. It can be hard to pour, especially the first few uses.

Scent stays in clothes. After doing a load of laundry, the clothes may smell like detergent more so than with other brands. It has a nice smell, but some may find it a bit overpowering.
Sweat X Sport Extreme Laundry Detergent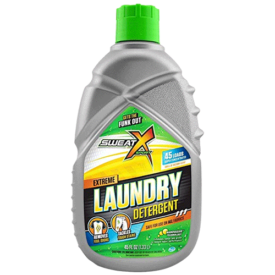 Sweat X Sport Extreme Laundry Detergent
The Sweat X Sport Extreme Laundry Detergent is a great option for those who find themselves constantly trying to get odor and stains out of uniforms or work-out gear. It is biodegradable and safe to use on most fabrics.
How We Picked
Sports equipment cleaner comes in different forms and can be made of a number of different ingredients. Different cleaners can be effective, but only if they are being used with the right type of equipment and for the appropriate problem. Below we've outlined what we found was most important when figuring out the right cleaner:
Fragrance
A big part of what makes cleaners effective is not only eliminating odor, but providing an alternative. Many cleaners are advertised as both a disinfectant but also as a deodorizer. Previously stinky equipment and clothes can be quickly turned into an object with a pleasant scent.
While most cleaners aim to create an agreeably-smelling environment, the method in which they achieve that can vary. While some cleaners will leave a more neutral odor, others will utilize natural scents. Some brands will accomplish this using natural ingredients.
Application
The manner in which a person cleans their equipment can seem clumsy for one sport but perfect for another. For example, while a cleaner in a spray bottle may be effective for hockey gloves and pads, it might not be the best way to clean the most effective way to clean steal goal sets.
Cleaners that come in liquid form will either need to be sprayed or dabbed onto a towel before being applied to surfaces. Spray bottles in particular are a great way to get to hard to reach places, like the interior of equipment. Powdered cleansers are great for applying over a large area without having to use too much cleaner.
Ingredients
While brands don't always provide the most detailed explanations of what ingredients they use, there are still ways to discern between different options. First and foremost, the main active ingredient should be one that proves effective for the material you are trying to clean. Bleach or oxalic acid may be great for certain surfaces, but damaging on others.
Those who prefer products with natural ingredients can find products that are water-based or utilize essential oils. These may not be as effective on clothes or equipment that is heavily soiled, however. Sometimes the equipment that is most in need of a cleanse may require heavier-duty cleaning products.
Tips
Not sure which sports equipment cleaner is right for you? Take a look at some suggestions below:
What type of equipment do you want to clean?

Certain products, like yoga mats, basketballs, and other soft materials may do better with a natural cleaner that isn't as harsh.

Metal gear or that which is heavily soiled may need a heavier-duty cleanser.

Are you trying to clean or mask a smell?

If you are trying to get rid of or mask a smell, getting a fragrant cleaner that doubles as a deodorizer is probably the best bet.

If you are sensitive to strong smells, there are cleaners that have a neutral smell and won't linger long after eliminating the source of the odor.