Stevia has been used for centuries as our ancestors sought ways to make their food more palatable. (1) Flash forward to present times, and stevia is still a popular low-to-no-calorie sweetener used in foods and drinks. Stevia is referred to as a "non-nutritive" sweetener since it belongs to the class of sugar substitutes with so few calories and carbohydrates that they are often considered to have no calories or nutritional value. Couple that with the fact that stevia is much sweeter than sugar, and it's easy to see why stevia's popularity has essentially exploded as an alternative to artificial sweeteners. (2)
Many people use stevia instead of sugar to cut down on calories, carbs, and added sugars in their diet. While some people are cautious about utilizing stevia due to possible long-term health effects, high-purity steviol glycosides are recognized as safe for consumption by the FDA and have been widely used since the 1970s. (3) We rounded up the best stevia on the market to accommodate just about anyone's needs.
Best Stevia
Editor's note: The content on BarBend is meant to be informative in nature, but it should not be taken as medical advice. The opinions and articles on this site are not intended to diagnose, prevent, and/or treat health problems. It's always a good idea to talk to your doctor before beginning a new fitness, nutritional, and/or supplement routine. Individual needs for vitamins and minerals will vary.
Best Stevia Overall
Stevia is an uncomplicated product from a consumer perspective, with most folks looking for affordability, a clear ingredient label, and a high level of purity. NOW Foods checks all these boxes with their exceptional liquid stevia product.
NOW Foods BetterStevia Liquid
A four-serving bottle of BetterStevia costs $19.99 and provides 1,823 servings for a cost-per-serving of one cent. The liquid nature makes Now Foods' stevia highly compatible with a liquid or in a batter. This particular product is free of dairy, egg, nuts, and soy.
NOW Foods BetterStevia Liquid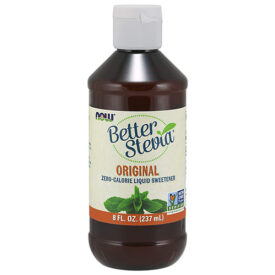 NOW Foods BetterStevia Liquid
NOW Foods offers a very simple and competitively-priced liquid stevia. Made from organic stevia leaf extract by a popular brand, this is a very solid sweetener. 
Additionally, it is kosher, non-GMO, doesn't contain gluten, and is vegan/vegetarian-friendly. We should mention however that this contains 11 percent organic cane alcohol as the solvent in the liquid solution, so those who want 100-percent pure stevia liquid might not find this suitable.
Who Should Buy NOW Foods BetterStevia Liquid
Those who want to sweeten their food, beverages, batters, and more with a liquid instead of a powder they have to stir or mix in.
Costing roughly one penny per serving, BetterStevia is a relatively affordable supplement — a perk for anyone on a budget.
Because it's a liquid, BetterStevia mixes more quickly compared to solid formulations.
Who Shouldn't Buy NOW Foods BetterStevia Liquid
People who want to carry stevia with them during travel (stevia packets may be a better option).
Folks who don't want alcohol in their stevia (this product contains 11 percent alcohol).
Some liquid stevias include a dropper for easy measuring, but BetterStevia does not, so you'll have to measure it out yourself.
NOW Foods liquid stevia is cost-effective, highly mixable, and is acceptable for nearly any dietary need, earning it our top spot.
[Related: Could Baking Soda Be The Best Workout Supplement You've Never Tried?]
Best Stevia Dropper
Liquid stevias come in a variety of shapes and sizes. We like a smaller bottle for the convenience and that the bottles are typically equipped with a dropper for ease of use.
SweetLeaf Sweet Drops
These stevia drops are organic, and the ingredient list is short and without excess: purified water, stevia leaf extract, and natural flavors. It comes with a useful measurement label available that translates how many of these Sweet Drops equate to the amount of sugar one might need for a recipe. For example, one teaspoon of sugar is equivalent to five of these Sweet Drops.
Sweetleaf Sweet Drops Stevia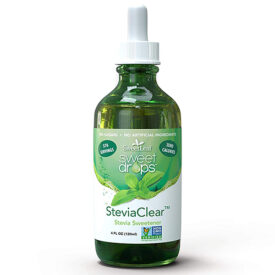 Sweetleaf Sweet Drops Stevia
Bottled in a small glass vial with a dropper, at first glance, Sweet Drops look a bit like any number of herbal extracts you may find at a wellness store. Made with organic stevia leaf extract and natural flavors, this no-carb sweetener is available in a variety of flavors. 
SweetLeaf's product is non-GMO verified, keto-friendly, and certified paleo. There are 16 flavors, including vanilla and cinnamon. Each bottle costs around $13.74 and contains 576 five-drop servings which works out to about two cents per serving.
Who Should Buy SweetLeaf Sweet Drops
Those looking for flavored stevia will like that this comes in a variety of flavors.
Anyone who follows a keto, vegan, or paleo diet.
People looking for a cost-effective stevia dropper. This is only about two cents per serving.
Who Shouldn't Buy SweetLeaf Sweet Drops
Folks who want granulated stevia may want to check out other options on this list.
People who prefer having stevia packets for ease of travel.
Most other brands don't afford you 16 flavor options — which is a bonus for those who like to cook and bake with stevia. The price point is also pretty attractive at just around two cents per serving.
[Related: The Best Types Of Supplements For Performance, Weight Loss, And Health]
Best Granular Stevia
Some people don't want liquid stevia and would prefer the more traditional feel of mixing granules into the food they're looking to sweeten. It may also be easier to mitigate the amount of stevia you're adding since the sweetness is less concentrated than in liquids.
Pyure Organic Stevia Sweetener Blend
This granular all-purpose stevia is USDA organic and non-GMO certified. Pyure's stevia equates to half of whatever the amount of sugar needed is — essentially it's twice as sweet as sugar. (Half a cup of Pyure's stevia equates to a cup of sugar.) This stevia is also a great sugar alternative for those who are on keto, gluten-free, organic, or vegan diets.
Pyure Organic Granular Stevia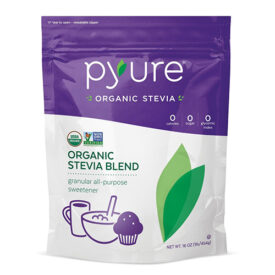 Pyure Organic Granular Stevia
A granulated sugar substitute, Pyure offers a sweetener is designed to replace sugar in both your drinks and in your cooking and baking. Made with erythritol and stevia, this product is designed to have a very similar texture and taste to sugar. 
This stevia is gluten-free and available in one or two-pound pouches. A one-pound pouch costs about $11.60 or around four cents per serving. Unlike some other stevias, this does have four grams of the sugar alcohol erythritol in it, which may cause discomfort to people who have easily upset stomachs.
Who Should Buy Pyure Organic Stevia Sweetener Blend
Those who prefer granulated stevia which replicates the feel of mixing traditional sugar into baked goods.
Anyone who prefers to buy stevia in bulk. This comes in pouches of up to two pounds. If you cook or bake with stevia and use multiple servings at once, buying in bulk may be a better option for you.
Those who follow a keto, gluten-free, organic, or vegan diet. This product is suitable for those particular diets
Who Shouldn't Buy Pyure Organic Stevia Sweetener Blend
Those who want granulated stevia in individual serving packets.
Folks who would prefer to avoid sugar alcohols; this has erythritol in it.
Anyone who prefers liquid stevia.
If you plan to use large quantities of stevia at a time (for cooking or baking), it might be beneficial to note how much sugar alcohol would end up in each portion. Other than that, this is a great option for those that are looking for granulated stevia.
[Related: Intermittent Fasting 101: A Guide to Benefits, Muscle Gain, And More]
Best Stevia Packets
Stevia packets are incredibly convenient, ensuring that you have your sweetener of choice with you no matter where you may find yourself. They're also useful at home so you know exactly how much stevia you're putting in your recipes without needing to measure.
SweetLeaf Natural Stevia Sweetener
This sugar substitute is free of artificial ingredients, doesn't leave an aftertaste, and lacks bitterness. It is a non-GMO project verified, non-glycemic response stevia made with inulin, a soluble fiber. It is kosher as well as gluten-free.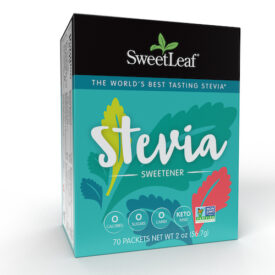 SweetLeaf Stevia packets are made with inulin, a soluble fiber found in plants - chicory root in this case. These diner style sweetener packets contain no calories and virtually no carbs, with the inulin providing less than a gram of dietary fiber.
Compared to the rest of the market, this is a bit pricier at around $7.45 for a 70-pack container or about 11 cents per serving. However, they are packets which means they are easy to take on the go. This product advertises itself as being fit for anyone who has diabetes. Though we always advocate that you check with your doctor first.
Who Should Buy SweetLeaf Natural Stevia Sweetener
Anyone who wants a low- or no-glycemic response sweetener will appreciate that this contains zero carbohydrates.
Folks who want their stevia in individual packets.
Those who are on the go often. These packets are convenient to take with you.
Who Shouldn't Buy SweetLeaf Natural Stevia Sweetener
Those who want to stay on the more affordable end of the stevia market. Despite being rather cost-effective, there are still cheaper options on this list.
People who prefer liquid stevia may want to look at other options on this list.
Anyone that doesn't mind measuring out granules might be better off with a pouch of non-packeted stevia.
Overall, SweetLeaf is a great choice for anyone who wants their stevia servings measured in individual packets. That is a convenience that may be worth the additional cost per serving compared to other competitors, non-packeted options.
[Related: Best Macros Calculator For Tracking Muscle Gain And Fat Loss]
Best Value Stevia
Though stevia isn't the most expensive product to buy, it can be a good idea to pick up some that are cost-effective. That way you can stock up without worrying about buying more for a while. These packets are a great value for a solid product.
Stevia in the Raw Sweetener With Dextrose
Stevia in the Raw is likely to attract customers who want granular stevia in packets at a low cost to buy in bulk. This stevia is made of dextrose, a simple sugar made from corn that is chemically identical to glucose. Though the nutrition facts state that each serving contains less than one gram of carbs.
Stevia in the Raw Sweetener With Dextrose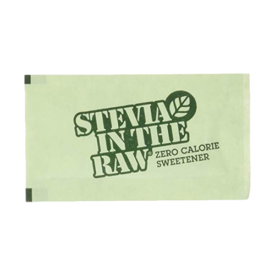 Stevia in the Raw Sweetener With Dextrose
This is a natural sweetener made of dextrose, a corn-based simple sugar, and stevia. These packets are priced pretty competitively, making them a solid investment if you're a regular stevia user.
Stevia in the Raw is available in 800-count, 1,200-count, and 2,500-count boxes of their stevia packets. The 800-count packet costs about $20.29, with each packet coming out to around two cents. Compared to the rest of the competitive market, this product has one of the shortest ingredient lists: dextrose and stevia leaf extract.
Who Should Buy Stevia in the Raw Sweetener With Dextrose
Those who want to buy stevia packets in bulk so they can stock up at a cheaper price.
Folks who prefer stevia made with dextrose rather than sugar alcohol.
Anyone who likes to use stevia on the go will appreciate the convenience of having packets to take with them.
Who Shouldn't Buy Stevia in the Raw Sweetener With Dextrose
Anyone who wants non-glycemic stevia.
People who prefer liquid stevia.
The carbs in this, though very minimal, can add up if you're ingesting tons of these packets daily.
If you are in the market for stevia packets and want to buy in bulk, then Stevia in the Raw is a perfect match. You can snag a large amount of packets while still saving money and paying a couple of pennies per serving.
[Related: Nutrition For Bulking: 10 Tips For Intelligent Muscle Gain]
Benefits of Stevia
Stevia, as a non-nutritive sweetener, does not contain any calories which makes it a very appealing option for people looking to cut down on calories from added sugar. It's available in a few variations of two different forms — liquid and granules — to fit whatever your needs are.
Stevia is generally sweeter than sugar, so a little goes a long way when it comes to cooking and baking. But the sweetness level for each product may vary depending on how the plant is refined, so make sure you look into that factor before adding it.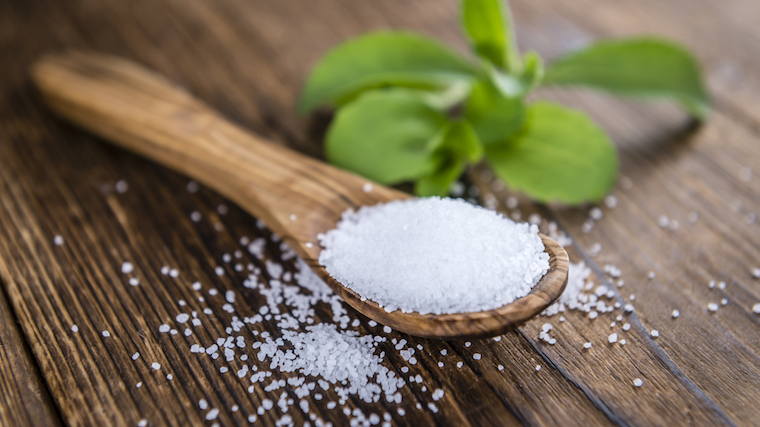 Another benefit of stevia is that it usually only costs a few cents per serving. Since stevia is sourced from a plant, it's also generally suitable for most diets like keto, paleo, and vegan.
How We Chose the Best Stevia
If you're looking to cut calories but keep your sweet tooth happy, replacing sugar with natural sweeteners may be worth investigating. Stevia is a natural sweetener derived from the stevia plant — but not all stevia products are created equally. When comparing different stevia products, it's important to keep an eye out for a few key differences.
Liquid vs. Solid
Liquid stevia dissolves in drinks more quickly and easily than granular stevia, which may make it a better option for folks primarily focused on looking to sweeten liquids (like coffee or seltzer). However, for those looking to replace the ritualistic stirring of sugar into their coffee, granulated stevia should get the job done.
Baking
As a disclaimer, replacing sugar in your baking is not a straightforward task. Because stevia is around 200 times sweeter than sugar, you'll need to use much less of any granular stevia while you're whipping up a sugar-free option for the bake sale. As it stands to reason, using less sweetener by volume will impact the size and shape of what you're creating. Fortunately, there are a lot of resources out there for stevia-friendly baking recipes.
Additional Ingredients
In part, because stevia is so much sweeter than sugar, granular stevia options virtually all contain a secondary ingredient to help balance out stevia's sweetness and to add texture and volume. In most cases, it's a different natural sweetener that's less naturally sweet (and sometimes not as well-known). Take a look at the packaging to make sure this second ingredient fits in with your dietary needs.
[Related: The Lifter's Guide To Magnesium: What This Nutrient Does For Strength]
How Much Does Stevia Cost?
Stevia is a fairly cost-effective product and you can pick up all types — liquid, granules, and packets — for a few pennies per serving. Packets generally cost a bit more though if you buy in bulk you can usually offset the cost.
Best Stevia Overall
NOW Foods BetterStevia Liquid
$19.99

Per serving: $0.01

Best Stevia Dropper
SweetLeaf Sweet Drops
$13.74

Per serving: $0.02

Best Granular Stevia
Pyure Organic Stevia Sweetener Blend
$11.60

Per serving: $0.04

Best Stevia Packets
SweetLeaf Natural Stevia Sweetener
$7.45

Per serving: $0.11

Best Value Stevia
Stevia in the Raw Sweetener with Dextrose
$20.29

Per serving: $0.02
Liquid stevias are usually the most cost-effective, sometimes costing as little as a penny per serving. Granules are a bit more expensive but are still only a few cents per serving. Stevia packets are generally the most convenient and most expensive (relatively speaking) with each serving costing about $0.11 per serving. Bottles of liquid, pouches of granules, and boxes of packets cost anywhere from about $7.50 to $21.00.
What to Consider Before Buying Stevia
Cutting down your sugar intake isn't always an easy task, but leaning on a non-nutritive sweetener to add to foods instead of sugar might help. Stevia can sometimes have an off-putting aftertaste that some people experience but if you stick it out for about a week it usually goes away.
Stevia Form
It's worth considering what type of stevia you need — liquid, granule pouch, or packets. If you're just sweetening drinks around the house or replacing simple syrup, the liquid may suit your needs best. People who want a convenient on-the-go sweetener may want to check out packets. Keeping a pouch at the office might help cut down on added sugar to your coffee or tea.
Possible Gastric Issues
Considering that non-nutritive sweeteners may cause some people gastric distress you might want to experiment with small doses first or even consult with a medical professional. Checking the label is also a good idea so you know the exact ingredients since some liquid stevias use alcohol as their solvent.
Final Word
Stevia is an all-natural sweetener that some people prefer to use instead of artificial sweeteners for a variety of reasons. Many opt for it because it is naturally occurring in the stevia plant or because they don't tolerate other sweeteners well and have gastric distress.
Stevia comes in a wide variety of forms like liquid bottles and droppers — some of which contain alcohol as a solvent so be sure to check for that. You can also pick it up in granule pouches or individual packets just like you can buy sugar. It may help you cut down on added sugars in your diet and maybe lose weight.
FAQs
What makes stevia different from artificial sweeteners?
Stevia's origins are from the Stevia rebaudiana plant which occurs naturally, which makes it different from artificial sweeteners. Artificial sweeteners are generally synthesized from organic materials through chemical processes. That's not to say that artificial sweeteners are undesirable, but that's how they are different.
What is the best stevia?
There are tons of options when you're selecting which stevia to use. We're big fans of NOW Foods BetterStevia Liquid because it's extremely cost-effective at around a penny per serving and comes in a bottle with tons of servings so you can stock up easily.
How much does stevia usually cost?
Stevia is generally pretty cheap to pick up with bottles or pouches costing somewhere between $7.00 and $21.00. Since each container usually comes with a ton of servings, you can expect to pay as little as a few cents or even a penny per serving up to around $0.11 per serving at the high end of prices.