Though its popularity has certainly increased in the last few decades, the stevia plant has actually been used as a sweetener for centuries (1). Containing so few calories and carbohydrates that it is often considered "no-calorie," stevia is a very popular natural sweetener, commonly used as a sugar substitute. It can be a great option for folks looking to cut down on added sugars in their diet or decrease their caloric intake. Though some caution that more research is needed to determine if stevia has any long term effects, it has been used in Japan since the 1970s, and high-purity steviol glycosides are generally recognized as safe by the FDA (2).
The most common forms of stevia on the market today are in granular or liquid form, and there are a ton of options out there. When comparing different stevia offerings, it's important to consider how you intend to use it – in beverages alone, or in food. You'll also want to take a close look at the ingredients listed – some companies will bolster their stevia products with other ingredients.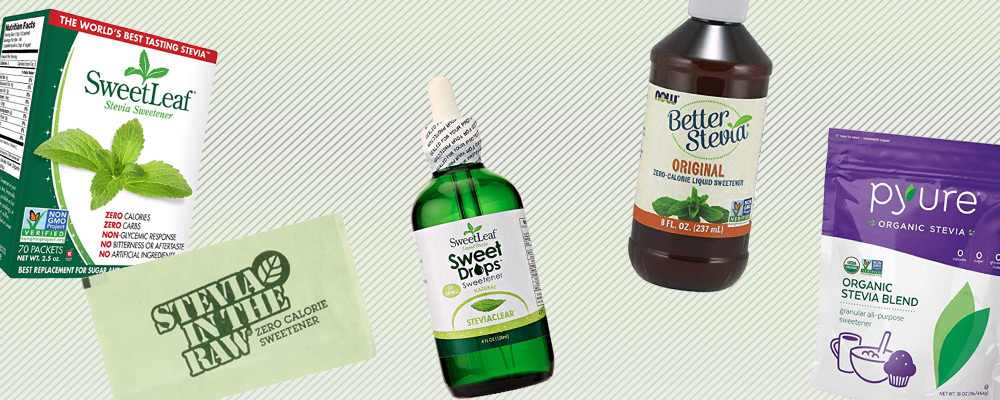 Best Liquid Stevia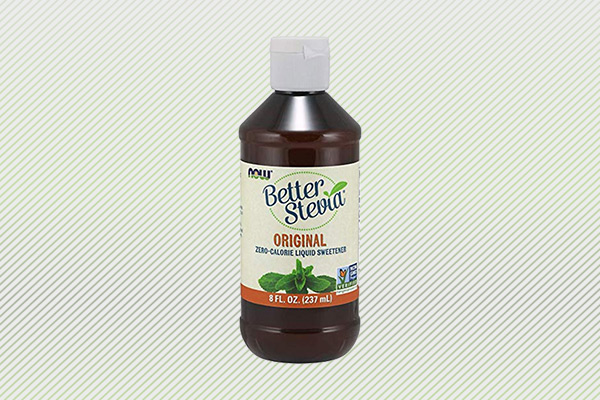 NOW Foods BetterStevia Liquid
Pros:
Over 1800 4 drop servings per 8oz bottle. Even if you go slightly above the suggested serving size for a sweeter taste, that's an incredible bang for your buck.

Marketed as being Non-GMO verified, as well as vegan and gluten free. 

Most folks find that BetterStevia does not have any bitter aftertaste.
Cons:
Under the ingredients, you'll see that the product contains 11% Organic Cane Alcohol, used as a solvent. While it's not enough to significantly  impact the product's nutrition, it's worth noting.
Contender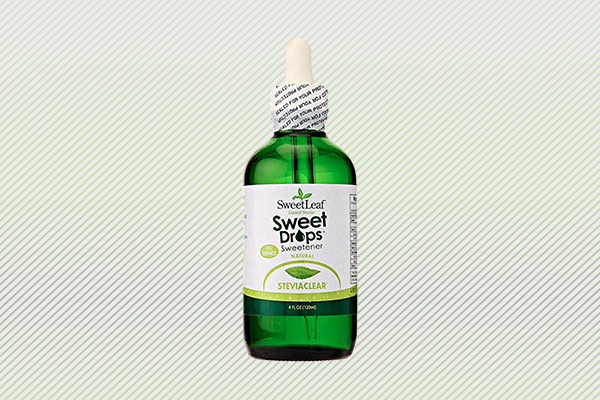 Sweetleaf Sweet Drops Stevia
Pros:
Having a dropper makes it easy to be precise about how much stevia you're adding to a particular drink or food. 

As with almost all stevia products, this is a lower calorie replacement for sugar. 

Sweet Drops come in a variety of flavors.

Though not listed on the bottle, the natural flavors are derived from plants and herbs, and the various available flavors may be interesting to experiment with. 
Cons:
Sweet Drops need to be refrigerated after opening, which may be a small inconvenience.
Best Granular Stevia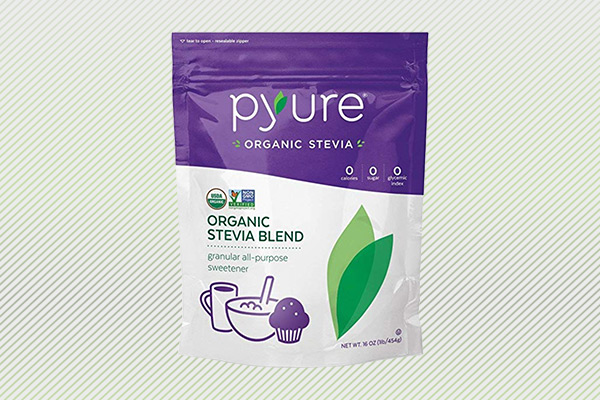 Pyure Organic Granular Stevia
Pros:
If you're looking for a sugar substitute while baking, Pyure may be a great option. Note however, that it's twice as sweet as conventional sugar, so you'll still have to fiddle with grandma's pie recipe. 

Having a pouch as opposed to individual packets makes it more convenient to use in big or small portions. 

This is a very competitively priced item, as a 2g serving will only set you back a few pennies. 
Cons:
Best Stevia Packets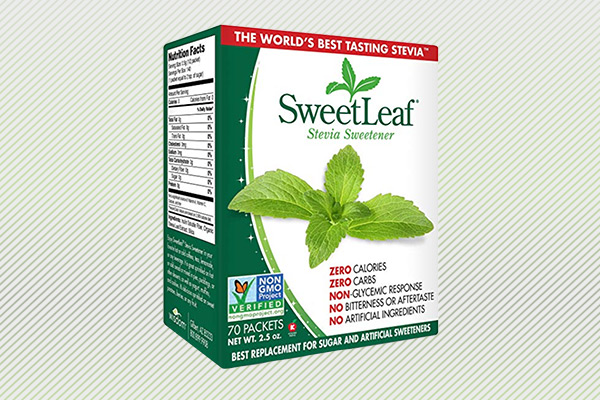 SweetLeaf Stevia Packets
Pros:
Packets may be super convenient for folks who are on the go a lot, or purchase their coffee and tea.

These packets are zero glycemic, making them safe for folks with diabetes.

Not much of a bitter aftertaste. 
Cons:
Inulin may cause gastric issues with some folks, particularly if you suffer from ragweed allergies. 

The cost per packet is nearly twice that of some competing stevia packets. 
Value Stevia Packets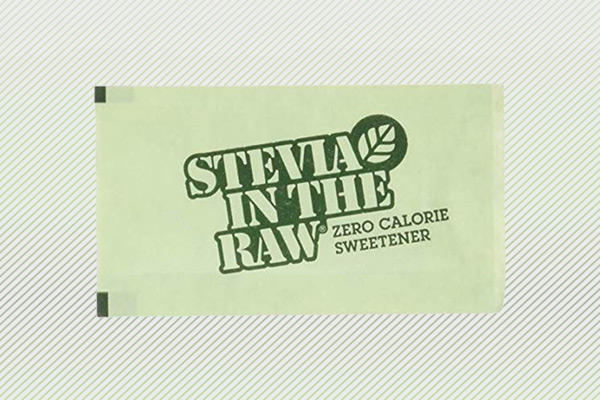 Stevia In The Raw Packets
Pros:
With 800 packets per container, the cost per serving is quite affordable. 

Stevia in the Raw's 1g packets are very convenient for folks who are on the go a lot. Or you could bring a stash to the office to sweeten up your work coffee. 

Made with 100% natural ingredients. 
Cons:
Primary ingredient is dextrose, a simple sugar made from corn. Though there's not a lot in each serving, it's still enough to add a small amount of carbs to each packet. 

A number of reviews  have noted that Stevia in the Raw is not quite as sweet as some competing stevia sweeteners.
Methodology
If you're looking to cut calories but keep your sweet tooth happy, replacing sugar with natural sweeteners may be worth investigating. Stevia is a natural sweetener derived from the stevia plant – but not all stevia products are created equally. When comparing different types of stevia products, it's important to keep an eye out for a few key differences.
Liquid vs. Solid
Liquid stevia dissolves in drinks more quickly and easily than granular stevia, which may make it a better option for folks simply looking to sweeten liquids. However, for those looking to replace the ritualistic stirring of sugar into your coffee, granulated stevia should get the job done.
Baking
As a disclaimer, replacing sugar in your baking is not a straightforward task. Because stevia is around 200 times sweeter than sugar, you'll need to use much less of any granular stevia while you're whipping up a sugar-free option for the bake sale. As it stands to reason, using less sweetener by volume will impact the size and shape of what you're creating. Fortunately, there are a lot of resources out there for stevia-friendly baking recipes.
Price
Depending on how frequently you intend to use stevia, the price per serving may be worth noting.
Additional Ingredients
In part because stevia is so, so much sweeter than sugar, granular stevia options virtually all contain a secondary ingredient to help balance out stevia's sweetness and to add texture and volume. In most cases, it's a different natural sweetener that's less naturally sweet (and sometimes less well-known). Take a look at the packaging to make sure this second ingredient is something that fits in with your diet.
BarBend Tips
Cutting out added sugar is not an easy task. A lot of folks will take a sip of a stevia-sweetened cup of coffee and taste an intense aftertaste. Try sticking with it for at least a week to let your taste buds adjust to their new normal.

When deciding between a liquid stevia and a granular stevia, think about how and when you intend to use it. If it's solely for sweetening drinks at home, the liquid may suit your needs. If you're going to be taking a stash of it to your office, stevia packets may prove more convenient.

Finally, if you're working toward incorporating lower-calorie sweeteners into your diet and experience any gastrointestinal discomfort, you should consult with a medical professional.
Stevia is a natural sweetener that may be a great option for folks looking to cut down their caloric intake and possibly drop a few pounds. Check the labeling to make sure you know exactly what you're getting.
References
Goyal SK, Samsher, Goyal RK. Stevia (Stevia rebaudiana) a bio-sweetener: a review. International journal of food sciences and nutrition. 2010;61(1):1-10.

Office of the Commissioner. Has Stevia been approved by FDA? U.S. Food and Drug Administration. https://www.fda.gov/about-fda/fda-basics/has-stevia-been-approved-fda-be-used-sweetener. Published 2018.

GRAS Notices. Fda.gov. https://www.accessdata.fda.gov/scripts/fdcc/?set=GRASNotices&id=789. Published 2019. ‌

Storey D, Lee A, Bornet F, Brouns F. Gastrointestinal tolerance of erythritol and xylitol ingested in a liquid. European journal of clinical nutrition. 2007;61(3):349-354.

‌