We receive free products and receive commissions through our links. See
disclosures page
.
Swimming is a fantastic option for folks looking to get cardiovascular exercise without heading to the tried and true treadmill or exercise bike. A rigorous swimming workout can burn almost as many calories as a comparable time spent running, while being much easier on your joints. Not only does swimming work your muscles from head to toe, it improves cardiovascular health as well.
If you've spent any time in a pool, you probably know how much a difference a solid pair of goggles can make – and how frustrating it is when goggles don't fit properly or water seeps into your eyes. Folks who swim competitively or have years of experience tend to have very strong and fixed feelings about their swimming goggles preferences. For the rest of us, with literally thousands of options on the market, shopping for a reasonable pair can be a bit overwhelming. We took a look at some of the top options on the market, tested them out in an indoor pool, and compared them.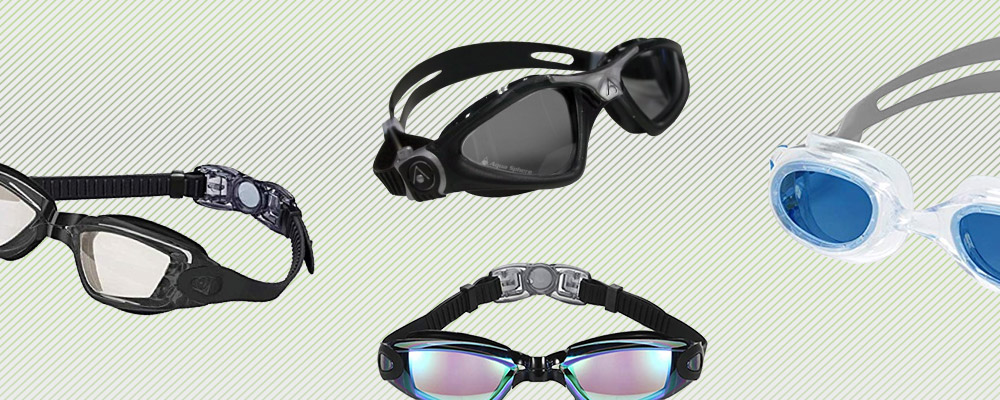 Editors' Choice:
Aqua Sphere Kayenne Swim Goggles
Pros:
Aqua Sphere's lenses are curved with the intention of giving you a wider range of vision than many competing goggles. As a result, these goggles allow you to access your peripheral vision better than many of its competitors. 

The adjustable straps are very easy to use, and lock in place with a simple, but effective plastic mechanism that prevents them from loosening.

Made with plexisol, the oversized lenses on these goggles provide a very clear vision with UV protection and anti-fogging technology.

Made in Italy, these goggles are available in 10 different designs with a variety of lens options, and come in a convenient and easy to use case. 
Cons:
Although these goggles are truly fantastic, that's also reflected in their price, as these are some of the pricier options among those we looked at.
Aqua Sphere Kayenne Swim Goggles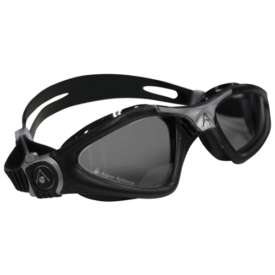 Aqua Sphere Kayenne Swim Goggles
The Aqua Sphere Kayenne goggles came in as our top overall pick. These goggles offer excellent vision, particularly peripheral, easy adjusting, and a comfortable but secure fit.
Contender: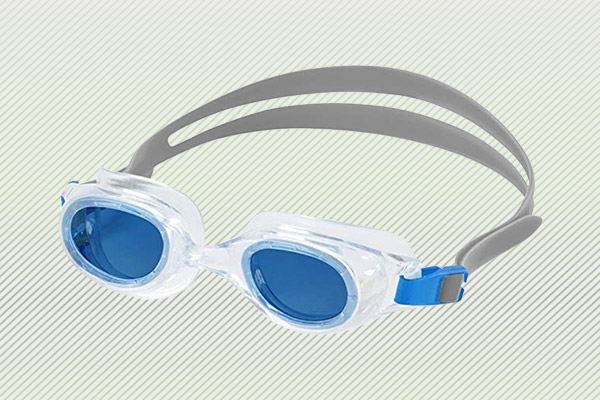 Speedo Hydrospex
Pros:
The Hydrospex are designed to fit comfortably over your outer eye, providing security without an overwhelming amount of pressure on your eye sockets. 

The silicone head strap is split into two pieces at the back, providing additional security as it wraps around the back of your head. 

Though the straps are not as easy to adjust on the fly as some of the competing goggles, they feature a very simple and effective design to keep your desired fit in place.

Anti-fog treatment on the lenses keeps your vision very clear.
Cons:
These may not be suitable for folks with long eyelashes, as they do not offer a particularly big distance between the eye and the lens. 

The clear lenses are suitable for indoor or low light swimming, but may not be ideal for outdoor swimming.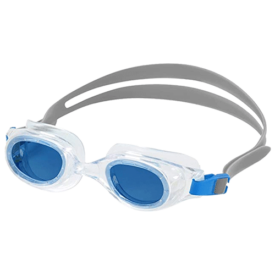 Speedo's Hydrospex goggles are a very solid, no-frills, workmanlike pair of goggles. Designed with an aim toward a snug outer eye fit, the one piece, flexible frame is simplistic but effective.
Best Value: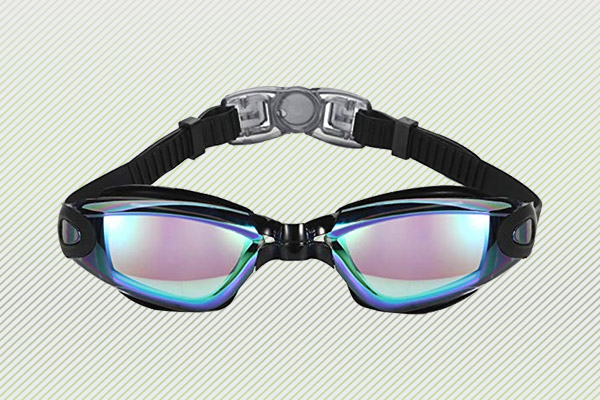 Aegend Swim Goggles
Pros:
During testing in an indoor swimming pool, these leak-proof goggles lived up to their marketing, proving quite adept at keeping water out without creating an uncomfortable amount of pressure on the face. 

Anti-fog and UV-protection in the lenses make these goggles suitable for swimming in a variety of situations.

The straps come together with a clip at the back of your head. This may be convenient for folks who don't enjoy the sensation of pulling the strap over their head, or perhaps have big hair which makes doing so (sans swim cap, of course) inconvenient.

These goggles come at a very competitive price point. 
Cons:
Single strap design may be less secure than double strap design other goggles feature.

The mechanism for adjusting the straps is a bit stiff, meaning that in order to tighten or loosen this pair of goggles you have to exert an unusual amount of effort.

Some folks noted that after a few months of use, these goggles started to be a little worse for the wear, as evidenced by residue from the adhesive between the lens and the seal starting to show.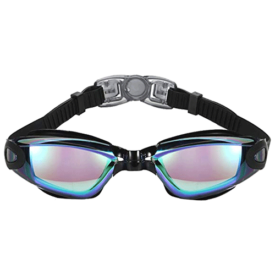 Aegend makes a very comfortable and competitively priced pair of swimming goggles that are perfectly suitable for recreational swimming. Available in a wide variety of colors, these goggles come in a convenient carrying case.
Bundle Option: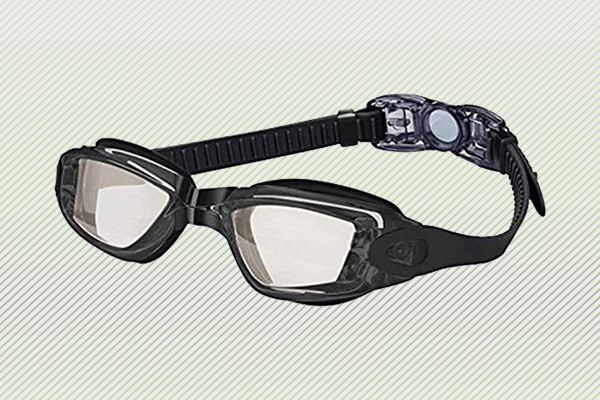 COOLOO Swim Goggles
Pros:
Since this bundle comes with two pairs of goggles, you'll be equipped with eyewear for indoor or outdoor swimming.

For folks looking to guard against swimmers' ear, ear plugs are included in this package. In fact, ear plugs are attached to the black pair with mirror lenses. They've also included two pairs of nose plugs.

A convenient net pouch makes for easy packing.

Similar to the Aegend design, the straps feature a snap in the back.

Price wise, these are very affordable, especially considering that you get two goggles in one package.
Cons:
The field of vision on these goggles is a bit smaller than some of its competitors. For instance, there's virtually no peripheral available, and the top of your field of vision is limited by the goggle design. 

The seal on these goggles is serviceable, but not as secure as some of the other options we looked at.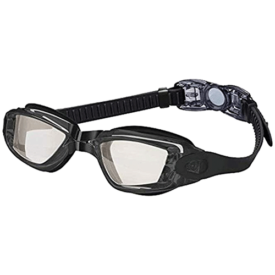 COOLOO's goggles come with two sets per package, a tinted pair designed for outdoor swimming and a clear pair for low light or indoor swimming. The set also comes with ear and nose plugs as well as a convenient net carrying pouch.
Methodology
Having a comfortable, effective pair of swimming goggles is a simple luxury that enhances a swimming workout immeasurably. In testing out these goggles, we took a close look at some key distinguishing factors. Regardless of what pair of goggles you opt for, you'll want to take note of these factors.
Lens Type
Many swimming goggles come with a variety of options for the type of lens, usually including clear, mirrored, or tinted. Depending on where you intend to use your goggles, you may opt for a particular type of lens. Typically, mirrored lenses are intended to reduce glare during outdoor swimming on bright days, tinted lenses are meant to reduce brightness during outdoor or indoor swimming, and clear lenses provide no distortion for indoor or low light swimming. Take into account when and where you'll do the bulk of your training, and choose accordingly.
Goggle Type
For most folks looking to swim recreationally, a pair of goggles with gaskets that cover the outer part of your eye will suffice. There are other types of goggles that cut down on drag and help shave off precious seconds by being more streamlined and sleek. On the other end of the spectrum, there are full mask, almost scuba-looking goggles that provide better visibility, but may be a bit clunky for folks looking to get a good workout in.
Strap Type
There are a few things to consider when looking a the straps on a pair of swimming goggles. Some include clips on the back, designed to allow you to put goggles on without dragging the straps over your head. Others include a split design that enables a more secure fit, since the strap can conform to multiple parts of the back of your head.
Adjustability
While the principle of tightening and loosening goggles is pretty straightforward, not all swimming goggles adjust in the same manner. Some require much more effort, while others take a simple tug to find an ideal tightness. Among those we looked at, the Aqua Sphere Kayenne goggles had the smoothest adjusting mechanism, as they required very light effort to tighten, even while on your face, and lock into place.
Visibility
Depending on where you're swimming, you may want to seek out a pair of goggles that specialize in providing a greater field of vision. Some of the more basic models will limit your visibility to what's directly in front of you, while other pairs, such as the Aqua Sphere Kayenne, include an oversized lens to widen your periphery.
BarBend Tips
Before you invest in a premium pair of swimming goggles, check out your local gym's pool and ensure you'll be able to commit to implementing swimming as a part of your regular exercise routine.
If you're just starting out in the pool, it may be wise to invest in some lessons. Even if you learned to swim as a kid, getting some pointers on technique from a professional will enhance your ability and result in more effective workouts.
Don't forget your flip flops!
Swimming is an excellent way to improve cardiovascular health and tone muscles without putting a lot of pressure on your joints. Having a trusty pair of goggles that stay on during your flip turns is key for getting the most out of your time in the pool.