We receive free products and receive commissions through our links. See
disclosures page
.
Tyrosine is an amino acid naturally produced by the body that is also found in many high-protein foods, including both cheese and meats. It helps produce dopamine and adrenaline, and while most folks who follow a well-balanced diet probably consume enough tyrosine daily, it's also widely available as a supplement.
Because the research around Tyrosine may suggest it plays a big role in focus, it can often be found in pre-workout formulations. Many times, it's the second most common ingredient in a pre-workout after caffeine. Evidence indicates tyrosine may help some people dial in and focus in stressful situations, which could make it beneficial for use during strenuous exercise. Since the body slows down the production of neurotransmitters under duress, a supplementary amount of tyrosine may help make up the deficit and keep things clicking. It may be wise to consult with a medical professional before starting up on tyrosine, but if it turns out you could benefit from this amino acid supplementation, check out our selections for the best tyrosine supplements on the market.
Best Tyrosine Supplements
Best Tyrosine Supplement
Our top pick is a simple and straightforward product that is also one of the most cost-effective tyrosine supplements on the market.
NOW Foods Tyrosine
A straightforward tyrosine supplement, NOW Foods Tyrosine is one of the most competitively priced tyrosine supplements on the market. At 500 milligrams per capsule, each serving in this bottle will cost you less than 10 cents. In addition, the manufacturers claim NOW Foods Tyrosine is dairy-free, egg-free, gluten-free, non-GMO, nut-free, and soy-free, so you're getting a solid hit of tyrosine, and that's it. It is worth noting that the capsule is made of gelatin, so if you're vegan, you'll need to opt for a capsule made from a gelatin alternative.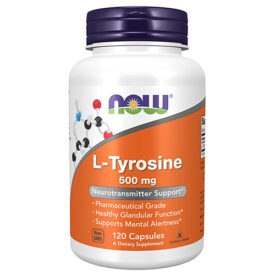 Looking for a straightforward source of tyrosine in an affordable capsule? Check out this offering from NOW Foods.
Who Should Buy NOW Foods Tyrosine
Customers looking for a straightforward tyrosine supplement.
Folks who want to get the most bang for their buck when it comes to high quality for a great price.
Anyone with allergies to nuts, dairy, gluten, or soy.
Who Shouldn't Buy NOW Foods Tyrosine
Anyone looking for a vegan-friendly option with non-gelatin capsules.
This is an overall quality buy that features clean ingredients at a low cost — whether you're new to the tyrosine game or just starting out, NOW Foods keeps your supplement game simple and easy.
Best Tyrosine Powder
At 500 milligrams per one-fifth teaspoon, this easily absorbed pick ensures you get a full dose with every scoop.
BulkSupplements Tyrosine
If you're looking for quicker results, tyrosine powders are the way to go. While capsules and powders may have the same effects, your body can more easily digest and absorb powders. This powder packs 500 milligrams of tyrosine into a one-fifth teaspoon dose, contains no other ingredients outside of tyrosine, and according to the manufacturer, is free of added sugar, soy, dairy, yeast, gluten, and additives. While this powder may not taste the best, it does mix well with water, so at least you won't be munching on powder chunks as you guzzle it down.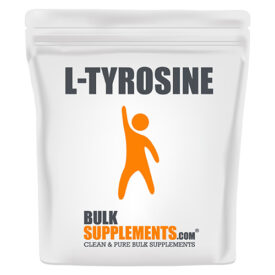 Those who prefer to take their supplements via liquid rather than capsule might want to check out the powdered offering from BulkSupplements. Available at a very reasonable price, this powder is lab tested for purity and includes enough servings to last for quite some time.
Who Should Buy BulkSupplements Tyrosine
Customers who are looking for a tyrosine supplement that absorbs quickly.
Folks who are allergic to dairy, gluten, or soy.
Anyone looking for clean ingredients that steer clear of any additives.
Who Shouldn't Buy BulkSupplements Tyrosine
Athletes who want a powder that mixes seamlessly with water.
Anyone who wants a product that tastes good on the way down.
While this powder doesn't have any added flavors for taste, it mixes well and allows your body to absorb the tyrosine quicker than a capsule would, so you can feel any potential effects almost immediately.
Best Vegetarian Tyrosine
The capsule on this supplement is modified cellulose (instead of gelatin), making it an excellent option for those who prefer a vegan or vegetarian diet.
Doctor's Best L-Tyrosine
When it comes to vegan tyrosine supplements, outside of ensuring the supplement is not sourced from animals, you'll also want to check the capsule ingredients. Many capsules are made of gelatin, which comes from cows and pigs, but Doctor's Best L-Tyrosine capsules are made of a vegetarian alternative called modified cellulose. To top it off, this manufacturer keeps the price reasonably low as far as vegetarian supplements go. The only other aspect of these capsules you should be aware of is their size — some may find them difficult to swallow.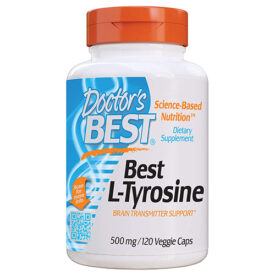 Doctor's Best offers encapsulated l-tyrosine at a very reasonable price point. With 500mg per serving, this supplement may be ideal for folks looking to augment their tyrosine while sticking with a vegan diet.
Who Should Buy Doctor's Best L-Tyrosine
Anyone who follows a vegan or vegetarian diet and needs a product that doesn't contain any animal products.
Customers who want a competitively priced supplement.
Those who prefer tyrosine capsules to powders.
Who Shouldn't Buy Doctor's Best L-Tyrosine
Anyone who struggles to swallow larger capsules.
For a reasonable price, Doctor's Best L-Tyrosine offers modified cellulose capsules to steer clear of gelatin and any other animal products that vegan or vegetarian customers may avoid.
Highest Dose Tyrosine
While most tyrosine supplements offer 500 milligrams per scoop, this one packs in 1,000 milligrams (or one whole gram) per serving.
Nutricost L-Tyrosine Powder
Research has shown that taking 500 to 2,000 milligrams of tyrosine before exercise may help increase focus and decrease fatigue. (1) Most supplements err on the lower side of that range at 500 milligrams, but Nutricost L-Tyrosine Powder offers a whole gram of tyrosine per scoop. Just mix the unflavored powder with eight to 12 ounces of water for an easy-to-absorb punch. Though this is a strong supplement, it's not the best-tasting — it's considered unflavored, but some say it has a bad aftertaste.
Nutricost L-Tyrosine Powder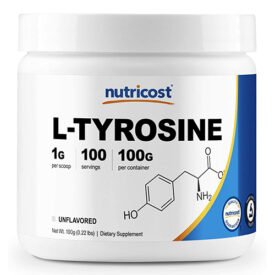 Nutricost L-Tyrosine Powder
Folks interested in L-Tyrosine may want to check out this powdered supplement from Nutri-Cost. Featuring 100 servings per container, this 3rd party tested supplement may be a solid option for folks looking for tyrosine supplementation.
Who Should Buy Nutricost L-Tyrosine Powder
Anyone who wants a powder that's easier to absorb than a capsule.
Those who are looking to increase their dosage of tyrosine.
Folks looking for a cost-effective supplement powder.
Who Shouldn't Buy Nutricost L-Tyrosine Powder
Athletes who prefer something flavored to mask any potential bad aftertastes.
While Nutricost L-Tyrosine Powder may not be the best tasting option on the market, it provides one of the highest doses — and since it comes in powder form, your body can easily absorb it for quicker results.
Best N-Acetyl L-Tyrosine
Since N-Acetyl L-Tyrosine is more water-soluble and absorbent than its free-form counterpart L-Tyrosine, some may opt for this pick over more basic tyrosine.
BulkSupplements NALT
N-Acetyl L-Tyrosine is an acetylated derivative of L-tyrosine, which in layman's terms, means it is more water-soluble and easy to absorb than L-Tyrosine. However, since it is more water-soluble, it also has a lower conversion rate when it comes to putting tyrosine inside the body (also read: you need more of it to get the same results as you would with L-Tyrosine). You'll still find 400 milligrams per scoop of this powder — the only concern is that it may not metabolize fully.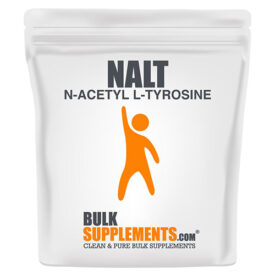 For an easily absorbable powder supplement, BulkSupplements NALT offers 400mg per scoop.
Who Should Buy BulkSupplements NALT
Athletes who want an easy-to-absorb tyrosine supplement.
Anyone who prefers powder over capsule tyrosine.
Those who are looking for a lower dose of tyrosine to add to their diet.
Who Shouldn't Buy BulkSupplements NALT
Anyone who wants the full effects of their tyrosine supplement.
Folks who want a deliciously flavored powder.
While BulkSupplements NALT offers an easily absorbed powder supplement, there are still some concerns over the metabolization of N-Acetyl powder. However, if you're looking for the potential effects of tyrosine to be subtle, this is a great option.
Best Tyrosine Gummies
This pick is for anyone whose top priority is taste and absorption — this chewable supplement is easily digested and sweetened with a little bit of added sugar.
JOYLI L Tyrosine Gummies
Taste is often a concern when it comes to sticking to a supplement regimen. Luckily, the JOYLI L Tyrosine Gummies have a light strawberry taste to mask any potential bad aftertaste and make sticking to this supplement painless. Since the tyrosine in these gummies isn't encapsulated, chewing breaks these down faster and allows your body to absorb the tyrosine quicker than it would if it were trying to break through a gelatin capsule. Plus, each two-gummy serving has 1,000 milligrams of tyrosine, which is double the average 500 milligrams. However, if you're concerned with having additives in your supplement, you'll want to go for an unflavored powder or capsule.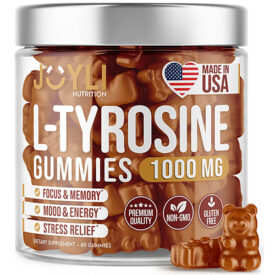 JOYLI L Tyrosine Gummies are great tasting and easily absorbed. For a chewable supplement, this is a solid, reasonably priced option. 
Who Should Buy JOYLI L Tyrosine Gummies
Folks who want a great-tasting supplement that doesn't leave a bad aftertaste.
Anyone who wants to chew their tyrosine for optimal absorption.
Those who want a higher dosage of tyrosine in each serving.
Who Shouldn't Buy JOYLI L Tyrosine Gummies
Anyone who wants to avoid sugar and other additives in their supplements.
Those looking for a cost-effective option — this product is more expensive than many other tyrosine supplements.
For a great tasting, high dosage, quickly absorbed tyrosine supplement, JOYLI L Tyrosine gummies are the total package — just make sure you read the label before buying if you're trying to avoid certain artificial ingredients in your diet.
How We Decided
While tyrosine is a common ingredient in pre-workout supplements, you can also take it on its own to harness its potential focus-enhancing, fatigue-diminishing effects. As we were picking the best options for this particular use, we heavily considered these four aspects.
Ingredients
Many powder and capsule tyrosine supplements steer clear of artificial sweeteners, food colorings, or other additives. However, many people prefer products that are flavored, as opposed to a flavorless supplement, so companies have created a tertiary option in the form of gummies. Unfortunately — though they taste great — gummies often contain some sweeteners to better the product's flavor.
If taste is a priority for you, it may be beneficial to stomach a little bit of added sugar to if you aim to take tyrosine. If taste isn't a priority, there are plenty of options out there without these additives. Either way, we've included an option on this list that can satisfy your dietary needs.
In addition to additives, many people also factor in the presence of animal products when looking to buy a supplement. Since a good number of capsules are made of gelatin and not vegan, we have included both a gelatin and a modified cellulose (vegan) option that will meet most dietary restrictions.
Form
There are three different forms of tyrosine supplements: capsule, powder, and gummy. Capsule supplements are the most convenient — since you can just pop them on the go — but they are also the slowest to absorb since your body must break through the capsule outer layer before the tyrosine is released. Powder is easy to absorb since you're ingesting it directly, but it requires some mixing tools as it is most successfully ingested when mixed with water. Gummies are both convenient and easily absorbed, as they are chewable. However, they tend to be more expensive for this reason, and they can contain additives that some customers may want to avoid.
When creating this list, we wanted to include options from all three of these categories, so you have a product to consider regardless of your preference.
Dosage
According to Examine.com, tyrosine is best consumed in 500 to 2,000-milligram doses to see the best possible results. Since tyrosine can slow the depletion of dopamine and adrenaline to increase focus, it may help enhance your exercise routine by keeping you honed in for longer and minimizing your fatigue. However, we don't necessarily know the minimum dosage required to witness the supplement's potential effects. And while taking too much won't hurt you, research doesn't show that your body will be able to process too much tyrosine effectively. It's best to stay in that 500 to 2,000-milligram range pre-workout to witness the possible results — therefore, all supplements on this list have serving sizes in that range.
Cost
While most tyrosine supplements fall into the same price range, some are more expensive than others. Powders and capsules tend to be less expensive, and gummies tend to be a bit more expensive.
Gummies are both great-tasting and more easily absorbed, and if you don't mind the added sugar for flavor, they are a great option. Unflavored powders, though not great tasting, are a great, cost-effective alternative if you want to dodge the sugar. Capsules are also less expensive, but they don't offer the fast-absorbing properties that gummies and powders offer. There are options from multiple price points on this list, so regardless of budget and taste, you'll find a suitable pick to add to your supplement stash.
Tyrosine in Pre-Workouts
While proper sleep, nutrition, and hydration play a role in workout performance, a pre-workout supplement can take those healthy habits to the next level and really enhance your exercise routine. And one of the biggest ingredients in a pre-workout supplement is tyrosine.
While caffeine typically occupies the top ingredient slot in pre-workouts, tyrosine is often a close second. As caffeine can provide the energy, tyrosine can provide the focus you need to make it through a tough session. Combined with other amino acids, plant extracts, and powders that may help improve endurance, blood flow, and power output, tyrosine plays a key role in most pre-workoout supplements you'll find on the shelves today.
Final Word
Though tyrosine is common in pre-workout supplements, you can also take it independently for its possible focus-enhancing properties. While it won't increase dopamine and adrenaline production, it can help slow their depletion, keeping you exercise-focused for longer without fatigue.
When choosing which tyrosine is right for your routine, consider where you'll be taking it (on the go or at home), what form you want to take it in, how much you want to spend, and if you need it to be flavored or not. You'll find options on this list that provide solutions to most of these considerations, so if you're all in, start preparing a corner of your supplement cabinet for a new tyrosine addition.
FAQs
What form of tyrosine is the best?
There is no standout here — it all depends on your preference. Capsules are great for on-the-go supplementation, powder is great for absorption, and gummies are great for taste. They all have additional pros and cons, but it's best to weigh these against your own preferences to find what is best for you.
Do I need to mix my tyrosine powder with water?
Tyrosine powder is best ingested when mixed with eight to 12 ounces of water. You're better off ignoring any dry-scooping TikTok trends if you want to harness the potential benefits of a full scoop and help your body absorb the powder more easily.
Is tyrosine vegan?
Tyrosine is sourced from both plants and animals. In addition, some capsules are made of gelatin, which comes from animal products. Just take a look at the ingredient list if you're worried about sticking to a particular dietary regimen.
References
Patal, Kamal. (2021) "L-Tyrosine: Benefits, Usage, Dosage, Side Effects, and How to Take."

Examine.com

, examine.com/supplements/l-tyrosine/.