Trying to satisfy that sweet tooth while maintaining a vegan diet? Fortunately, there are tons of vegan sweets available that fit this bill. Of course, just because they're vegan, does not mean they're particularly healthy. Most of these sweets pack a big caloric punch. However, if they also carry big time flavor, then this reviewer thinks it's ok to indulge on occasion. If weight management is a concern, it's wise to reach out to a dietician or a health professional.
Vegan sweets can take many forms. Some manufacturers create entirely unique desserts, while others are very similar to more common sweet options, but utilize solely plant-based ingredients. We ordered some of the best vegan sweets and went through the painstaking task of taste-testing them to come up with our top picks.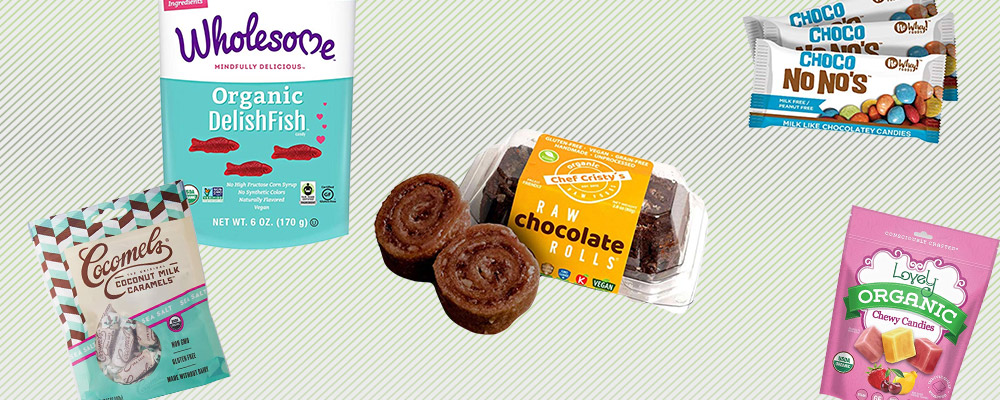 Editors' Choice: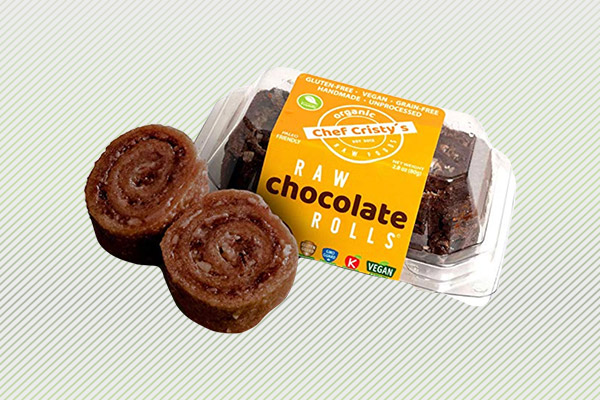 Chef Cristy's Raw Chocolate Rolls
Pros:
Texturally, these small chocolate rolls contain a delightful gooey quality. 

From a taste perspective, though the chocolate taste is not overwhelming, they do make for a great sweet treat, with the dates and coconuts shining through. 

Features primarily organic ingredients, including apples, maple syrup, dates, cashews, dried coconut flakes, and unprocessed raw cacao. 

Each 40g roll contains 190 calories, include 9g total fat, 23g carbs, 3g protein, and 0g added sugar!
Cons:
Though they're labeled as raw chocolate rolls, the biggest taste this reviewer came away with was coconut. 

On a per serving basis, these are a bit more expensive than some of the other vegan sweets we looked at. 
Chef Cristy's Raw Chocolate Rolls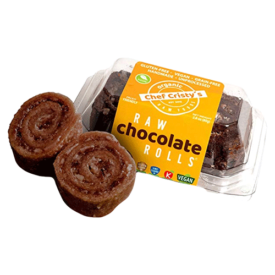 Chef Cristy's Raw Chocolate Rolls
Those in the market for a vegan treat that's also gluten-free may want to check out these raw chocolate rolls from Chef Cristy's. Made with several organic ingredients including apples, maple syrup, dates, and cashews, these unique tasting rolls offer a nice sweet treat without any added sugars.
Contender: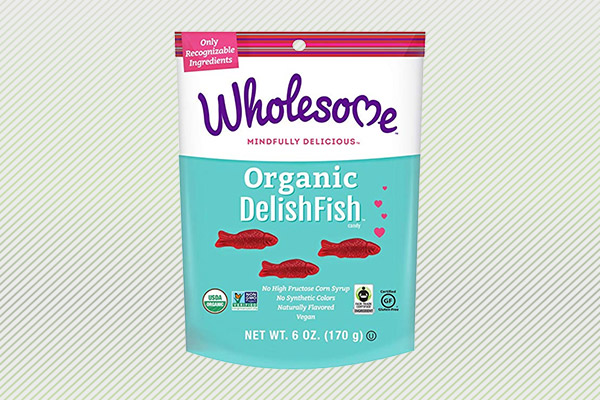 Wholesome Organic DelishFish
Pros:
The flavor of these DelishFish is unmatched. Using naturally raspberry flavor with a handful of organic sweeteners, Wholesome Foods has given us a vegan candy that is truly hard to put down.

Texturally, these fish are stretchy and gooey without being too messy, making for a candy that's pretty fun to play with!

USDA Organic, Non-GMO Project Verified, gluten-free, and Fair Trade Certified. 

Competitively priced, particularly compared to other vegan treats.
Cons:
Each 1.5oz serving of DelishFish contains 27g sugar, making these a pretty sugary sweet.

As with many chewy sweet treats, these little fish are liable to get stuck in the back of your teeth. Those with braces beware!
Wholesome Organic DelishFish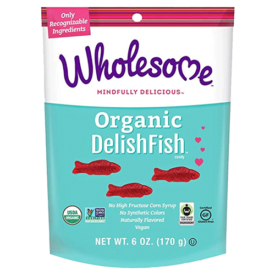 Wholesome Organic DelishFish
Who knew vegan fish could be so addicting? These raspberry flavored chewy fish from Wholesome Sweet are hard to put down. Made without any high fructose corn syrup or synthetic colors, these organic candies are an excellent treat.
Best Fruit Chew: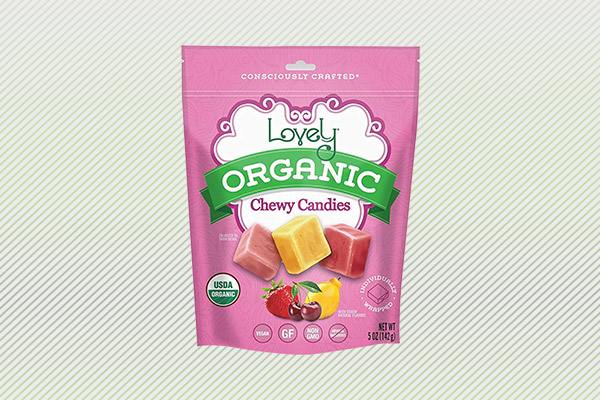 Lovely Candy Company Chewy Candies
Pros:
The texture of these small chewable candies is great. These offer a soft, lovely chew, without giving your jaw too much of a workout or getting sweets too stuck in your teeth. 

Flavor-wise, the lemon and strawberry stand out.

Primary ingredients are organic brown rice syrup, organic cane sugar, and organic palm oil. 
Cons:
A bit hard to get each piece of candy out of the individual wax wrapping.

At 15g sugar per 5 piece serving, these are a bit sugar heavy. 

On a per serving basis, these are a bit pricey compared to some other sweets.
Lovely Candy Company Chewy Candies
Lovely Candy Company Chewy Candies
Steering clear of artificial ingredients in favor of organic sweeteners and natural flavors, Lovely Candy Company blesses us with individually wrapped chewy candies. Available in strawberry, cherry, and lemon, these offer chewy goodness without the use of gelatin, making them a vegan-friendly sweet. 
Best Chocolate Candy: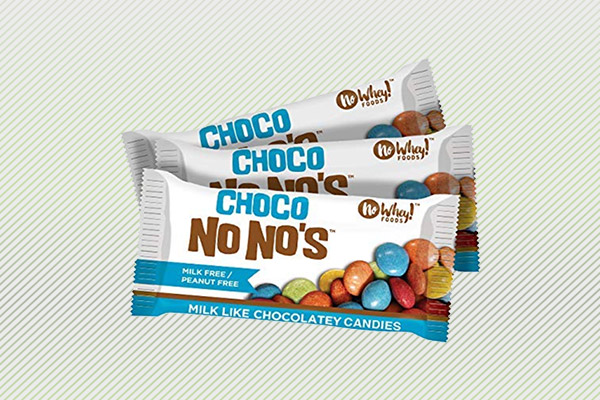 Choco No No's
Pros:
Choco No No's make for are a very tasty, chocolatey snack. The crunchy outer shell gives way to a softer chocolate center that tastes very similar to milk chocolate. 

What's probably most impressive about Choco No No's is what's not in them: these chocolate candies are made without any dairy, peanuts, tree nuts, or soy. 

The naturally covered shells offer a unique array of pastel-like colors.
Cons:
These are a bit pricey compared to some of the other vegan sweets on the market.

At 27g added sugars per serving, these are a very sugary snack.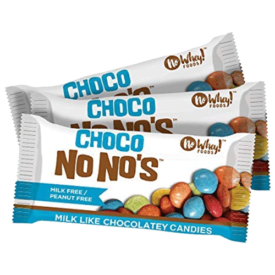 For a small kick of vegan-friendly, chocolately candy, check out the Choco No No's. Made without milk, peanuts, or soy, these bite-size "milk like" treats may be a great option for folks with specific allergies.
Best Caramel: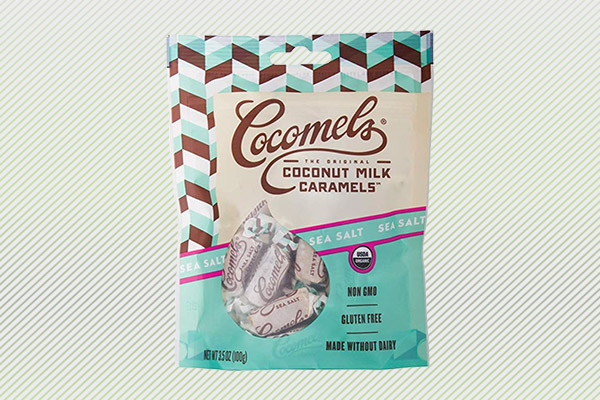 Cocomel Coconut Milk Caramels
Pros:
The combination of organic coconut milk, organic sweeteners, and a touch of sea salt make for a unique caramel flavor that may be particularly appealing to those who enjoy coconut.

Each caramel comes individually wrapped in wax paper, making these a perfect little treat to stash in a coat pocket. 

Made without high fructose corn syrup, these caramels are vegan, gluten-free, USDA Organic and non-GMO certified. 

From a cost perspective, these are moderately priced compared to some other vegan sweets we looked at.
Cons:
Textually, these are not quite as chewy and stretchy as traditional caramels. 
Cocomel Coconut Milk Caramels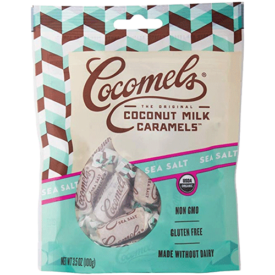 Cocomel Coconut Milk Caramels
Made without any dairy, these simple coconut milk caramels are a unique tasting candy. Though not quite as gooey as traditional caramels, these vegan and gluten-free treats make for a great little burst of sweetness in the afternoon. Or anytime, for that matter.
Methodology
There are a host of vegan sweets available on the market. While some aim to be a healthy alternative to traditional desserts, others pack in just as much sugar as the candy you'll find in the checkout line at the grocery store. When selecting a vegan sweet, there are a few key considerations to make.
Ingredients
Take a look at the list of ingredients to make sure you know what's inside the package. Some vegan sweets may avoid using dairy or animal products, but load up with other ingredients that some folks may not find super appealing.
Coconuts and Dates
Many vegan treat makers utilize the natural sweetness and texture from coconuts and dates when making their sweets. These offer the ability to provide sweetness without employing a host of added sugars.
Added Sugar
As with any sweet treat, it's wise to take a look at the added sugars. These are typically found under the "Total Carbohydrates" listed on the package, and give a sense for just how much sugar is used in these candies. While this sugar content is sometimes derived from organic sugar cane syrup or organic brown rice or organic tapioca syrup, at the end of the day – sugar is sugar!
What Type of Sweet?
Vegan sweets range from treats that are made to resemble classic staples from the candy aisle, to unique recipes that highlight the natural sweetness of the ingredients used. Regardless of your sweet tooth's preference, there's something available for almost everyone.
Cost
In general, vegan sweets tend to be a bit more expensive than their more widely available counterparts. However, there is still some value to be had. To make accurate comparisons, try dividing the total cost by the amount of serving sizes in each package.
FAQs
What sweets can vegans eat?
There are a ton of sweets that are compatible with a vegan diet. As always, it's wise and important to check out the ingredients list to ensure whatever you're eating meshes with your chosen diet. 
What desserts can a vegan eat?
Folks following a vegan diet typically avoid any products made with animals or animal byproducts. As such, any plant-based dessert would be suitable for someone following a vegan diet. 
Can vegans eat chocolate?
Vegans avoid foods that come from animals or include animal byproducts. Fortunately, chocolate comes from the cacao plant, so that's a go! Just take a look at the ingredients list to double check there's no dairy involved. 
BarBend Tips
Going vegan is not necessarily a key towards a healthier life. If weight management is a goal, it's wise to consult a medical professional or a dietician.

Dates are a great snack! They're used widely in many vegan sweets, but can make for an awesome sweet treat in their own right.
With more and more folks adopting vegan diets, there is a growing amount of vegan sweets available on the market. If switching over to a plant-based diet is the right move for you, but you're concerned about alienating that sweet tooth, fear not!