Stretching, sweating, flowing, or even sleeping: a good yoga mat should be a surface comfortable and dependable for all four. 
Yoga mats are designed to provide comfort and encourage movement. A yoga mat doesn't need to be for just the experienced yogi. It can also provide a durable surface for various exercise practices and needs. While shopping for a yoga mat can be the furthest thing from zen, there are many different brands, textures with extra thickness and non-slip, plus all kinds of designs and colors to choose from. We've outlined five of our favorite mats on the market based on functionality, look, cost, and overall quality to make your search for the perfect mat as smooth as possible.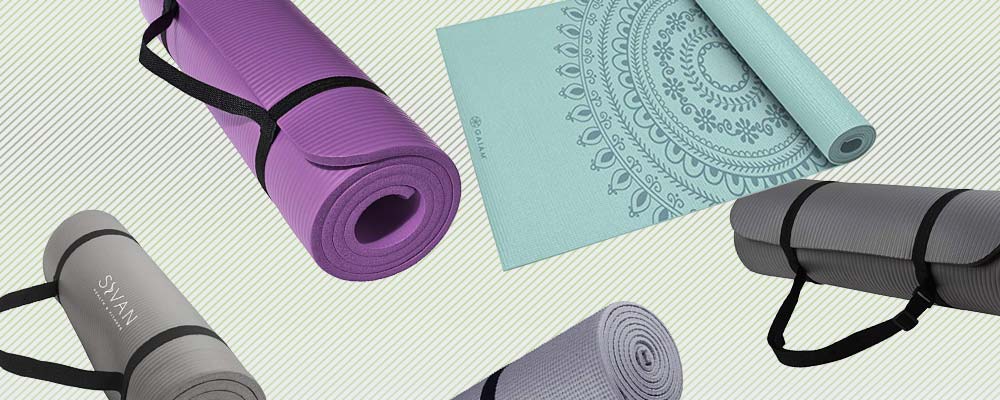 Editor's Choice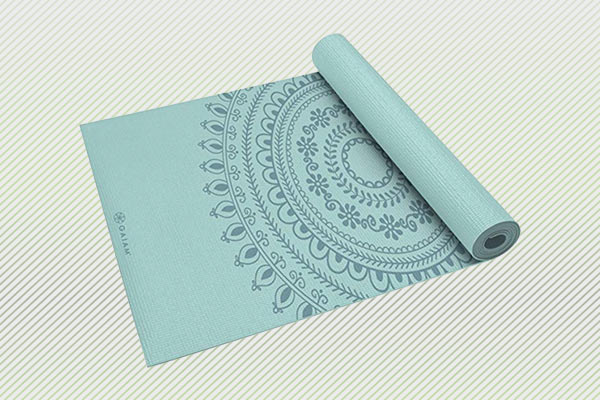 Gaiam Yoga Mat
The Gaiam Yoga Mat is designed with a non-slip texture that makes it a solid option for all types of exercises. It is lightweight but also designed with additional cushioning to make it a supportive and comfortable surface. It also comes in all kinds of funky patterns and colors, making it a unique find on the market.
Pros: 
Comfort. This is an extra-thick "premium" yoga mat, which is a comfortable and durable surface for all types of practices. It is sticky enough for a good grip and is non-slip on both sides. 
Extras. This is the first yoga mat we reviewed that actually includes a free yoga class with its purchase. This mat comes with a free downloadable yoga workout.
Design. This yoga mat comes in various colors and designs which gives the buyer all kinds of options. There are a lot of mats on the internet that don't come in any color or design beyond black, so it was encouraging to find a mat that has tapped into more creative designs and color schemes. A few of the design options are Ash Leaves, Lily Shadows, Turquoise Surf, and many more. 
Cons:
Transportable. This yoga mat does not include a carrying strap, with is often included in a lot of yoga mat packages. This will make grabbing the mat on the go and storing it more difficult than if a strap was included.  
Price. The price of the mat varies depending on the design selected. It is worth noting that not all of the mats are offered for the same price, despite being the same size and made with the same material.
Best Value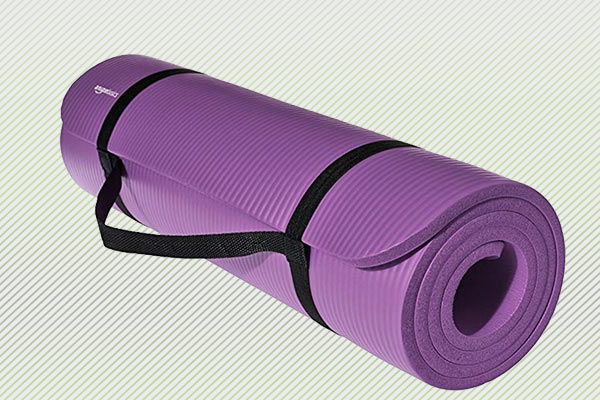 AmazonBasics Yoga Mat
AmazonBasics makes a thick, safe, lightweight, and affordable yoga mat. This mat is offered in several colors and is made with a durable foam. It also comes with a strap which makes it easy to grab and go. It is designed with ½ inch thickness, which means comfort and stability are a priority with this product. 
Pros: 
Use. This mat is simple, comfortable, and easy to roll out and use anywhere. The ½ inch extra-thickness provides a solid layer on any hard surface. The foam texture also makes it easy on all joints, bumps, and bruises. 
Price. This yoga mat varies slightly in price depending on the color selected, however it is still noteworthy low compared to a lot of the other mats on the market. 
Accessibility. This mat is light-weight, comes with a strap, and is designed to grab-and-go. It is designed to last thanks to its 1/2- inch thickness so it won't rip or tear during a commute, and also won't add too much weight since it is just 2.48 pounds.
Cons:
Grip. Although it is non-grip, there isn't much traction to this mat. It is simple, comfortable, but in terms of additional stitching or traction this mat doesn't have any advanced design to it. 
Wetness. Although this mat is easily washable, and no-fuss when it comes to wiping it down after a session, it can feel slippery when wet. Perhaps grip socks would be something to consider if it is going to be a particularly rigorous and sweaty session. 
Best Design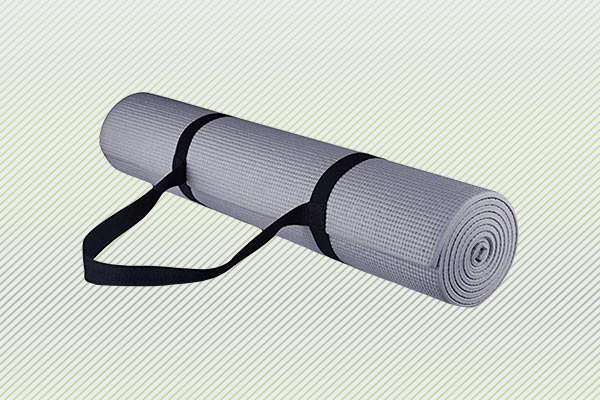 BalanceFrom GoYoga All Purpose High Density Non-Slip Yoga Mat
BalanceFrom GoYoga makes durable, comfortable yoga mats with high-end traction. This mat is designed with high density eco friendly material and non-slip material on both sides. The design of this mat stands out because of its simplicity and functionality with the easy strap making it ideal for transportation and storage. 
Pros:
Comfort. This mat is ¼ inches thick and provides a good level of comfort. The double-sided non-slip design also provides reassurance knowing there won't be any unpredictable slipping or sliding happening on the mat. 
Price. This yoga mat doesn't lack quality even given the fact that its price tag is one of the lowest we've seen. It gets even cheaper with the grey color option.
Appearance. This yoga mat has a simple look and doesn't have any tacky design or font on it, which makes it a solid choice for anyone looking for a no-fuss mat. 
Cons:
Scent. After taking the mat out of the packaging it had a pretty prominent scent, but this will subside after use. 
Thickness. A lot of the mats we've reviewed are made with ½ inch thickness, but this one is just ¼-inches which may feel noticeable on joints that need extra support. 
Best Quality
Sivan Health and Fitness Yoga Mat
The Sivan Health and Fitness Yoga Mat is made with memory foam to ensure comfort, has a ribbed surface on one side for optimal grip, and is also water resistant and easy to clean. It comes with a strap which makes it travel friendly, and its thickness makes it durable enough to get rolled out on any type of surface without tearing.
Pros: 
Design. Having one side with a ribbed surface makes this mat a good choice for someone who is looking for additional traction and support. The ribbed side is meant to be faced towards the ground to ensure the mat is locked into the surface and providing the yogi with a secure surface to flow through various movements. 
Color. This mat comes in eight different colors. Although there aren't any patterns or design to it, the color options are diverse, ranging from the basics of black and grey to brighter reds and pinks. 
Accessibility. Not only is this mat made to be easy to clean and is designed to last for awhile, it also comes with an integrated strap to encourage grabbing the mat and bringing it on the go. 
Con: 
Material. The non-ribbed side can feel spongy, which although comfortable isn't always the easiest for balancing exercises. 
Traction. This mat is very easy to clean, and will not hold onto moisture, however if it's a really sweaty workout the chances of slipping on the mat increase. 
Best Comfort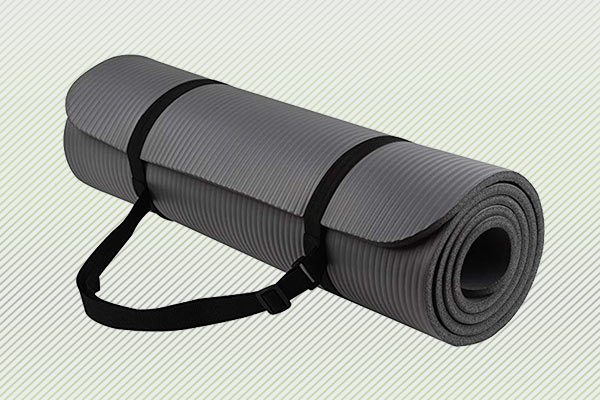 BalanceFrom GoYoga All-Purpose Yoga Mat
If there was a yoga mat designed for savasana all day everyday, it would be the BalanceFrom GoYoga mat. This mat takes comfort to a different level with its foam material that is ½ inch thick. It provides a cushion on the hardest of surfaces and is also non-slip.
Pros:
Comfort. The ½ inch extra-thick cushioning makes this mat optimal for all types of people looking for a comfortable surface to stretch, rest, flow, or perform different mat exercises.
Durability. This mat is made with moisture resistant technology which means it can withstand the sweatiest of workouts, and also is easily washable and won't hold onto odor.
Variety. Although the model is simple and there isn't much to the design, there are seven different color options to choose from. The colors are black, red, green, pink, blue, purple, and grey. 
Cons:
Texture. Since the yoga mat is as comfortable as they come, it can feel a little bit squishy. While it is non-slip, it definitely is going to give a little once weight is applied from hands, feet, knees, etc. 
Quality. The rubber/foam texture makes it comfortable, it does not have any stitching on the sides which could make for it to wear and tear over time. 
How We Picked 
There is a lot to consider when selecting the best yoga mat, however we did our best to try out and select products that are affordable, safe, comfortable, and long-lasting. Now that we've went over the pros and cons of five of our favorite picks, I'm going to provide the methodology we used to make these selections. 
Price. Yoga mats can get really expensive depending on the maker, so we looked at a wide range of mats and prices that were all of high quality for a low price tag. We considered mats that didn't lack design and functionality for their affordable price. We also measured the cost in relation to how long the item will remain in useable form.

Safety. Since a lot of stretching, balancing, and exercising happens on yoga mats, we looked at mats with good traction, safe surfaces, and non-slip designs. We kept a close eye on mats that offered different grips and traction depending on the side, and found that several come with non-slip surfaces on both sides.

Comfort. The purpose of a yoga mat is to provide a barrier on top of an otherwise not-so comfortable surface. We tested mats based on thickness and material to select the most joint-friendly mats on the web. A lot of mats varied in thickness, but in general we looked for mat thickness between ¼ inch to ½ inch. 

Durability. Most of the mats we selected include carrying straps and are easy to grab-and-go. A yoga mat should last a long time whether rolled out and used frequently, or stored away. We found a good selection of mats that come with carrying straps that are stretchy and easy to use. 
BarBend Tips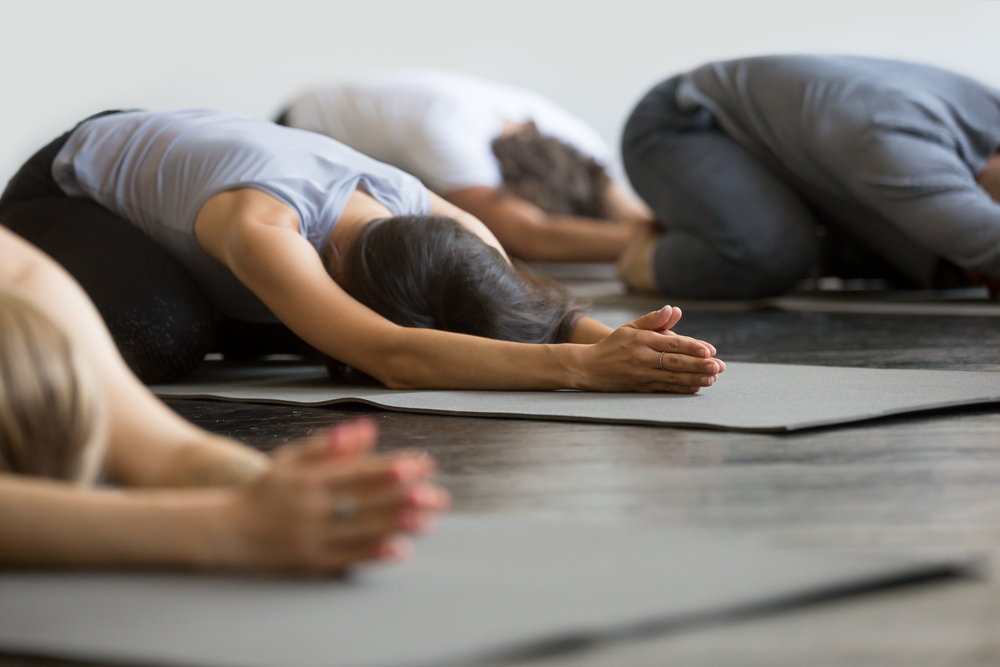 At BarBend we are always looking for a reliable surface to perform various bodyweight movements and exercises on. Here are a few things we consider when searching for the best yoga mat.
Take some time to figure out what your fitness goals are and how a yoga mat can help you get there. A yoga mat can be a great tool for all kinds of mat exercises as well as a comfortable surface for stretching, resting, and all sorts of rehab. 

Before investing in a yoga mat, consider how much you want to pay. Yoga mats vary a lot in pricing, so take some time to research the different brands and figure out what brand, length, and design will be best. 

If you're unsure as to what material you prefer, or what grip suits you best, get to a local gym or studio and try out the mats they have. Most gyms and studios stay consistent with the brands they use, so consider this when rolling one out to try. 

Make sure that the yoga mat you select can take some wear and tear. Since this mat is going to be for a wide range of activities, most likely, be sure it can handle anything from light stretching to more powerful movements like chaturanga flows.
Wrapping up 
From various designs, different materials, and all kinds of comfort levels, we hope that we've helped make your yoga mat shopping process a little bit easier. There are all kinds of factors to consider when looking for a yoga mat, however we're confident that one of these we've picked  will help you get that much closer to comfort and flexibility!